Healthier Moms and Children in South Sudan
Photo by Will Baxter/CRS
When Abol Deng Biok became pregnant with her fifth child, she did what most women in the Jonglei State of South Sudan might find unthinkable—she politely told her mother-in-law that she was not going to take her advice on how to raise the baby.
In rural South Sudan, the most influential woman in a young mother's life is typically her mother-in-law. The matriarch sticks close by the side of her daughter-in-law throughout pregnancy, delivery and the early months of a child's life. She advises on what to eat, drink and how to care for the child.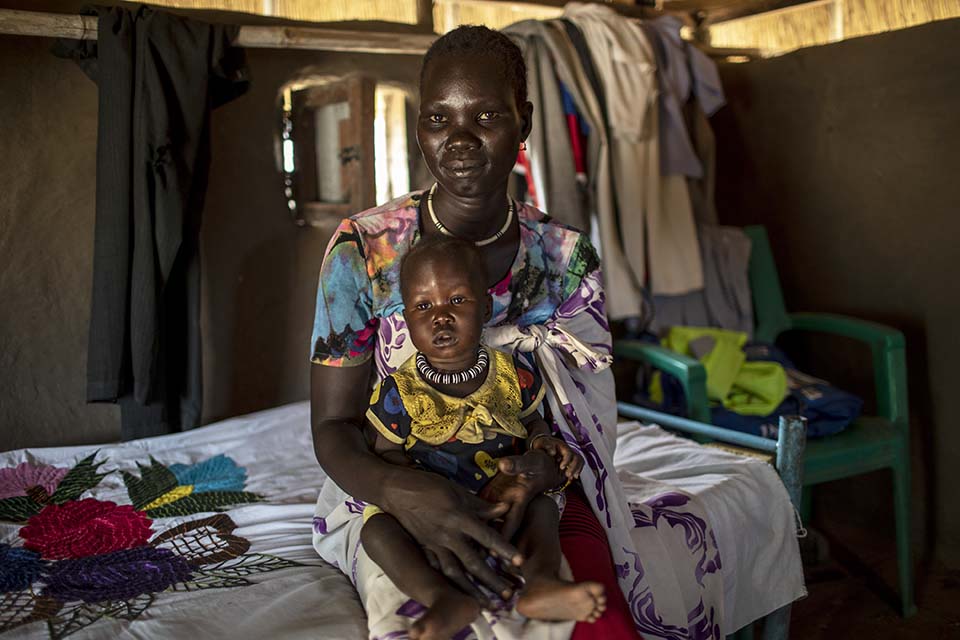 Abol Deng Biok, a member of a mother-to-mother support group, with her child in Thonawai village, South Sudan. These support groups promote effective maternal and infant health practices.
Photo by Will Baxter/CRS
But what if a mother-in-law doesn't know best? In South Sudan, much of the advice mothers-in-law give can be based on traditional practices or deeply entrenched taboos.
With funding from the U.S. Agency for International Development, Catholic Relief Services has established support groups for mothers, fathers and mothers-in-law that engage members in learning and sharing modern maternal health and child nutrition practices. This work is guided by our goal that all children reach their full health and development potential in safe and nurturing families, which is rooted in our belief in the sacredness and dignity of the human person.
Each peer group—led by a community member—begins with striving to break down barriers to changing practices by facilitating discussions about cultural myths and taboos. It was in Abol's mother-to-mother support group where she learned she could have taken better care of herself when she was pregnant with, and nursing, her first four children.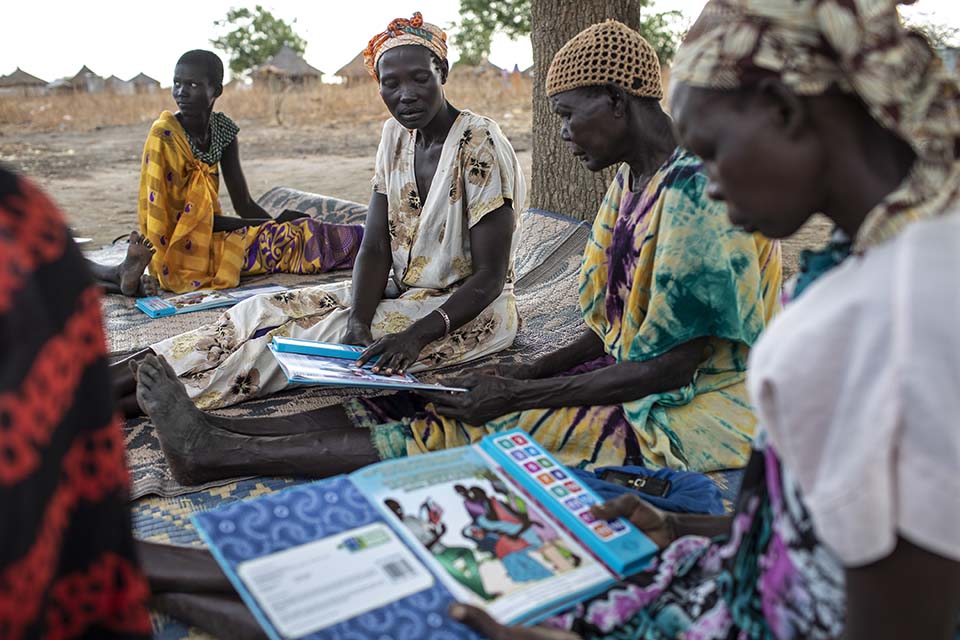 Ayen Nhial Piel, second from the left, leads a mother-to-mother support group discussion on how newborns and mothers should be fed and cared for. 
Photo by Will Baxter/CRS
"I learned how to take care of myself as a pregnant mother and of the baby after it is born," Abol says. "Pregnant mothers should be given a variety of food. It should be a mixed diet of different foods, vegetables, milk, meat, fish and greens"
"Within the duration of the first six months, a baby should only be breastfed. But after six months, that's when you begin introducing other complementary sources of food like porridge, goat milk and fish," Abol says.
This information was all new to Abol. In her culture, a newborn is traditionally given water mixed with sugar shortly after it is born. But now Abol knows that exclusive breastfeeding is enough for newborns under six months of age.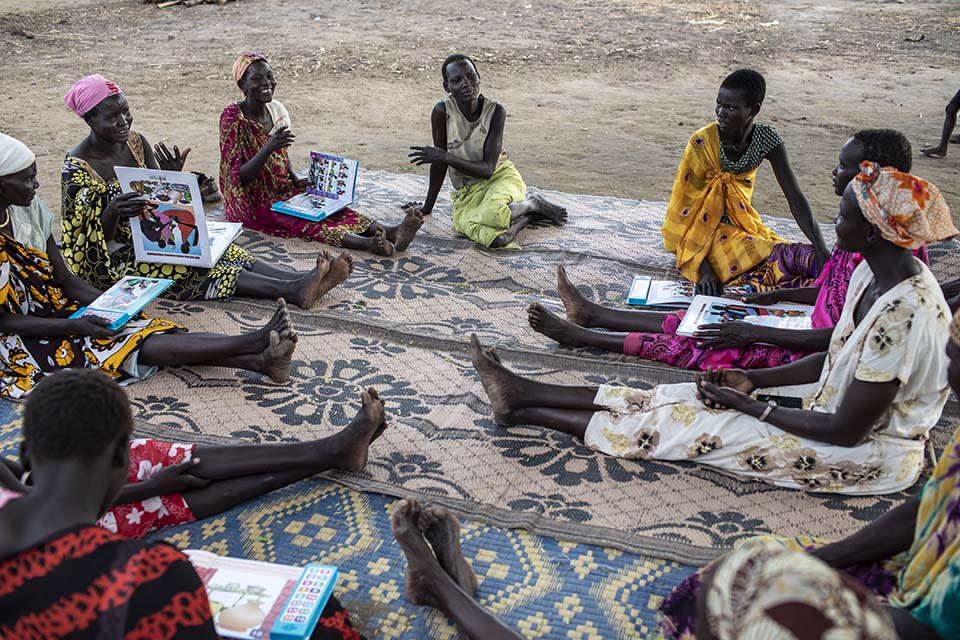 Women use interactive audio books—recorded in local languages—that provide educational guidance on maternal health and infant care.
Photo by Will Baxter/CRS
"Before we were taught about nutrition, my mother-in-law would influence me. She would advise me to give water to the babies," Abol says. Rather than breastfeed exclusively, she started the infants on solid foods too early and gave them water on a regular basis. As a result, Abol says her eldest children's health and growth suffered.
"The baby has to be breastfed within the first hour of being born. That first milk of colostrum is very important for the healthy development of the baby. That's why it is important to breastfeed the baby right away," Abol says.
Abol has seen a big improvement in the health of her youngest child, just 10 months old. "She does not get sick as often as my other children used to," Abol says. "If this child falls sick, she doesn't stay sick long. She is strong and recovers quickly."
Because the majority of people in rural South Sudan cannot read, the groups use illustrated audiobooks developed by CRS that feature recordings in three local languages—Dinka, Murle and Nuer—with detailed drawings depicting best practices.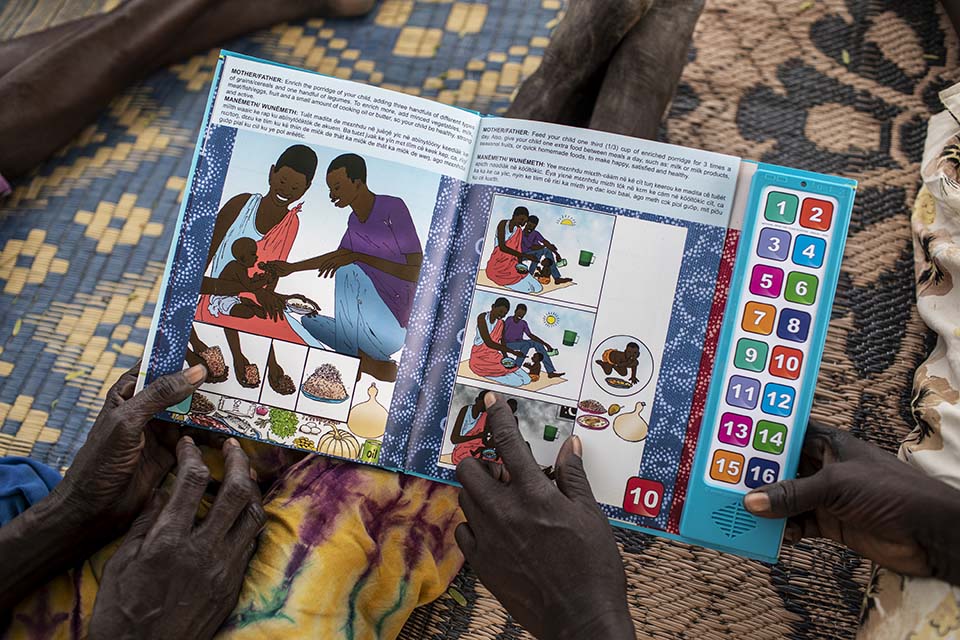 Women use interactive audio books—recorded in the Dinka language—that provide educational guidance on topics like childbirth and breastfeeding, and emphasize the importance of proper nutrition during pregnancy.
Photo by Will Baxter/CRS
"We no longer fear our mothers-in-law," Abol says with a smile. "I gave my mother-in-law the book and she listened. Now she is aware and not advising me of bad practices. It was not easy at first to convince her. But now that she has seen how healthy the child is, she is convinced."
Since 2017, CRS has helped establish 93 active mother-to-mother support groups as well as 131 fathers' support groups and mother-in-law support groups with a combined total of more than 2,702 participants.
Ayen Nhial Piel, the lead mother of Abol's group, explains that each member is responsible for sharing best practices with others in the community. At first, she says, people are often skeptical.
"The challenge is that at first some people will think that our solution does not work. We have to convince them, and eventually they accept it," Ayen says. To do that, they use their own children's good health and development as proof.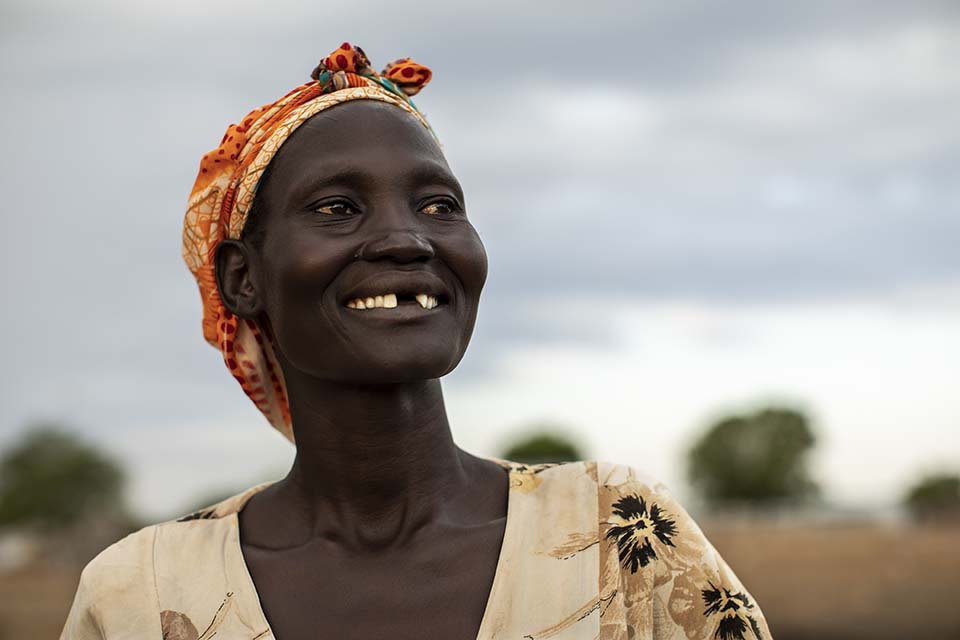 Ayen Nhial Piel, who leads a mother-to-mother support group, says members are responsible for passing the information and practices they've learned on to other communities.
Photo by Will Baxter/CRS
"We tell them to look at our children. They walk before the other kids of their age, they grow faster than the other kids. That's how we convince the community," Ayen says. "They see that these children are healthier than the older ones."
Ayen believes that it is important for the community to shoulder the responsibility of continuing to spread the word about health and nutrition.  
"When CRS leaves, whatever knowledge we have gotten from them and whatever knowledge we have now, we will continue to apply it. We will not stop because CRS has left. We will preach even to the places that are not near to us now. We will reach those people who are far," Ayen says.
"The hope for the community is that after completely adopting these ideas all the children will be very healthy."