Healing Trauma in the Central African Republic
Photo by Samuel Phelps/CRS
When someone loses a house, you build a shelter. If they need water, you dig a well. If their crops fail, you bring all sorts of farming practices to restore their fields.
But how do you replace lost trust?
In the Central African Republic, or CAR, homes, fields, jobs and lives have been lost to violence triggered by a government overthrow in 2013, followed by spiraling chaos. Neighbors were forced to take sides that divided along religious identity. And now almost everyone, even children, lives with stories of atrocities they witnessed first-hand.
Having returned to their lands, almost everyone finds they are living close to those that once attacked them. And not all their fears and bad feelings have suddenly disappeared.
Repairing a sense of community and rebuilding social cohesion are among the most difficult challenges in any society. The difficulty is magnified in communities fractured by violence.
To those environments, Catholic Relief Services brings long experience in peacebuilding. Like all our programs and projects, it is done in close association with affected communities and often led by the most trusted members of those communities.
Zenaba Adam was 14 years old when violence turned her world upside down. Now she is seeing hope for her community as it works through the peacebuilding process.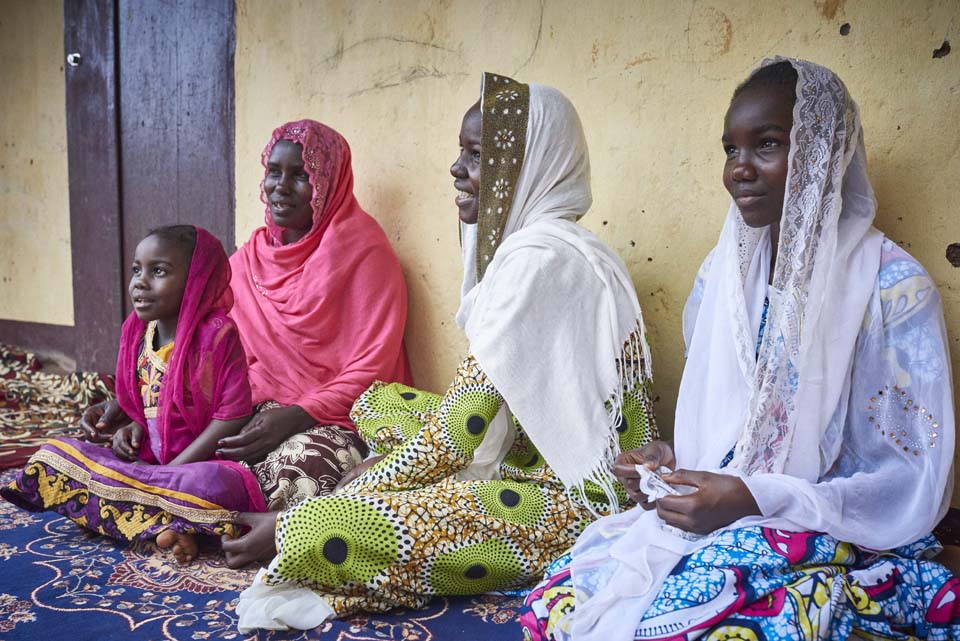 Zenaba Adam, center, with her mother and sisters at their home in Boda, in the CAR. Zenaba participated in a trauma healing workshop as part of Ita na Ita, or "People to People," a project supported by USAID.
Photo by Samuel Phelps/CRS
When violence erupted in the CAR in 2014, and persisted for the next few years, thousands of children and adults witnessed atrocities that left them traumatized. Many were displaced from their homes, fleeing for their lives as inter-religious revenge attacks tore communities apart.
With the support of the U.S. Agency for International Development, or USAID, through the Central African Interfaith Peacebuilding Partnership, CRS is working to bring peace and trust back to these communities. Through a program called Ita na Ita, or "People to People," trauma healing workshops in the Lobaye prefecture help children and adults heal and promote social cohesion within and between communities.
In Boda, a town that was particularly affected by the crisis, a group of 18 residents, both Muslims and Christians, stand in a line inside the town hall during a workshop. Directed by the workshop facilitator, Blaise Ndoïna, each participant is blindfolded by a partner before being led out the door and through an improvised obstacle course around the grounds. 
The blindfolded participant needs to place trust in their partner to safely guide them through long grass, climb over a bench, and duck below a low-hanging branch. The goal is that that they build trust in each other. Trust is an integral building block to reconstruct a community that was literally divided between Muslims and Christians.
Participants from Muslim and Christian communities take part in a trauma healing workshop as part of Ita na Ita, or "People to People," a project supported by USAID in the CAR.
Photo by Samuel Phelps/CRS
"Before 2013, there was harmony between the communities but after what happened, this division was formed," says Blaise, the CRS workshop facilitator. He explains that people were suddenly viewed as being either part of the Muslim militia, the Seleka—or part of the Christian militia, the anti-Balaka.
Aid organizations supported the residents of Boda during this critical phase with medical care, food and shelter support. The community was still divided though. "The Christians fled to seek shelter at the church and the Muslims around the mosque," says Blaise. "It was difficult to find something to eat, or to move around in the town."
Zenaba Adam, a workshop participant, was 14 years old when she witnessed atrocities within her own home.
"My grandfather was killed in front of me by the anti-Balaka. Our houses were burnt down. We relocated closer to the mosque as we felt safer there. There was no school for three years, so it is only now I am passing my final year since the school recently reopened. During those three years, I stayed at home and was anxious and discouraged."
"At the moment that the two communities saw they were suffering the consequences on each side because of this violence, people realized there was no advantage in staying divided," says Blaise. 
This was a moment where CRS and other organizations were able to begin taking steps toward reconciliation with community leaders. Workshops such as this one, others on social cohesion, as well as savings groups and business skills training were also introduced to help heal the community.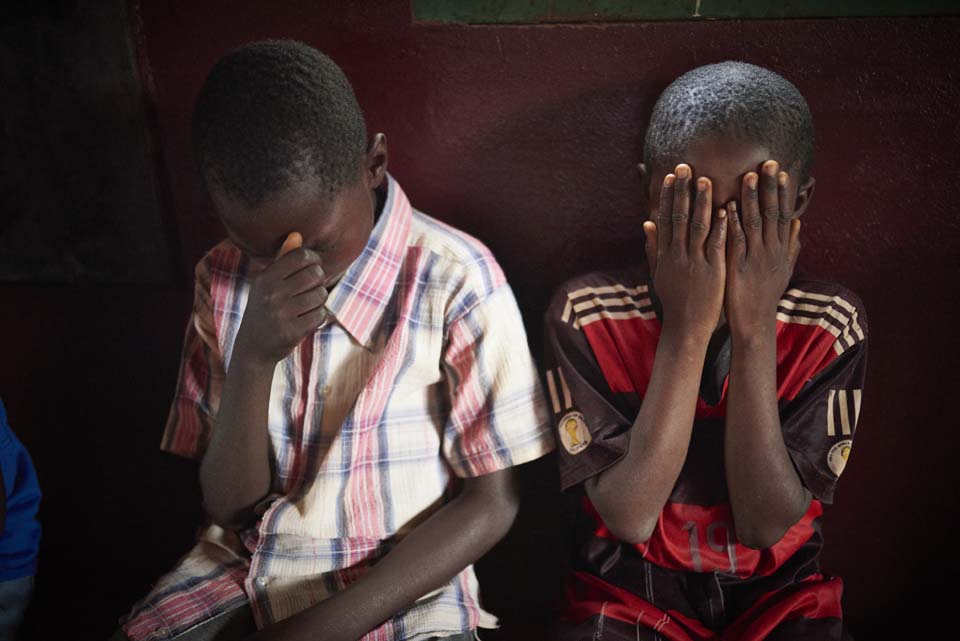 Children close their eyes during a trauma healing workshop as part of the Ita na Ita project
. Photo by Samuel Phelps/CRS
"Because people cannot be healed during a three-day workshop, we need follow-up. We need to bring people back together to talk about how things are changing within them," says Florence Ntakarutimana, a program manager for CRS. "We train the trainers who are established in the affected communities and close to those in need. Their capacity to continue to listen to people and provide support is crucial to recovery."
"The trainings and awareness programs brought a lot to Boda," says Ali Bouba, president of the Muslim Community Association in Boda. "It made a huge difference. Creating an inter-religious platform really brought us together. If something is not working, we come together to discuss how we can resolve it."
"Now I have a definition of trauma, the causes, the consequences. We defined what anger is, defined what loss is, grief as well … and pride," says Zenaba. "When I finish school, I would like to become a teacher. I want there to be mutual understanding in the community, reconciliation so that the education system can evolve. If we are educated, we won't hurt each other."