Haydée had been working for 20 years for disadvantaged communities and youth at risk when she faced CRS head-on. Love was mutual and at first sight. She brought an education in awareness since migrating to the United States at age of 6 from Havana, Cuba. Growing up in Santa Clara, California, the inequalities and marginalization suffered by Hispanic migrants were always something that moved Haydée deep down. That mixture of resilience and unity that characterizes Hispanics and the hard work that all migrants contribute to the country where they arrive, stirred her. She had lived through them. As a Hispanic migrant, she knows these challenges from within, just as she knows and has experienced that dreams are fulfilled and that paths open for those who struggle.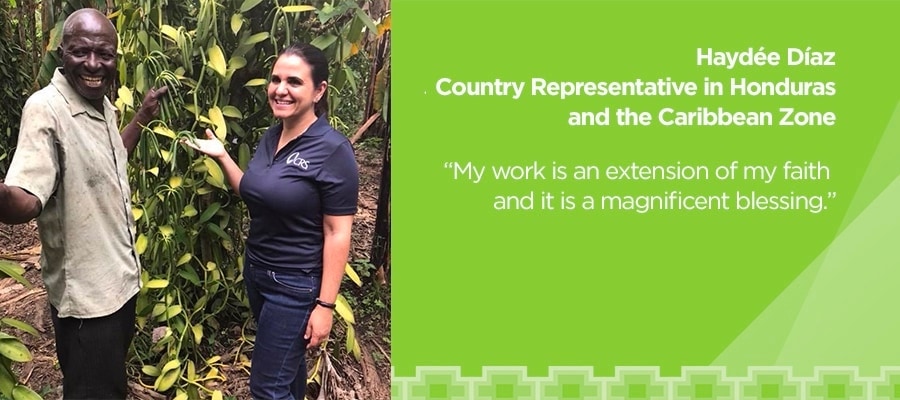 After graduating from university, convinced of her call to serve others, Haydée worked for an NGO focused on advocating for the newly arrived Latino community members and later, in El Salvador, with rural teachers and in a crime and violence prevention program with very high-risk youth in gang-controlled communities. That's the reason why CRS's work was familiar to her, becoming immediately convinced, sharing the values and the commitment to transform at the root, the lives of those most vulnerable. Her first job with our organization was in El Salvador and Honduras where she worked for three years.
"I don't think God wants some people to go to bed at night without eating, not knowing how to feed their children a plate of food. God wants us to live in a world where we all have the right to food, to education, to live in a decent home, to have a decent job."
With such a clear mission and placing faith in the future, it is no surprise that Haydée arrived at Uganda. A totally different world in every manner to her birthplace and at the same time so similar. Everywhere in the world, people want the same things: a dignified and happy life, a future. So, since the past 2 years, Haydée was the Director of the CRS Programme Office in Uganda. A country she probably couldn't find on the map before she got there, but which has surprised her with its generosity towards migrants. Recently, Haydée moved to Honduras with her three children and her husband to take the position as a CRS Country Representative in Honduras and the Caribbean Zone. She is extremely excited to continue working to empower communities and the Hispanics with CRS.
While in Uganda, Haydée used to drive through the enormous refugee camps in her CRS vehicle and people run to meet her. And this is because CRS means the Church and the Church never abandons you.
"And I am not talking about the great cathedrals, I am talking about the millions and millions of small chapels and churches around the world. In Nairobi, Kenya, or a small chapel, in the most remote corner of Oaxaca. We, as CRS, are the Church."
Haydée's faith and vocation of service fills us with pride, because she is a Hispanic who loves starting from her roots, loves and understands, loves and provides support. Haydée, as she explains it, is contributing to fight for the Kingdom of God, for a world where all children from Uganda, El Salvador, California, or the Philippines ... can go to bed tonight with a roof over their heads, have enough to eat, have learned to read, wash with water and have an opportunity for a better future.
This month we celebrate our Hispanic heritage. Celebrate with CRS!