Silverio and Irma Mendez depend on soil and water to raise the corn and beans that feed their family. Parents of five daughters and two sons, the couple looks to the Guatemalan sky for the rain they need to survive – rain that is no longer reliable.
Parched corn and bean fields, congested with rocks the size of basketballs (and even several graves), tell the increasingly grim story of hoeing a living out of land that nature seems to have forgotten.
"They are getting 100 millimeters of rain at a time. Then they are going 20 to 30 days without rain. And in some extreme cases, we're seeing 45 days of dry weather, which no crop can resist."
– Daniel McQuillan,
head of agriculture for CRS Guatemala and Mexico
Cycles of drought and flooding endanger farming, the number-one livelihood in the region. In fact, over 6 million small-share farmers are struggling with perilous new weather patterns around the world, including Africa, Asia, Central and South America and Mexico. At risk are coffee, beans, corn, rice and livestock, some for consumption, some to sell at market, all essential to food security and local economies.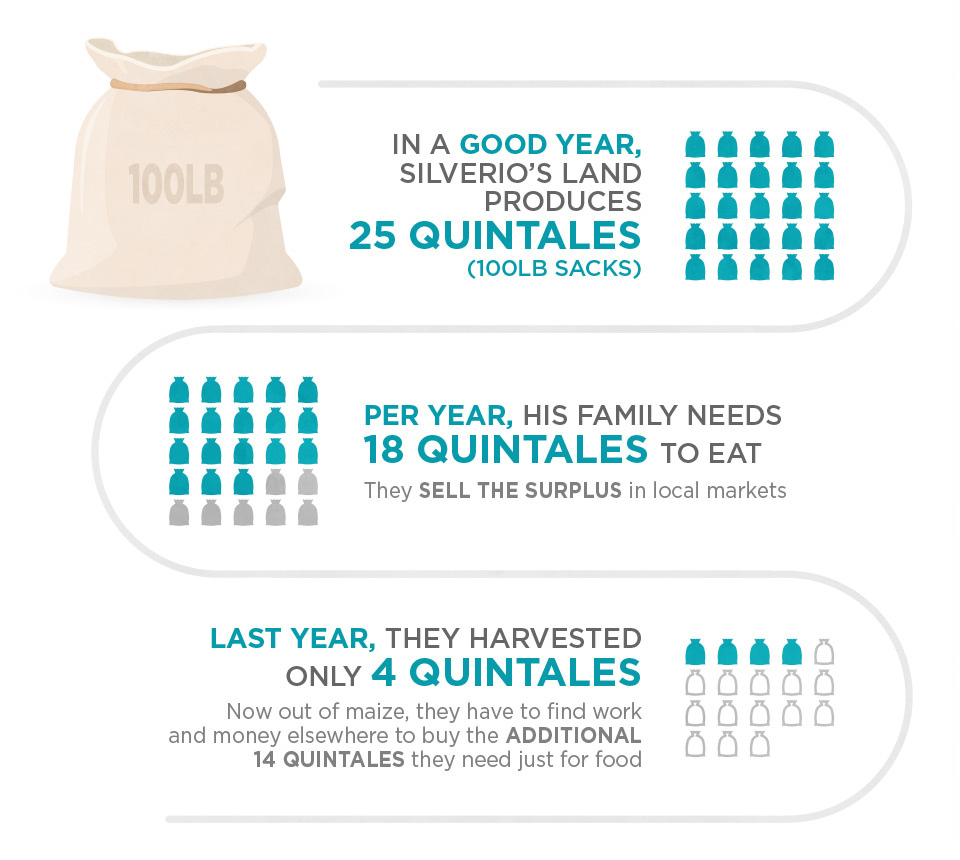 "(If) the mango trees bloom a lot, it'll be a good year. But if the mango trees bloom late, like March, that means our rainy season will come later. It won't be enough."
– Irma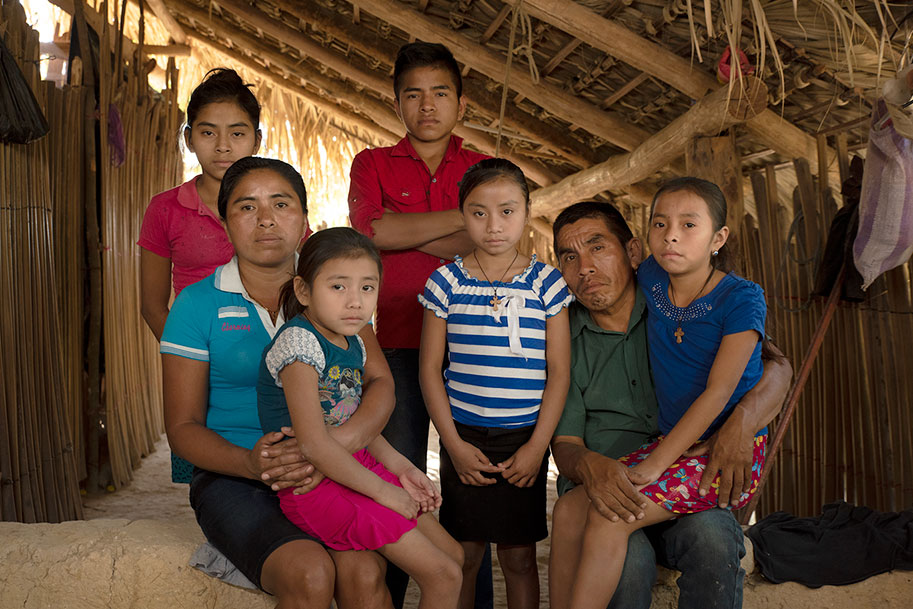 Put humanity first by helping farm families thrive. Donate.
Silverio and Irma are the lucky ones.
The truth is, the Mendezes have it better than many families. Third-generation farmers, their mud house has electricity and is topped with a tin roof; two other buildings are thatched with palm leaves. Their children attend school wearing adequate clothing and shoes. Instead of journeying miles for water, Irma and her daughters hike 20 minutes through woods, then down and up a steep, rocky hill, lugging full water jugs.
For additional income, Irma works odd jobs outside of the home. Between seasons, Silverio works as a day laborer harvesting cacao and in construction. Occasionally, relatives in the U.S. send money to help them make ends meet.
"When we don't have enough corn, we have to borrow money from somebody from the community. We use it to survive, because there's no way to pay for things. Then when we start making some money, we save it up to pay that loan off later."
– Irma
Farmers like Silverio and Irma are losing hope.
How else can they earn a living?
Imagine losing four of your past six years' salary. In Central America, the underworld can seem more lucrative than the hard work of farming – more certain to put food on plates, roofs over heads and children in school. After all, the malnutrition rate for children living in the Dry Corridor is 49.8%.
It might not look like it, but Silverio's best weapon is right under his feet.
It's called water-smart agriculture, and it introduces farming practices designed to revive the region's degraded land and protect precious water resources. CRS partners with farmers to pinpoint community needs, customize solutions, and spread the word about simple, cost-effective practices that often show results in just one harvest. Changing cultural norms is not easy, but the results are enough to convince farmers, including Silverio, to risk their next harvest on this new approach.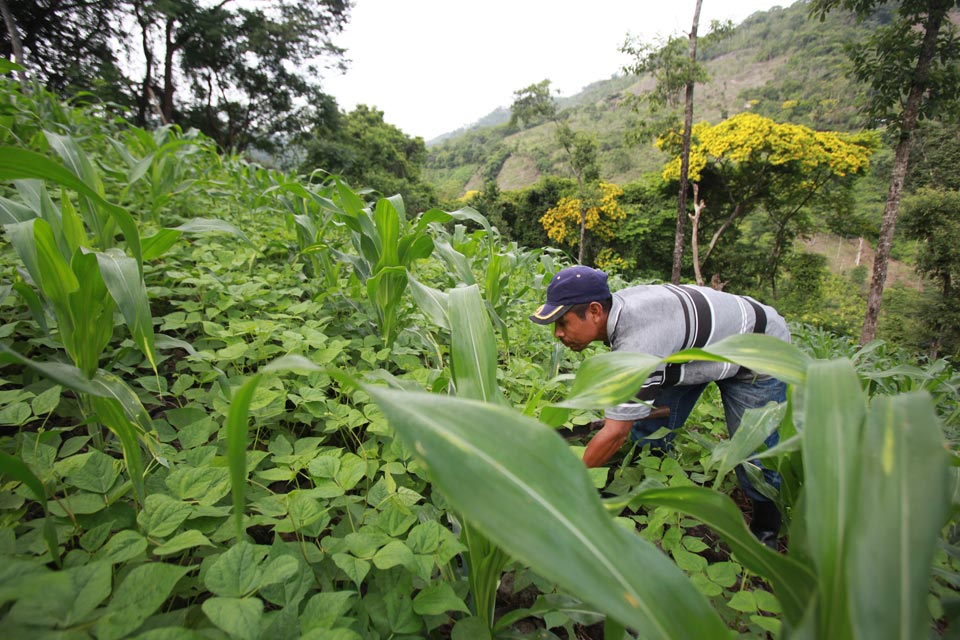 In a Dry Corridor setting in Nicaragua, 30% of farmers used water-smart techniques three years ago. As neighbors teach one another, 100% have now been influenced by or have adopted water-smart agriculture. Already, trainers from Guatemala's national coffee association (ANACAFE) reach 25,000 smallholders a year.
"We just help each other.
That's a custom here."
– Silverio
In the best of times, agriculture is a backbreaking, complex way to earn a living. CRS helps small producers move from subsistence farming to running a successful agribusiness – in other words, from being vulnerable to being resilient. By adapting to changing conditions, increasing production and implementing marketing and business skills, Silverio and Irma can put their family on a path to prosperity for generations to come.
Healthy yields mean Silverio can:
Helping farmers in the Dry Corridor is just one example of how CRS puts humanity first to save and change lives.
As new weather patterns intensify around the globe, lives and livelihoods are in danger across Africa, Asia, Central and South America.
Catholic Relief Services is at work every single day, with 124 projects in 51 countries, serving 6.1 million people whose lives and livelihoods depend on agriculture. Healthy crops and sustainable farming can change lives for millions of people – helping them not only find solid ground with food security and household income, but build sustainable livelihoods that slow migration, foster stability and build economic strength and resilience as the climate continues to change.
Put humanity first by helping farm families thrive.