Growing and Improving Cashew Farming in Benin
Photo by Jennifer Lazuta/CRS
Biba Saka Koto can't help but smile proudly as she stands in the middle of her cashew farm in northern Benin, surveying the land. Cashew season has ended, and while dried leaves now crunch beneath her feet on the hard, cracked soil, the surrounding trees are still a vibrant green. During the peak growing season of January to May, the trees will once again be speckled with bright pink and yellow cashew fruit, just waiting to fall to the ground and be collected.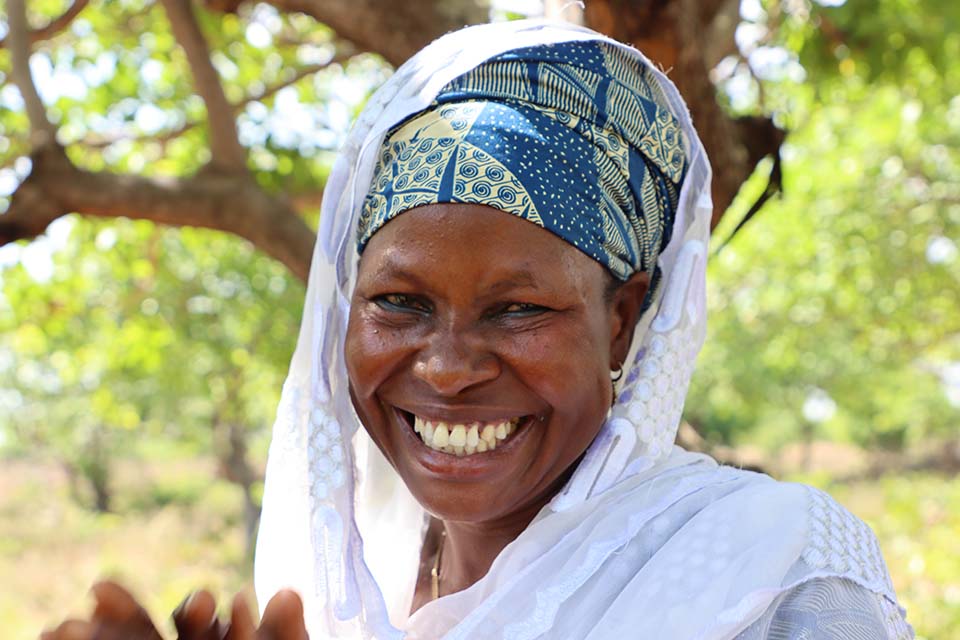 Biba Saka Koto was a participant in CRS' BeninCaju project, a member of a local savings group and trained as a ProLeader.
Photo by Jennifer Lazuta/CRS
Biba is among a small but growing number of women in Benin who own farmland, grow and sell cashews.
Biba's story, she says, began in 2004, after her husband passed away. Biba was suddenly alone in caring for their four young sons. A seamstress by trade, she says there was not enough demand for business in their small village, making it difficult to feed her children and pay school fees. Previously, she and her husband grew cotton on his land, to support their family's needs.
Biba wanted to continue to farm, but local culture made it difficult for her to inherit her husband's land or to attend agriculture trainings to learn how to increase her yields. For many years, she did what she could to get by.
"When my husband died, I tried everything," she recalls. "I did a little bit of this and a little bit of that, but it was never enough."
Over the years, she was eventually able to purchase the land.
In 2016, Biba was invited to participate in the production component of the U.S. Department of Agriculture-funded 'BeninCajù', or Benin Cashew, project. BeninCajù is implemented by Catholic Relief Services as a sub-awardee to TechnoServe, and in partnership with the Territorial Agricultural Development Agency, Pole 4, Benin's Ministry of Agriculture, and the National Federation of Cashew Producers, across 12 regions in Benin.
Using an innovative approach called ProLeader that CRS developed, BeninCajù helps develop and promote local expertise by training farmers—including women—on best agriculture practices. These include how to measure cashew nut quality, post-harvest handling, and group sales. During a four-month certification program, which includes hands-on training sessions, coaching, and skills assessment, participants like Biba learn how to improve both the quantity and quality of their cashew crops.
Savings group helps grow business
The ultimate goal of the project is to equip motivated farmers with expert skills so they can train other farmers in their community. Once certified as ProLeaders, these producers-turned-leaders play an integral role in the development of cashew production in Benin.
Biba, who is now treasurer of the Village Cooperative of Cashew Producers of Tamarou, became a ProLeader through the BeninCajù project in 2019. She was among the first women to graduate from the program and now trains fellow female farmers on best cashew growing practices. She also teaches these farmers how to read and write through literacy groups.
"Today, having trained several producers, I am more known in my village and the surrounding villages," Biba says. "Many other cashew producers approach me for advice on good practices or solutions to problems on their farms."
As part of the BeninCajù project, Biba was also encouraged to take part in one of CRS' local Savings and Internal Lending, or SILC, groups. As a savings group member, she contributed weekly to the group's savings and was able to easily borrow money on very flexible terms.
Thanks to the small loans that she took out from the group, Biba was able to plant some cashew trees on a portion of the land left behind by her husband and purchase more land. She also hired additional staff and rented machinery to help plant, grow and cultivate the cashew trees.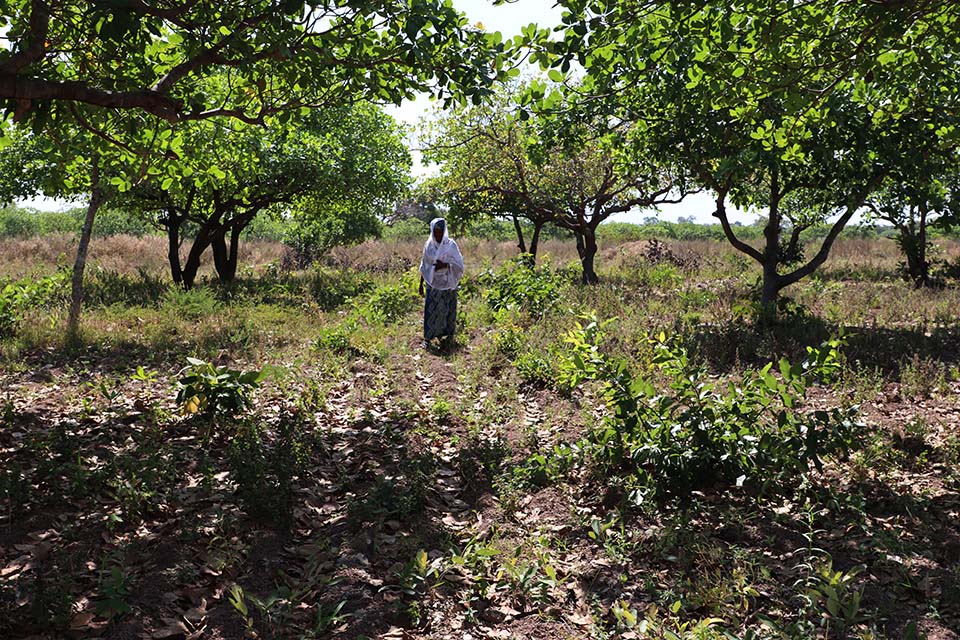 Biba Saka Koto stands in the middle of her cashew farm in northern Benin. 
Photo by Jennifer Lazuta/CRS
Since then, Biba's cashew production has more than doubled, increasing from 600 kilograms to more than 1,500 kilograms per year. Using the extra profit from sales of her improved cashew crops, she has been able to send each of her sons to technical school—a real source of pride for her.
"It is quite exciting to see a brave woman like Biba succeed after putting into practice the techniques and advice she learned from the programs," says Raimi Suanon, a SILC group facilitator for CRS.
Most recently, in 2021, Biba learned beekeeping, and now has three working hives on her land, which produce about 21 liters of honey every six months. The sales from the honey not only increase her overall income but also help increase cashew production, as the bees pollinate the cashew flowers that produce the raw cashew nuts. This also helps restore Biba's land.
As Biba explains her plans to increase her honey production in the coming years, hundreds of bees quietly buzz just outside of their hives, shaded from the hot sun by the cashew trees.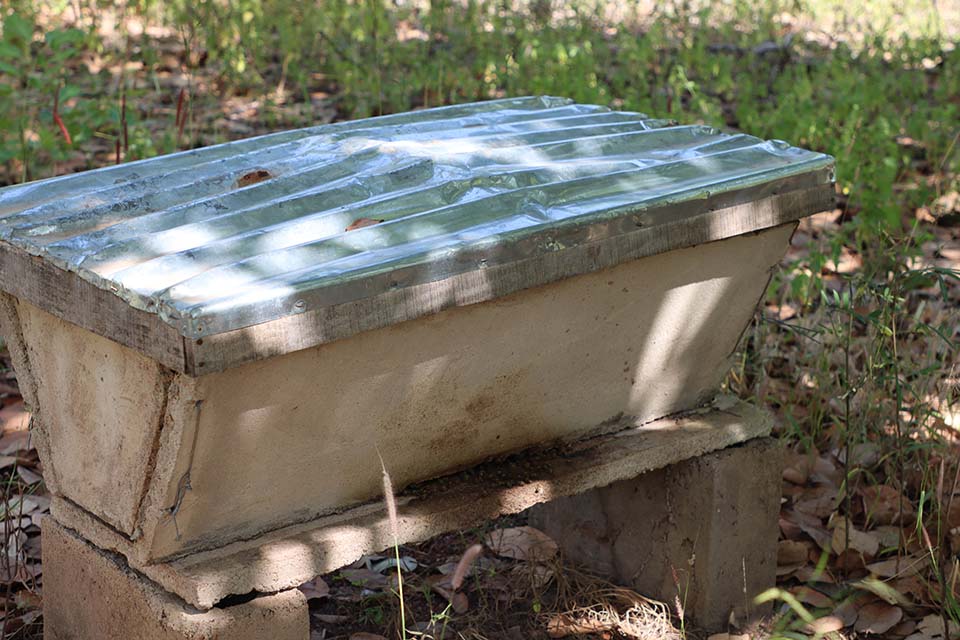 One of Biba Saka Koto's beehives, which produces honey that she sells and uses to pollinate her cashew trees. 
Photo by Jennifer Lazuta/CRS
"I am so proud of what I have accomplished to date, but my work is not done yet," Biba says, pointing to a neighboring plot of land which she hopes to soon buy. "I may be getting older, but I still have big plans for the future."
--
The BeninCajù project, funded by the U.S. Department of Agriculture and implemented by TechnoServe and Catholic Relief Services as a sub-grantee, was an inclusive and innovative project for the integration and acceleration of the cashew nut sector in Benin from 2015-2021. Alongside its local partners, including the National Federation of Cashew Growers of Benin, CRADIB and DEDRAS NGO, and the Territorial Agency for Rural Development Pole 4, CRS helped increase the productivity and income of more than 29,000 small cashew producers, of which 37% were women. Some 200 ProLeaders, including 69 women, benefited from the project's capacity-building activities and are now trusted sources of knowledge among their peers. In the 12 communes where BeninCajù was implemented, cashew yields increased approximately 72% between 2016 and 2020.