Goats Improve Food Security and Resilience in South Sudan
Photo by Will Baxter/CRS
"The goats are my bank."
In late 2013, as opposition military forces approached Mary Nyanjok Puoch's home outside Bor town, she had no choice but to flee to a nearby forest where she would end up hiding for a month with her family.
"We were suffering to the point that we were only living off of leaves, which we would boil and eat," Mary says. When the fighting ended, Mary returned to a path of destruction. "The houses were burned, and I lost all of my goats and cattle."
Afterward Mary's family struggled to scrape by, and then three years later her husband Malith died from an illness, leaving the 35-year-old mother of six with no means to support her children.
"I didn't have any income," Mary says. "I was facing a lot of difficulties because no one was taking care of me, and this area does not support agriculture."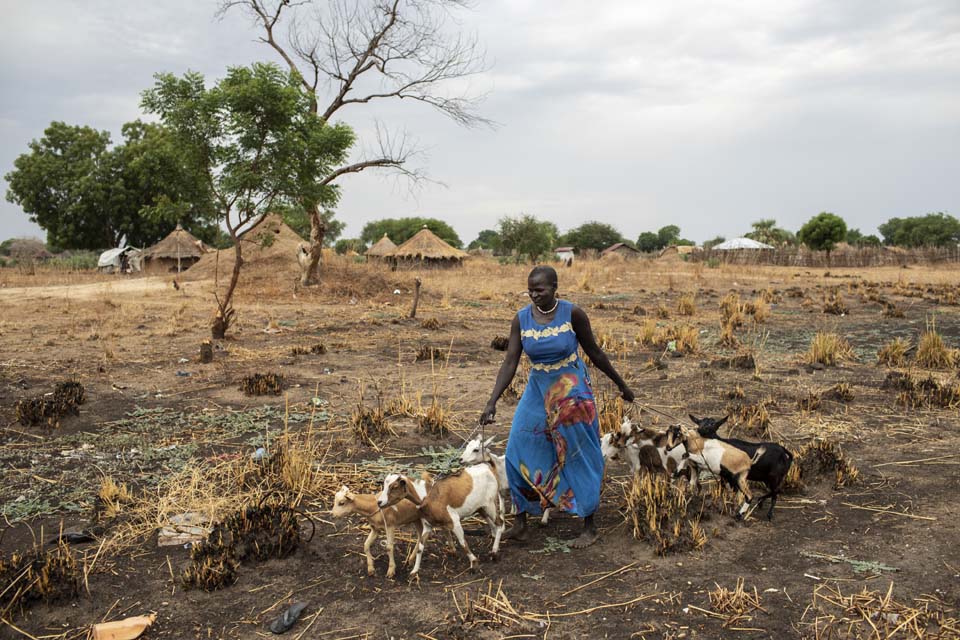 Mary Nyanjok Puoch, mother of six, received three goats from CRS through a resilience and food security program in South Sudan. She now owns a herd of 17 goats.
Photo by Will Baxter/CRS
Then in 2016, because she was a widow with no source of income, Mary was identified as one of several vulnerable women heads of household to receive goats under a Catholic Relief Services livestock program.
At a livestock fair, Mary purchased three goats from a local vendor using a revolving credit initiative that is part of the Resilience and Food Security Program, a food security and livelihoods program funded by the U.S. Agency for International Development's Office of Food for Peace.
As part of the program's overall goal to build resilience, it identifies vulnerable women like Mary, who are provided with a loan to purchase three breeding-age female goats. These goats offer multiple benefits, including milk to improve family nutrition and income, and as valuable assets that can be easily sold when the family needs cash. After one year, each woman "pays forward" the loan by providing another vulnerable woman in the community with three goats.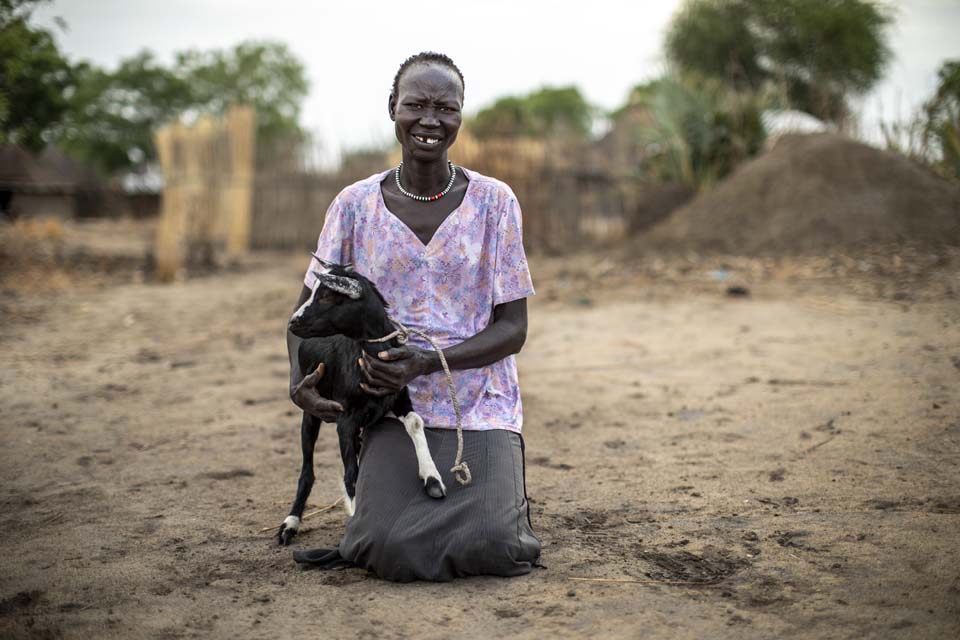 Anyieth Kuol Jok holds a goat she received through a CRS food security program that helps vulnerable women gain economic independence.
Photo by Will Baxter/CRS
The goal is to help women who head households build and grow productive assets, which can provide a level of insurance against potential financial shocks. In 2016, during the first round of restocking, a total of 100 women in Bor County purchased three goats each. Another 90 women received goats in 2017-2018, and so far in 2019 a total of 50 women have received goats.
In a country where people in rural areas have little to no access to financial or savings institutions, livestock serves as an asset and investment that can easily be cashed in. Most households in Greater Jonglei raise goats or cattle if they have the means to do so, which makes livestock a key element of the local economy. The support CRS is providing to these women can ultimately help improve their livelihoods and elevate their status in the community.
Since 2016, Mary has grown her herd and sold goats to purchase household essentials, food and clothing, and to pay school fees for four of her children. In November of 2018, she sold three goats for a total of around $135.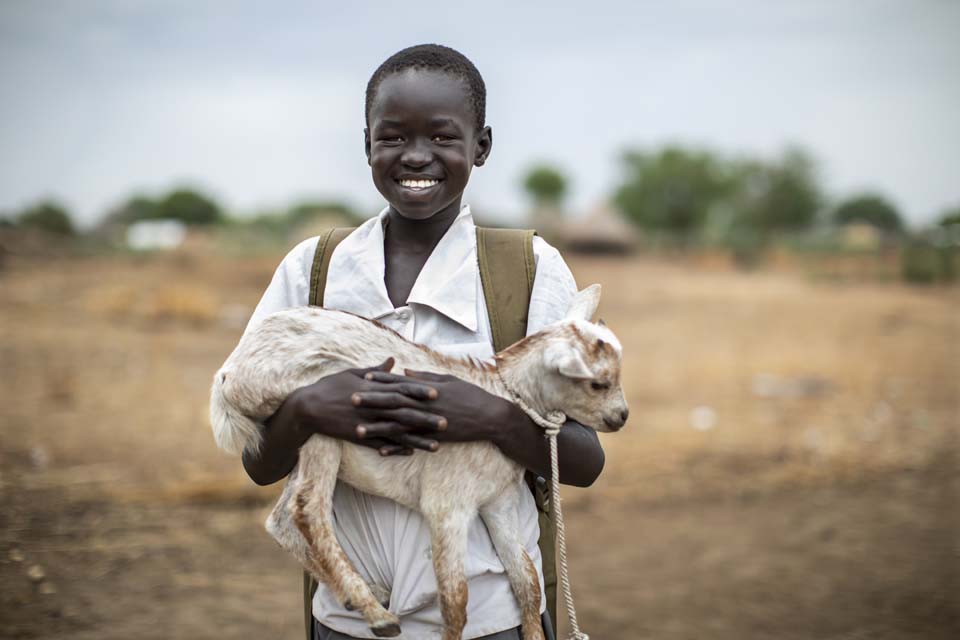 One of Mary Nyanjok Puoch's children holds a goat at her home outside Bor town, South Sudan. The goats she received from a CRS food security program have helped her gain a measure of financial well-being following the death of her husband five years ago.
Photo by Will Baxter/CRS
"The goats are my bank. I don't have any other kind of bank. I can sell one at any time to get the money I need to feed my children, so they can grow up to be the people of the future," Mary says.
"I foresee that my children will get an education through these goats. As they grow older, and because they will get an education, they will also improve my life later on," Mary says.
A gift repaid
Despite living just a few minutes' walk from each other, Mary had never actually met Anyieth Kuol Jok. Then one day in 2017, Mary handed over three of her goats to Anyieth, who was selected as the second-round beneficiary to receive goats as part of the revolving credit scheme.
Like Mary, when conflict broke out in 2013, Anyieth lost all her livestock, including 25 goats and 3 head of cattle. Now she is cautiously optimistic that her situation will improve.
"My hope lies in these goats. When they multiply, I will sell some and send my children to school, and buy food and clothes for my children," Anyieth says, adding that she also uses the goats' milk to feed her 3-year-old daughter.
Malith John Makeer, a livestock and fisheries officer with CRS, says that in time Anyieth will become more economically robust like Mary.
Sustainability and independence
"When the goats multiply, she will be in position to be food secure and recover the livestock assets she lost in the 2013 crisis. She will be in a good financial position and be able to send some of her children to school, and she will have access to hospital services in the case of a sickness," Malith says. "This is how we improve sustainability and independence."
Mary, who has 17 goats in her herd now, was also pleased with the result of the arrangement.
"I am very happy because, after paying back the three goats, I was left with a good number of goats and was able to trade some," Mary says, explaining that she traded ten goats for a small bull calf. "When the bull is of a certain age it can be exchanged for a heifer," she adds.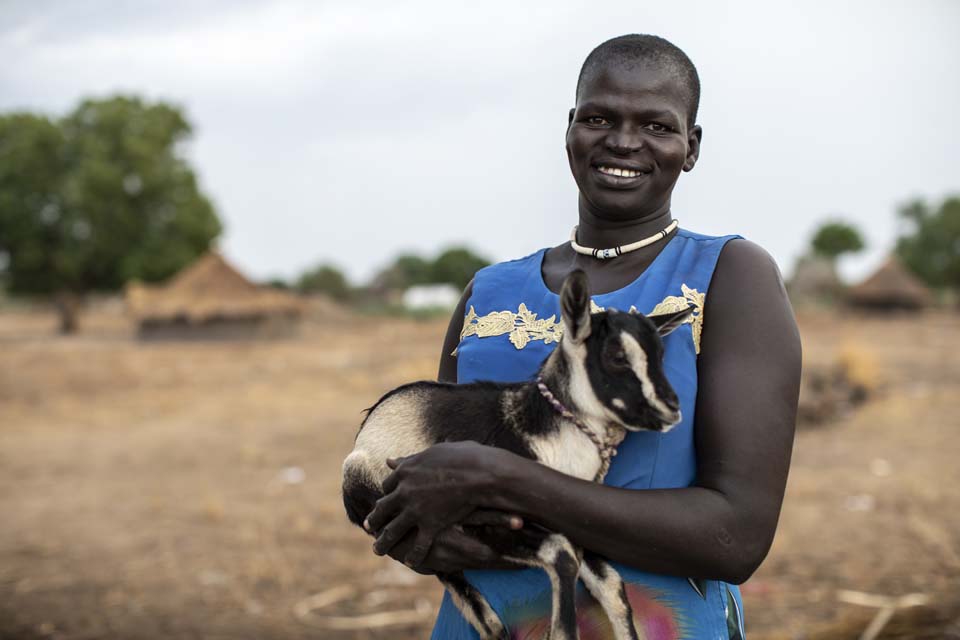 Outside her home in South Sudan, Mary Nyanjok Puoch holds a goat she received through a CRS program that helps vulnerable women improve their resilience and food security.
Photo by Will Baxter/CRS
Through the program, Mary and Anyieth also receive advice and mentoring from CRS staff and community-based animal health workers trained and supported by CRS.
Santino Marial, a government livestock extension officer attached to CRS, says that regular follow-ups are carried out to advise on a range of matters including vaccines and animal husbandry.
"Disease is a big challenge. I've advised Mary to go to the market to get vaccines," Santino says, noting that Mary is already proactive when it comes to addressing the healthcare needs of her animals.
"In the future, I foresee I will be very strong economically," Mary says. "These goats will continue to help me financially. They also provide milk for my children, and I can exchange some and buy more cattle. Then I will own both cattle and goats."