HAITI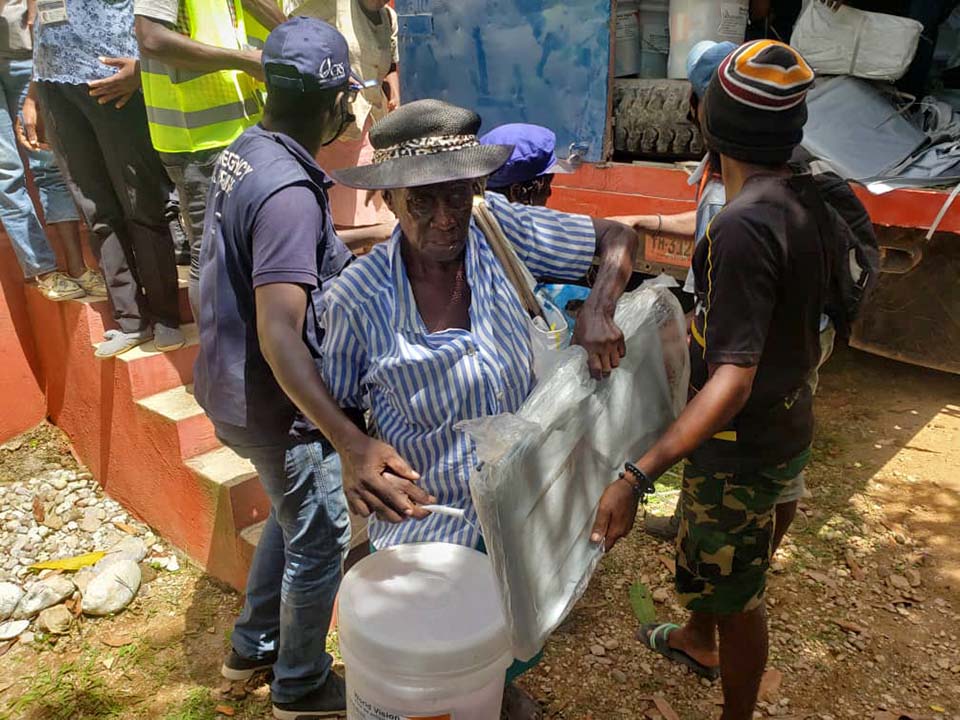 CRS staff distribute hygiene kits and tarps to the people in the town of Maniche, South Department of Haiti. 
Photo by Godchild Regis for CRS
On August 14, 2021, a 7.2-magnitude earthquake struck Haiti at 8:30 a.m. GMT, about 80 miles west of Port-au-Prince, in Nippes department. An estimated 2,248 people lost their lives in the earthquake, and thousands were injured. Local health care systems are overwhelmed.
The earthquake destroyed homes, infrastructure and businesses, and displaced tens of thousands of people throughout the southern region, Grand Sud. At least 53,915 houses have been  destroyed, and another 83,777 houses have been damaged. Many public buildings such as hospitals, schools, hotels and churches are damaged or collapsed. An estimated 650,000 families across the departments of Sud, Grand'Anse and Nippes need emergency support.
CRS and our partners are already at work to meet people's immediate needs for food and shelter. CRS is providing emergency tarps, hygiene supplies and kitchen sets to families for temporary shelter and sanitation. The initial phase of our comprehensive, holistic response will continue to focus on emergency support for shelter, water, sanitation and hygiene. These efforts will transition into a robust recovery program to repair and rebuild homes and infrastructure, and restore livelihoods. Care for people's emotional well-being will be woven in, especially for families dealing with distress, grief and trauma.
In all these efforts, CRS will prioritize a market-based response—ensuring we support the recovery of the market and local economy by using local materials, repairing and restoring local infrastructure, and engaging local suppliers, distributors and vendors. 
AFGHANISTAN
Our hearts and prayers go out to the people of Afghanistan, who have lived through decades of conflict, poverty and uncertainty.
CRS has responded to numerous emergencies in Afghanistan since 2002, including drought, floods, the ongoing pandemic and displacement due to conflict.
As always, we remain grateful for your compassion and generosity, especially now.
Please keep the people of Afghanistan in your prayers, as well as all of those continuing to serve them.
COVID-19 UPDATES BY REGION:
Asia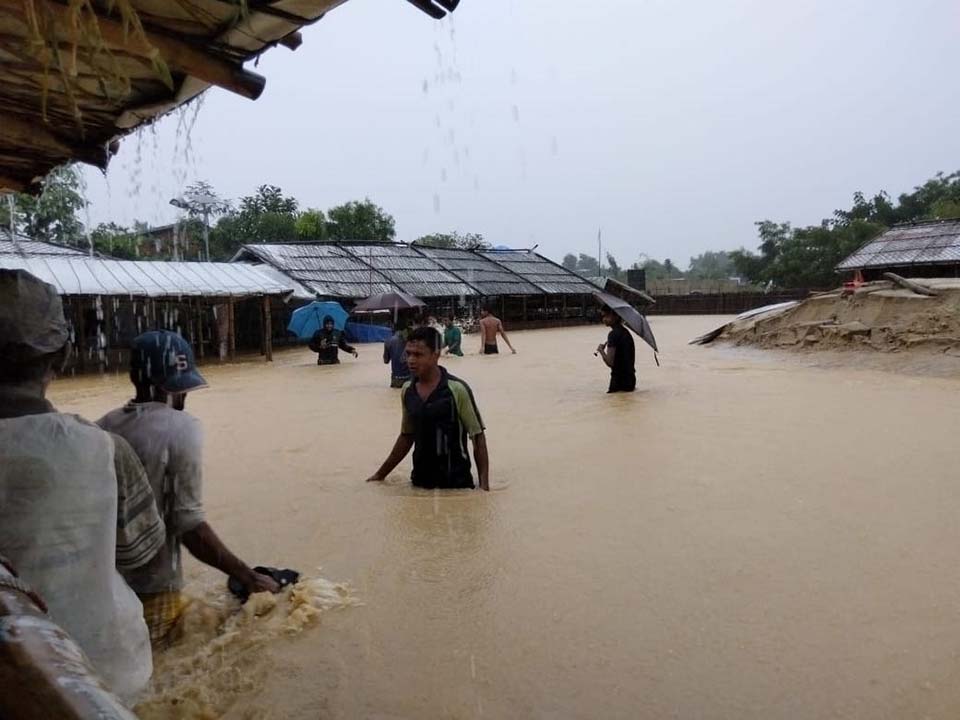 Severe flooding in Bangladesh has compounded the impact of the pandemic.
 Photo by Mahmud Rahman for CRS/Caritas Bangladesh
The region has been heavily impacted by a COVID-19 wave since March 2021, when India started seeing an exponential rise in cases. At its peak in early May, India reported over 380,000 new cases a day—the highest rate of any country.
"We have been ensuring immediate shelter support for families who lost their shelters. We have also been providing immediate psychosocial, protection, and water and sanitation support to ensure that they know they are loved and can find a place of comfort."
— Inmanual Chayan Biswas, head of operations, Caritas Bangladesh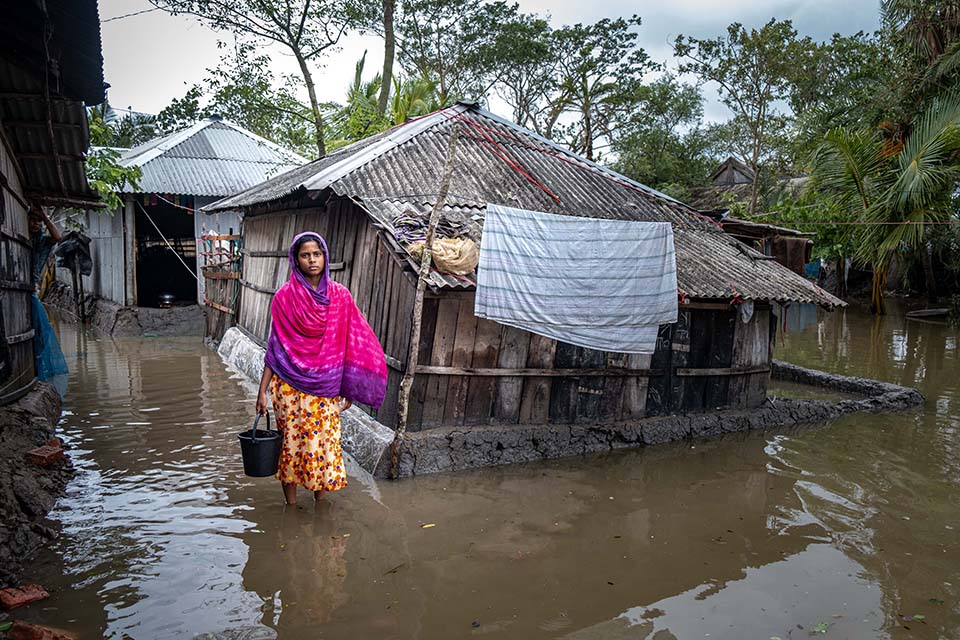 Caritas Bangladesh staff support Rohingya families affected by flooding in the refugee settlement in Cox's Bazar. 
Photo by Amit Rudro for CRS
Nepal experienced a similar wave about two weeks behind India. Many other countries have started experiencing major upsurges in the last two months. The rapid spread is being driven by the emergence of the most contagious delta variant, combined with low vaccination rates and low adherence to safety measures. Other emergencies, such as political instability in Myanmar and flooding in Bangladesh, are compounding the impact of the pandemic on vulnerable populations.
CRS has been supporting our partners to map out their capacities and emergency planning. Key program areas have included:
Medical support for COVID-19 patients and health care facilities—including oxygen, medicine and ambulance service support—in India, Laos, Myanmar and Nepal, with expansion plans in Bangladesh and Indonesia.
Infection prevention and control in India and Myanmar, with expansion plans in Bangladesh.
Risk communication and community engagement in India and Nepal, with expansion plans in Bangladesh and Indonesia.
Psychosocial support for front-line workers and volunteers in India, with expansion plans in Indonesia
Basic food and household needs in India and Nepal, with plans for expansion in Indonesia.
Europe, Middle East and Central Asia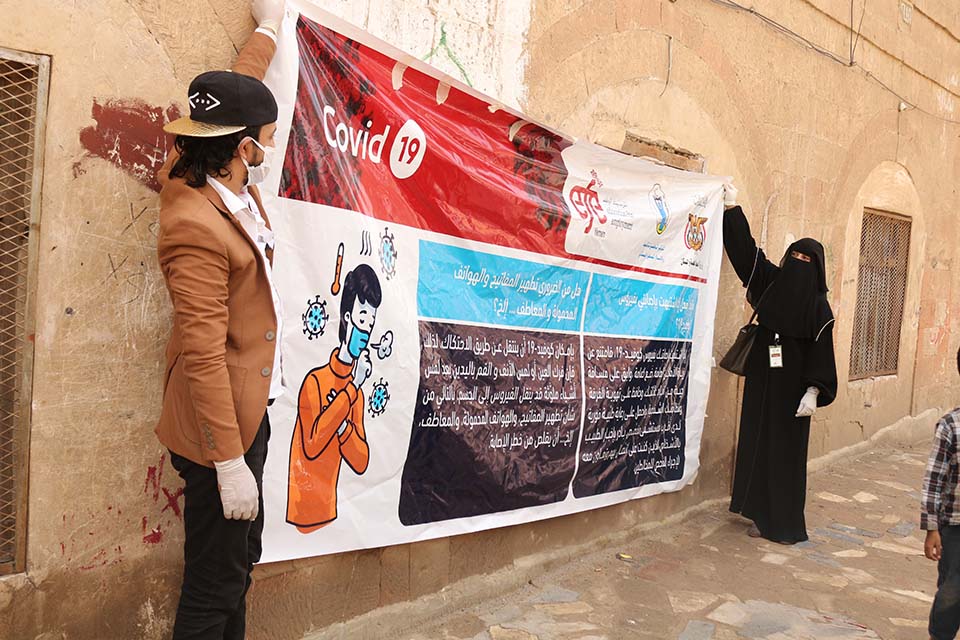 CRS is supporting 22 health care facilities across the West Bank and Gaza with infection prevention supplies, equipment and training.
Photo courtesy Caritas Poland
 "We are saving many lives every day. The project supplied us with intensive-care beds, electrocardiographs and oxygen generators. This enabled us to receive more patients."
- Ibrahim Alsahouri, infection prevention and control, Beit Jala Hospital
COVID-19 is on the rise again in most countries across the region. Vaccination rates vary, but only 5.5% of people have been fully vaccinated in the Middle East.
Lebanon
Cases are rising, and hospitals are reaching capacity and facing shortages of essential supplies. Only 31% of the population has registered for a vaccine, and 12% are fully vaccinated. Registration rates are especially low among refugees, migrants and other marginalized communities due to limited access to computers and transportation, confusion navigating the platform and vaccine hesitancy. In July, CRS together with nine faith-based partners launched a three-month project to enhance access to the COVID-19 vaccine, including developing awareness videos, conducting awareness campaigns in refugee camps, and visiting families at home to assist with registration. 
West Bank and Gaza
With the detection of the delta variant in the West Bank and the spike in cases in Israel, a COVID-19 surge is predicted. With funding from U.S. Agency for International Development, CRS is supporting 22 health care facilities across the West Bank and Gaza with supplies and equipment, including personal protective equipment, cleaning materials and medical and sterilization equipment. CRS has also provided COVID-19 risk communication and hygiene kits consisting of cloth masks, hand sanitizer, and soap to 8,178 people, as well as prevention supply kits via e-vouchers to 904 households.
East Africa
CRS will support efforts to bolster vaccination rollout and strengthen COVID-19 treatment services in Kenya, Somalia, Tanzania and Uganda.
Uganda experienced a second wave with a peak in cases in June, straining health services, while Kenya looks to be entering into its fourth wave. CRS' faith-based partners in Somalia and Tanzania are seeing heavy caseloads of symptomatic patients often undiagnosed but critically ill. Across the region, vaccine coverage is only at about 2%.
On August 3, the U.S. government announced donations of 100 million doses of vaccines globally, including millions of doses for the region. A further 586,000 doses were donated to Uganda by China and Norway. This puts pressure on countries to rapidly prepare for vaccine rollout.
CRS will support efforts to bolster vaccination rollout and strengthen COVID-19 treatment services in Kenya, Somalia, Tanzania and Uganda. Activities will address vaccine hesitancy and put in place the information and systems required for a rapid, coordinated delivery of vaccinations to people in need and those who are most vulnerable.
Despite lockdown restrictions limiting operations, CRS is expanding mass media campaigns in regional languages; support to local task forces; support of health workers and village health teams; and support to health workers with patient tracking, data management and reporting, and provision of personal protective equipment and cleaning supplies to lower-level health facilities.
Southern Africa
The region is well into its third wave of COVID-19, though numbers are declining. Lockdowns and curfews remain active in many countries, including Zimbabwe, Zambia and South Africa. Vaccination doses and supplies are inadequate, although vaccine uptake is rising. CRS is promoting vaccination and preventive behavior with staff, partners and communities.
CRS promotes vaccination and preventive behavior with staff, partners and communities.
Madagascar
CRS has conducted 14 one-hour vaccine-awareness webinars in local languages, reaching 600 people. We are supporting diocesan partners and have distributed vaccine information posters to offices and communes, and will provide capacity-building support to three health facilities to manage COVID-19 cases. CRS is also supporting the development of community response plans to improve vaccine sensitization, and is providing water, sanitation and hygiene supplies, and personal protective equipment.
Zimbabwe
The country remains under a lockdown that includes a dawn-to-dusk curfew, shorter working hours and a travel ban between cities. CRS continues to support Catholic health facilities with the provision of personal protective equipment and the dissemination in communities of key information on COVID-19 prevention and vaccination.
Zambia
CRS recently reviewed a project that provides grants to Catholic health partners to support a range of activities, including infection prevention and control; water, sanitation and hygiene at health facilities; community case management; medical supplies and personal protective equipment; and information outreach to communities for prevention practices. The review elicited positive feedback from the participating health partners, who emphasized the impact and importance of the ongoing support and repeated messaging throughout the pandemic.
Malawi
All CRS partners are working with district health colleagues to facilitate the roll out of COVID-19 information. They are communicating with community leaders to answer questions, share information and counter vaccine hesitancy.
West Africa
The COVID-19 impact varies widely, with coastal nations facing third wave crises while central Sahel countries' isolation and low population densities appear to have kept case numbers low.[1] The average vaccination rate is below 1%. CRS and our partners leverage their long-standing relationships with communities and local leaders to provide clear, evidence-based information about COVID-19 and vaccines. 
Ghana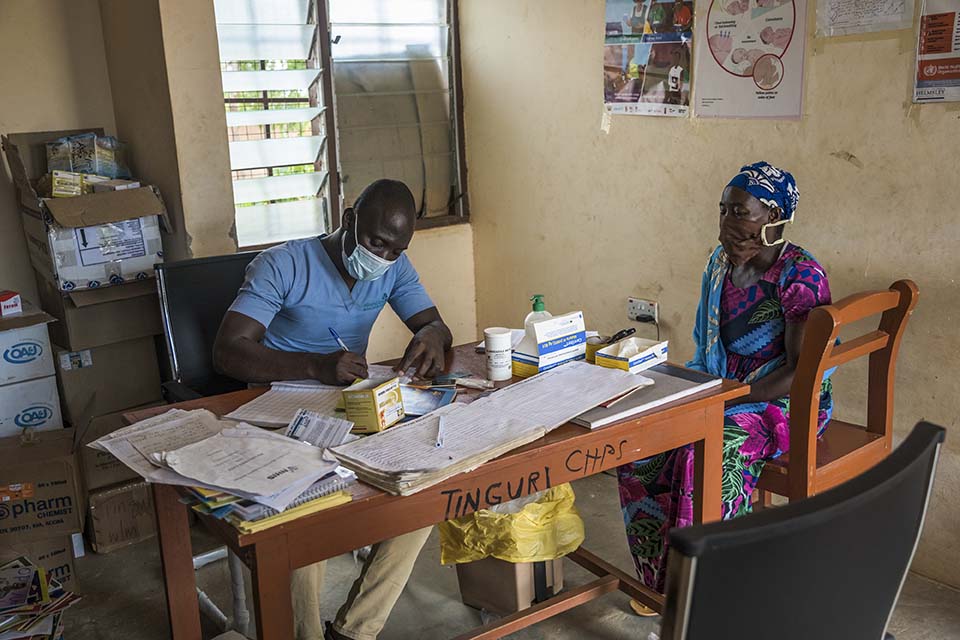 A doctor at a clinic in Ghana's northern region attends to patient Haija Ali. In Ghana, CRS conducts vaccine outreach activities. 
Photo by Natalija Gormalova for CRS
Some 120,000 members of 240 communities across 12 districts participated in CRS vaccine outreach activities. To encourage vaccinations, the health service vaccinated chiefs in focus communities in front of large gatherings. About 850 community leaders and community members received at least one dose.
Guinea
Almost 2,000 people participated in house-to-house visits and peer discussion groups. Of these, 90% chose to get vaccinated.
Liberia, Senegal, and Sierra Leone
CRS worked with community and government partners on mass media campaigns through radio, religious meetings and communications outreach workers to bring COVID-19 prevention guidance to isolated communities. In Senegal, CRS led the development of public health messaging. Working with the government and the Centers for Disease Control and Prevention, CRS experts developed risk communication and community engagement manuals. In Sierra Leone and Liberia, CRS led a survey to better tailor messaging to the local context. In Sierra Leone, in collaboration with the Freetown city council, CRS also provided food assistance to 394 people in 91 quarantined homes.
Mali
CRS continues to support people fleeing conflict, and providing  lifesaving relief that upholds safe COVID-19 practices.
Latin America and the Caribbean
COVID-19 cases are increasing in many countries, while vaccine access remains limited. As of August 2021, about 15% of people are fully vaccinated across the region, but there are stark disparities between countries.
Guatemala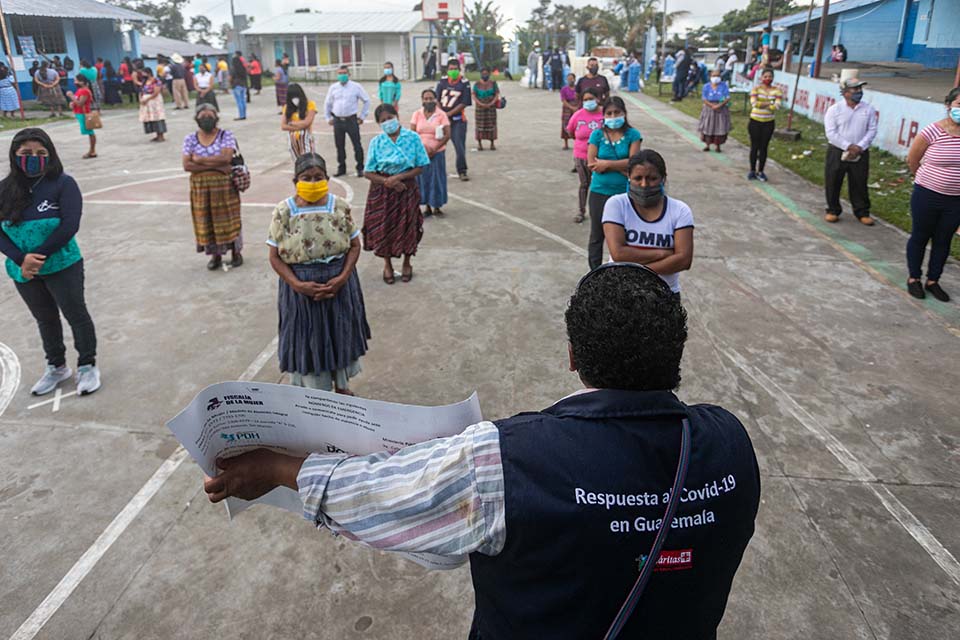 In Tajumulco, Guatemala, CRS partner Caritas San Marcos reached 89,880 people with hygiene and sanitation supplies, and information on COVID-19 prevention. 
Photo by Eric Salguero/Cinema Studio for CRS
The country is experiencing a fourth wave, with the daily average reaching a new high in late July, at more than 3,400 cases per day. While anyone over age 35 is eligible for vaccination, only about 2% of the population has been fully vaccinated. Vaccine access and information is still very limited for vulnerable populations outside of urban areas. CRS is supporting our local partners to standardize their COVID-19 protocols, communication and outbreak monitoring.  
 1.8 million people have been reached by preventive health messaging in Brazil's Amazonas state through Caritas Brasileira.
Brazil
The country has the second highest death toll in the world, just behind the United States, with more than 500,000 Brazilians having died from the disease. Earlier this year, Brazil experienced a severe collapse in its health system. Brazil has been improving in vaccine rollout with 17% of the population fully vaccinated. In the state of Amazonas, where the outbreak gained worldwide attention and caused a widespread health-system collapse earlier in the year, nearly 45% of the total population has received the first dose of the vaccine. 
CRS supported Caritas Brasileira to provide 5,000 families with COVID-19 prevention kits across 11 municipalities, conduct hygiene promotion and preventive health messaging that reached over 1.8 million people across the state through innovating radio programming. CRS has also been able to provide rainwater harvesting systems for 250 extremely vulnerable families with elderly or chronic diseases who are not able to easily access water for hand-washing and assisted 16,000 families affected by record flooding in the state of Amazonas in June. Caritas Brasileria will expand programming efforts to address vaccine hesitancy particularly among indigenous populations. 
Conditions for Venezuelan migrants in the northern states of Brazil have worsened with the pandemic after the land borders were closed and economic activities and public services were interrupted.  Caritas Brasileira will expand water and sanitation programming with a COVID-19 prevention focus in additional states in the north, where Venezuelan migrants live in precarious housing conditions, poorly maintained government shelters or on the street. They are vulnerable to food insecurity, xenophobic violence, sexual exploitation of children and human trafficking. Efforts will focus on providing drinking water, sanitation, hygiene promotion, preventative health messaging and protection services to 18,000 vulnerable Venezuelan migrants.
Venezuela
The CRS EMPOWER program supported cash and voucher assistance for 7,179 families from June 2020 to July 2021. CRS supported Caritas Venezuela to assess the nutrition of 20,948 children under the age of 5, and 4,715 pregnant or nursing women in eight dioceses. Meanwhile, Caritas Venezuela organized 1,010 community meals serving 141,154 people. Caritas Venezuela's medical team provided treatment for 53,549 people, and 552 people received psychosocial support. Caritas Venezuela also delivered food kits and hygiene supplies to 1,087 elderly people in nursing homes and 280 people in detention centers.
141,154 people have been served meals from Caritas Venezuela's community kitchens.
Peru
The country continues to be one of the hardest-hit in Latin America, with more deaths due to COVID-19 per capita than any other.2 The CRS EMPOWER program supports Caritas Peru as it expands and designs programs for COVID-19 prevention and emergency support.
The CRS EMPOWER project—for Empowering Partner Organizations Working on Emergency Responses—aims to strengthen the humanitarian response capacity of local partners.
Ecuador
The CRS EMPOWER team has worked with the Scalabrini Mission to support 1,533 people with temporary shelter during the COVID-19 pandemic.
St. Vincent and the Grenadines
Caritas Antilles is providing hygiene kits and information to 1,500 families, and distributing 1,100 hygiene kits to families affected by the LaSoufriere Volcano eruption in April 2021 to ensure adherence to COVID-19 preventive measures.
Haiti
After the August earthquake, COVID-19 programming continues. The country is one of the last to receive the vaccine.3 The first shipments will soon be made available to health workers and people over the age of 65, but ongoing political and economic instability causes doubt on the rollout. CRS is supporting the health ministry to promote practices to prevent transmission. CRS is also providing psychosocial support to front-line workers through a free phone line or in-person sessions on a referral basis.
To reduce the spread of infection, Caritas Haiti and CRS have procured COVID-19 hygiene kits and installed hand-washing stations in selected schools across 10 dioceses. Due to the increase in cases across the country, Caritas Haiti has reactivated a hygiene campaign at diocesan levels and in all programming.
Download a PDF version of this report
[1] Faucon, Benoit, "Niger Is the Land That Covid-19 Forgot," The Wall Street Journal, 17 July 2021, accessed 2 August 2021, https://www.wsj.com/articles/niger-is-the-land-thatcovid-19forgot-11626531245.
[2]  https://www.bbc.com/news/world-latin-america-57307861.
[3]  https://www.npr.org/sections/goatsandsoda/2021/08/03/1022776041/a-bright....