What Your Support Makes Possible: Haiti Update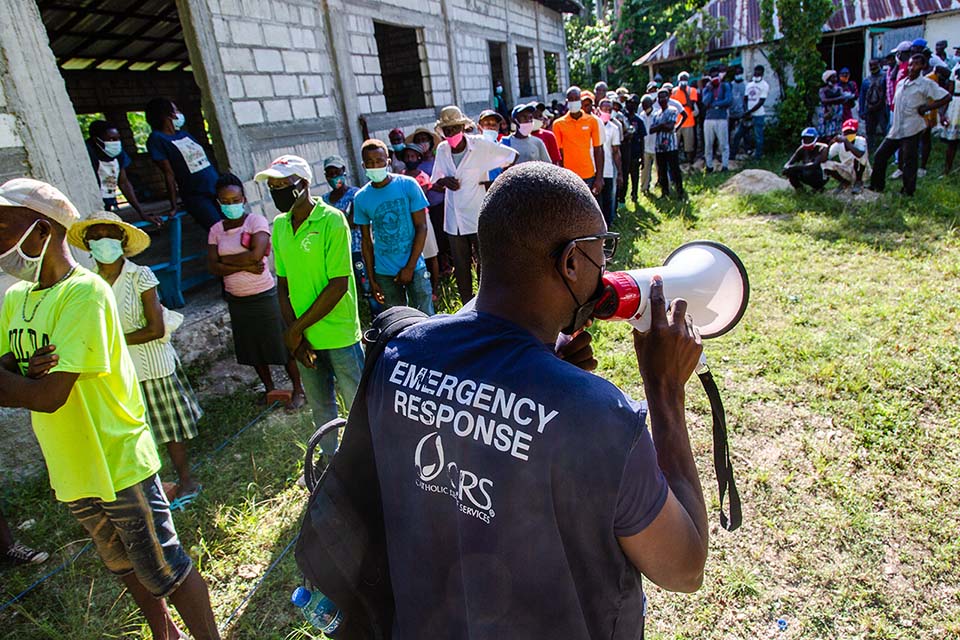 Earthquake‑affected families receive vital supplies at a distribution in Petit-Trou-de-Nippes, Haiti.
Photo by Georges Harry Rouzier for CRS 
On the morning of August 14, 2021, a 7.2-magnitude earthquake struck Haiti's southern peninsula, with the epicenter located approximately 80 miles west of the capital, Port-au-Prince. Two days later, Tropical Storm Grace passed over southern Haiti, causing additional hazards and complicating search and rescue efforts.
At least 2,248 people lost their lives in the earthquake, 12,763 people were injured and 329 are still missing. The earthquake destroyed homes, infrastructure and businesses, and displaced tens of thousands of people throughout the southern region of Grand Sud. The earthquake was stronger and shallower than the catastrophic 2010 earthquake that claimed more than 220,000 lives.
In the Grand'Anse, Nippes and Sud departments, dozens of public buildings—hospitals, schools, hotels, churches and businesses—suffered significant structural damage or have collapsed. At least 53,915 homes are known to have been destroyed and another 83,777 are damaged. Landslides and damaged bridges have made roads impassable which, along with the deteriorating security, complicates the transport of critical relief supplies.
Compounding crises
Even before the earthquake, the people of Haiti were dealing with increasingly limited access to nutritious food and clean water due to ongoing drought, as well as escalating political and economic instability. The security situation has been deteriorating in recent months, with the capital experiencing a significant increase in gang violence that resulted in the displacement of an estimated 19,000 people in early June. This was followed by the assassination of President Jovenel Moïse in Port-au-Prince in early July. Recent tensions and shootings in Port-au-Prince, coupled with ongoing gang violence and the impact of the earthquake, have hindered transportation throughout the country. Food prices are rising and the supply chain of goods like gasoline and diesel has stalled. Of grave concern amid the COVID-19 pandemic is the damage to hospitals, and water and sanitation infrastructure. The displacement of thousands of families risks the spread of infection at a time when local health systems are already struggling.
CRS and Caritas Haiti Response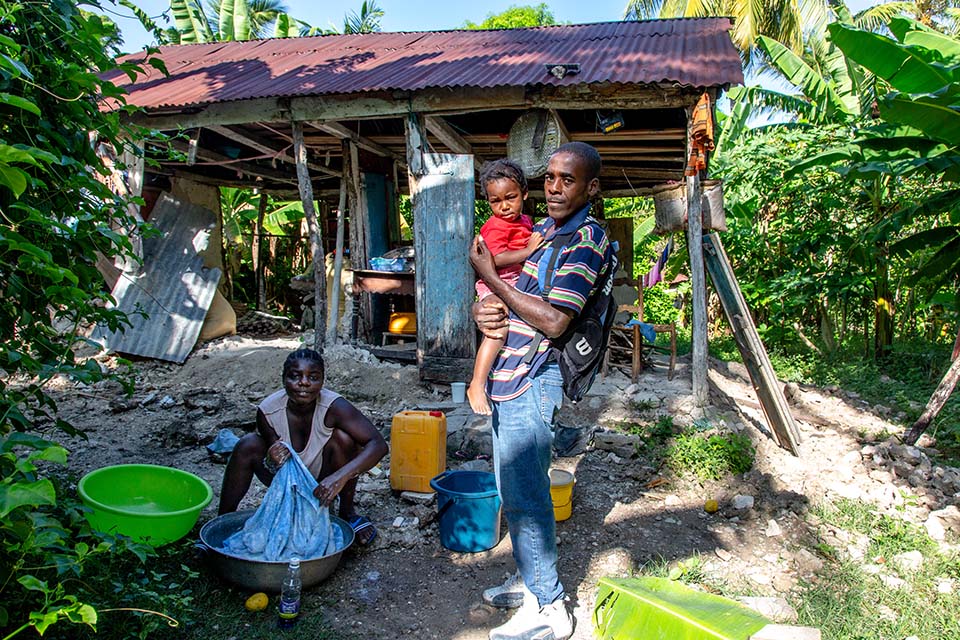 For families whose homes have been severely damaged or destroyed, CRS and Caritas Haiti will help provide access to transitional or permanent shelter.
Photo by Georges Harry Rouzier for CRS
As of mid-October, CRS and our partner, Caritas Haiti, has provided 81,300 people—or 16,260 families—with a range of support, including emergency shelter materials such as tarps and metal sheeting, hygiene kits and living supplies. This initial phase will transition into a robust recovery program to repair and rebuild homes and infrastructure, and restore livelihoods. Care for people's emotional well-being will be woven in, especially for families dealing with distress, grief and trauma.
Current Emergency Phase of Response
CRS is helping affected families meet a range of emergency needs by providing the following:
Food assistance for up to two months. Food is either distributed or ensured via cash assistance where possible, for families to purchase in the local market.
Household and living supplies to replace essential items that were lost or destroyed. These may include cooking supplies, solar lamps, bedding and clothing. The items are either directly distributed or ensured via cash assistance so that families may purchase needed items from local markets where possible.
Emergency shelter materials distributed as shelter kits to help ensure families' protection from the elements, particularly tropical storms, heavy rain and wind. The kits include tarps, wire, nails, rope and tools such as hammers. Also included are easy-to-understand instructions, written in Haitian Creole, as well as training and support to local carpenters and masons to assist families in setting up their emergency shelters.
Emergency water, sanitation and hygiene solutions, including trucked water, the installation of community water points and, where necessary, water treatment. Hygiene kits with soap, masks, buckets, water purification tablets, toothpaste and diapers, among other supplies, will help families prevent the spread of disease. Complementing these activities is community‑based hygiene messaging about the prevention of waterborne diseases and COVID‑19, and safe water storage and use. 
CRS will prioritize a market‑based approach throughout this comprehensive response. We are supporting the recovery of markets and the local economy by using local materials and working to repair or restore local infrastructure. We are also engaging local suppliers, distributors, vendors and others in the programs as much as possible. This includes cash or voucher assistance, where feasible, for program participants to directly buy emergency relief, shelter, hygiene and other supplies. This helps support local business, inject cash back into the economy and promote people's dignity of choice.
Long-term recovery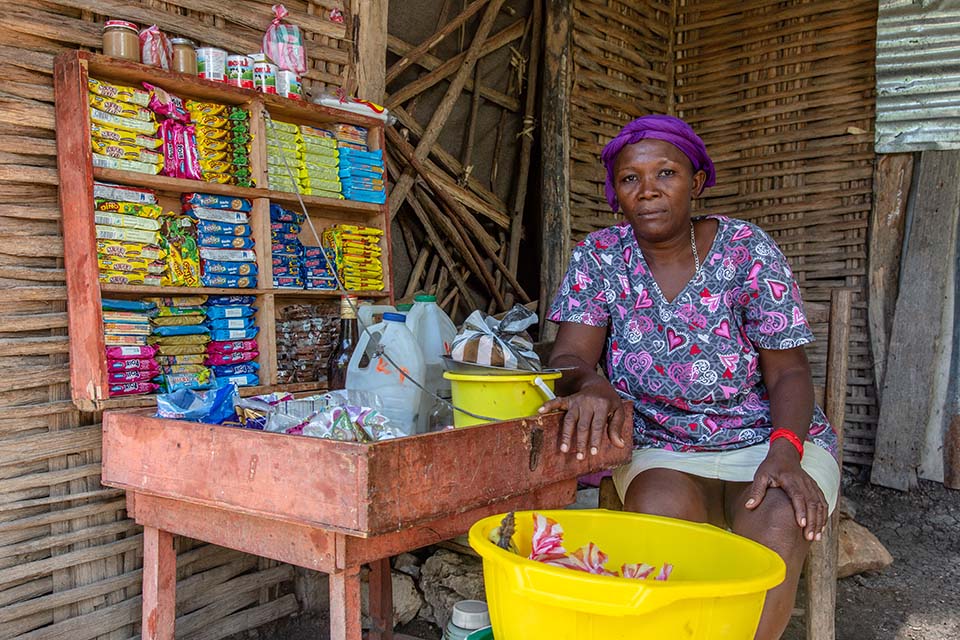 Market‑based approaches support local vendors and give program participants the dignity of choice as they select the vital items they need most.
Photo by Georges Harry Rouzier for CRS
CRS will help families and communities repair their damaged or destroyed homes, restart their livelihoods and rehabilitate essential community infrastructure. The following activities are planned:
Shelter repair and transitional shelters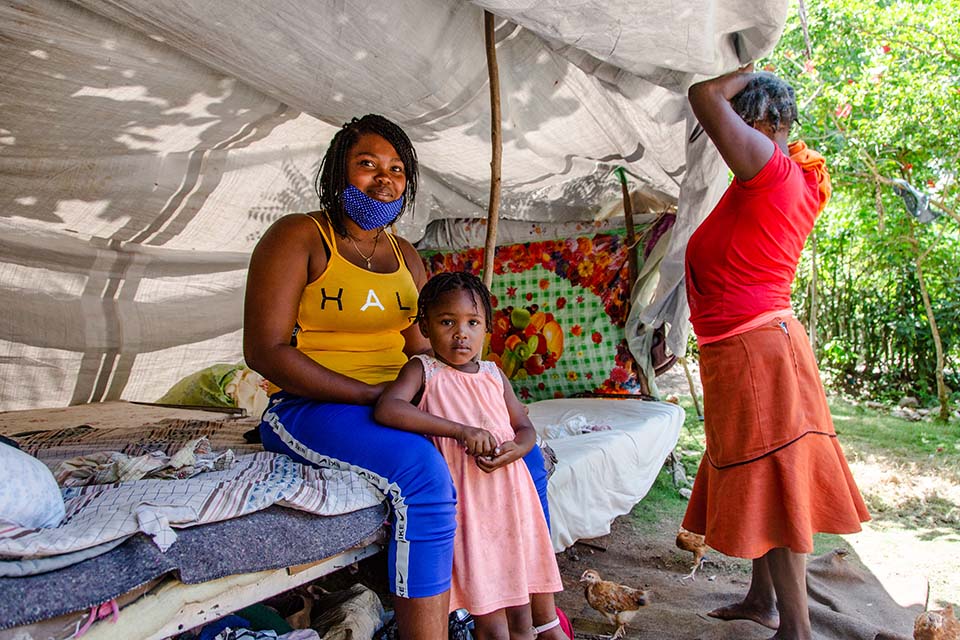 Cassandre Widor lives with her mother, her little brother, her daughter and one of her aunts. Their home in Nippes was badly damaged after the earthquake, so she and her family are sleeping in a temporary shelter.
Photo by Georges Harry Rouzier for CRS
CRS will mobilize and train a team of local semi‑skilled technicians to provide technical support for repair and rebuilding efforts. They will conduct house‑to‑house assessments to identify families whose houses were partially damaged or completely destroyed. CRS will then organize the provision of shelter materials—such as timber, nails, tools and roofing sheets—and families will attend a training on techniques for repairing and rebuilding.
Water, sanitation and hygiene
CRS will support the restoration of damaged water and sanitation infrastructure, and work with communities to set up committees to manage its long‑term maintenance. To complement this, CRS will provide hygiene messaging in the communities surrounding each system. CRS will upgrade sanitation at key health centers with hand‑washing facilities, soap and hygiene supplies to reduce the spread of COVID‑19.
Restoring livelihoods and communities
With young people experiencing a particularly high rate of unemployment, CRS will continue supporting pre-earthquake programming that builds the capacities of young women and men, links them to successful, local business people, and provides them with critical soft skills and leadership opportunities for entrepreneurial and career success.
CRS will help farmers access seed and agricultural materials for the upcoming November and January planting seasons. CRS will also help rehabilitate assets, such as agricultural or other community infrastructure, in a way that maximizes positive effects for the community. Examples of such projects are the rehabilitation of irrigation canals and farm‑to‑market roads affected by the earthquake.  
Family and community well‑being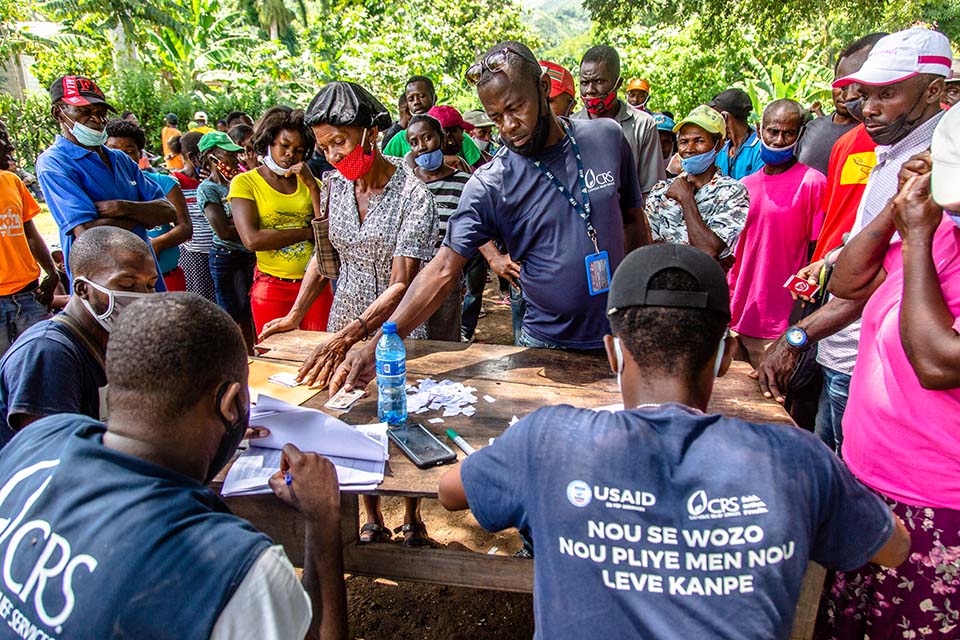 CRS registers Haitians for distribution of supplies in Liege, Petit-Trou-de-Nippes.
Photo by Georges Harry Rouzier for CRS
Throughout the earthquake response and recovery, CRS will help prevent family separation, which can stem from a drastic loss in income, assets and stability. This will take place by promoting family‑based child protection and access to psychosocial support. CRS is already supporting childcare reform, and has experience in supporting families to stay together through a crisis. This is of great importance as, without their parents' watchful care, children who are separated from their families face an increased risk of abuse and even trafficking and abduction. An important part of this work is to identify the families at risk of separation, find alternatives to placing children in residential facilities, and integrate family support services into the assistance CRS is providing for these families.
Psychosocial support
CRS will provide social, physical and emotional support to people emotionally affected by the events and aftermath of the earthquake, and will help them to regain a sense of control, build resilience and thrive in the long term. This includes support for first responders and emergency-response aid workers, to encourage self‑ and team‑care to guard against compassion fatigue and burnout. It also includes assistance for those affected by the earthquake, to help them regain a sense of calm and connect to services and social support. CRS will work with existing clinics and provide mental health services, where possible, to be accessed on a referral basis.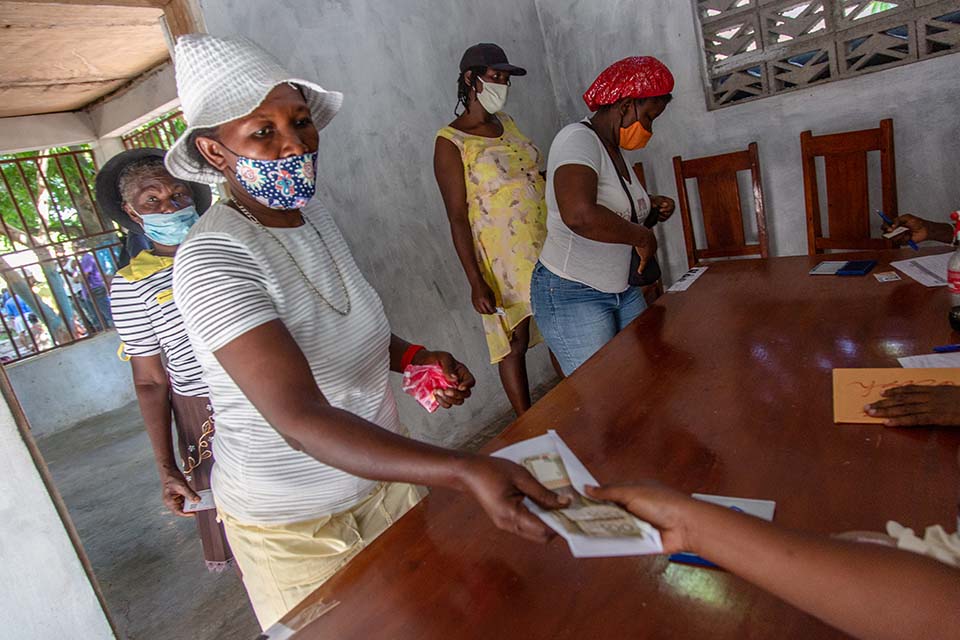 Cash assistance helps families quickly purchase what they need in local markets, helping to inject cash back into the economy, support local vendors and promote the dignity of choice.
Photo by Georges Harry Rouzier for CRS
CRS Roots in Haiti
CRS' long history of programming in the departments of Sud, Nippes and Grand'Anse means it is well positioned to respond. CRS has ongoing projects in all of the affected departments, and strong operational bases in the towns of Les Cayes in Sud, and Jeremie in Grand'Anse. CRS has been operational in Haiti since 1954, with a diverse portfolio of relief and development programs. CRS was one of the major agencies to respond to the 2010 earthquake, providing more than 10 million meals, distributing emergency shelter kits to 46,963 families, creating employment for 11,000 people, and building 10,500 shelters so families could return to their neighborhoods in Port-au-Prince.