CRS EMERGENCY RESPONSE TO THE UKRAINE HUMANITARIAN CRISIS
As the crisis escalates in Ukraine, Catholic Relief Services is supporting our Caritas partners to assist displaced Ukrainians and refugees in 10 countries with urgent humanitarian relief—including for evacuation, food, hygiene and safe shelter.
Overview
In the 10 weeks since the Russian invasion, one third of Ukrainians have been forced from their homes. This is the largest human displacement crisis in the world today. More than 5.8 million people have fled Ukraine and a further 7.7 million people are displaced within the country. Some 13 million people are estimated to be stranded or unable to leave due to heightened security risks and destruction of bridges and roads, as well as lack of resources or information on safety and accommodation. Many people who are trapped are without sufficient food, water and medicine. The delivery of lifesaving aid remains a challenge as the country's economy and food supply are strained.
CRS/CARITAS RESPONSE
CRS is supporting our Caritas partners to assist displaced Ukrainians and refugees in 10 countries. The multi-country effort is an illustration of the strength of the Caritas network and CRS' long-standing partnerships. The existing presence and capacity have allowed CRS to quickly scale up efforts in all countries in the region.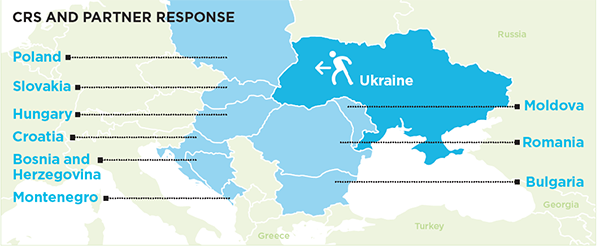 Map of CRS/Caritas regional response across 10 countries.
Ukraine
Since the start of the conflict, CRS partners Caritas Ukraine and Caritas Spes have collectively supported 1,064,191 people. This support includes:
• Food for nearly 800,000 people.
• Hygiene kits for nearly 350,000 people and medical support, including medicine, for more than 55,000 people.
• Counseling and other support for 43,000 people, including childcare and activities for children, and information about social services available for education, transportation, legal or medical assistance.
Caritas agencies have transformed churches into child-friendly spaces, provided food at train stations and free transportation to borders. Parishes have become storage and distribution centers for in-kind assistance from around Europe, having received 1,000 tons of humanitarian cargo from Caritas partners in the region. Needs are growing for longer-term shelter support, cash assistance and counseling services—including counseling for staff.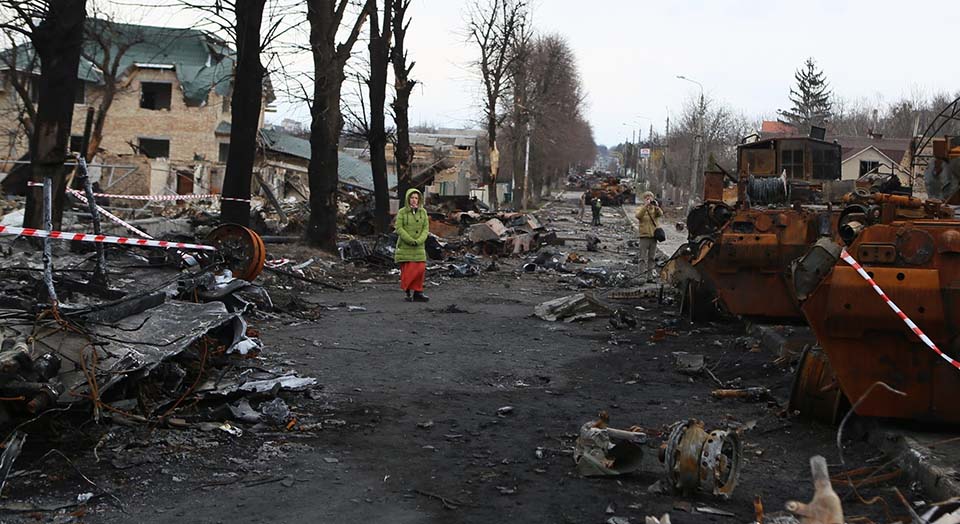 A woman stands amid destruction in Ukraine. Photo Courtesy Boris Soyka/Caritas Spes
"When this happened, we didn't even think about it. It was an immediate reaction: Yes, we have the premises. Let's use it, let's receive refugees, let's open our doors, let's help people. We hope that through our little part, we should be a drop in the ocean that makes the waves ... and then there is goodness in the world. It will prevail."
—Elena Ajder, director of the House of Providence charitable foundation and the John Paul II Foundation chapter, Caritas partners in Moldova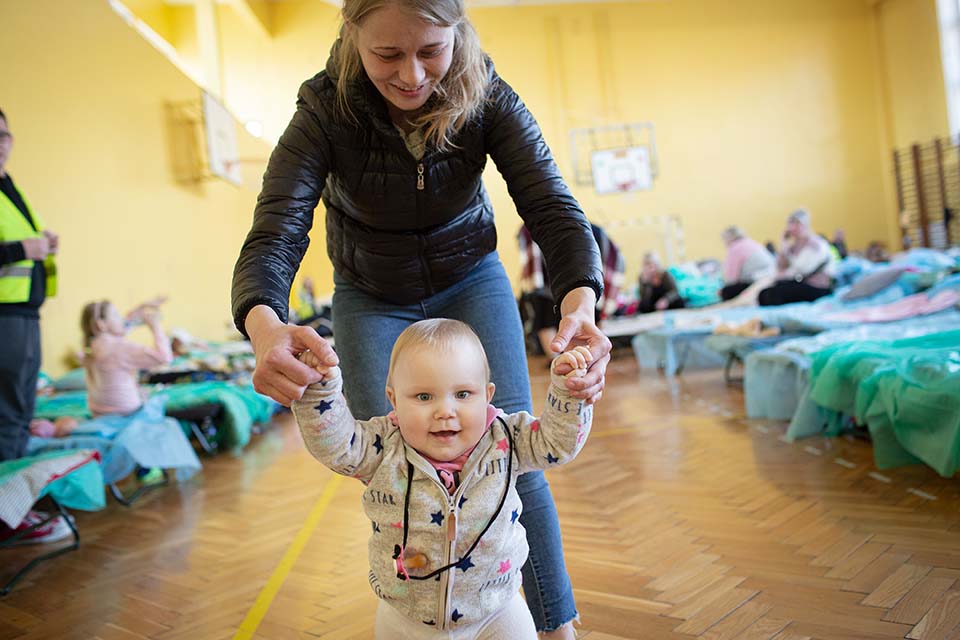 Viktoria Christianko and her daughter, Sonya, in a shelter in Poland where Caritas is providing support.
Photo by Philipp Spalek/Caritas Germany
Moldova
CRS and Caritas Moldova programs are expanding significantly, and include the following impact:
• Cash assistance for 38,000 refugees through eight operational cash centers, with an additional 12,000 projected by the end of May.
• Vouchers for food and hygiene supplies to 5,523 refugee families.
• Cash assistance for 820 Moldovan host families provided as incentives to extend these long-term stays.
CRS is currently designing a program to enable access to education and psychological support for refugee children, particularly for the summer months. In coordination with peer organizations and UNICEF, CRS Changing the Way We Care staff is providing psychological first aid training to Moldovan social workers, as well as care in foster families for unaccompanied children and adolescents from Ukraine.
Romania
With CRS support, our Caritas partners are operating 17 accommodation centers and have provided more than 14,000 hot meals to refugees. Caritas also operates two social service centers that provide social counseling, transportation and referrals for specialized services, and are in the process of opening centers in three more locations. CRS and Caritas are currently preparing a cash assistance pilot in northwestern Romania and have supported Jesuit Relief Services with their counseling and education program for refugees.
Poland
With support from CRS, Caritas Poland will provide cash distributions to 5,600 refugees. Cardinal Dolan and a delegation visited Poland and Ukraine, and met with CRS staff, during the first week of May. Caritas Poland, with CRS support, completed a needs survey of refugees for the coming 6-12 months. CRS is also working closely with Caritas Poland and Caritas Germany to support the many dioceses that are caring for unaccompanied children, including providing a temporary technical advisor to Caritas Germany. 
Bulgaria and Slovakia
CRS is supporting Caritas Bulgaria and three diocesan offices to provide refugees with accommodation, cash assistance, education, employment, counseling services and health care. CRS is supporting Caritas Slovakia with nationwide reception and referral services, as well as with cash for refugee families.
Hungary
With CRS support, Caritas Hungary is managing 35 facilities that provide accommodation for 825 people and is working with 26 Hungarian host families who have opened their homes to, collectively, 176 refugees. Caritas Hungary facilities have the capacity to increase availability of short-term stays for up to 2,000 people. Caritas Hungary is also supporting refugees with food and living supplies. Caritas is in the process of renovating a space in Budapest to be used as a service center for refugees.
Global Emergency Update pdf