"If it weren't for Catholic Relief Services and the missionaries, I wouldn't be here." 
A few discarded pennies. A stack of business cards. Flyers for local events. These are the kinds of things you expect to see next to a convenience store cash register.
But Anastasia Walsh's life is full of the unexpected.
She didn't expect to have to flee her home in Seoul, South Korea, in December 1950 amid the Communist invasion. She didn't expect to live in a cardboard box for 2 1/2 years. And she didn't expect that a simple sack of rice would signal a life-long commitment to an agency headquartered on the other side of the world.
That agency? Catholic Relief Services. And that's why at Anastasia's Des Moines-based convenience store, you'll find a CRS Rice Bowl sitting next to the cash register. Unexpected indeed.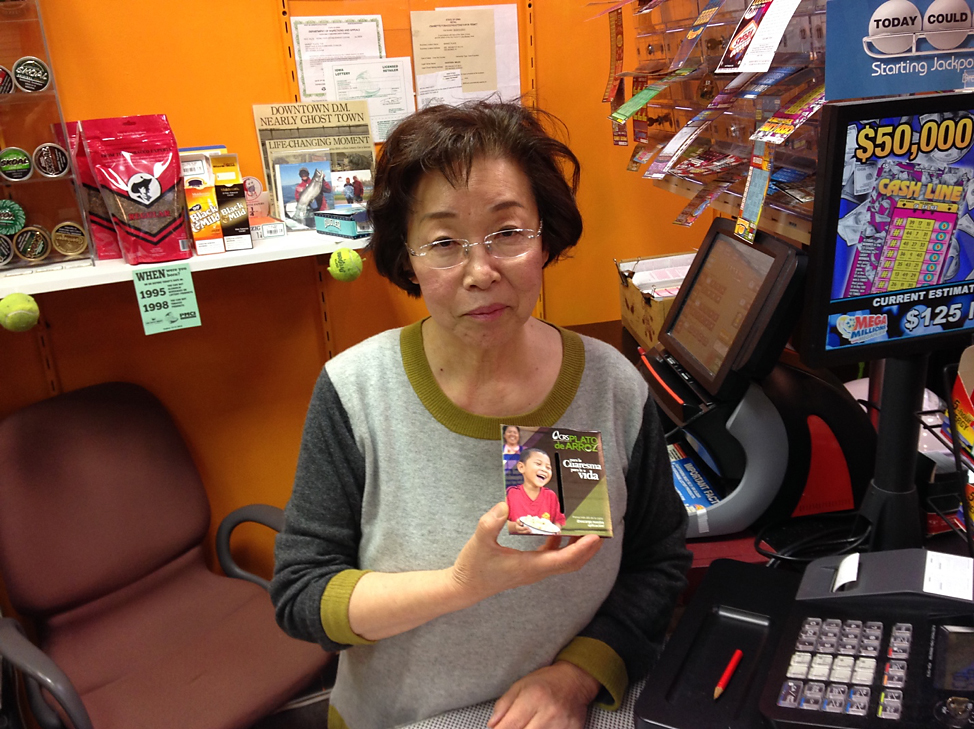 Anastasia in her convenience store holding a CRS Rice Bowl that she places at her register every year.
Photo courtesy of Anastasia Walsh
"Those people saved my life," Anastasia remarks to anyone who drops a few coins into the small cardboard box.
It's a story that still conjures up painful memories. Seven-year-old Anastasia, her 4-year-old sister and their parents walked for 31 days after fleeing Seoul—halfway across South Korea. It was cold, and at times they had to navigate chest-high, icy waters. Anastasia's mother wrapped their feet in torn-up blankets to ward off the chill.
A bus carried them the rest of the way to Busan, a city in the far southeast region of the Korean Peninsula. There, they spent 2 1/2 years living out of a cardboard box.
"We were so hungry," Anastasia recalls. "People here [in the U.S] go on hunger walks or fasts, but they know there will be food at the end of it. We never knew when we would be able to eat again.
"My mom would portion some food between my sister and me but save nothing for herself. We would ask her what she was going to eat, and she would say, 'No, I'm not hungry.'" But Anastasia knew her mother was just as hungry as she was. "That's a mother's love," she says.
That's when CRS arrived, working through local partners—Maryknoll priests and sisters. Anastasia remembers Monsignor George Carroll, who directed CRS operations in Korea, bringing her mother a sack of rice. "It was heaven-sent—the best rice you ever imagined. With that one sack, we could live 2 or 3 months without worrying."
In addition to the rice, Anastasia and her family received clothes and medicine—and education, through a refugee school on the side of a mountain. Though perhaps unconventional—the chalkboard hung from a tree—she was grateful to be able to attend school.
"If it weren't for Catholic Relief Services and the missionaries, I wouldn't be here," she says. After the war, she returned to Seoul where she received a degree in mathematics and began working as an English-speaking secretary for the Peace Corps, eventually moving to the United States to continue her studies.
And now, every year, she places a CRS Rice Bowl next to her cash register, committed to helping other families like hers through the work of Catholic Relief Services.