Gaining Food and Shelter in Central African Republic
Ever since she was a young girl, Lydie Legamé spent most days in the fields, tending to her family's crops in the northwestern region of the Central African Republic. Depending on the season, she planted and harvested everything from maize to peanuts, manioc, wheat, beans and squash. But when armed conflict broke out in 2013, everything changed.
"The situation is still very unstable," she says. "Every day you are hearing rumors of different armed groups coming. You never know what tomorrow or even today will bring. Will you have to flee again? Or will it be a normal day?"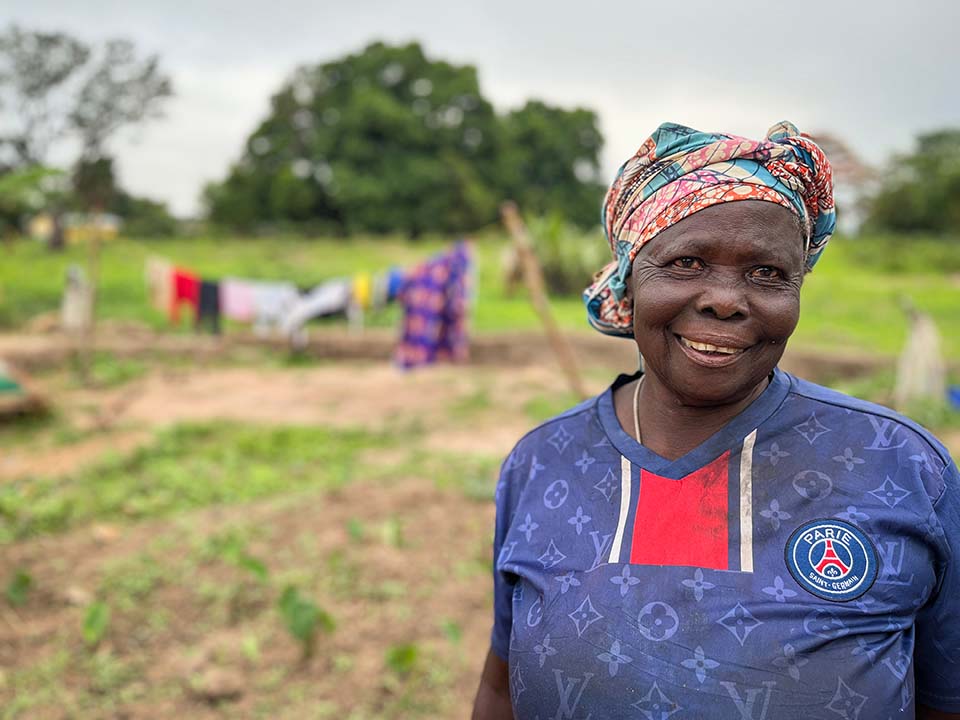 Lydie Legamé participates in CRS' Mou Maboko program, which supports families displaced by conflict with emergency food aid.
Photo by Jennifer Lazuta/CRS
Lydie, who is now 63 years old, lost her husband and some of her children to the conflict. She currently cares for 10 of her grandchildren, who were orphaned due to the long-running conflict. For a while, the family took refuge in neighboring Cameroon, but have since returned to Lydie's home village in the town of Bozoum. She was able to recover some of her farmland but located 4 miles from their home, it is often inaccessible when security is poor. Walking the long distance on foot puts her at increased risk.
"We would prefer to farm near the house, but there isn't enough land," Lydie says. "We barely grow enough on our farmland. If we only farmed near the home to avoid the danger, we would starve. And at the market, the prices are so high. You can barely pay anything. We often do not have enough to eat."
The "saving grace" for Lydie and her family, she says, was their enrollment in Catholic Relief Services' Mou Maboko program, which helps to provide food and dignified housing to families affected by conflict in the sub-prefectures of Bossemptélé and Bozoum.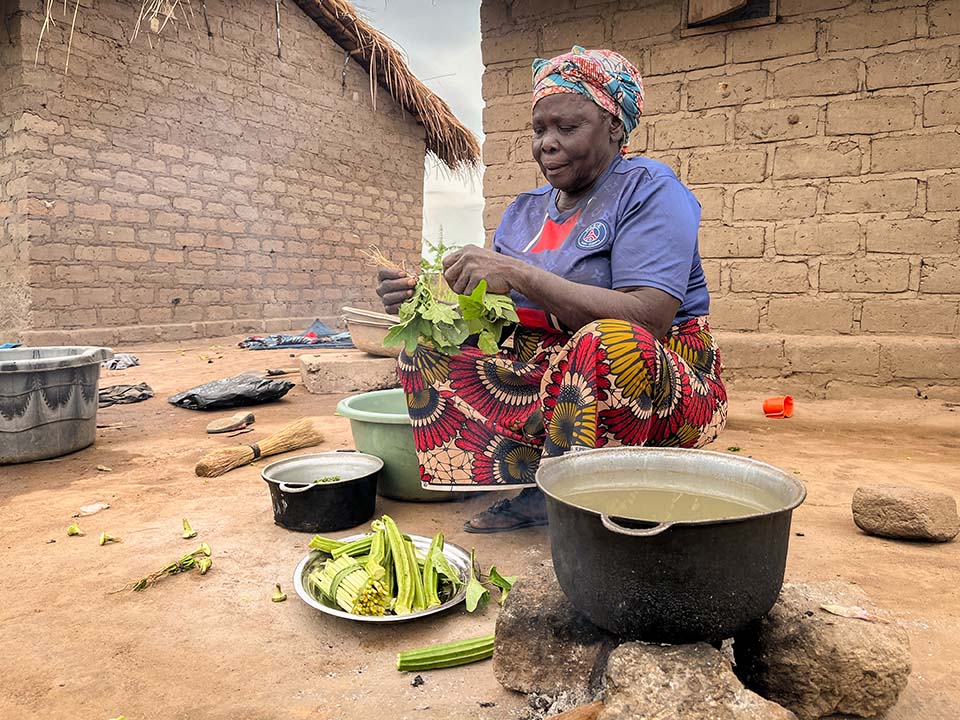 Lydie Legamé cuts fresh vegetables that she bought using cash aid at her home in Bozoum, in the Central African Republic.
Photo by Jennifer Lazuta/CRS
Each month, Lydie and 2,000 other families, receive rations of rice, manioc, peanuts, oil and salt, along with $16 in cash to buy fresh fruits, vegetables and meat.
"We live well with the rations," she says. "We didn't have hope before, but when we heard there would be food distributions, we were so happy, because we never have enough food. When we saw it and could hold it and then eat it, we were so happy."
In addition to the food aid, Lydie's family benefited from some much-needed home renovations.  When her husband passed away, according to local customs, Lydie's in-laws were entitled to repossess all the furniture and household items. She was left with an empty house—one that had crumbling walls and a leaky roof.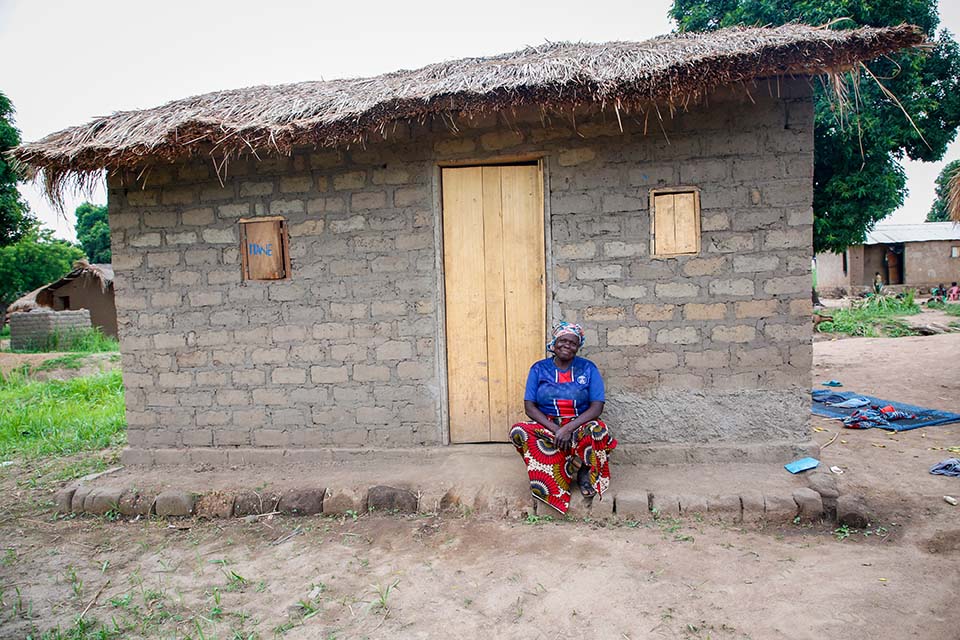 Lydie Legamé sits outside of her home that CRS helped rehabilitate as part of the Mou Maboko program.
Photo by Jennifer Lazuta/CRS
As part of the program, staff from CRS help participants like Lydie to have safe and dignified housing by rehabilitating their homes. They fixed the roof, installed windows and a door, and fortified the house with cement bricks. 
"We were all sleeping on the ground, and I didn't have enough money to repair it on my own," Lydie says. "But now everything is OK. This is a good house now. It has good bricks and a good roof. It has windows and a door. And when it rains, we don't get wet."
Launched in June 2022, the Mou Maboko: Emergency Food and Shelter Support to Vulnerable Households in Ouham-Pendé Prefecture project is addressing critical food security and shelter needs to improve living conditions and reduce suffering for individuals and communities affected by conflict in the sub-prefectures of Bossemptélé and Bozoum in northwestern Central African Republic. Funded by USAID's Bureau for Humanitarian Assistance and implemented by CRS in partnership with All for Peace and Dignity, the 12-month project provides vulnerable households with dignified shelter and emergency food support. Over 2,000 conflict-affected households—13,085 individuals—including 8,393 internally displaced persons, are participating in this project.