Fostering Recovery with Food and Shelter in Nigeria
Photo by Grace Yakuba/CRS
Falmata Tijjani excitedly shows Catholic Relief Services team members around her home, pointing to the new plaster on the walls and the latrine in their compound. She isjoined the Transitioning Households to Recovery from Vulnerability, or THRIVE, project that includes food assistance, shelter renovation, sanitation and hygiene items. For Falmata and her husband, Goni, THRIVE's support has been a strong pillar for their family and a source of hope.
For Goni, life in their former hometown, Moyo village, Nigeria, was very different from their life today.
Falmata and Goni Tijjani stand in front of their renovated house in the Kolori community with water, sanitation and hygiene items received through CRS' THRIVE project.
Photo by Grace Yakubu/CRS
"Things used to be so much better," he says. "Life was so comfortable, and we rarely had any challenges, except for occasional drought. We had a big farm and owned livestock," he added.
Then, six years ago, Goni traveled out of Moyo village for a job, leaving his family behind. While he was away, their village was attacked. The family had to move to the community of Kolori in Borno state, where they are currently staying. For Goni and his family, surviving in Kolori was an ordeal without their farm. While Goni would go out to look for work, Falmata would make buns and zobo, a hibiscus drink, to sell. But they often faced food shortages. 
The family is still adjusting to their life in Kolori. They make do with the small income Goni earns as a farmworker and occasionally by sewing.
"I used to have a large farm on a commercial scale, harvesting several bags of produce for sale. But now I use one or two plots to farm where I harvest just two bags that barely last," Goni says.
He hopes that things will get better for their community, and that they can receive farming supplies to help, especially in the dry season.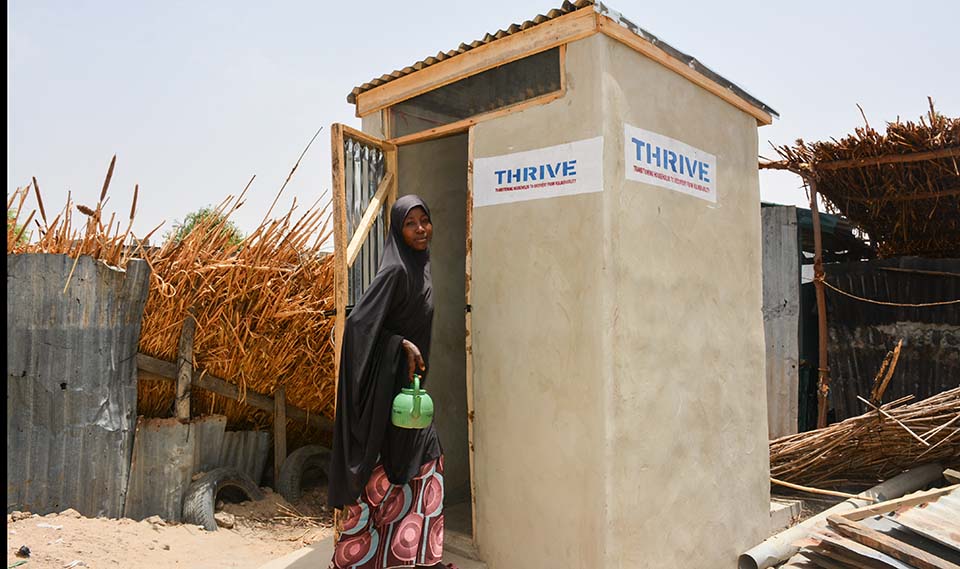 Falmata stands in front of the latrine that was constructed for their compound as part of the THRIVE project in the Kolori community in Borno State, Nigeria.
Photo by Grace Yakubu/CR
Falmata and Goni b joined THRIVE project participants when the project team met with community leaders who recommended them. Falmata started receiving food rations, which have been sustaining her family for months. She uses a voucher to buy items such as beans, rice, corn, fish, eggs, oil and meat from a vendor selected by the project to stock these items. 
"Compared to before, this food supply sustains us for longer periods, sometimes up to 25 days. Adding to what my husband provides, we now eat to our satisfaction," Falmata says.
Goni and his family also benefit from THRIVE's shelter work. Through the project, he was able to repair their home's walls, window, door, and roof. Their house used to get flooded when it rained, with lizards constantly entering through holes in their walls. However, with the repairs, they barely worry about the rain and lizards. In addition, CRS and our local partners constructed a new latrine to give the family a better means of sanitation and hygiene.
About the THRIVE Project
Transitioning Households to Recovery from Vulnerability is a two-year project funded by the U.S. Agency for International Development's Bureau for Humanitarian Assistance. THRIVE provides humanitarian assistance with the goal of initiating early recovery in Borno State, Nigeria.
The project, leveraging past experience and best practices, addresses a variety of needs based on participants' requirements. Its locally based approach helps participants move from lifesaving assistance to life-building support.
THRIVE is implemented as part of a consortium that includes Catholic Relief Services, Mercy Corps, Women in the New Nigeria, Salient Humanitarian Organization, and Justice Development Peace Committee.