Food Security and Business Growth in Myanmar
Photo by Jennifer Hardy/CRS
U Myo Myint needed a jump start.
Though conflict between the Myanmar government and an ethnic armed group had decreased, making it easier to get to and from his farmland, his harvests had only increased slightly.
Once he fed his family and used produce to pay his taxes, there wasn't much harvest left to sell. He wanted a business that would not just feed his family, but build a future.
The boost he needed came from Catholic Relief Services and our local Caritas partner, Karuna Mission Social Solidarity. With support from Latter Day Saints Charity, U Myo Myint learned several ways he could increase his farm's income. He now vaccinates his animals and treats their minor health problems, essential skills needed as the only veterinary clinic is far away and costly. He also composts food and plant waste with new techniques, and is getting stronger rice plants out of less seed.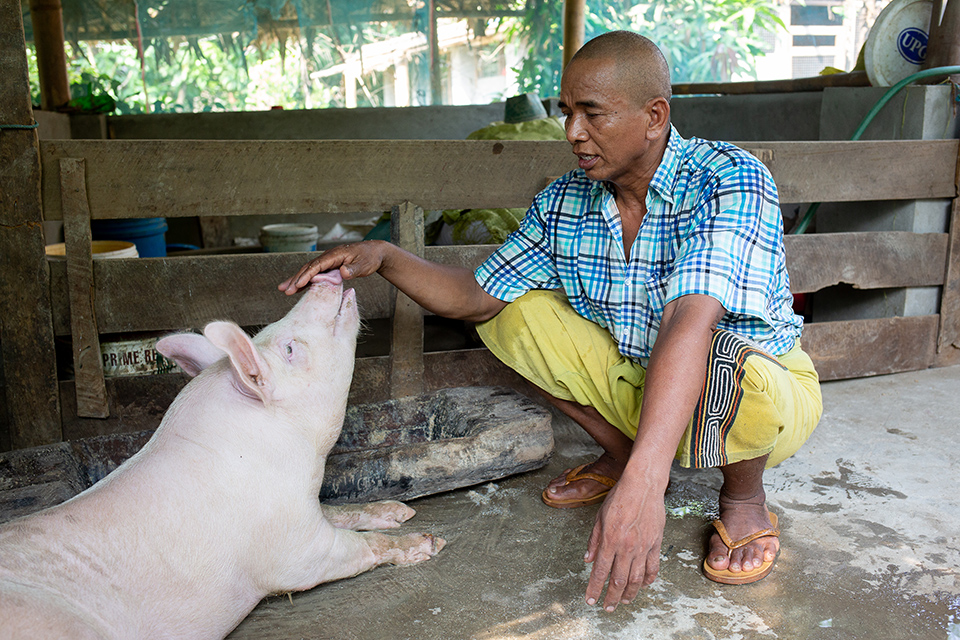 Far from the nearest veterinary clinic, U Myo Myint learned basic veterinary skills, like vaccine schedules for his pigs and how to keep wounds from getting infected. Photo by Jennifer Hardy/CRS
What really makes his eyes light up, though, is fertilizer.
Buying fertilizer was one of his biggest expenses, eating into any profit he made from the previous harvest, and sometimes sending him into debt. The strong chemicals irritated his skin and he worried about its long-term effects on the soil.
Through the CRS project, he learned a new way to boost his yield, following a recipe to make natural fertilizer with ingredients available around his farm or freely collected from common land. Aside from the minimal cost of a natural activator, his only investment is time and muscle—and happily, he has enough of both to make fertilizer for his entire operation.
"This fertilizer works well," he says. "I have good results like with the chemical [fertilizer], but it costs little. It's also good for the environment and my health."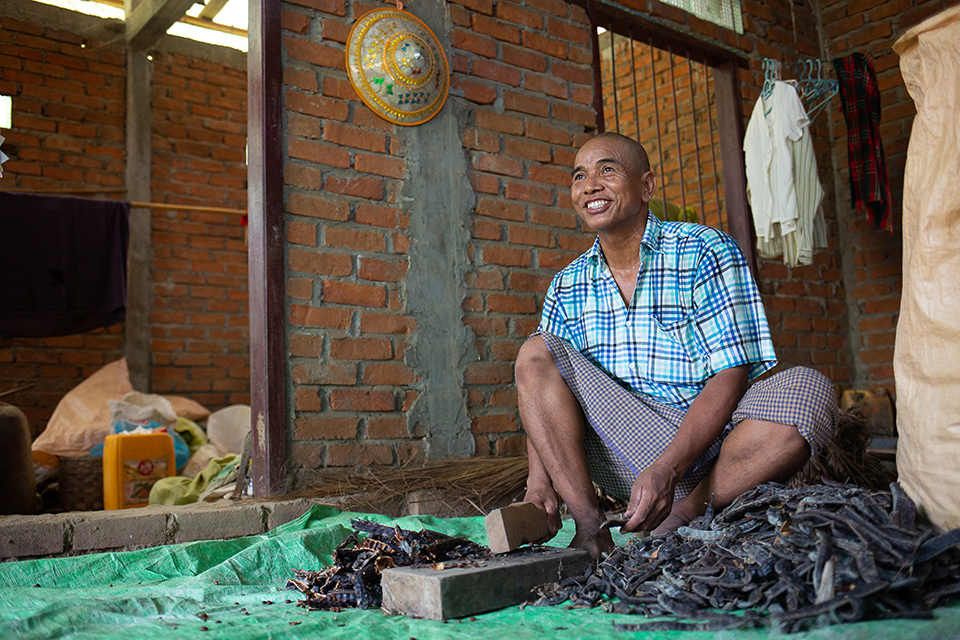 U Myo Myint crushes pods from a local tree to be used as an ingredient in his homemade natural fertilizer. Photo by Jennifer Hardy/CRS
He is so happy with the fertilizer, it only makes business sense to take it to the next level — selling it to local farmers who want it but don't have the time to make it. He sees an opportunity to earn a good profit while undercutting the cost of the chemical products.
The same way businesses in the United States go through rounds of investment and iterations of new approaches, U Myo Myint tested slightly different batches of his fertilizer on different parts of his field. He believes he now has a process he can scale to provide fertilizer to at least 10 other farmers.
"Making natural fertilizer cuts costs and increases profit while decreasing the damage to people's health and the environment," says Gabe Buttram, CRS Myanmar's agricultural livelihoods program manager. "This really makes a difference for farmers and their families. When farmers like U Myo Myint take that knowledge and turn it into new opportunities to build a business while helping other farmers, we know we have made a lasting impact in the community."
Farming is a business, even for family farmers in rural Myanmar. And an investment in helping a farming business succeed is an investment in better health, education and communities. It even offers other options to migration: U Myo Myint's son plans to return from his restaurant job in Malaysia once the money he sends home increases the fertilizer business.
U Myo Myint and his family have a bright future ahead. With a needed boost and an entrepreneurial spirit, he is paving the way for farmers in Myanmar to help their farms and families thrive.