Fighting Hunger in Ethiopia
Photo by Nancy McNally/CRS
Featured Project
Joint Emergency Operation
Ethiopia 2015 – Present
In 2016:
An average of 2.8 million served monthly
383,500 metric tons of food distributed
CRS privately funded and designed a loss-prevention component
Loss minimized to 0.0024% ($6,000) to maximize distribution
Funded by USAID/Food For Peace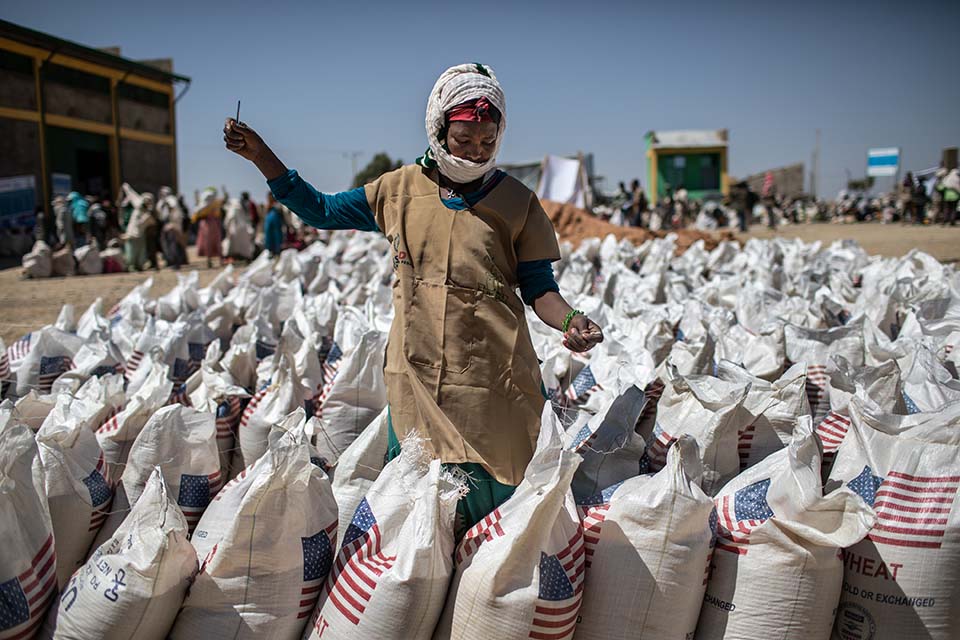 A scooper opens bags of wheat at a distribution point in Hawzen district  in Ethiopia, At its peak the project served 2.8 million people a month.
Photo by Will Baxter/CRS
In 2016 CRS oversaw a USAID-funded Joint Emergency Operation in five regions of Ethiopia that dispensed more than 383,500 metric tons of food, reaching an average of 2.8 million people each month. With more than 250 distribution points, the project's massive scope and the country's challenging environment threated potential for significant loss of food aid. Success meant getting as much of the food as possible to families facing starvation during the drought.
To maximize accountability, stewardship and impact, CRS was eager to ensure the success of its huge food distribution system, which included a network of more than 250 food distribution points across five regions of Ethiopia.
CRS identified 10 risk factors that lead to loss of food aid: such as poor warehousing, mishandling during transport, environment factors like floods and landslides (parts of Ethiopia are very mountainous), and human factors such as conflict and misappropriation of the food.
The CRS funded and designed a commodity risk-management system to minimize loss and maximize success.  It measured risk of loss at each of the 250 plus sites. The system enabled teams to focus their limited time and resources most effectively to address issues like poor warehousing, a potentially dangerous location or too great of distance for beneficiaries to travel.
The result?
Of the 383,554 metric tons of food aid distributed across Ethiopia over a year, just $6,000 worth was unaccounted for. That's about 0.0024% of the total.
The numbers impressed even long-time CRS staff like the project's Chief of Party LeAnn Hager: "When I first learned about the risk management system, I thought we were focusing on too many elements to properly assess the risk at any given distribution site but time has proven me wrong. CRS and its partners are able to identify even the smallest attempt at diversion and ensure that the food intended for the most vulnerable individuals in Ethiopia actually receive it."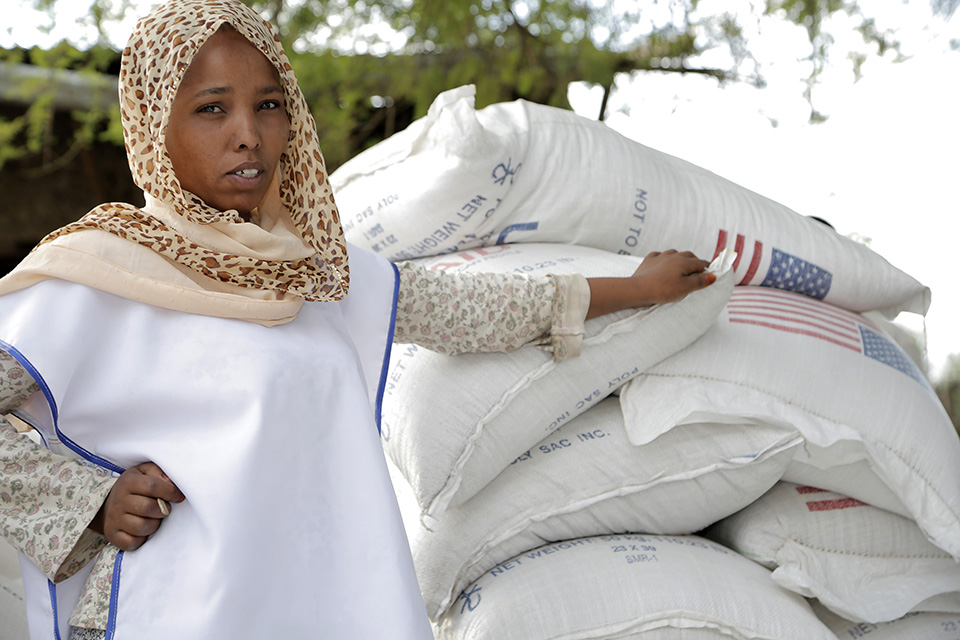 Ethiopia faced its worst drought in 50 years, devastating to the 80% of Ethiopians who rely on mostly rain-fed agriculture for their food and income.
Photo by Nancy McNally/CRS
The project continued during FY17, when CRS, partnering with the Government of Ethiopia, will reach 1.4 million people in urgent need of food aid.
"It has been humbling to be part of a team and program that has successfully served millions of people with life-saving food, and continues to do so as the drought continues into its third season," Hager said. "The project not only distributes thousands of metric tons per month but is also committed for people to have a way to provide feedback, positive or negative, about the process. For such a program as the size of the JEOP to remain innovative is truly remarkable."