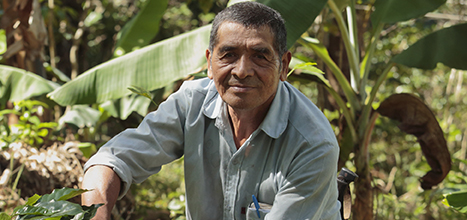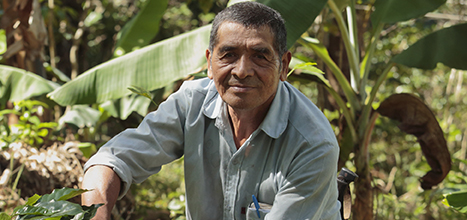 Farmers' Markets, Community and Climate Change
Photo by Oscar Leiva/Silverlight for CRS
Over the next couple months farmers' markets will open across the country. They offer locally grown produce that's fresher, tastier and more nutritious than most grocery stores can hope to provide.
Why are growing numbers of us making special trips to markets and paying more for produce we can get only when it's in-season?
Taste: When crops are engineered to withstand travel, flavor often suffers in the process. Small family farms can grow a wider variety of produce, even heirloom crops that have been preserved for generations. They offer a vastly wider flavor range.
Nutrition: Along with the rigors of long-distance transportation, the longer many vegetables wait between field and plate, the more nutrients they lose. Farmers' markets can offer produce picked fresh the morning it's sold.
Farmer support: Farming requires deep knowledge and physical endurance. Beyond the normal risks inherent in any business, farmers also face threats from weather, pests and disease. At harvest time, their market is conditioned to expect low food prices. Supporting local farmers helps ensure a high-quality food supply and enhances the community's economy.
Environment: Shipping food long distances requires large quantities of fuel. Many families turn to locally grown produce over concern about pollution caused by burning fossil fuels and greenhouse emissions.
Farmers in developing nations bear the same responsibilities to feed family and community. They often face additional hardships such as conflict, climate change and natural disasters.
The practices and skills CRS brings to farmers are necessary in all environments and circumstances. While we adapt practices to the specific needs of each location, skills such as marketing, organization, innovation and natural resource management are fundamental to farm and food supply success.
Currently climate change is wreaking havoc among growers all over the world. But even devastating weather patterns and threats from El Nino, poor rains, drought and flood don't determine what we do. However, they greatly increase the urgency of need.
Pope Francis emphasized this urgency in his encyclical letter Laudato Si'. And CRS assembled a variety of climate change documents squarely aligned with the Pope's inspiring words.
The "Dry Corridor" of Guatemala highlights the devastation of a changing climate on a farm family that represents growers around the world.
Support family farming and food programs.