Featured Project
CRS Farmer to Farmer
Ethiopia, Kenya, Tanzania, Uganda
2013 – 2018
Ethiopia, Uganda, Rwanda, Benin, Nepal, East Timor
2018 - 2023
Many of the most noteworthy development projects impress us because they happen "at scale". They benefit large populations in relatively short periods of time. If we want to reach the Sustainable Development Goals, we need to think in tens and even hundreds of millions of people.
Farmer to Farmer (F2F), as its name implies, operates on a different scale. One volunteer serves a small number of peers. Volunteers bring specific expertise and tailor it to individual needs and aspirations.
In its first 5 years, CRS Farmer to Farmer achieved milestones that include:
500 volunteers
43,134 persons trained (19,617 female, 23,516 male)
882,037 acres (356,948 hectares) under improved production technology
Annual gross revenue: $31 million
Annual net income: $3.5 million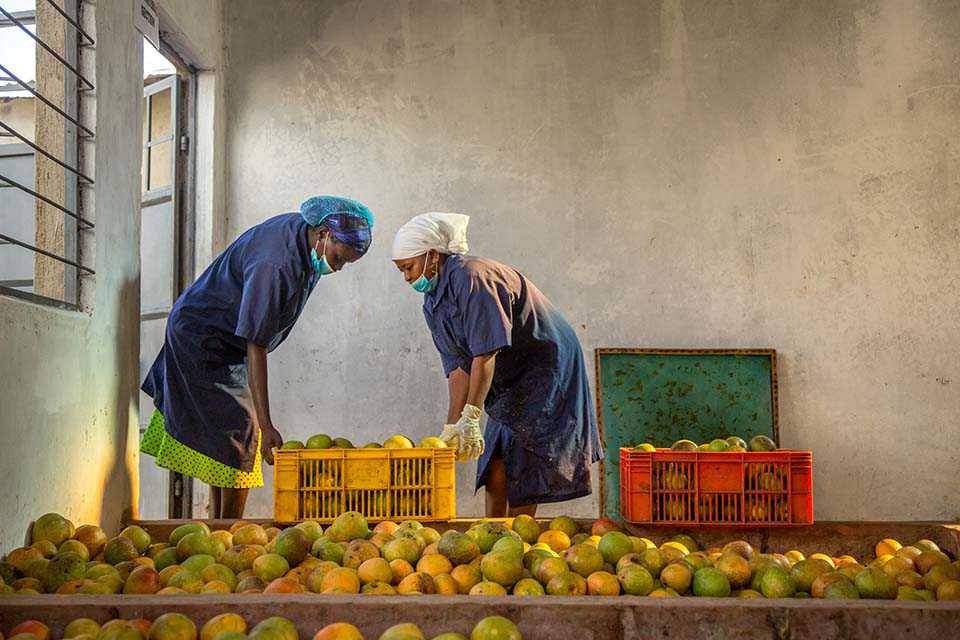 Women bring in newly arrived mangoes, weigh them, wash, peel, cut and lay them out on racks for drying and packaging in the Sweet N' Dried factory in rural eastern Kenya. Sweet N' Dried has benefited from CRS Farmer-to-Farmer volunteers who have helped the owners to improve their products and operation, factory design and safety, branding and marketing, electronic accounting and recipe formulations. Photo by Georgina Goodwin for CRS
Catholic Relief Services partnered with Farmer to Farmer in 2013 and to date has sent 500 volunteers to Ethiopia, Kenya, Tanzania and Uganda. Volunteers work with farmers to improve productivity, grow agribusinesses, learn new techniques, adapt to markets, acquire financial management skills and often form relationships that continue for years after the assignment.
Since volunteers arrive with career experience and skills, F2F training consists primarily of helping them understand the context in which they will share those skills. They are connected to past volunteers who've done similar work. CRS provides a toolkit portal that offers cultural and seasonal information. And volunteers are linked to CRS F2F staff stationed in the host country.
"We're just helping you understand the context. So you can adapt what you know," says US Operations manager Maria Figueroa.
Volunteers prepare for and travel to one of the designated countries for 2 to 4 weeks. In country they meet with CRS staff and get situated. Then they meet the host, which usually means travel within the country.
Together, host and volunteer review the terms of the assignment along with the CRS F2F staff. The host may have changes since the initial plan was drawn up. The host is always leading the plan.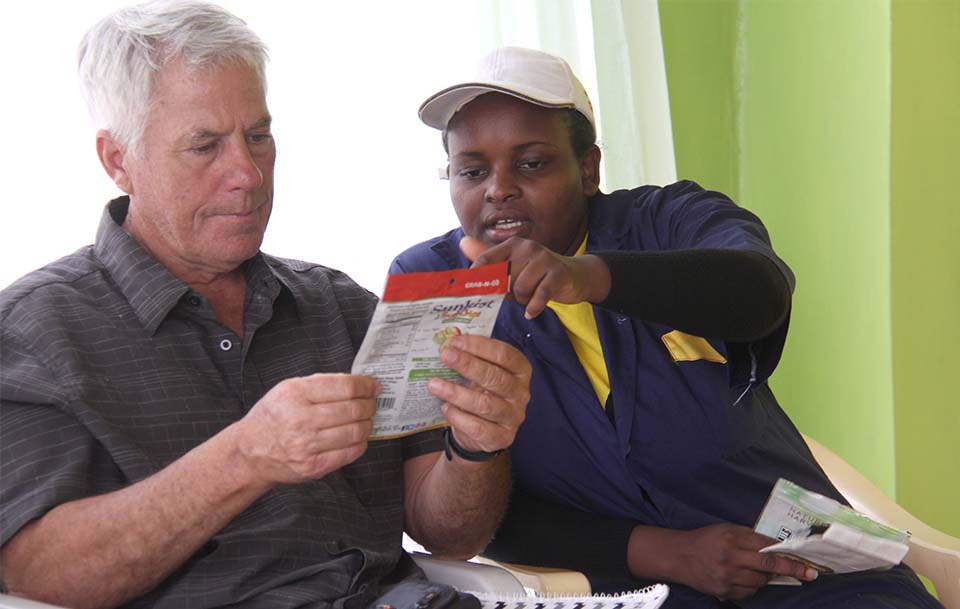 Scott Stovall, volunteer for CRS Farmer to Farmer program, meets with Mercy Mwende to hear their company's history and plans. Scott worked with Mercy and her husband, Margeria, for two weeks to prepare a business plan and expansion strategy for the company. Photo by Susan Walters/CRS
"It's never prescriptive," Figueroa says. "The volunteers don't come in and say, 'Show me what you're doing and I'll tell you what you need to change.'"
Host and volunteer decide on a training schedule. Volunteers may spend a day or two visiting farms, understanding the people and the landscape and the sector before they start to give advice or training.
F2F focus is agriculture, with improved crops and yields frequently the mission, but not all F2F volunteers are farmers. While small and large livestock, milk collection, sanitation, traceability are part of the value chain, volunteers have come with expertise in leadership in management, business planning, food processing, marketing, packaging, nutrition, and IT-related backgrounds as well.
"There's quite a scope of things that volunteers can do," Figueroa says.
The F2F structure builds in sustainability with qualified CRS F2F national staff members who live in country and understand farmers' long-term plans as well as the prevailing conditions and culture of their country.
From the start, in choosing hosts, staff perform a needs assessment. And from there, they create a development plan. Each volunteer assignment is a building block in the plan.
Volunteers themselves may remain in touch with their hosts for many years through email and other means.
"I think what I really like is the relational aspect between the host and the volunteers," Figueroa says. "We're looking for really flexible problem solvers. They can stand on the soil with the farmers and observe, share experience, or understand what they need to research."