Families in Kenya experience water crisis
Photo by Carlos Barrio
Ewesit Aemun, mother of five children, is a gold miner, though not by preference nor with any expectation of great wealth. On a good day, she may find enough gold to feed her family that night.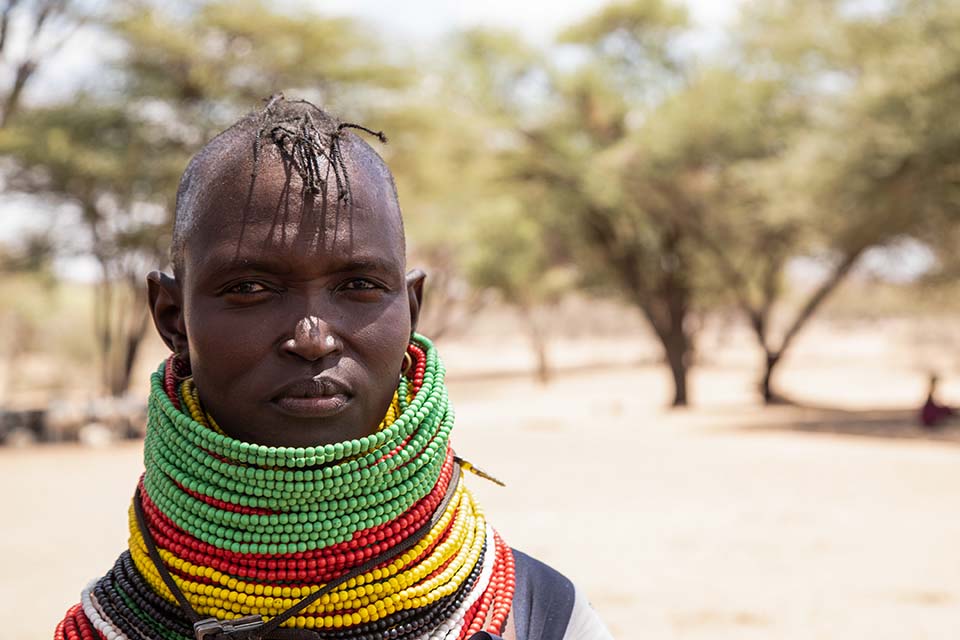 Ewesit Aemun is a mother of five from northern Kenya. She is a community health volunteer. Ewesit struggles to feed her family as prolonged drought has resulted in food scarcity and higher food prices.
Photo by Carlos Barrio/CRS
After four consecutive dry seasons, grazing lands in Turkana County, in northern Kenya, are becoming barren. Pastures wither, reducing milk production and agricultural output. What should be pastureland, has become parched wasteland. Livestock—and livelihoods—are dying.
The northern and eastern parts of Kenya are besieged by a prolonged drought as the Horn of Africa currently faces its fifth consecutive below-average rainy season. United Nations and humanitarian partners estimate that there will be 6.4 million people in need of help in 2023 in Kenya alone, including 5.8 million Kenyans and 602,000 refugees from neighboring countries.
Turkana is a region in northern Kenya that borders Ethiopia, South Sudan and Uganda. Irene Naker is a social worker at the water department in the Diocese of Lodwar, a Catholic Relief Services partner.
"The community in Turkana is suffering," says Irene. "There is no food, and they are walking long distances to look for water. Animals are dying because of lack of pasture. Communities are moving to new locations. Yet when they move, there is a conflict with the host communities over pasture."
 
Parched landscapes
Dried up rivers and pasturelands and dying animals worry the farming families here. They depend on harvests and animal herding to produce nutritious food and make a living.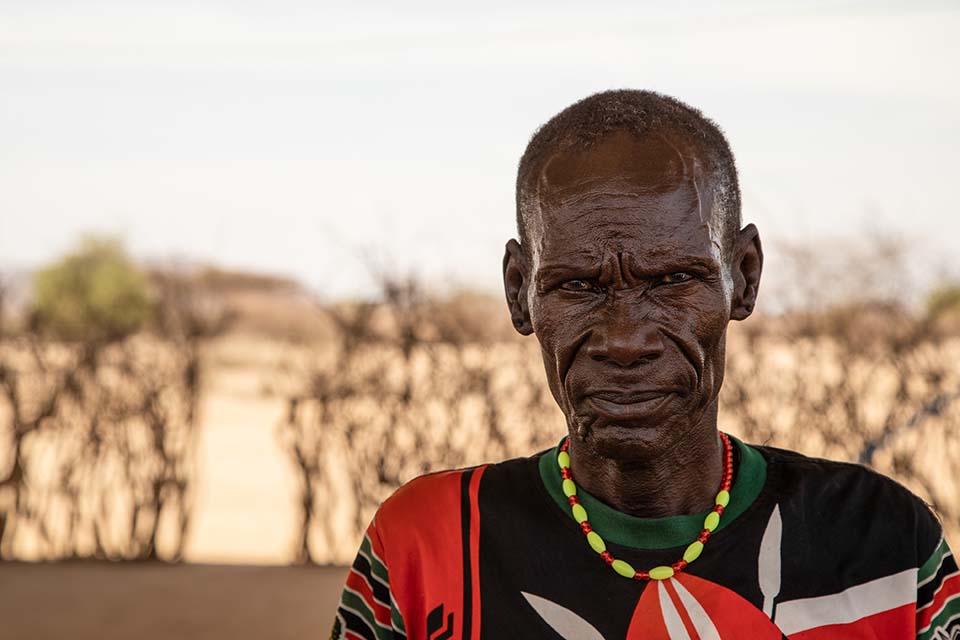 Lokopu Samal Moruita is a father of six from Loima, Locher Esekon village in northern Kenya. Every day, Lokopu walks for two hours to take his three camels and goats to the grazing lands on the hills, where there is scant pasture, and then brings them to the water point before he goes home.
Photo by Carlos Barrio/CRS
"I have only three camels left, after more than 100 died due to the drought," says Lokopu Samal Moruita, who lives in Loima. While leading his animals to a drinking point built near a local church, Loima says, "One hundred twenty-three of my mature goats have died because of a lack of food. Their kids also died, but I do not know how many of the kids died. I feel very sad. I am waiting upon God to send us rain."
In Loima and other nearby villages across Turkana North, farming families rely on a gold mine for income when resources are scarce. It is usually the women who work in the mine, walking for miles to the site, where they may spend days digging and sieving without finding anything. Lokopu's wife is one of these women. When she finds gold, she can buy food and cook for her family. However, as Lokopu says, "On a day my wife does not find gold, we sleep hungry."
Families struggling to make ends meet
"Some men left with goats to look for pasture two and a half years ago and have not returned since that time, leaving their wives to single-handedly provide for their families," says Ewesit Aemun, who lives in Sopel.
Ewesit works as a community volunteer, teaching mothers and families about health practices, including breastfeeding, childcare and hygiene. But Ewesit also struggles to buy enough food for her family.
"Sometimes, I go to the gold mines to harvest gold, and when I find it, I am happy that I can buy food." She says, "When I do not find gold, I do not have money to buy food and we sleep hungry." When asked about her hope for the future, she says, "I hope that God has a plan for us. In this village people have died of hunger. Adults and children are affected and have died. It is a hard life."
Stark forecasts
The crisis is expected to worsen as early projections indicate the possibility of a sixth consecutive poor rainy season from March to May 2023. The United Nations and humanitarian partners in Kenya are asking for $472.6 million to help 4.3 million people affected by the drought in 2023.
"We need to provide food for communities that are hungry and pasture for their animals," says Irene.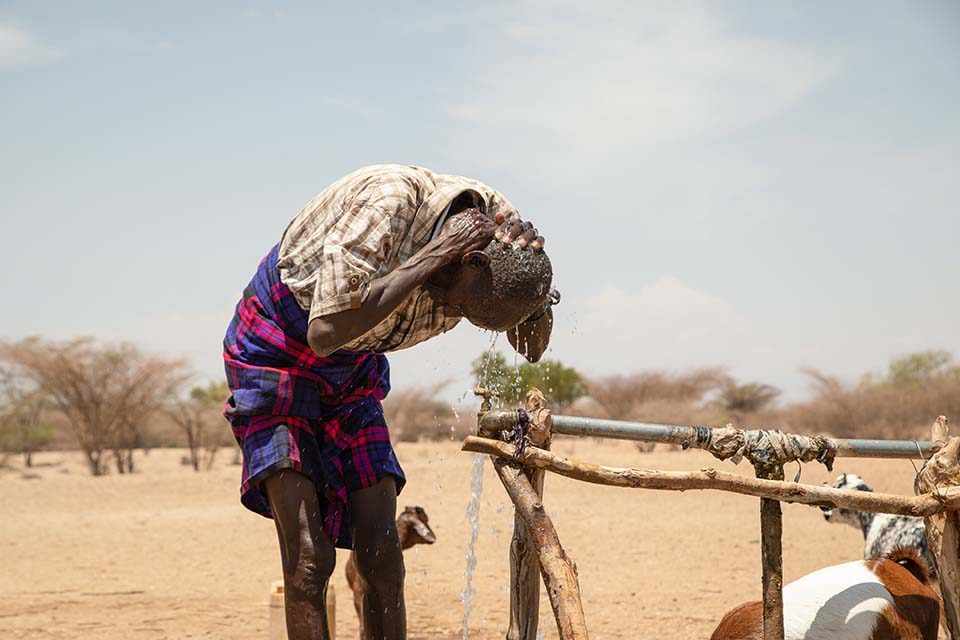 Man cools off at a water point in northern Kenya.
Photo by Carlos Barrio/CRS
CRS is working in Turkana and other parts of Kenya to support families affected by drought through multiple programs: Enhancing Climate Change Adaptation in Turkana (ECCAT) helps communities adapt to climate change and diversify livelihoods; Kenya Resilient Arid Lands Partnership for Integrated Development – Plus (Kenya RAPID+), funded by the Swiss Agency for Development and Cooperation, is a five-year development effort to increase access to water and sanitation for people and water for livestock, and to rebuild a healthy rangeland-management ecosystem; and the Ngakipi Turkana project, funded by Charity: Water, aims to increase access to water and sanitation in Turkana County by rehabilitating piped water systems, building water points and latrines. CRS emergency response to drought also includes water, sanitation, hygiene and interventions to provide livestock feed supplements and disease surveillance. In areas where the Diocese of Lodwar has been successful in their water, sanitation and hygiene interventions, waterborne diseases are becoming less frequent.
"My wish for the communities is that they are able to find food, pasture, education, water, and health so that their many years of struggle come to an end," Irene says.
Learn more about food insecurity in Kenya and the Horn of Africa.