Ethiopian Farmers Improve Their Financial Resilience
Photo by Will Baxter/CRS
Kebebush Nigussie has been farming long enough to know not to put the cart before the horse. That's precisely why she wanted to buy both at the same time. But first, she needed a loan.
Kebebush, a 39-year-old single mother of three, is from the rural district of Dodota, in Ethiopia's Oromia Region, where the land is rocky and water is scarce.
With scant income and almost no access to formal financial institutions such as banks, people from the area struggle to save. They also often run into barriers when they try to acquire loans such as lack of credit history, or the ability to provide collateral.
The main objective of the union is to help clients overcome poverty.

 
Farming can be backbreaking work, and even rudimentary technology like a horse cart can have a big impact.
"We don't have water nearby. We don't have a pond. So, I have to transport my water some way," Kebebush says. "Before we started saving, I would have to fetch water by foot. I would transport my grain to the mill by carrying it on my back."
For Kebebush, the time commitment of fetching water and transporting crops by foot left little time for anything else.
"I didn't have an opportunity to earn extra income," she says.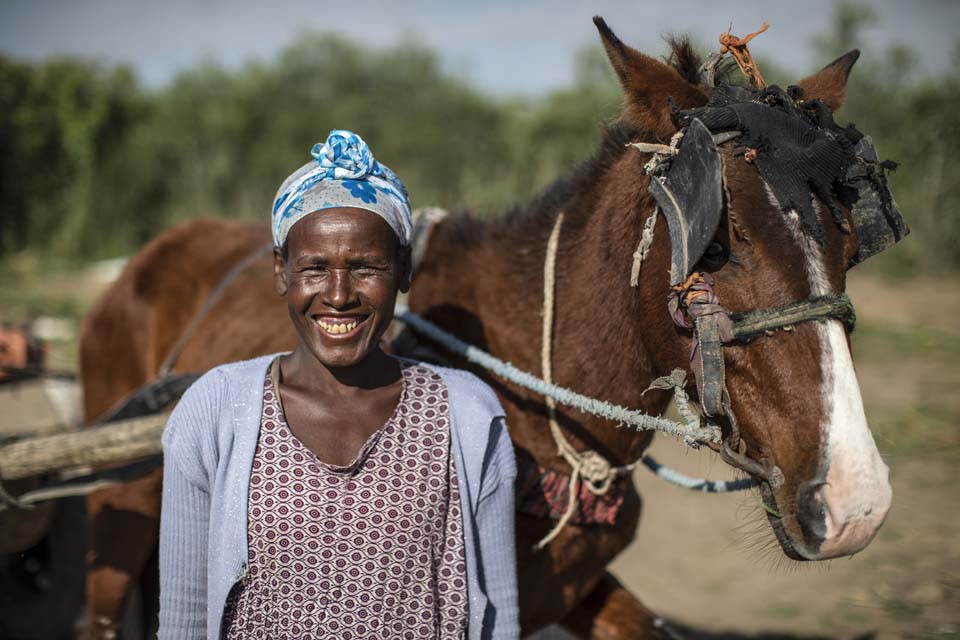 Kebbebush Niguise stands with her horse and cart in Lodesharbe kebele, Ethiopia. She was able to obtain a loan to buy the horse and cart through USAID Feed the Future's Livelihoods for Resilience – Oromia program.
Photo by Will Baxter/CRS
Through a program led by Catholic Relief Services and implemented by our local partner the Meki Catholic Secretariat, Kebebush received a loan of 7,000—around $218—from the Keleta Saving and Credit Cooperative Union, a local credit union in nearby Dhera town, after she became a member.
The initiative, which links vulnerable households to lending institutions, is part of Feed the Future Ethiopia's Livelihoods for Resilience Oromia program, which is supported by the U.S. Agency for International Development. The overall goal of the program is to improve the long-term economic well-being of these families by connecting them to economic opportunities, financial services and agricultural and nutrition services. 
Before joining the union, Kebebush began developing saving and borrowing habits in a Savings and Internal Lending Community, or SILC, which is an informal community-level group promoted by CRS that allows neighbors to pool their money and give out small loans.
"They advised us to start saving. Then we formed a SILC group. Before we hadn't ever saved anything. After we started saving, they encouraged us to get a microfinance loan," Kebebush explains.
At the same time, Kebebush also began learning about entrepreneurship. "secretariat staff helped me to make a business plan. They told me to plan properly for when I got the loan for the horse and buggy. So, before I borrowed, we had already established a business plan."
In 2018, Kebebush had saved $187 from the sale of seasonal crops, which she combined with her original loan to purchase a horse for $156 and cart for $249.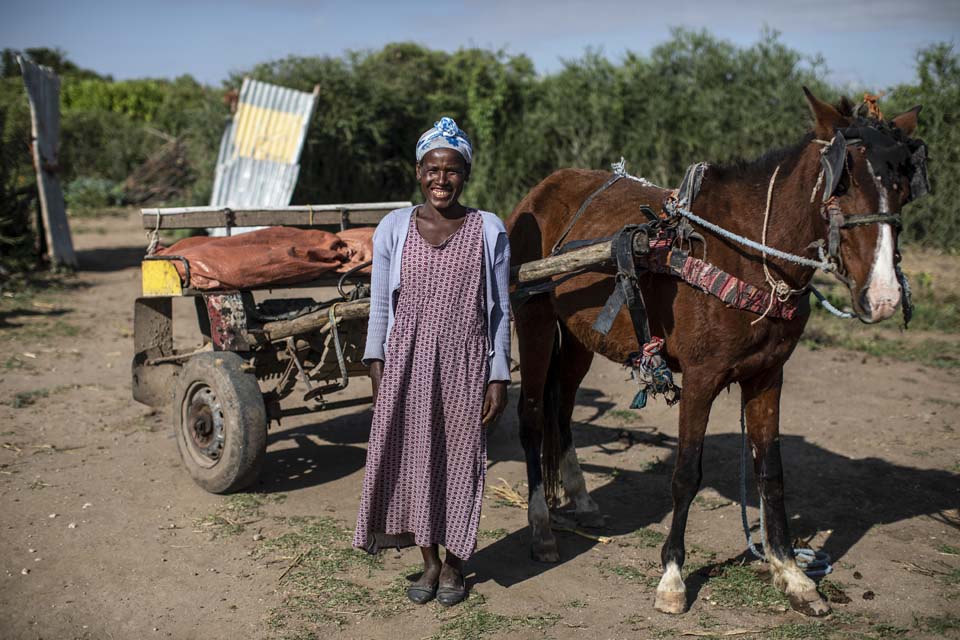 Steady population growth has led to fragmentation of landholdings and the farming of increasingly marginal land, making it difficult for farmers with small plots to feed their families year-round. Photo by Will Baxter/CRS
Since acquiring the horse cart, Kebebush's ability to earn income and quality of life have improved.
Photo by Will Baxter/CRS
"After harvesting, we use the cart to take the crop from the farm and bring it to our compound. I take my crops to the mill on the cart," she says. Kebebush's family grows staples like wheat, barley, maize and teff. Teff, for example, is the main ingredient in a popular Ethiopian flatbread called injera.
"On market days, we will transport people and we get some money because the passengers will pay us," she says. Kebebush typically transports six to seven people to Dhera town on market days and charges the equivalent of 48 cents per person.
"The extra income has helped me to buy items like coffee, oil, sugar," she says.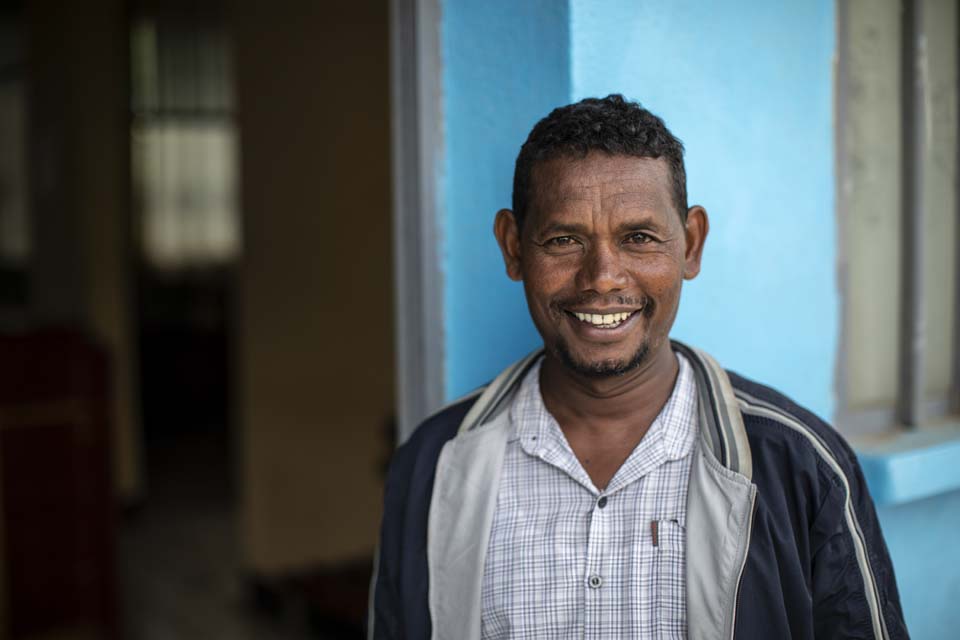 Aman Leghe, general manager of Keleta SACCO Union, which provides loans to rural households through USAID Feed the Future's Livelihoods for Resilience Oromia program. The goal of the program is to improve food security, and increase resilience for rural households in Oromia region, where the population faces high levels of food insecurity and malnutrition.
Photo by Will Baxter/CRS
Aman Leghe, general manager of Keleta Saving and Credit Cooperative Union, says, "The main objective of the union is to help clients overcome poverty. The beneficiaries are exceptionally poor and they need access to money to get out of poverty. That is their main problem. They can work but they don't have access to financial resources."
"As they grow to learn the saving culture and understand their businesses, they can have more opportunities to increase their loan amount," Aman  says.
Kebebush paid off her loan one month in advance of the allotted time frame.
"They told us to pay monthly for 12 months to pay off the loan. They told us if we could not pay monthly, there would be a penalty."
Kebebush looks forward to borrowing again so she can start another side business.
"If I can get another loan, I will use it to buy a bull and fatten it to sell," she says.
Help Families Improve Their Finances