Empowering Syrian Women Refugees
Photo by Megan Gilbert/CRS
One consequence of the Syrian refugee crisis is that women sometimes find themselves the sole supporter of their families. It's not a traditional role for them, but one they must accept in order to survive.
Catholic Relief Services in Egypt offers livelihoods grants to help refugees start or expand a business. The project also provides training on legal issues, finances, and marketing to help make those businesses work. Meet two Syrian women who used grants from CRS to become successful entrepreneurs. One is already mentoring other women, and the other dreams of doing the same.
Samah Elzain
As you walk into Samah Elzain's home in Egypt, on a table to the left, you will find dozens of bars of soap neatly wrapped with a simple label. Green apple, lavender, orange and lemon are just a few of the scents available in these in all-natural products. Samah's soaps weren't always environmentally friendly—she used to make them with detergents.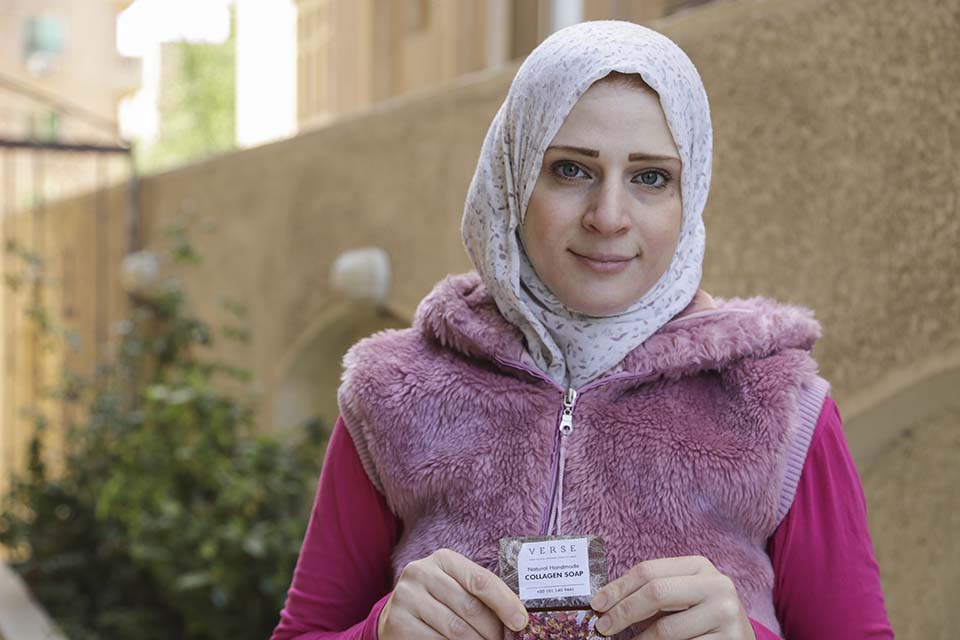 Samah Elzain, a Syrian refugee living in Egypt, started a business making natural soap products with money she received through a CRS livelihoods grant. The business enables her to support herself and her two young children.
Photo by Megan Gilbert/CRS
"When I got started, I got exposed to a lot of chemicals," Samah says. "It's very bad for the skin and it affects the environment. When I realized this, it was a motive for me to switch to using natural products."
The switch turned out to be a good business decision.
"I was surprised by how much people were interested in buying natural things and how aware they were of the need to use natural products," Samah says.
Listening to Samah talk about her work, it's obvious she has an innate talent for business and the drive to be successful. She has two very good reasons—her two young children. Seven years ago Samah left her home in Damascus, Syria, with her husband, only planning to stay in Egypt for a few months. Those months turned into years, and then four years ago her husband died suddenly from a stroke.
Challenges and discoveries
"One of the struggles I had back then was that suddenly I found myself not able to provide for my children," Samah says. "I didn't have the technical experience. I wasn't able to create a business, but I also had to think this was an opportunity to stand up for me and my kids."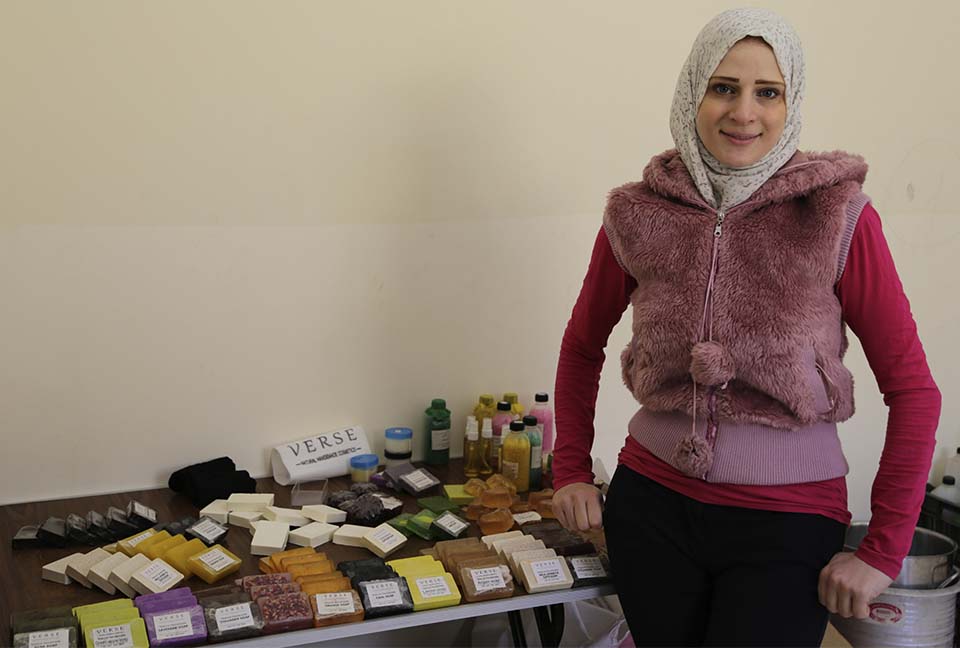 CRS provides basic business literacy training and grants, legal awareness and case management support for refugee women like Samah Elzain.
Photo by Megan Gilbert/CRS
Samah went to conferences and workshops and took courses online to learn about starting a business. The training from CRS taught her how to market her products, and the grant allowed her to expand.
"I work in the place where I live so I was able to get a bigger place so I could make more products and diversify my products," Samah says. "The profits I got from growing my project helped me enroll my children in school."
Samah sells her soap at markets and fairs, as well as to some shop owners. Her success motivates her to continue to grow and find new markets. It has also changed the way she views women in the workplace.
"The challenges I faced made me discover myself and discover who I am," Samah says. "Instead of thinking that I'm a refugee and I'm not strong, they made me see parts of myself I didn't see before. Working gave me the confidence—gave me the character—to become someone totally different. Even the way I think is different."
Her future plans include helping other Syrian refugees start their own businesses.
"You might say it's a dream, but I believe in dreams."
Hanouf Abdulhai
When Hanouf Abdulhai, came to Egypt from Syria five years ago, she began working in a day care facility. The job paid her only about $35 a month, so six months later she started working in a sewing shop. Still, the $60-a-month salary wasn't much better and she had to work 12-hour days. That was too much for Hanouf, a widow and mother of young children. Finally, she began making abayas, a traditional dress. She introduced Palestinian embroidery and designs to the abayas, which sold quite well, since they were unique to the Egyptian market.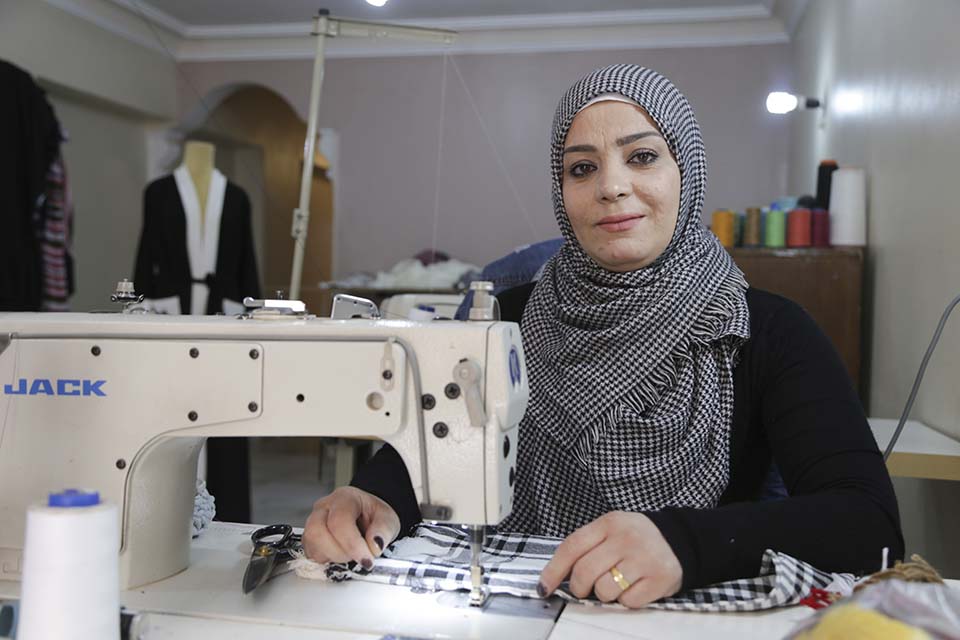 Hanouf Abdulhai came to Egypt from Syria five years ago. A livelihoods grant from CRS helped her start her sewing business.
Photo by Megan Gilbert/CRS
"It went really well in the market," Hanouf says. "The man I was working for asked me to produce more quantities, so he got me two more machines and I trained two other widows to produce more products."
Things were going so well that the man bought even more sewing machines, and Hanouf trained new staff to make the abayas. But the man's wife did not want her husband supervising the women refugees, so Hanouf and the women she trained were let go.
Teaching independence
"I felt bad when I had to leave," Hanouf says. "I didn't feel bad for myself because I knew I would work one day, but I felt bad for the other women."
Hanouf found work doing whatever she could, like making Syrian desserts or mending a blouse. She then heard about the CRS livelihood program on Facebook, decided to apply and was accepted.
"The training was very helpful, and it motivated me a lot," Hanouf says. "The trainers were very supportive, and told me where to go and buy the materials I needed. They always encouraged me to continue."
Hanouf is now her own boss with a shop and several sewing machines. She customizes the products she makes with handmade designs, which she sells to individuals. She is so well-known for her work, another organization asked her to train other refugee women.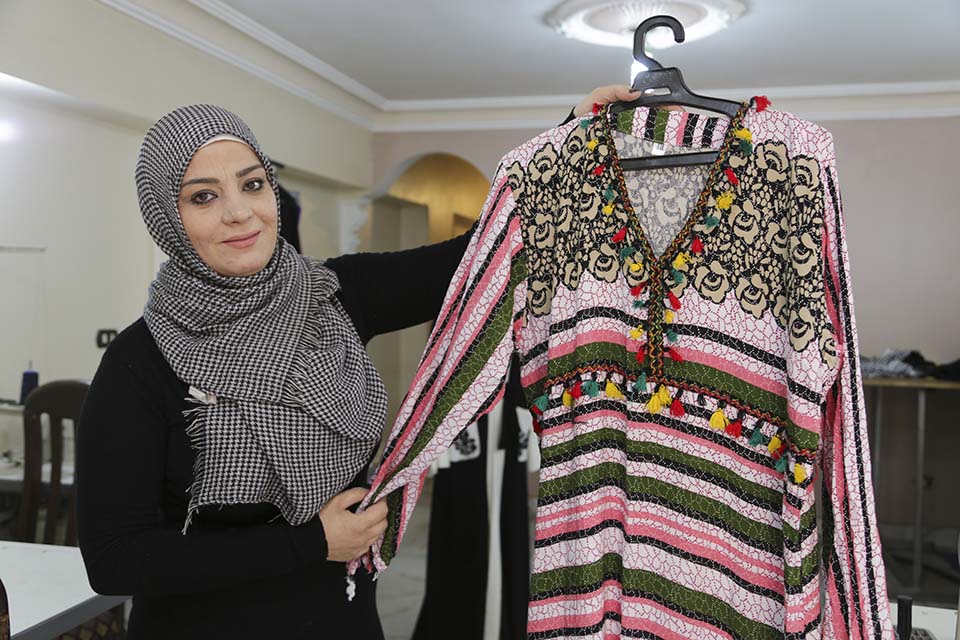 CRS works to empower refugees and vulnerable host communities to achieve economic self-reliance. The project supports urban refugees and vulnerable Egyptians to start and generate profit from small businesses.
Photo by Megan Gilbert/CRS
"My dream is much bigger than this," Hanouf says. "I feel happy to transfer the knowledge of the technical drawing and how to create abayas. I feel happy seeing other women be able to do this as well."
Helping other women is so important to Hanouf, she is training women refugees who lack vocational experience and has hired refugees to work with her.
"They need to support their families. I feel the struggle they have."
Hanouf is determined that her own children will not have that same struggle.
"I don't want them to depend on me. I'm teaching them to become independent because I realize that's important. If I wasn't independent I wouldn't be here today."