PROVIDING URGENT RELIEF TO FAMILIES IN THE DEVASTATED BAHAMAS
Context
The Bahamas is reeling from the catastrophic Category 5 Hurricane Dorian, which struck and hovered over its northern islands from September 1-3, 2019, with winds between 185 mph and 220 mph, causing massive devastation. The hurricane's 12-15 inches of rainfall, and storm surges at 18-23 feet above sea level, washed away or collapsed buildings, telecommunications, infrastructure and homes. The northwestern Bahamas islands of Abaco and Grand Bahama, as well as the surrounding cays, were hardest hit. As many as 76,268 people are severely affected, and an estimated 50 people have died. As rescue workers continue to look for survivors, the death toll is likely to rise.
Great Abaco Island has suffered widespread damage in Marsh Harbour—in two of the poorest neighborhoods of Mudd and Pigeon Peas. Across Abaco, shops, markets and telecommunications are not functioning. Water and power will continue to be out for the foreseeable future. Major hardware stores have been rendered inoperable due to severe damage from flooding. Until they are back up, access to materials for repairing and rebuilding will be a challenge. Airports are functioning and the seaport is open. Evacuations of families are taking place and indications of government camp support is underway. The Haitian population living on the island is greatly affected given the migrant families' limited incomes, savings and resources.
The east side of Grand Bahama—with a shanty town on its south end—has been heavily affected and is considered especially vulnerable, but markets are functioning, shops and gas stations are open (with long lines), and water and power is slowly coming back. The sea port is open and operational, as is the airport.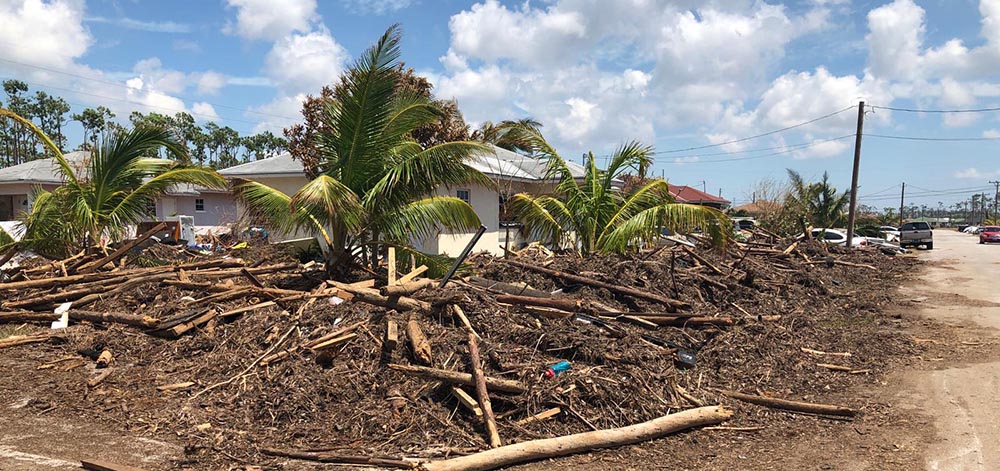 CRS/Caritas Response
CRS is working with local partners to assess immediate needs, which are extensive on the devastated northern islands of Abaco and Grand Bahama. CRS emergency staff are on the ground working with Caritas Grenada to identify the greatest needs in the most heavily affected areas. CRS is also working closely with Caritas Puerto Rico to coordinate transportation and distributions of relief supplies.
CRS and Caritas teams are pursuing options for urgent relief efforts through the functioning markets of Grand Bahama, and use of cash assistance for quick, efficient and dignified relief. We are working directly with Archbishop Patrick Pinder and the local Diocese of Grand Bahama, in addition to local Church partners, and coordinating closely with peer agencies and the government. Assessments for emergency needs and priorities for relief in Abaco are ongoing. Immediate support will prioritize the use of local shops and markets where they are functioning, or possibilities for direct distributions where the availability of local supplies is not possible. Pending further assessment, CRS will likely support the following emergency relief efforts:
Food assistance. 
Emergency shelter supplies, including tarps, rope and nails.
Household and living supplies, such as blankets, sleeping mats, cooking sets, cups and utensils.
Hygiene supplies, including buckets, soap, sanitary items, and water cans for safe water storage.
Your help brings relief. To help families affected by this emergency, please give generously.