Education Options for Girls in Remote Afghanistan
Photo by Stefanie Glinski for CRS
In Manjoh, a remote village in Afghanistan's central mountains, it was customary for girls in their early teen years to get married. In rural Afghanistan, opportunities for girls are limited. They may either get an education or get married.
But Manjoh is far away from any major city and a 16-hour drive on unpaved roads from the country's capital Kabul—and it didn't have a school.
For boys, the situation was slightly easier. Boys could walk to the nearest government school—about a two-hour hike away—while girls were largely left out, with most parents deeming the journey to be too dangerous.
Growing up, 9-year-old Fizah had seen her older sisters married off and leave home to join their husband's families. She expected to be the next, fearful of marriage to an older man or of moving to a village away from her family and friends.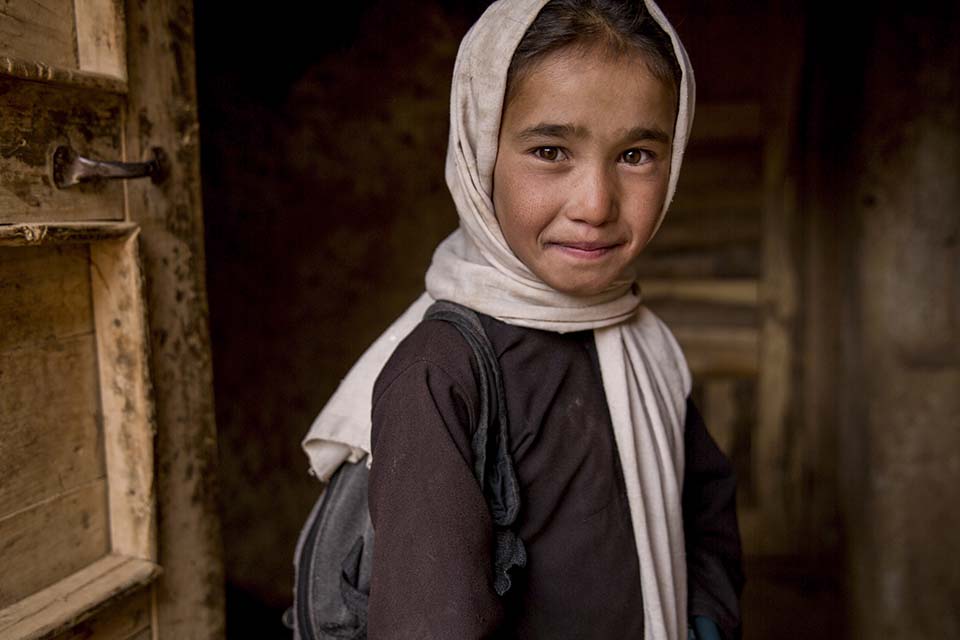 In remote Afghan villages young girls often marry early. CRS helped establish a school in her village, giving her the opportunity to get an education.
Photo by Stefanie Glinski for CRS
But when one of CRS's community-based schools opened in Manjoh, she discovered a new option. For the first time, getting an education was a real possibility and one that Fizah's parents, and many others, welcomed.
"It's not that we want our children to get married young," says her mother Wazir, who is 30 and has seven children. She knows from experience because it's exactly what happened to her.
"There's little to do in the village and there's no place to go. Most of us work as farmers, tend to the household, or raise children. It's always been that way."
For Fizah however, things changed. Sitting on a blue floral carpet in her classroom, she wears a white headscarf, her cheeks rough from the cold mountain winds. She's eager to learn, raising her hand at almost every question the teacher puts to the class.
"I didn't think I'd ever go to school," she says with a smile. "None of my family has ever been. I'm even trying to teach my mother how to read now."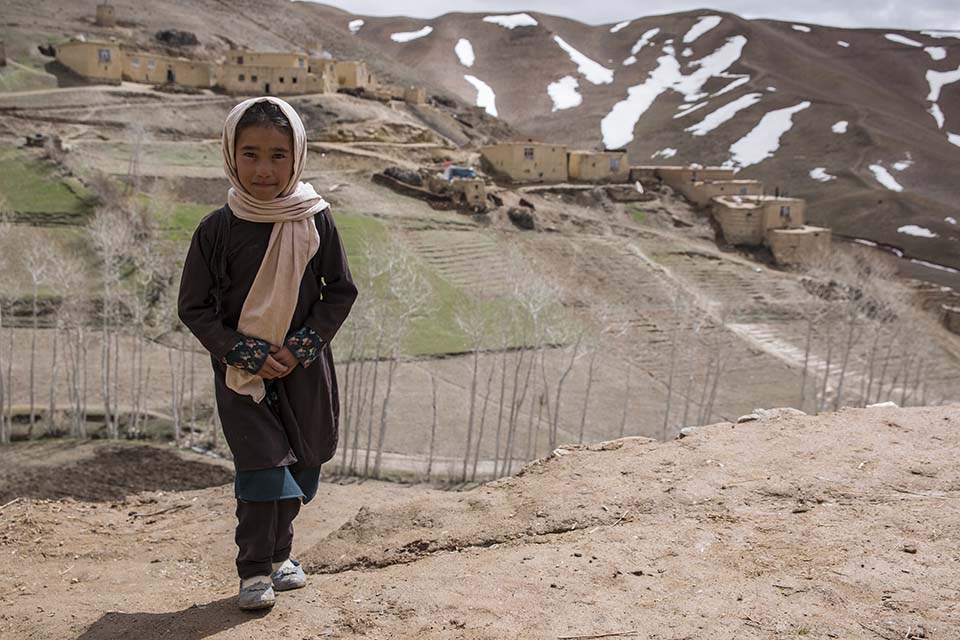 Fizah attends the CRS-established school in Manjoh village,in Ghor Province, Afghanistan. Hers is one of 45 such schools in remote villages where the walk to government schools is long and dangerous.
Photo by Stefanie Glinski for CRS
The village's new school is right in the middle of the 45-household community. It's a small room with big windows and a blackboard. Students crouch on the floor, their backpacks and notebooks in front of them.
Sediqua Ibrahimi has been teaching here for a few years now. Originally from Manjoh, she spent years in the district capital pursuing an education. She was given a rare chance by her father, a regional trader. Now that she's returned, she wants to give the next generation the same chance.
"It's a great opportunity for girls. They usually aren't allowed to walk to the government schools, because they are too far away. If it wasn't for this school, none of the girls here would be educated, but would be married off illiterate."
Just 31% of Afghanistan's population—male or female—is literate, with numbers dropping even lower in rural communities.
With support from our donors, CRS has set up 45 classrooms like this one in Manjoh, across the Lal district in Afghanistan's Ghor Province, an ethnic Hazara region in the middle of the country. Both conflict and the remoteness of communities have robbed children here of education, but Ibrahimi feels this is about to change.
"Fizah is the perfect example. Her family didn't have to be convinced that receiving an education is important. Our village just didn't have the means to build a school ourselves and fund teachers," she says. "But with CRS' help, that's exactly what we're able to do now."