Education Comes to Remote Afghanistan Villages
Photo by Stefanie Glinski for CRS
Loud screams and laughs echo through the village as 23 boys and girls run out of their classroom for a short break.
They play together, laugh together. They're having fun. It's an unusual sight in rural Afghanistan, where boys and girls are often kept apart, even at a young age.
More unusual, here in remote Manjoh village, a 45-household community high up in the Hindu Kush mountains, girls outnumber boys in the classroom.
The village school is just one room. The kids squeeze into the tight, light-flooded classroom and sit on a blue floral carpet, their attention drawn to the blackboard at the front and their teacher Miss Ibrahimi. Today, 12 girls are in attendance. Sometimes, up to 14 show up.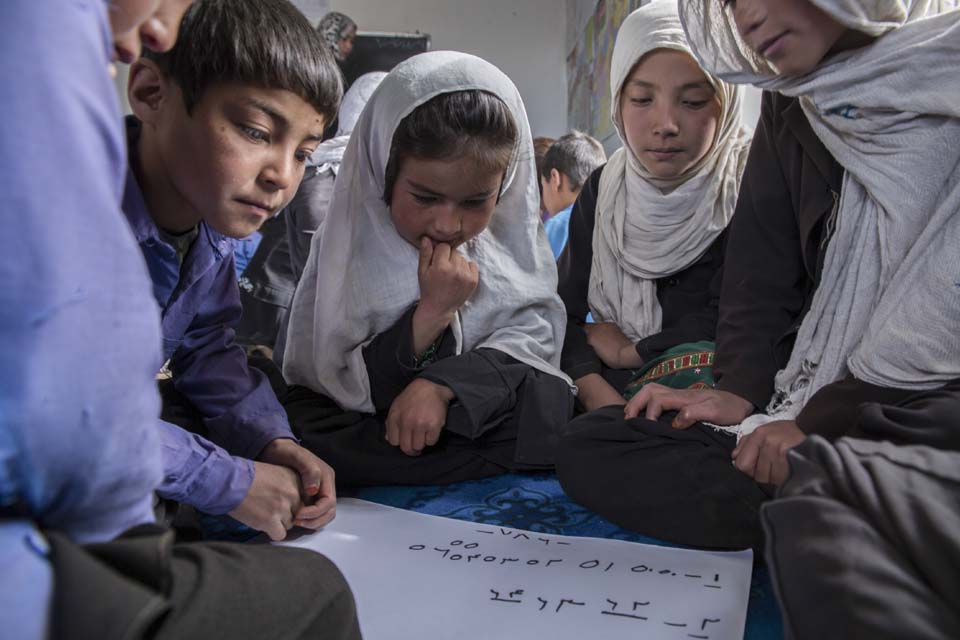 Children study at a CRS-established school in Manjoh village in Ghor Province, Afghanistan.
Photo by Stefanie Glinski for CRS
"It's unusual, but it's a great opportunity for the girls," the teacher says with a proud smile. Having moved from Manjoh to receive an education herself, Ibrahimi returned to  the village hoping to make a difference for future generations.
"CRS has supported this village since 2013. The school has made all the difference, as none of the girls had the opportunity to study previously."
The students here are only about half the age of the 18-year-old war that has brought violence, economic instability and lack of education to the country.
Only 17% of women are literate in Afghanistan, most of them living in urban centers. In some of the Hindu Kush's most remote communities, that statistic is as low as 1%. While boys often take bigger risks to attend classes—such as long walks through dangerous terrain or alongside busy roads—girls are usually kept at home.
"It's not that families don't want to send their daughters—they do. But the dangers of long walks to school make it impossible," says Ibrahimi.
With the village's first school, this has changed. Most families live a minute's walk away from the school building, a simple clay structure.  A total of 45 similar schools have been set up by CRS throughout rural Lal district.
"The response has been immense. We've seen children make plans for the future and communities come closer together," says CRS senior project officer Mohammed Akbar Tabish, who was part of the team who set up many of the schools, always with the hands-on help of local villagers.
One of the girls attending classes here is 9-year-old Fizah. Growing up, she's seen her older sisters married off and leaving the house to join their husbands. She'd always thought she'd be next in line.
But with the opening of Manjoh's primary school, her parents changed their minds.
"They told me it's better for me to go to school," she says shyly but proudly. In her brown dress and white scarf, she walks to school in the mornings, a 1-minute walk downhill from her house. It was either never receiving an education or trying to get educated in the village. Fizah was in luck.
Classes follow the Afghan state's curriculum and are coordinated with the government. "This ensures that, once students are older and have finished here, they can move on to a government school and even university," Tabish says.
"We're still in the beginning phase, but I'm looking forward to seeing Fizah—and the next generation of children grow up literate."