Early Childhood Development: Dedicated in Malawi
Photo by Sara Fajardo for CRS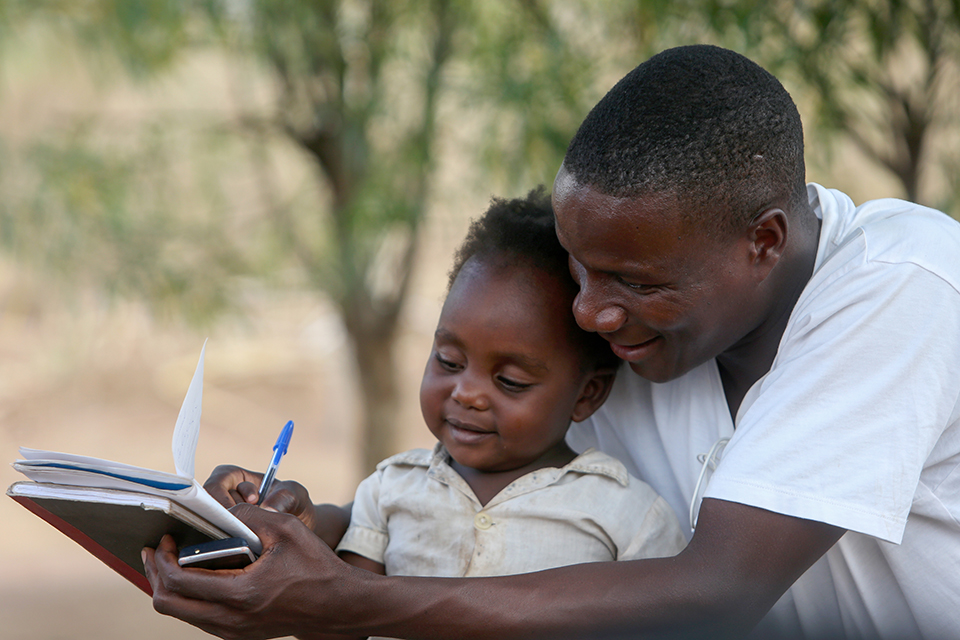 Bright Kapecha draws in his notebook with a young girl while visiting a training on early childhood development, thanks to the THRIVE II project. Photo by Sara A. Fajardo for CRS
Learning to THRIVE
It's a dream born under the canopy of a sheltering tree. Led by an enthusiastic 20-year-old, Bright Kachepa, a small group of children gathered 7 years ago for what would become the village of Mjambe's first community-based childcare center in the district of Zomba, Malawi.
Such centers were the Malawi government's response to a growing number of children left vulnerable by high rates of HIV—with rates still standing at 10%. Communities were encouraged to develop centers to help orphaned and vulnerable children get a jumpstart on learning, while also giving their caregivers a safe space to bring the children while they worked and tended their fields.
"I want to give children a chance to learn," says Bright, who couldn't afford to continue his own studies after his first year of high school. "I want the children in my village to grow in discipline and culture, to grow as Malawians, and also to help them learn English from when they are very young."
Little did Bright know then, but his dream to help local children would one day extend to teaching the building blocks of early childhood development to nearly 1,000 families in 42 villages.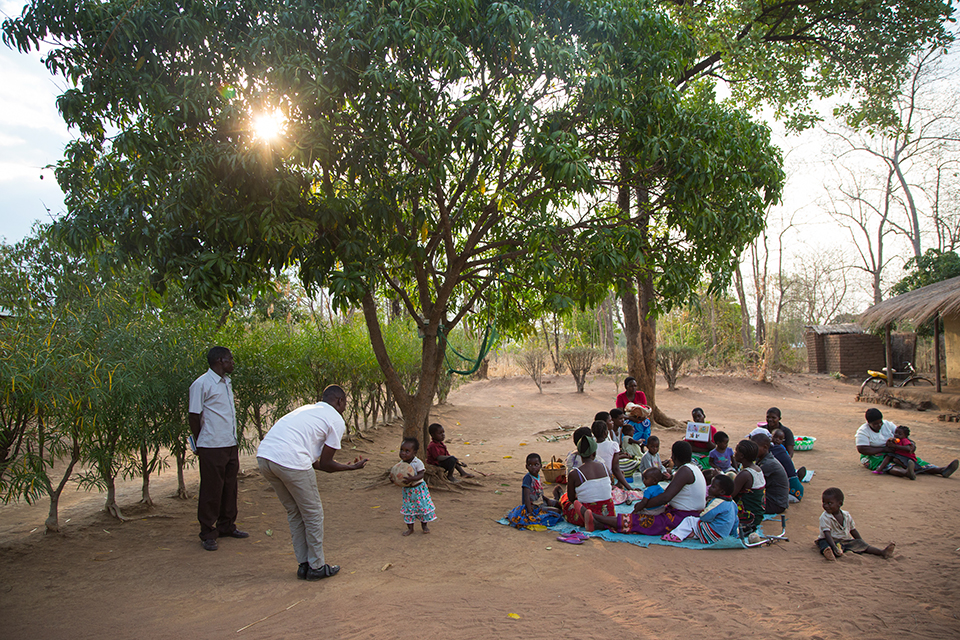 Bright, left, plays ball with a young girl during a neighborhood women's session—where caregivers learn new ways to use play to teach their children. Photo by Sara A. Fajardo for CRS
Learning takes root
With the tree's shade protecting children from the midmorning sun, Bright and a handful of other volunteers taught songs, the alphabet and writing using sticks to practice on the ground. When seasonal rains began, the center closed until the dry season.
As time passed, the center grew under Bright's guidance. The village leader donated land, and the community built a tin lean-to to protect students from the weather. They named the center Alinafe, which means "God is with us" in Chichewa.
Soon after, news of the center's success reached Lucia Maele, a program officer with the Zomba Diocese Research and Development Department, a CRS partner. Lucia was in charge of teaching early childhood development to caregivers as part of THRIVE I, a project funded by the Conrad N. Hilton Foundation. She approached Bright about participating in trainings as a way to polish his teaching and facilitation skills and enhance his knowledge about early childhood development.
"I was so surprised to learn that we could make something and give it to the child to play with," says Bright. "We learned how to sew dolls and to arrange toys. They taught us to make spaces in our classroom, special areas for children under age 5, and other areas for children under age 2."
Bright shows children how to play with their new toys at Alinafe, a community-based childcare center, in June 2014. Photo by Sara A. Fajardo/CRS
A dream made concrete
As Bright's knowledge grew, so did Alinafe's attendance. Families began donating from their corn harvests to make porridge for the students. Children from neighboring communities joined. Over time, Alinafe welcomed 115 regularly-attending students.
Seeing the school's success, the THRIVE I project provided building materials for a concrete structure. Murals of local animals were painted on the walls alongside the alphabet.
The whole community gathered for the opening day ribbon-cutting celebration in June 2014. Guests were welcomed by small children joyously showing off their English, singing, "I am jumping, I am jumping." Toddlers took turns at the newly painted chalkboard, pointing out letters, their necks straining in concentration to pronounce perfectly formed vowels.
Bright greeted each visitor with his trademark smile. He ended the day pushing a long line of children on the tire swing outside.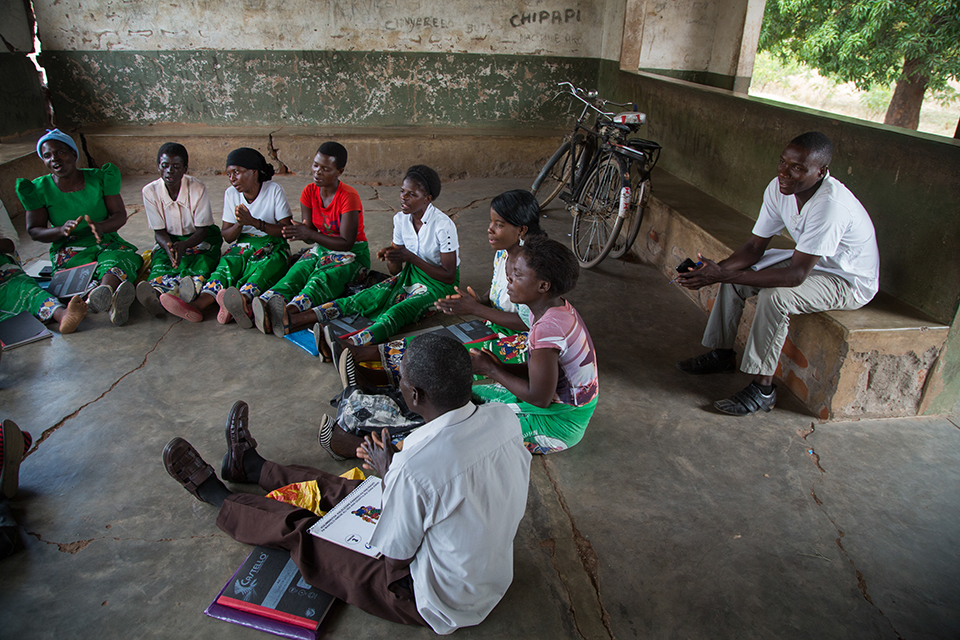 Bright, right, sits in on a training with the Namitembo care group in Mitumbiri Village, Malawi. Photo by Sara A. Fajardo for CRS
Growing a legion of childcare enthusiasts
The Namitembo care group meets twice a month in the village of Mitumbiri. As they flip through a training book, the women discuss the importance of play.
"It removes fears," says one woman. "It builds muscles," calls out another. "It helps mom bond with baby," offers a third, before they move on to brainstorming toys they can make with locally available materials.
Bright listens in, assessing knowledge and offering advice when needed. The women are part of a legion of volunteers working to reach all the pregnant and nursing mothers in their community with the basics of early childhood development. Each one takes the knowledge she learns and shares it with another 10 to 15 mothers during trainings called "neighbor women's sessions."
THRIVE II, a project that began after the conclusion of THRIVE I, moved from childcare centers into the homes. Its new mission goes beyond teacher training to train caregivers directly about the fundamentals of early childhood development.
With the new project's complex system of promoters, volunteers and neighborhood women's sessions, Lucia knew she needed a field officer to manage it all. She also knew she needed to look no further than the soft-spoken Bright.
"Childcare center volunteers have the qualities needed to work as THRIVE II field officers because they learned the basics of early childhood development," says Lucia. "Bright always had a good attitude towards the children. He was so calm and patient. His childcare center was always full."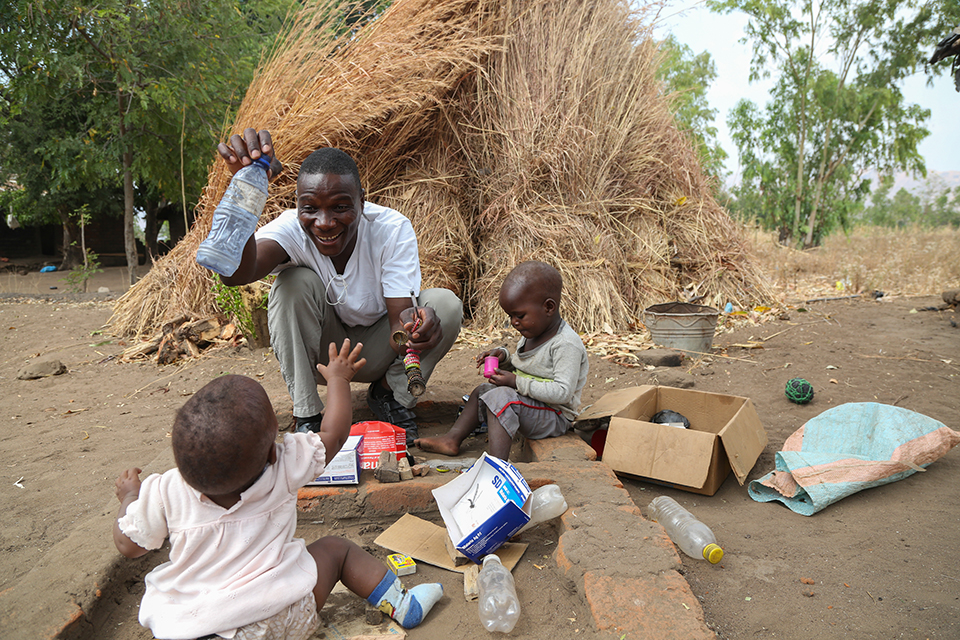 Bright plays with Favor, 8 months old, and Ruth, 20 months old, during a routine home visit. Photo by Sara A. Fajardo for CRS
A space for play
Bright bikes the dusty, crisscrossing roads that connect the 42 villages he oversees, sometimes racking up more than 20 miles a day. He attends each training session and visits every household.
On one Thursday morning, Bright stops by the Linyamas' to check in on their youngest child, Ruth. Squatting next to the 20-month-old, Bright picks up a shaker made from pebbles inside a plastic bottle. Ruth beams and hands him empty boxes to stack.
Ruth's father, Losan, marvels at how much the family has learned since Bright began working in their community.
"I learned about the six food groups a child needs to grow," says Losan. "Now when we give her porridge, we add groundnut flour."
Ruth picks up a ball made from plastic bags. She sits on top of bricks, shaped in a figure eight, that she calls her "house." It's a space Bright suggested that the family make to separate Ruth's play area from the rest of the compound.
"We all like her play area," says Jennifer, Ruth's mother. "We apply water to remove dust and keep it clean. Through the project, we've learned so much. Before, we just used to chat with her, but when the project came, we even learned to make her toys."
As Ruth and Bright toss the ball back forth, Jennifer looks at them and smiles.
"Bright is always there. If a house is well-to-do or less privileged, it doesn't matter. He always comes. Since he has come to our house, we have seen great improvement. I would commend him for the job he has done."
Still learning, still growing
Even though Bright spends his week serving more than 1,000 people, he has not forgotten his beloved Alinafe. You'll find him there on Saturdays, volunteering his time to make sure the children in his village get the right start they need in life.
With the modest income he earns as a field officer, Bright has also resumed his studies. He's already completed his second year of high school. "I came in second in a class of 92 students," he says. "One day I want to be a project manager. I want to continue helping in my country's development