Displaced Nigerian Women Take on Fire Safety Role
Photo by Samuel Phelps/CRS
If a fire breaks out in El Miskin displaced persons camp, Fanne knows exactly what to do.
Her ability to respond rapidly to a fire is thanks to her sharp wits and fire safety training offered through the work of Catholic Relief Services with support from the Office of U.S. Foreign Disaster Assistance.
"Before we had this training, there were a lot of incidences of fires. Now people are well equipped and understand the precautions," says Fanne.
Anybody could apply to attend the one-day training but the final candidates selected were often vocal and confident members of the camp community, a large proportion of them women. At the end of the training, each participant was given a whistle to sound the alarm in case of a fire. Throughout the camp, strategically placed signs promote fire safety practices. CRS also installed 52-gallon "fire hydrant" barrels dug into the earth and filled with water that can be quickly accessed to douse fires.
"Every dry season fire incidents in camps are high, exacerbated by high temperatures, flammable materials that people use to make their shelters and domestic fire mismanagement," says Moshood Jeffrey Ogunwoye, CRS team lead for wáter, sanitation, hygiene and shelter. "People are staying in limited space with shelters very close together. If a fire starts it can spread quickly."
"Often fires are started from children playing with matches, women who are cooking, people smoking or burning incense," says Moshood. Because many of these fires break out in the home, having female trainees is an important part of the program. The women then go back to their family and community and raise awareness and readiness in case of fire.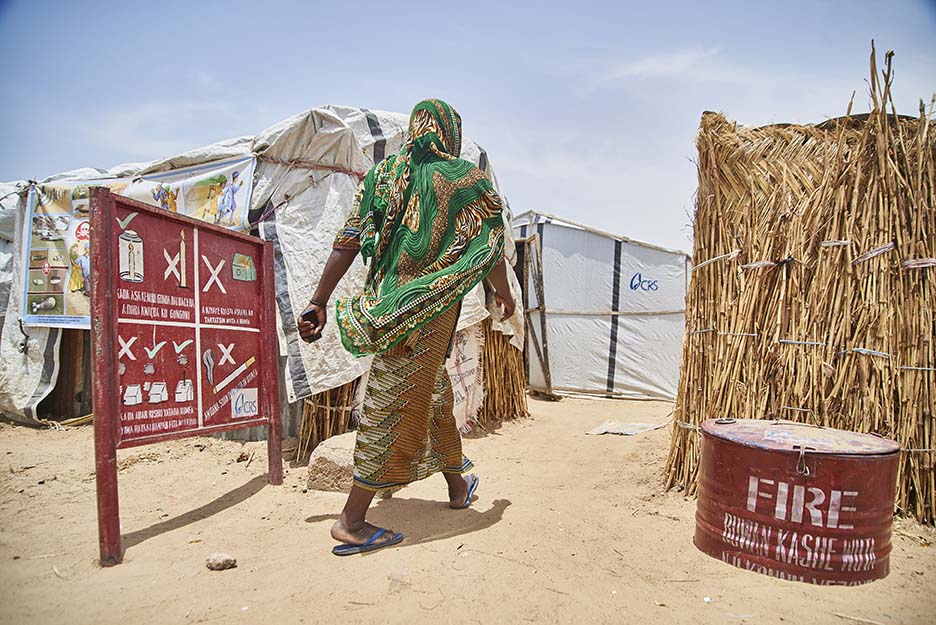 A camp resident walks past a sign promoting fire safety procedures and a reservoir of water available to douse fires in El Miskin Extension Camp for displaced Nigerians in Borno State, Nigeria.
Photo by Sam Phelps/CRS
"Since the training that started in 2017, in the areas we are working, we have only recorded two incidents of fires," says Moshood. "These incidents were tackled and controlled by the people we trained."
"For us, we had never really thought about participating in a training, let alone a fire safety training," says Fanne. "We were so proud we were selected to take part in this."