Displaced Cameroon Families Find Increased Opportunity
Since 2016, an armed conflict between protesters and government forces has been ongoing in Cameroon's English-speaking Northwest and Southwest regions. The conflict has forced hundreds of thousands of Cameroonians to flee their homes, creating an overwhelming need for humanitarian assistance for displaced and host families.
In response to rising security threats, in 2018, Mirabel, a mother of four, moved her family from their home in Belo to Alahlieh Nkwen, a quarter within Bamenda, the capital of the Northwest region. When they fled, Mirabel lost her job as a loan officer and assistant manager of a local credit union. She also lost her sister, who died during the crisis from an illness. Mirabel took in her sister's four children and three other family members. She was now responsible to feed and care for 13 people.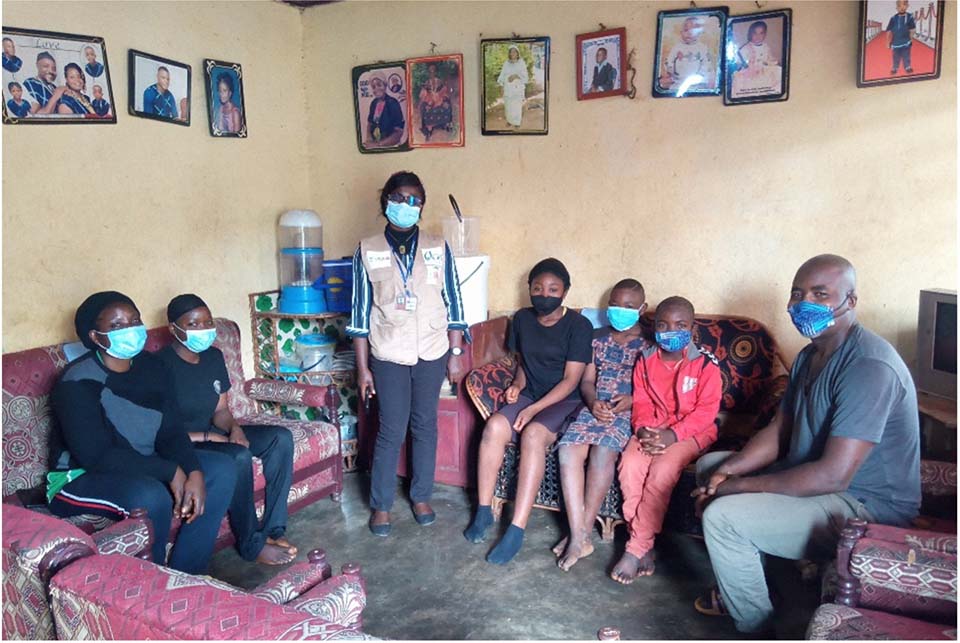 Mirabel, seated left, her husband, seated right, and their children pictured with CRS project assistant, Mbunwe Collete, standing center, during a home visit in Bamenda, Cameroon.
Photo by Besong Solange/Caritas Bamenda for CRS
"Life has been extremely difficult ever since we moved to Bamenda," Mirabel says. "I have struggled to get a job without success. My husband and I have been surviving mainly by undertaking short-term odd jobs, like working on people's farms for daily pay or roasting and selling corn by the roadside. Feeding was a major challenge in my household, and sometimes my children would go to bed hungry and angry."
In April 2022, when Catholic Relief Services and our local partner, Caritas Bamenda, started implementing a new round of USAID-funded emergency assistance known as ACER III, Mirabel was selected as a participant. The project's selection criteria for Mirabel and others like her included factors related to displacement status, having a low-income level and limited access to food.
ACER III currently provides more than 11,000 individuals who face vulnerable living conditions across 24 communities in the Northwest region of Cameroon with access to basic food items and critical household supplies. The project is also supporting 60 families by offering robust training in poultry-rearing techniques and providing key supplies—such as chicken coops, feed, and chicks—to start up a poultry-raising business.
As a participant, Mirabel is eligible to receive six rounds of monthly food items and one round of household items, such as soap, kitchen items, mattresses and blankets, throughout the year. The food items are purchased monthly using an electronic voucher, which functions like a debit card, from participating shops in the local markets. With the e-vouchers, Mirabel can purchase foods like peanuts, palm oil, rice and beans, as well as fish and meat. Within the amount that Mirabel receives each month for food, a portion of the funds is restricted to the purchase of high-nutrient foods, such as chicken, beef, bananas, oranges, eggs, red beans and other healthy foods.
After receiving two rounds of food assistance and one round of household items, Mirabel says the project has changed her family's life for the better and renewed her dignity.
"Every time I go to the market and purchase items for my family, I feel powerful and important," she says. "The nutrient-rich wallet helps my family eat balanced meals. I can see a difference in the physical appearance of my children, who look healthier and happier compared to when we only depended on our own means. The vendors are hospitable and the posters pasted in front of their shops make it easy to locate them."
Mirabel was also able to buy bigger cooking pots, buckets, plates and spoons to add to the limited number available in her home. The pots have made preparing meals easier for Mirabel, who now cooks just once a day in large quantities for her family, as opposed to cooking multiple times for a single meal in small pots. This leaves her more time to work outside the home and, together with her husband, the couple can now save more money. With the extra income, they can pay for their children's school fees.
----
The Anglophone Crisis Emergency Response III project, known as ACER III, responds to the basic needs of more than 11,000 individuals from vulnerable displaced and host families in 24 communities affected by the ongoing crisis in Cameroon's English-speaking regions. In the one-year project, households will receive six rounds of monthly food items and a one-time credit to purchase household supplies. Sixty households will also receive training and support to launch poultry-raising businesses that help them become more self-sufficient. ACER III is funded by the USAID Bureau of Humanitarian Affairs. Over the past four years, CRS has provided emergency assistance to close to 90,000 people in the Northwest region thanks to funds from USAID.