At 16 years old, Rose should be worrying about her studies and helping her mother with household chores. Instead, she is mother to a one-year-old baby girl, a role she took on at the tender age of 15.
"I wake up daily at 6 a.m. to cook porridge for the baby. Then I help my mother prepare breakfast for the rest of the family, clean the house and the compound," Rose says.  "I wake up tired sometimes because the baby cries a lot at night, forcing me to stay awake for longer hours."
Rose's mother Mary has been supportive, especially during school days.
"When the school term is in session, I take care of my grandchild so that my daughter can go to school. I want her to have a bright future even though she became pregnant at an early age. That should not stop her from achieving her dreams," Mary says.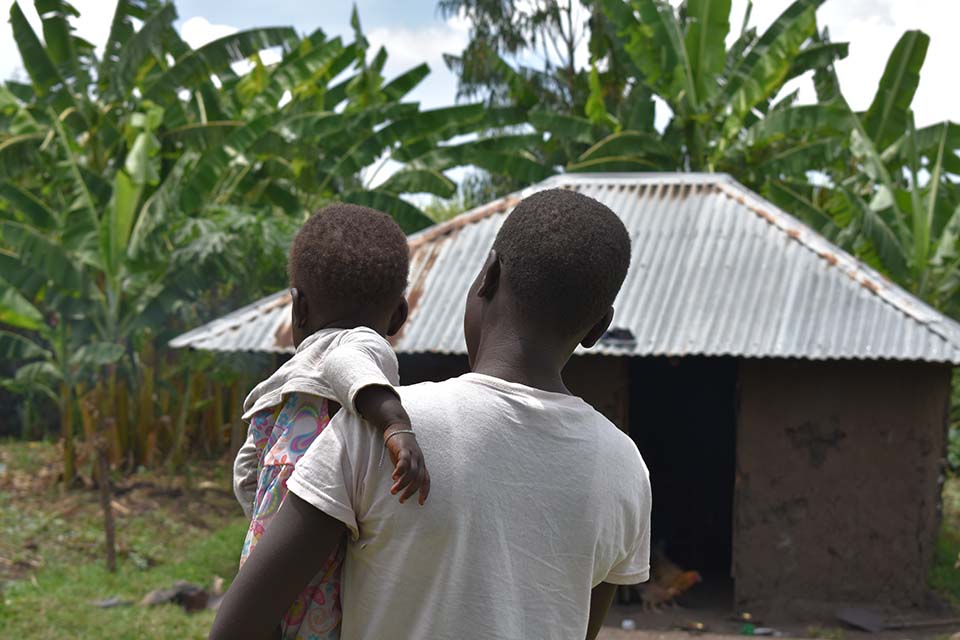 Rose, 16, holds her baby in her village in Homa Bay County, Kenya. A CRS-supported program helped the family care for the baby, mother and grandmother.
Photo by Florence Ogola/CRS
Accepting her daughter's pregnancy was not easy for Mary.  
"I felt I had failed as a mother in raising her. She is my hope because we are poor. I thought by investing in her, she would get us out of poverty someday. When I learned of her pregnancy, I lost hope in that dream, and the women in the community were mocking us too," she says.  
Through the Sinovuyo Teens Parenting Program, commonly referred to as Shujaa, in partnership with the CRS project Making Well-informed Efforts to Nurture Disadvantaged Orphans, or MWENDO, Mary learned how to cope with the situation and better relate with her daughter.
"Shujaa taught me a lot of things, [like] how to take care of my family. The most important lesson for me was better communication with my children and embracing positive discipline. I learned to listen to them more, and I have noticed that they now open up to me more on their fears and even seek my advice. I enjoyed the Shujaa sessions a lot. I wish as parents we could have more of such," Mary says.  
The Sinovuyo Teens Parenting Program is an evidence-based model that enhances the relationship between teenagers and their caregivers. MWENDO implements a version suited to strengthen the caregivers' abilities and teenagers' life skills. The program offers a safe environment to address health and social issues, as well as HIV prevention and management. Similar programs are implemented in USAID-funded projects in Zimbabwe, Tanzania, Eswatini, Haiti and Cote d'Ivoire.
Rose says that her mother was not happy with her when she learned of her pregnancy.
"It was difficult at first because my mother was so angry with me, and at some point I thought she was going to throw me out. Back at school, the pupils laughed and mocked me a lot. I felt sad and alone," she says.
"The Shujaa sessions gave me hope. I was taught to be open with my mother and talk to her about issues that bother me or whenever I needed something," Rose says. "When I told my mother about how I was being mocked in school, she encouraged me to focus on my studies and that she would take care of the baby once I gave birth," she adds. 
Rose is now in her first year in high school. She is grateful for the support from the project and her mother.
"My mother has always been my pillar. I am happy that she accepted me and has been supportive all along. I want to make money in the future and give her a good life. I love her so much," she says.
Curbing Teenage Pregnancy in Homa Bay County
According to a 2020 report, one third of adolescent girls ages 15 to 19 in Homa Bay County are mothers or are pregnant with their first child. This is almost twice the national average of 18%. The report further states that young people ages 15 to 24 constitute 13% of the total number of HIV infections among people ages 15 to 49 in the county.
The report also found that girls are at risk of sexual violence, increasing their risk of acquiring HIV and unintended pregnancy.
Wango Judy is the project coordinator at Caritas Homa Bay, one of MWENDO's local implementing partners. Wango points out that in 2019 MWENDO identified 55 cases of teen pregnancy in Central Kanyamwa, Homa Bay County. The girls, ages 10 to 17 years old, had dropped out of school due to pregnancy.
They set up a quality improvement team to prioritize re-enrollment of these girls in school. The teams identified several issues. They cited lack of age-appropriate information on reproductive health; poor relationships between teenagers and their caregivers; lack of access to basic needs, including sanitary towels; and taxi riders and fishermen targeting teens by offering treats in return for sexual favours.  
A campaign dubbed Mimba ya Mapema Marufuku Homa Bay, or "Early Pregnancy Banned in Homa Bay," was formed, bringing together several partners working in the best interest of children.
"Working with other partners, we created awareness in the community through community forums, radio messages and the use of social media like WhatsApp," Wango says.
Pregnant teens were offered health care for safe delivery and taught life skills through group sessions. The quality improvement team worked alongside the Department of Children Services, the sub-county adolescents sexual reproductive health coordinator, the chairperson of Boda Boda taxi rider's association in Homa Bay, the Beach Management committee and other key players to create awareness in the community about child protection.
The quality improvement approach uses data to determine gaps in service.. Teams identify and prioritize actions and solutions that are tested and documented to determine the most efficient and effective ways to improve service delivery.
"We have seen more cases of child violation reported in our office in the last year. The community is becoming more aware of the steps to take in such cases. I attribute this to the awareness creation that has been taking place working with MWENDO and partners like World Vision, UNICEF and many more," Homa Bay official John Kabasa says.