Cultivating Peace in Darfur Amid Social Conflict
Photo by Carlos Barrio/CRS
On his farm in Darfur, Juma Adam Abdalla's grows onions, potatoes and watermelons that nourish his family and his village. To secure their lives and livelihoods, he also seeks to cultivate peace.
Juma and his family, like countless others, endure the repercussions of a war that erupted in Darfur in 2003 and severely impoverished the region.
"During the Darfur war I had animals, and they were stolen. After, I was doing only farm work but that was not enough. That's why I needed support from CRS," he says.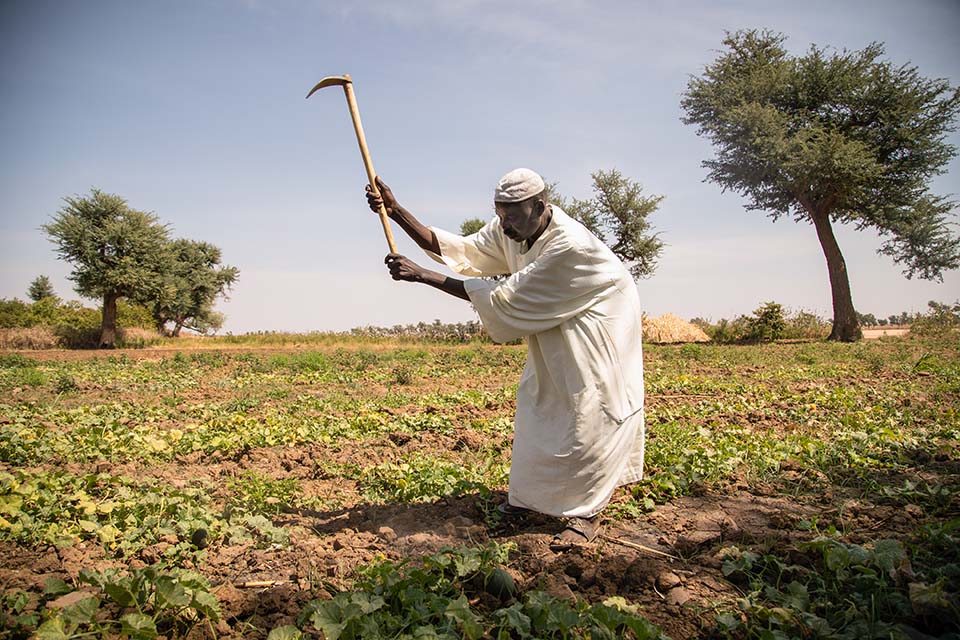 Juma Adam Abdalla works at his farm in Haraza village, West Darfur, Sudan. CRS provides farming communities with seeds, tools and farming techniques training.
Photo by Carlos Barrio/CRS
Long-lasting conflict in Sudan's Darfur region stems from ethnic tensions that have displaced 2.5 million people and caused hundreds of thousands to seek refuge in Chad and other neighboring countries. Most recently, armed conflict between two warring parties has displaced nearly 2 million people in just two months. The resulting humanitarian crisis has limited access to food, water, health care and shelter. Climate change worsens the situation by intensifying competition for resources, leading to overgrazing, deforestation and further desertification of an already parched landscape.
With funds from the U.S. Agency for International Development, Catholic Relief Services has been implementing the Recovery in Sudan for Improved Nutrition and Growth, or RISING program, since 2019. Now in its third phase, the program is helping 59 communities across all five states in Darfur to develop inclusive institutions and governance of natural resources, and to improve food production and nutrition practices within families.
Increased health and food intake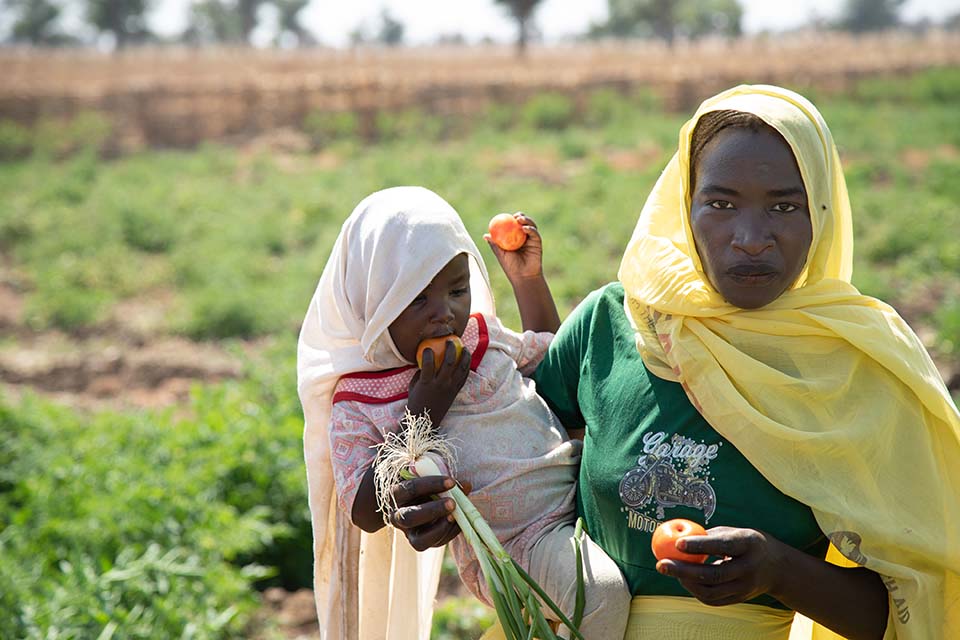 Nora Ishag Abdalla and her daughter eat tomatoes from the winter crop she harvested with support from CRS in the form of seeds, tools and farming techniques training. Nora is also a lead mother in the maternal health and nutrition program.
Photo by Carlos Barrio/CRS
In Haraza village, West Darfur, Juma and thousands of others have learned myriad agricultural techniques through the RISING program, as well as received high-quality seeds that increase harvest productivity.  
"Before, due to low production, we would eat one meal a day," Juma says. After we started to apply these new techniques, our production doubled. We now eat three times a day, breakfast, lunch and dinner. I feel strong now. I work in the farm from 6 a.m. to 6 p.m. My family brings me the meals to the farm because I stay there all day. The more I work the more production I get. Last year, I had a small plot and now I have increased the size."
With the production surplus, Juma says not only can they eat more but they can also sell some of the harvest in the market to make money and pay for health treatments and school fees, and to cover family needs.
Over 27,000 households have benefited from improved agriculture and food security activities and over 30,000 households have benefited from nutrition services.
In Haraza village, the community's adoption of nutritional practices—such as providing children with increased vegetable intake from the farm—has improved their health significantly.
"We used to give water to 1-month-old babies, but now we know we don't have to give them water until they are 6 months old and that has reduced diarrhea and sickness. Children's health is good now, and they are happy and full of energy," says Juma.
Pathway to social cohesion
The conflict in Sudan has deepened old divisions and tensions among various groups. CRS intervention aims to facilitate reconciliation and healing, promote sustainable development, prevent the resurgence of violence, and build a culture of peace among different communities in Darfur.
Juma is among the 40-member group of community members entrusted with the responsibility of peacebuilding and conflict resolution. The group includes pastoralists, farmers, young people and women. By collaborating collectively, communities gain enhanced awareness of their natural resources and develop effective strategies for peaceful co-management, ensuring increased productivity and equitable benefits for all.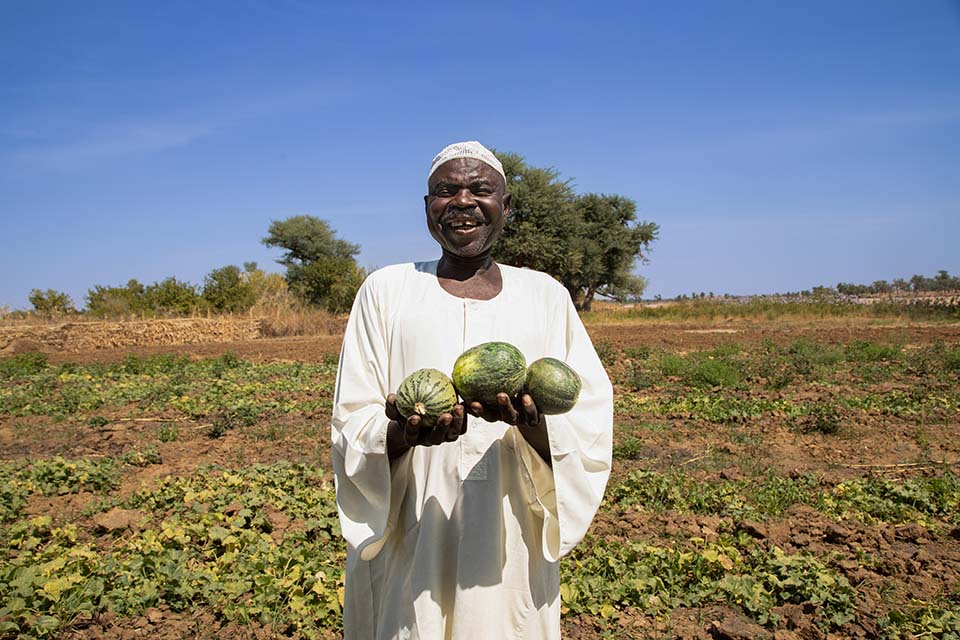 Juma Adam Abdalla shows three watermelons harvested at his farm in Haraza village, West Darfur, Sudan.
Photo by Carlos Barrio/CRS
"What I learned about peacebuilding is how to bring two parties together to solve any problems, and responding immediately when anything happens before it becomes a big issue," Juma says.
He added that until the group was formed, there was no coordination with other groups amid the frequent emergence of conflicts between pastoralist and farming communities over natural resources, such as crop destruction.
"But now we have a good community action group for peacebuilding and social cohesion, and when anything happens, we immediately handle the issue," Juma says. "Recently, an animal destroyed some crops, and the owner of the farm killed this animal. The peacebuilding committee intervened and brought the families together, and they were able to solve the issue peacefully."
CRS is committed to promoting dialogue, understanding and cooperation in Sudan. Our peacebuilding programs support communities to heal, rebuild and forge a path toward a more peaceful and inclusive future.
"It is very important to us to be at peace together. If any problem happens, together we can solve these problems. My hope for the future is stability, and that whenever anybody comes, we can welcome them," Juma says.
RISING III
Catholic Relief Services, with support from U.S. Agency for International Development's Bureau of Humanitarian Assistance and through a consortium of partners, implements Recovery in Sudan for Improved Nutrition and Growth program to address emergency food security needs, strengthen social cohesion and build resilience for vulnerable communities in Darfur. CRS works with returnee and resident households in 59 communities across all five states of Darfur to transition from emergency assistance to longer-term recovery programs through disaster risk reduction, agriculture, nutrition and livelihood activities. The program focuses on capacity development to improve the socioeconomic governance of the assets that are already developed. Targeting for natural resource management and governance activities, vulnerable communities are selected for agriculture, health and nutrition activities through skills transfer, peacebuilding and inclusive natural resource management structures. Over 10,000 households have benefited from improved agriculture and food security activities and more than 28,000 households benefit from nutrition services.