CRS Builds Breastfeeding Hub in Mindanao, Philippines
Photo by Ma. April dela Cruz
"It was an overwhelming but fulfilling experience because the community members, for the first time, were involved."
Peacebuilding can be a difficult concept to visualize because it is often an abstract process. But, through the eyes of a young mother, it's much easier to see why Catholic Relief Services makes the quiet, persistent effort of peacebuilding a priority in much of our work.
Two months ago, 27-year-old Dona Mary Quijano became a first-time mother. She left her work in the city to raise her son, Vin Aizzen, and now lives with her aunt in the barangay, or village, of Dungguan in the Philippines.
The area where they live has long been plagued by a weak, unresponsive government and frequent violence between government and armed opposition forces. When newly elected representatives took office, they invited CRS to bring its peacebuilding project, called Peace Governance for Transformation in Mindanao, to the area. Their goal was to strengthen relationships and lay the groundwork for peace between the local government and its community members. The project has already had a marked impact on the quality of life of Dona Mary and others like her.
To take advantage of the free checkup and vaccinations for babies offered every Wednesday in her village, Dona walks one hour with her baby in her arms from her aunt's house to the health center. Depending on the number of mothers that arrive before her, Dona waits outside for 2 to 3 hours before her turn. The community health center can accommodate only 3 or 4 mothers inside at a time.
"Most of the time, we don't know where to wait. So, I just sit on the sidewalk near the health center," Dona says. "It was difficult when my baby got hungry. I usually looked for a rock or anything where I could sit and breastfeed him."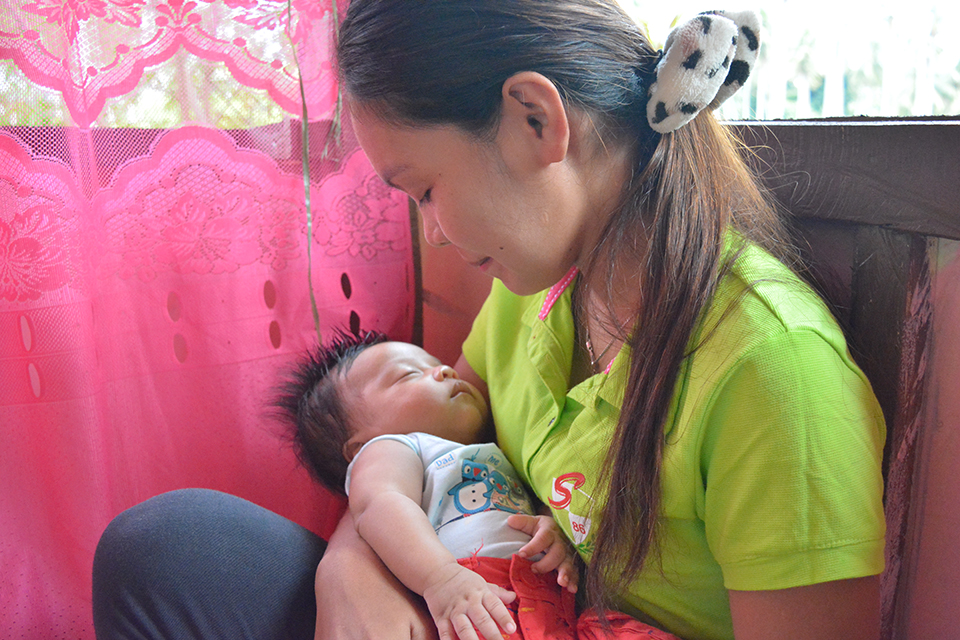 Dona Mary Quijano and her infant son rest comfortably inside the breastfeeding hub while waiting for vaccinations.
Photo by Ma. April dela Cruz
Tired from the trek to the health center while holding her baby, and with no common area to congregate, she couldn't talk with the other mothers.
"For the past 2 months that I have been here in the health center, I never had the chance to get to know the other mothers. Sometimes, I wanted to talk or befriend them because I was new in the community, but I was too tired already from walking and breastfeeding my baby to even converse with them."
Sarah Balimbingan, a 26-year-old mother of four, echoed Dona's words. "I never had the chance to even share greetings with the other mothers here because I usually sat near the trees where I could rest while waiting for the health center workers to call my name."
Sarah's children were all vaccinated in the community health center, so she was used to walking and waiting, and even finding ways to breastfeed her baby under the sun while waiting for her turn.
"It was very difficult, especially in the rain. You're holding a baby, and then holding an umbrella and making sure your baby doesn't get wet."
However, in a recent visit, Dona and Sarah were surprised when they arrived at the health center and found a small cottage built where they used to stand and wait. With CRS assistance, the village established a "breastfeeding hub" for mothers.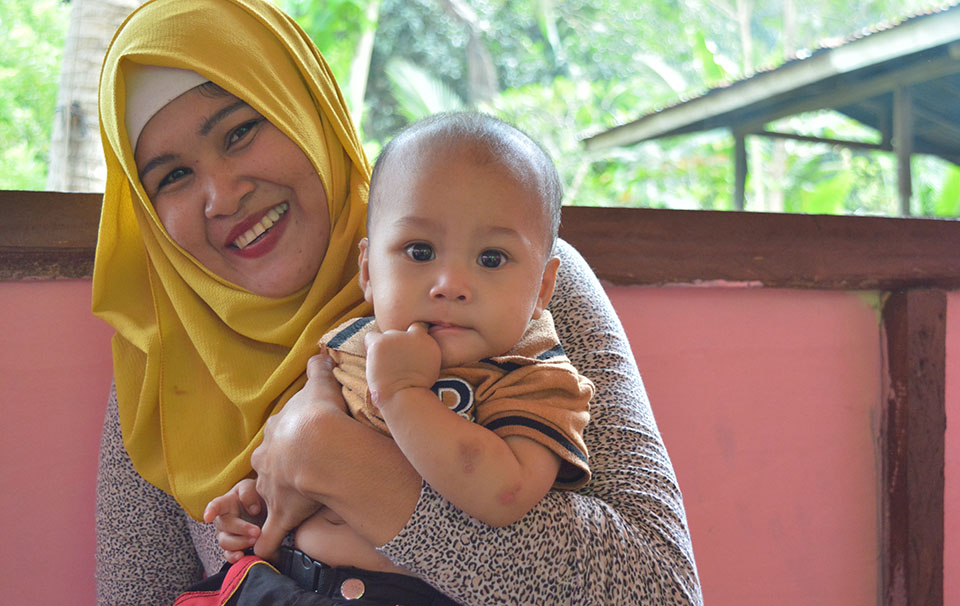 Sarah Balimbingan and her 7-month-old son inside the breastfeeding hub now have a place to rest and meet other mothers while waiting their turn for a checkup.
Photo by Ma. April dela Cruz
It's not what you might expect from a peacebuilding project, but it couldn't have happened without meaningful collaboration between the government and the community, though they had a history of conflict. Through its project, CRS organized a series of participatory village planning sessions, which included meetings with community members to prioritize development needs. Through the newly elected leaders and the development planning process, the village council listened to the community—and learned that one of the greatest needs was improved health services for mothers.
Zafrullah Buday, the newly elected chairman of the village, said they were grateful that CRS conducted community trainings for all members of the council.
Participating in the peacebuilding process and drafting a development plan, "was actually one of the main requirements of the Philippine Department of Interior and local governments before they could release the funds for barangay projects. But we didn't know how to even write one or what should be the content," says Buday.
With funding from the Norwegian Ministry of Foreign Affairs and Caritas Norway, CRS and local partners conducted a series of trainings that helped council members understand how they could improve their constituents' lives—and create lasting peace—by listening to their needs and determining their priorities.
"We learned a lot from the trainings. It was a first time for us to organize a community assembly. And most community members attended because they were excited to voice their needs," says Chairman Buday. "It was an overwhelming but fulfilling experience because the community members, for the first time, were involved. The community was happy because they feel that these are their projects."
For mothers like Dona and Sarah, small improvements like the hub are already a sign of progress. Dona, was especially grateful because now she gets the chance to meet the other mothers.
"While waiting, I can now talk to some of them. While my son is sleeping in the bed inside the breastfeeding hub, I now have the time to unwind and share pleasantries with the other mothers. Now I look forward to visiting the center because I get the chance to meet the other mothers in the community."
Sarah agreed. "Since I gave birth to my first child who is now 4 years old, this is the only time I get to talk to the other mothers. I learned a lot from them. I also have a place for my son to sleep while waiting for his vaccination. I am not too tired at all when I get home and I'm able to do other things," Sarah says.
The breastfeeding hub is just one outcome of CRS peace and development projects in Mindanao, implemented to help strengthen relationships and catalyze commitment to peacebuilding between the local government and its community members. Grateful mothers would tell you it's working.