Creating Opportunities for Families Living with HIV in Cameroon
Photo by Jennifer Lazuta/CRS
It's just after 6 a.m. in the city of Maroua, in the Far North region of Cameroon, and the road is already buzzing with activity. In the shadows of the rising sun, men load baggage precariously high on top of large taxi vans as drivers call out location destinations. Motorcycles whiz by, some with passengers, others incessantly honking to signal their availability.
And then there are the women. Silently scattered along the length of the road, they wait for the first "produce motos" to round the corner. Those who arrive earliest have a prime spot closest to the intersection. They each have one goal this morning: Find the best freshly picked produce at the cheapest price and buy it in bulk. They then head to their respective local markets to sell the goods in smaller quantities at a higher price.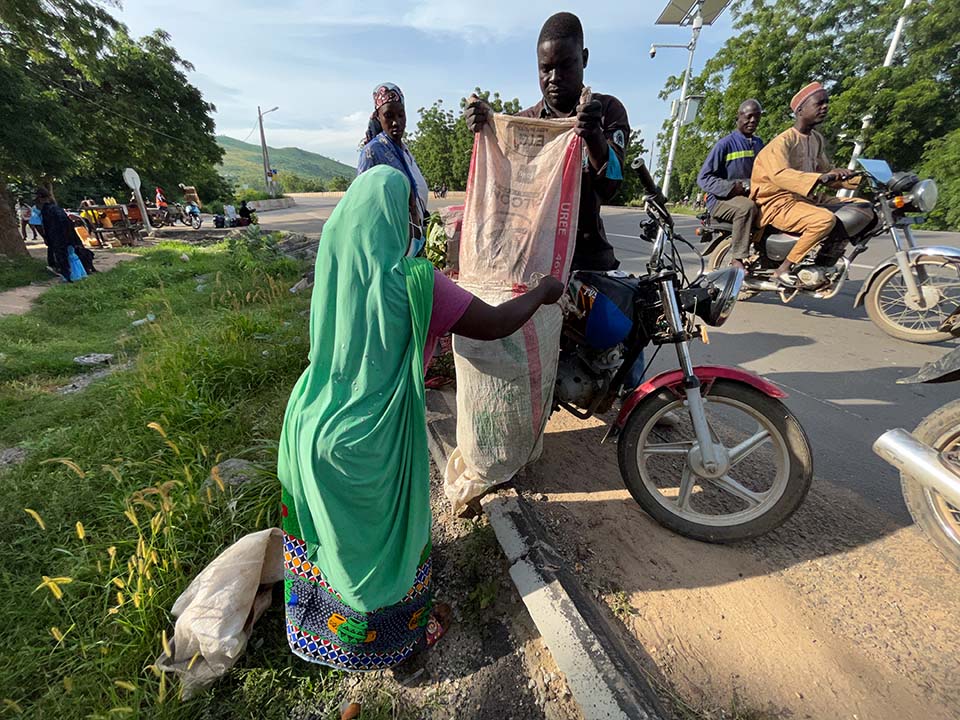 Oumarou pays for vegetables that she has just bought in bulk from passing sellers.
Photo by Jennifer Lazuta/CRS
Among them is Ms. Oumarou, a mother of four, who always wanted to stand alongside these women for the chance to earn a living. But in the past, she never had the capital to do so. For years, she sold condiments and other small items in front of her home for little to no profit. Each day it was a struggle to feed her children. When her husband passed away, it became even more difficult.
Then she was given an opportunity. It was an opportunity that came under circumstances Oumarou would never wish for, but it was an opportunity that allowed her to provide for her family.
In early 2018, Oumarou's youngest son was diagnosed with HIV. She was devastated. He was barely two years old and had seemingly contracted it during birth. It was then that Oumarou was also tested and learned she had HIV.
A health worker referred Oumarou to Catholic Relief Services' Key Interventions to Develop Systems and Services for Orphans and Vulnerable Children, or KIDDS, project. After initial evaluations, her son was enrolled and he and the family were assigned a caseworker, Fanta. Working together, Oumarou and Fanta assessed the family's needs and developed plans to address priorities, stay on track with medications and access a suite of services related to HIV care, parenting techniques, improved nutrition, and financial education.
"When he was sick, I was so worried," Oumarou says. "But the caseworker visits are quite useful. Fanta is like a friend I can confide in. She is very discrete. I can share anything with her. Whenever my son has health problems, she helps solve them."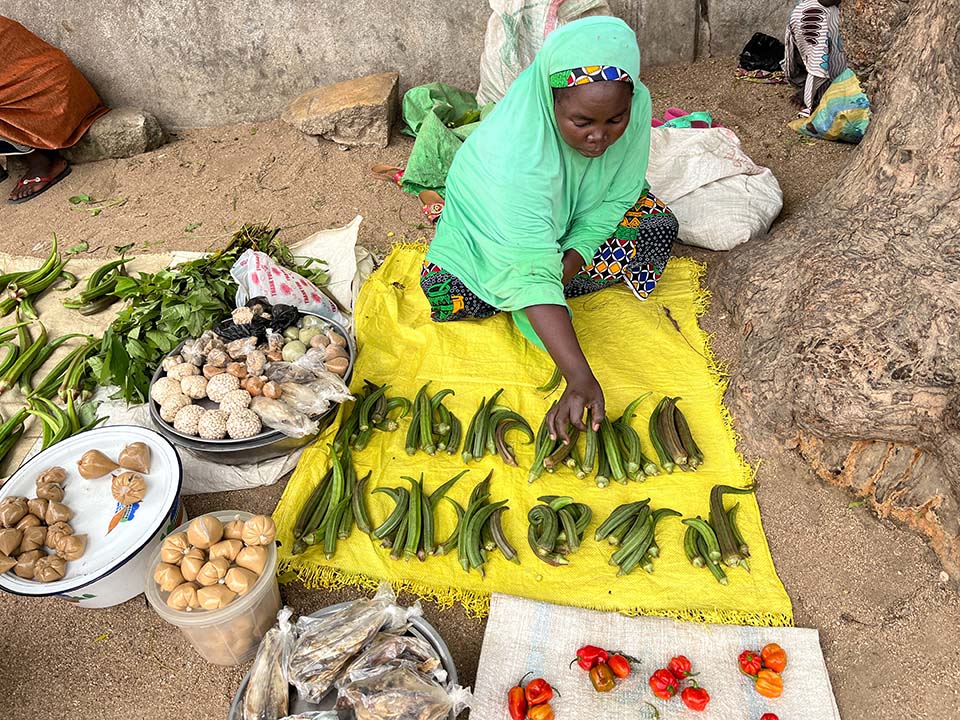 Oumarou sells vegetables and condiments at the local market in the Far North region of Cameroon.
Photo by Jennifer Lazuta/CRS
As part of the livelihoods aspect of the project, Oumarou was eligible to receive a small grant to jump-start her business. With the $40 she was given, Oumarou was able to join the women at the intersection and buy her first bag of okra in bulk. Using the profits from what she sold in her local market, she went on to buy bags of onions and cassava leaves. For the first time, not only could she feed her family, but she had money to buy other essential household items, and eventually enough to put into savings.
"The start-up money has helped so much," Oumarou says. "Not only can I better feed my children, but if they get sick, I have money saved to take them to the clinic. It also helps with school fees." 
Her caseworker says that Oumarou's success is well-deserved. "She has such a good heart," Fanta says. "She sacrifices everything for her children. She works so hard despite the health challenges. And she is making education a priority for her children."
Today, Oumarou's son is in good health and will soon be starting first grade. Something for which she says she is forever grateful.
"When I see my son now, healthy, smiling—there are no words. Just thank you."
The KIDSS project was launched in 2014 by Catholic Relieve Services and is funded by the U.S. President's Emergency Plan for AIDS Relief and the United States Agency for International Development. KIDSS contributes to HIV epidemic control and supports more than 60,000 participants to become resilient through targeted interventions in more than 60 health districts in all 10 regions of Cameroon.
---