Khun Menglong is a motivated student who faces extra life challenges because he has a hearing impairment. Some of those challenges arise at his school. But school is where he wants to be.
In February 2020, all the world was awakening to the challenge of COVID-19. One response was to close all schools and pivot to online learning. Suddenly, TV, radio, and online platforms like Telegram, Messenger and Youtube were delivering lessons.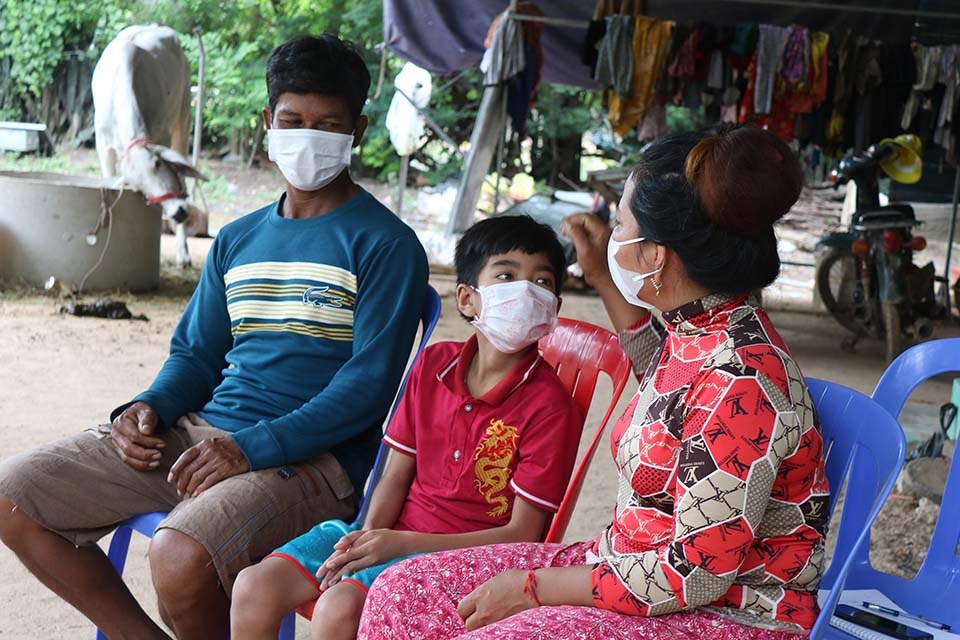 Khun Menglong sits with his family in Cambodia, where education during COVID-19 pivoted to virtual learning and left children with disabilities at a greater disadvantage.
Photo by Phum Kinmai/CRS
All children struggled with the new reality. Khun and others like him now faced a virtual reality that was not fully ready for them. And Khun really wants to learn.
He insisted his mother send him to school even though he was bullied by classmates and despite the obstacles he faced in a system unprepared for a child with a disability. He and his mom were both committed to his  education. But the struggle was real.
Khun's parents are fish sellers. It's been their business for the past 10 years. They drive their motorbike around the community selling fish and may make $5-7 a day if the catch is good. The workday is long and hard.
Khun's parents weren't equipped to dedicate time to home schooling. They found it difficult to understand the remote learning materials provided by the school. Their limited experience with online apps complicated things. Khun's mom was able to spend only a half-hour per day four days a week teaching him the Khmer alphabet and basic math.
Teachers, too, experienced many trials and stresses during the closures. They faced limited time and resources to adapt learning resources to the specific needs of children with disabilities. They encountered technical challenges. Limited Internet access made it difficult to maintain up-to-date learning materials. Regular distribution of printed material, especially to remote locations, proved extremely difficult.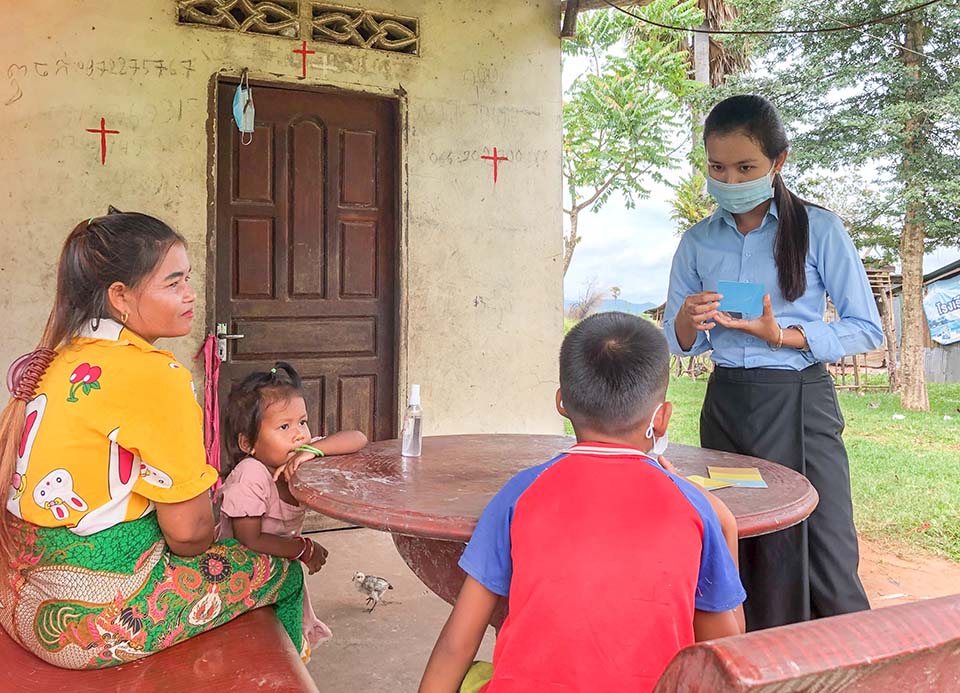 Following the outbreak of COVID-19, like much of the rest of the world, Cambodia turned to virtual learning and home visits.
Photo by Phum Kinmai/CRS
Catholic Relief Services first met Khun in 2018 when he was in first grade as part of CRS' inclusive education program. CRS works closely with the Special Education Department of Ministry of Education, Youth and Sport, especially on the development of national resources to support inclusive education. That work includes Guidelines for Screening Children with Disabilities at Preschool,Toys and Games Prototypes for Preschool Teachers, and 20 instructional videos on use of toys and games in the learning process. This year CRS will adapt the toys and games instructional videos for caregivers of children with disabilities to use at home and will pilot this approach in seven communities.
To reach and help families like Khun's, the Ministry of Education, Youth and Sport, the provincial departments of education, and schools prepared weekly worksheets. They distributed them through schools or a central village location. That helped get print material to the students with limited online access. However, Hok Muaon from the district office of education knew it wasn't enough.
While the MoEYS strategies were effective, he says, "This was not the case for students with disabilities. They require more personal teaching, such as home visits which are crucial to maintain their learning."
According to the World Bank and UNICEF, three approaches were successful for children with disabilities:
Adapting online and home learning materials to the children's needs.
Building teacher capacity and motivation to develop and deliver printed material.
Direct teacher-student engagement while providing support to caregivers with techniques that facilitate home schooling.
Khun and his family look forward to schools reopening so he can resume his learning in a classroom. They are aware that Khun's learning has suffered as a result of the school closures, and he will need additional learning support at school and home.