Countering Hunger and Malnutrition in Nigeria
Photo by Grace Yakubu/CRS
Several trips to the hospital failed to help Hafsat Abdullahi's son recover from pneumonia and a severe case of malnutrition. Food shortages added to her family's stresses.
Then armed attacks began. At first Hafsat, her five children, and her husband coped as best they could during the initial attacks. But when the attacks escalated, residents fled.
"I was traumatized and could not run with all my children. I lost some of them as we ran. It was two days after that I saw them with my neighbor," Hafsat says.
Hafsat sits with her son, Abdullahi, who's now healthier and agile after a regimen of Tom Brown nutritional supplement.
Photo by Grace Yakubu/CRS
After moving from one community to another, they finally settled in Muna Daalti town. They were sleeping outside exposed to the cold. They had little to eat—some days only leftover flour.
Things began to change for them when they received food assistance from CRS' Transitioning Households to Recovery from Vulnerability, or THRIVE, project. It was during this period that her son, Abdullahi was screened for malnutrition and placed on Tom Brown mix to help him recover. Tom Brown mixture is a thick brown powder meal made with a combination of corn, millet, groundnut, soybeans and cloves. It is a power meal that is fed to malnourished babies to improve their nutrition and growth.
Gradually, Abdullahi regained his health. Hafsat was overcome with gratitude, noting how her son's growth had improved following all the stress she had with their frequent visits to the hospital.
The support she receives from the mother's nutrition group set up by the THRIVE project in her neighborhood has also been a lifesaver for her. With the women frequently coming together to learn about nutrition, Tom Brown production, food hygiene, and the importance of exclusive breastfeeding, Hafsat's life improved. She also received health and hygiene items, including a water drum, jerry cans, bowls, a child's potty chair and soaps. Her newborn child has also benefited from the lessons she has learned through THRIVE.
The role of lead mothers in promoting nutrition best practices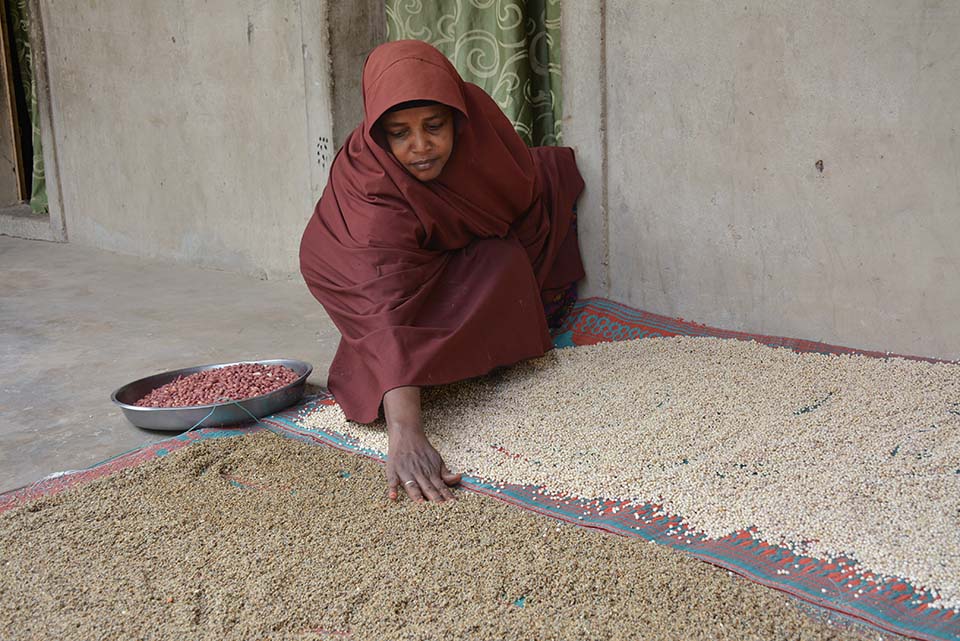 Rasha Modu is a lead mother for a nutrition group in Borno State, Nigeria. She checks soybeans, groundnut and millets that have been dried to produce the dietary supplement, Tom Brown.
Photo by Grace Yakubu/CRS
Hafsat's story would not be complete without the dedicated work of women like Rasha Modu, the lead mother bringing women together in their communities to produce Tom Brown while learning about the importance of good nutrition. Rasha's journey with THRIVE also started with receiving food assistance from the program. Her family received food rations for about six months before they graduated. She also had a child under five, who recovered from acute malnutrition following the Tom Brown supplement.
She diligently studied the nutrition guide she was given by the THRIVE team and shared its lessons with other women in her community. And when the need arose for a lead mother, she volunteered.
One of the key roles of lead mothers is to guide other mothers in the production of Tom Brown. This includes soaking dry seeds of corn, millet, soybeans and cloves for 2-3 days, then de-husking and grinding with other ingredients. They also help screen and care for children suffering from malnutrition, and work closely with THRIVE community nutrition monitors to teach the women in their group about the importance of nutrition, exclusive breastfeeding, and early initiation for breastfeeding.
"I didn't know about this process of making Tom Brown before," Rasha says. "But since I've learned this production, I can now teach other people.  I even teach outside this community, and I've taught some of my relatives who like it and make it often."
Transitioning Households to Recovery from Vulnerability is a two-year program funded by USAID's Bureau for Humanitarian Assistance to provide humanitarian assistance with the goal of initiating early recovery in Borno State, Nigeria.
The project, leveraging experience and best practices, addresses a variety of needs based on participants' stated requirements. Its locally-based approach helps participants move from lifesaving assistance to life-building support.
THRIVE is implemented as a consortium by CRS, Mercy Corps, Women in the New Nigeria, Salient Humanitarian Organization and Justice Development Peace Committee.