Counseling Beirut's Traumatized Population
Photo by Stefanie Glinski for CRS
August 4 began as a peaceful evening for 27-year-old Majida, who sat quietly on her sofa while her two-year-old daughter, Noura, napped on a blanket. A light breeze blew through an open window.
Having grown up in war-torn Syria, and now a refugee in Lebanon for the past six years, Majida knows the sound of explosions all too well—ingrained in her memory, seemingly impossible to erase. So, when she heard a muffled blast in the distance, she walked to her window and waited.
At six months pregnant, Majida touched her belly as she looked out onto the street.
The next moments passed in a blur, and Majida doesn't remember what came first. A loud bang rocked their home—like an earthquake—pushing her from the window and onto the floor. Glass smashed around her, doors blew off their hinges and the walls cracked.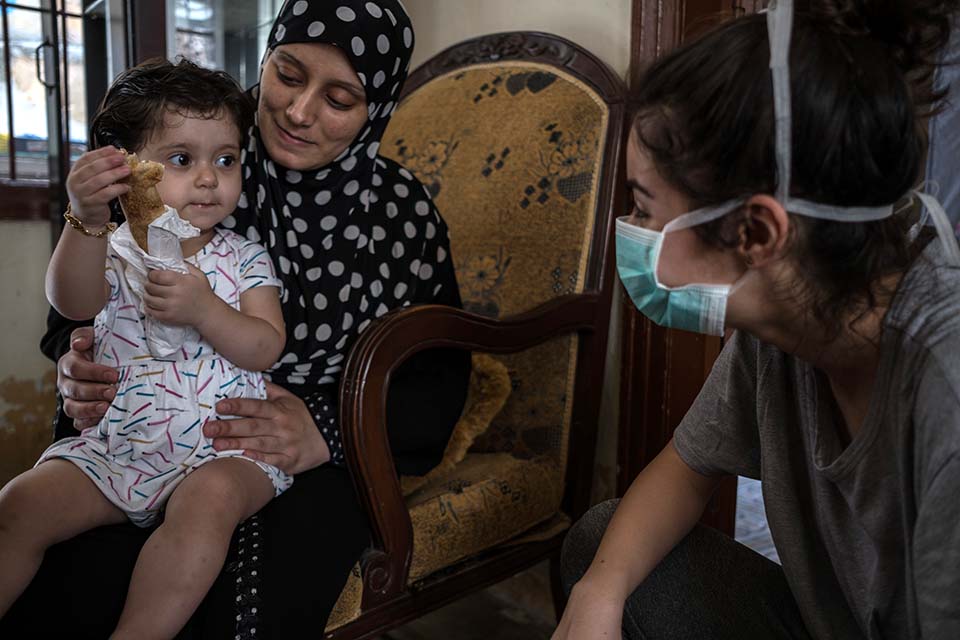 Majida, 27, with her daughter Noura, 2, receives counseling from CRS partner Caritas that helps her process the trauma following the massive explosion that rocked Beirut.
Photo by Stefanie Glinski for CRS
"I threw myself over my daughter while everything around us collapsed. We were covered in blood and I didn't know if my unborn baby would be fine," she says.
Hospital visits and x-rays later confirmed that her baby was alright, but Majida and Noura have struggled since the experience they had. Their house, though standing, is missing doors and windows that still haven't been replaced. Several of their rooms are being used to store broken furniture, glass and tiles.
"I haven't been sleeping and Noura, who hasn't been breastfed in a while, has demanded to start again," Majida explains, with her daughter seated on her lap.
Beirut's blast has injured thousands of people and left hundreds of thousands more homeless. While rebuilding efforts are underway, many worry about the mental health consequences.
"We have never imagined a situation like this. It was chaos—it was like an apocalypse. Many people are traumatized," says Dr. Chadi Sabbagh, who was working in the emergency room at Beirut's Hôtel-Dieu de France hospital when the explosion happened.
"When I have a moment of silence, I see the scenario all over again," he says. "It was terrible. We were really shocked. We are really traumatized."
Psychologists and mental health experts are calling for increased mental health support throughout Beirut, since they believe that so many could be carrying long-term emotional scars from the disaster.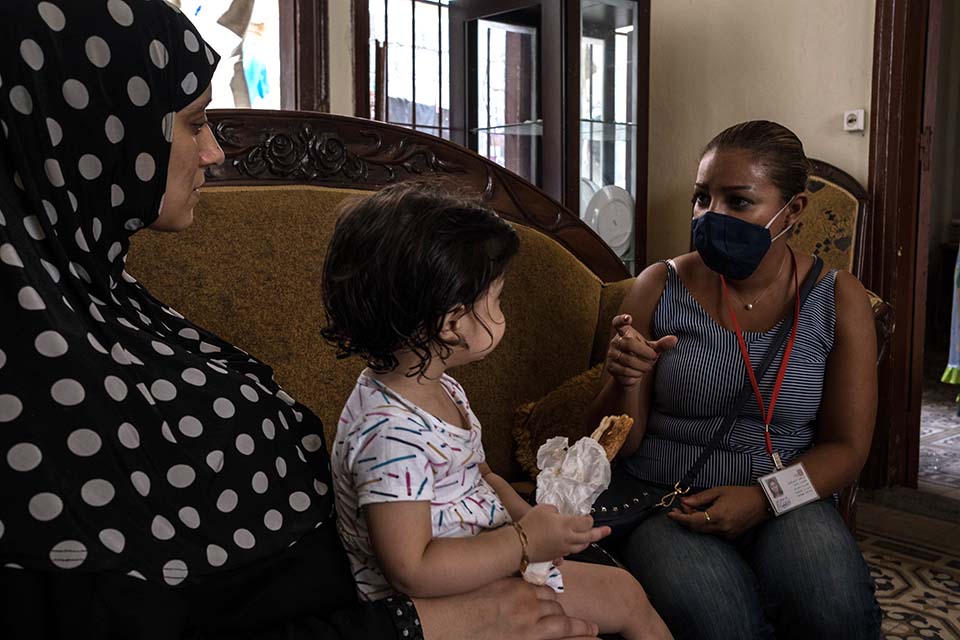 Caritas mobile medical clinics treat people unable to access damaged and overwhelmed hospitals. CRS supports Catholic, Orthodox, Sunni, Shia, Evangelical and Alawite agencies that assist with food, lodging, ambulance services, blood drives, debris removal and home repair.
Photo by Stefanie Glinski for CRS
Over the past few weeks, CRS partner Caritas has been providing counseling services to people like Majida.
Christina Abboud is a social worker for Caritas. She provides home visits and even counseling by the roadside if necessary.
"People are traumatized. They have seen their homes destroyed and their family members injured. Those who survived feared for their lives. Everyone is affected, but it hits the elderly and children the hardest," says Christina.
She goes on to explain that symptoms of post-traumatic stress disorder can occur in the weeks or months following a trauma, and that long-term assistance is crucial.
Majida has been speaking to Caritas counselors regularly. Their conversations have deepened over the past weeks, and Majida looks forward to them.
"Even Noura knows my counselor already," she says.
The blast has brought up painful memories of Majida's home in neighboring Syria, a place she says she misses every day.
"Back then, I didn't have anyone to talk to," she says. And while she says counseling wasn't common among Syrians, she has found it helpful.
Meanwhile, Caritas and CRS are committed to being present and assisting people on a daily basis.
"But what's most important is that we are sticking with people not only for the next few weeks, but for the rest of the year, and even beyond," says Christina.
"We want to work toward real change and mental well-being. That means we're here for the long run."