Coping With COVID-19 and Migration Pressure in Senegal
Photo by Maya Hautefeuille for CRS
Mohammad Diallo picked up a hygiene kit at a migrant center in the Yarakh suburb of Dakar during a distribution organized by Catholic Relief Services in partnership with Caritas Senegal. A former fisherman, Mohammad had become a father just the day before and was happy to bring back the packages of bleach, soap and hand sanitizer to his wife and newborn son.
With the coronavirus-related lockdown weakening Senegal's economy, such distributions have become a lifeline for vulnerable families relying on day-to-day sources of income. Under its Action for the Protection and Integration of Migrants in (West) Africa, or APIMA project, CRS and Caritas distributed hygiene kits to fifty beneficiaries in Yarakh on April 30 in an effort to meet their immediate needs during the pandemic.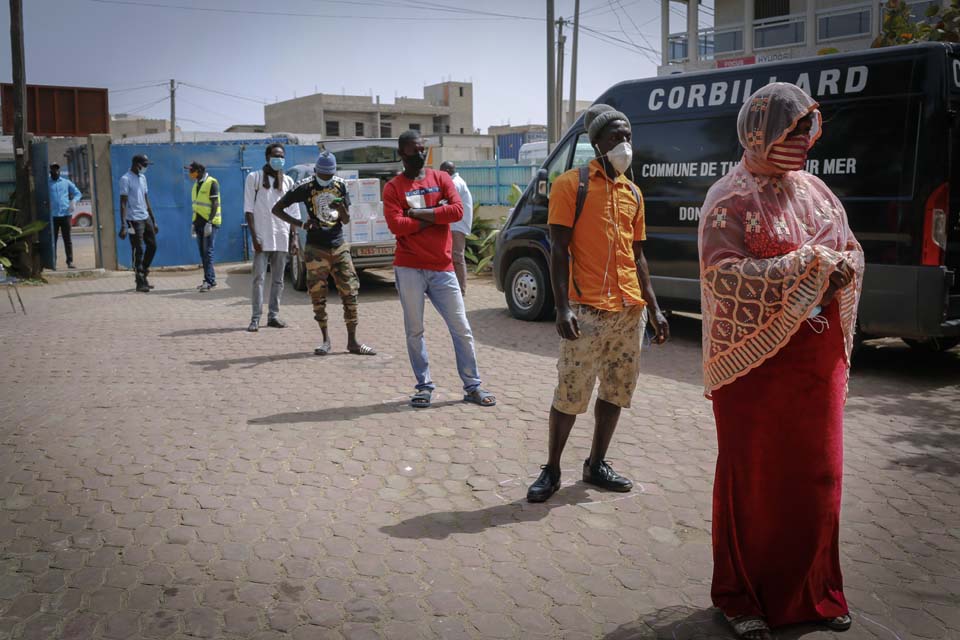 A line of people participate in a distribution of bleach, soap and hand sanitizer to help prevent the spread of COVID-19 in Dakar, Senegal. The country saw a sharp uptick in COVID-19 cases in May, along with a worsening economic crisis due to the ongoing lockdown.
Photo by Maya Hautefeuille for CRS
Situated on the crescent-shaped coastline just north of the Port of Dakar, Yarakh is a seaside neighborhood dominated by the fishing industry. The majority of its workforce is part of the local fish-processing system, from small-scale fisheries to traders. For decades, Yarakh has served as an important daily departure point for fishermen heading out to sea on colorful pirogues (dugout canoes) and for women selling their catch in the markets.
Decision to leave
In 2018, the fishing sector represented 16% of Senegal's national exports and is known to support some 50,000 jobs. As of late, however, Yarakh's staple livelihood has been severely disrupted by global border closures. With Senegal's aerial transport suspended since mid-March, fish that are typically exported to European markets have been piling up in local storage rooms.
Even years before the virus, times were difficult for Mohammad. In 2015, he was working as a fisherman on a rented pirogue when he decided to leave for Europe.
"I lived with my mother, I was unmarried, and I was trying to make ends meet as a fisherman but if you don't own your own pirogue, you can't do much," he says.
He hoped that the journey would lead to better economic opportunities, but it quickly turned into a nightmare.
"Once in Morocco, I found myself living in a forest with other migrants near Tangiers to hide from patrols. Every night at 10 p.m. we snuck down to the market to buy rice and onions, and went back to the forest to cook. That's how we ate," says Mohammad.
He subsequently made 12 attempts to get to Spain by boat, but was stopped at sea by the Moroccan police each time. During one of those journeys, a companion from Yarakh tragically lost his life. Upon returning to the forest near Tangiers, robbers attacked Mohammad and stole his money, phone and passport. He turned himself into the Senegalese consulate, who helped him return home.
"When I came back to Yarakh, my parents just cried," he says, as he displays the scars left on his arms from the assault.
Risks and rights
High levels of unemployment, climate change and social pressure leave many young people in West Africa feeling like they have no choice but to leave their homes in search of better economic opportunites. The APIMA project serves 350,000 people across five countries, including the Gambia, Ghana, Mali, Niger, and Senegal, in cooperation with local Caritas partners.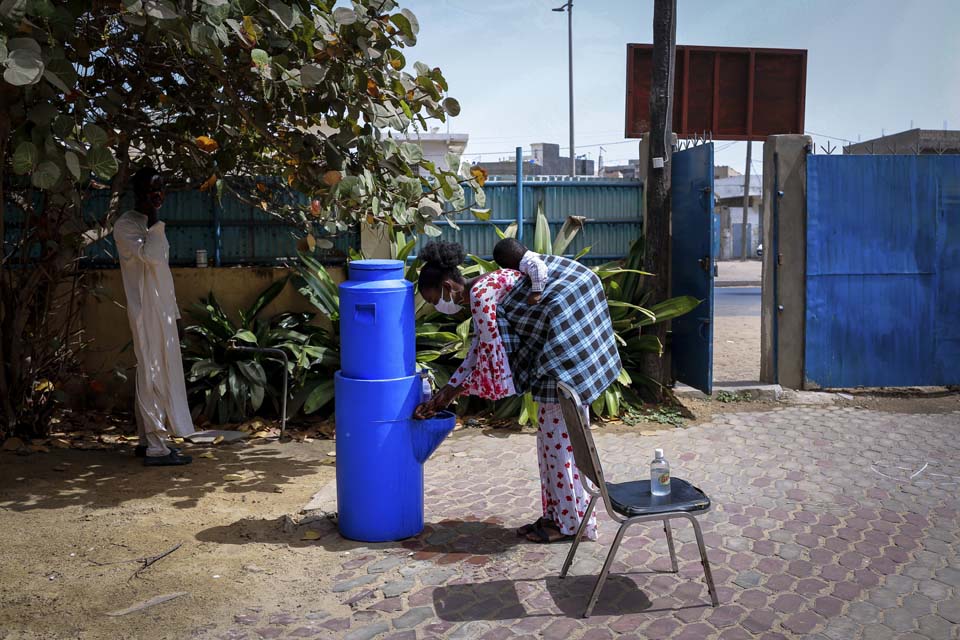 A woman washes her hands at a portable hand-washing station at a distribution site where hygiene kits consisting of bleach, soap and hand sanitizer were distributed by Catholic Relief Services.
Photo by Maya Hautefeuille for CRS
One key component of the APIMA project is helping youth, their families and local leaders gain better understanding of why people choose to migrate. APIMA organizes community discussions between communities and religious leaders, returnees and citizens to provide them a platform for sharing experiences of migration.
Between July and December 2019, APIMA facilitated 67 discussions with 1,916 participants that addressed migrant rights, risks associated with migration and questions that family members of the departed have about their loved ones, who often go missing. 
Success at home
As he watched people from the community arrive at the distribution site, Mohammad nods toward an elderly woman wearing a brightly colored headwrap as she collects her hygiene kit.
"That is the mother of my friend who died on one of our attempts to reach Spain," he says. During a community talk organized by APIMA, Mohammad told the story of what had happened to his friend, which helped the man's mother confront her grief.
APIMA works with partners in Yarakh under the premise that youth and communities must value success at home beyond migration, and families and communities must reduce pressure on youth to migrate. Adapting to the new challenges brought on by the coronavirus crisis, APIMA is striving to keep vulnerable families afloat as lockdowns hobble one of Senegal's biggest export markets.
Mohammad's experience exemplifies the risks inherent in irregular migration and the benefits of work available locally.
Upon his return, Mohammad met a woman from the northern Senegalese town of St. Louis who was vacationing in Yarakh. They got married and have just welcomed their first child. Mohammad had since left the fishing sector and found a job as a security guard that pays $100 a month. For him, it is a reliable source of income. The coronavirus crisis has for now put his job on hold, but he feels he is back on track as a returnee.
"I don't want my son to have the same path as me. I wish him a long life, and if I have money, I will make sure he studies," he says, before heading back home.