Sister Juliana Cruz
Recipes of Sister Juliana Cruz
Sister Juliana Cruz's love for cooking began as a child while helping her mother prepare meals for her large Catholic family, including 13 siblings who grew up supporting each other.
"Since there were so many of us, we used to hold competitions. That way, we made a game out of household chores," says Sister Juliana about her childhood in Las Piedras, Puerto Rico, where she learned the importance of family unity.
Cooking for the family was how she began her culinary education. It not only allowed her to practice the art of mixing flavors and textures but also to understand that through her cooking, she could help others.
She never imagined that, years later, her culinary skills would allow her to lead a social program to fight hunger in her community. In 2017, her skills also got her a spot competing in a popular cooking show on Telemundo for a chance to win money for her beloved Puerto Rico, which had just been devastated by Hurricane Maria.
The call to serve
Sister Juliana grew up in a family of strong faith. The family prayed the Holy Rosary together daily and took care of their neighborhood chapel. From a very young age, she knew her vocation was to serve.
At 21, she received a call to consecration and joined the Dominican Sisters of Fatima, a religious order known for its commitment to holistic education and spreading the Gospel. After nine years in the convent, she went to college and got her bachelor's degree in social work so that she could further dedicate her life to serving the most vulnerable.
While at the convent in the remote rural town of Maricao, she continued to improve her cooking skills by preparing meals for her fellow Sisters. For Sister Juliana, the main ingredient of a good recipe is love. "It doesn't matter what you do in the kitchen. If you put your heart into it and do it with dedication, it is exquisite," she says.
With the support of her congregation, she also put her talent for cooking at the service of others. As part of her religious work, she directs the Institute for the Integral Development of the Individual, Family and Community, where she also cooks and provides hot meals to those most in need.
At the institute, Sister Juliana leads community celebrations, including the annual Indieras Festival. To honor the local Taíno indigenous community and keep its heritage alive, she brings together artists and artisans. Her dishes, which the convent sells, are a popular feature of the festival.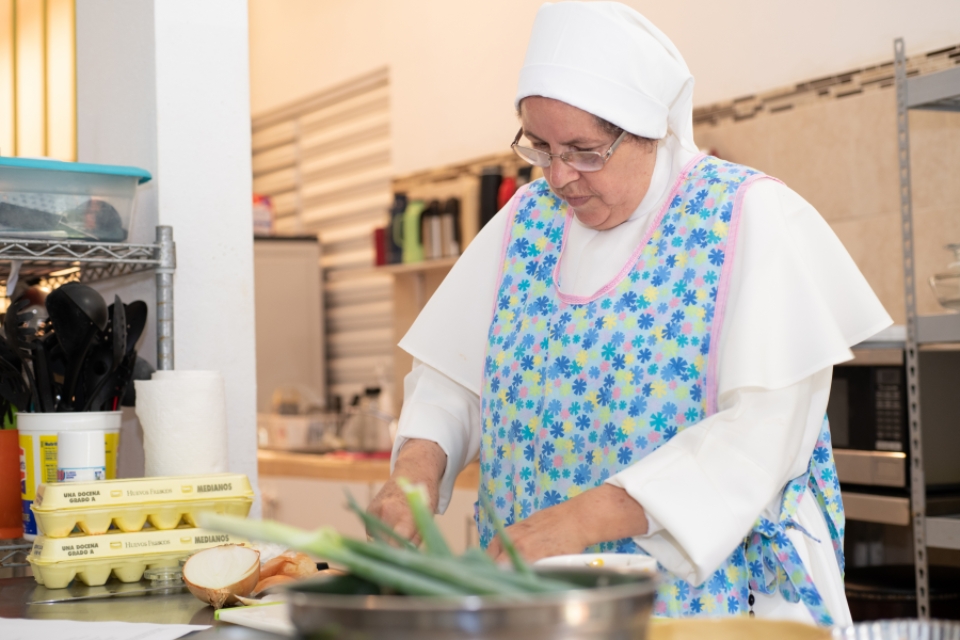 A nun on a reality show?
The social work of the Dominican Sisters of Fatima is well known, and it was thanks to this that Sister Juliana ended up participating in a famous reality cooking show, and winning the hearts of the Hispanic community.
In 2017, the show's producers were looking for a nun willing to commit eight weeks to cooking on camera for judges in a television studio in Miami.
Sister Juliana did not want to participate initially, but her fellow Sisters convinced her that it was a great opportunity to represent her congregation and Puerto Rico in a national television contest.
She auditioned and was selected, but two weeks before traveling to Miami, Hurricane María devastated Puerto Rico. Sister Juliana decided to contact the producers and cancel. The magnitude of the disaster was enormous, and Sister Juliana wanted to stay home to help.
But the president of Telemundo wouldn't take no for an answer. He traveled to her convent in Puerto Rico to personally ask her to reconsider. He persuaded her that if she won, she could use the prize money to help those affected by the hurricane.
She decided to do the show. While competing, she always held her rosary, except for when she cooked. She also made rosaries for the other contestants and the production team.
Although she didn't make it to the final round, Sister Juliana managed to win millions of hearts and bring hope to her Puerto Rican sisters and brothers.
"In the kitchen, we serve, and everything done with commitment, love, and dedication is a way of celebrating life."
At Catholic Relief Services, we feel a deep kinship with Sister Juliana. Her passion has always been to serve the most vulnerable people with a dedication and faith that has no bounds.
During Hispanic Heritage Month, we proudly celebrate Sister Juliana's social work and culinary skill, which she has so beautifully put to use for 40 years. Cooking from the heart in that distinctly Latino way, she serves and celebrates her people.