A Continuing Education
Photo by Philip Laubner/CRS
"He doesn't like holidays because he wants to go to school every day."
Ten-year-old Majd (Mah-jeed) Nasser Hassan lives with his family in Bashiqa, a town east of Mosul in Iraq. Like many fifth-grade boys, Majd loves football (soccer) and Mickey Mouse. He enjoys studying. Excels in math. His little brother Sam, 9, is his best friend. When Majd grows up, he wants to be a surgeon so that he can help people.
But five years ago, Majd's life was upended when his family was forced by ISIS to leave their home. Fearing encroaching conflict, the family fled, leaving everything behind. "We told the boys, consider it a picnic," explained Majd's mother, Lamya. "We will go for a maximum of a week and then come back." A week became a 40-day stay with extended family in an overcrowded house. Several years in a refugee camp in Dohuk in northern Iraq followed.
The upheaval affected everyone, but especially the boys, who were anxious and scared. But along with his close-knit family, the stabilizing force in Majd's young life became a Catholic Relief Services-sponsored school.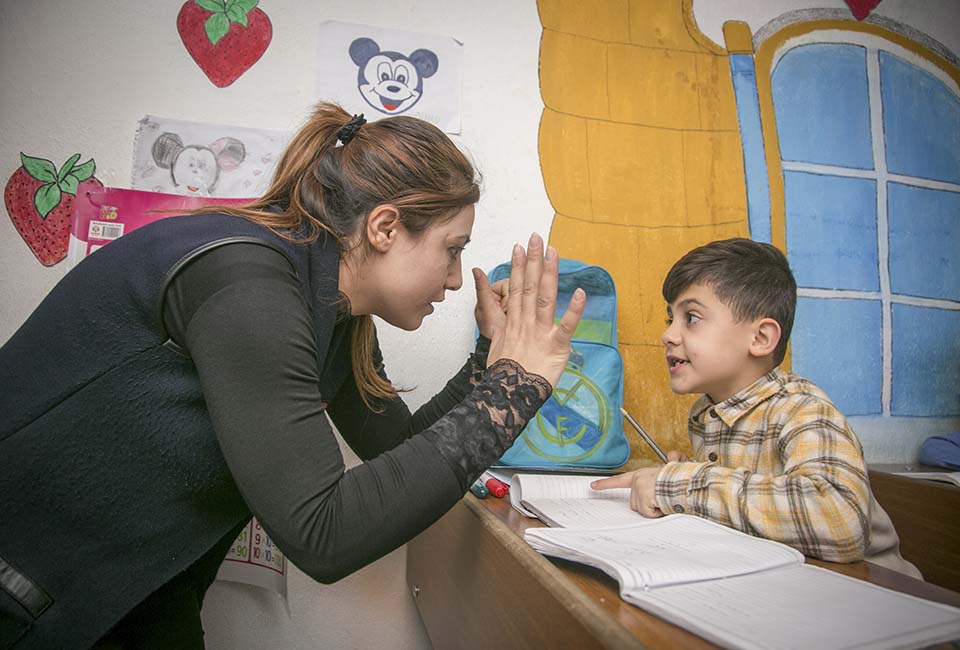 Photo by Philip Laubner/CRS
More than 3 million Iraqis were displaced due to violence in Northern and Central Iraq in 2014. Since then, CRS education programs have served more than 25,000 students in first through sixth grade. Recognizing that conflict and displacement disrupt a child's development, CRS originally established seven child-friendly spaces where children could receive psychosocial support and re-establish a sense of normalcy. These spaces help children work through and overcome trauma, ensuring their physical, emotional and cognitive development aren't impaired. The child-friendly spaces eventually evolved into schools recognized by the Iraqi Department of Education. As of September 2019, CRS formally serves 37 active schools in Iraq.
When Majd and Sam began to attend a CRS school, not only were they able to return to a familiar schedule of rising and attending classes, they also forged friendships in a new environment and, most importantly, continued their education during their displacement. "Majd is so motivated to go to school," reported Lamya at the time. "He doesn't like holidays because he wants to go to school every day."
Photo by Philip Laubner/CRS
"He is relaxed and having fun at school. He is also more confident of himself. Even his educational capabilities have much improved." 
The school also benefited Majd's mother. Lamya had studied education, so with additional training in child-centered teaching and learning practices provided by CRS, she began teaching at Majd's school and was able to contribute income to the family.
In 2019, an estimated 2.5 million conflict-affected Iraqi children are still in need of assistance to access quality education. Of these, about 800,000 are still living in displacement, and over 1.5 million have returned to their areas of origin. Barriers to education across the country include inadequate or war-damaged infrastructures, overcrowding, missed years of schooling and personnel with limited training on psychosocial support.
We are thrilled to report that Majd's family recently moved back to their hometown. Majd celebrated his last birthday at home, and he and Sam are thriving at school. Lamya has been able to continue her career as a teacher and has returned to her former school where she can apply the concepts and techniques she learned from her CRS training to impact her students as well as her colleagues.
Photo Courtesy of Nassar Hassan for CRS
Supporting immigrants and migrants often means finding ways for people to maintain a semblance of normal life until they can return to their homes. CRS leads the way in offering educational opportunities to displaced children, like Majd, so that their learning will not be interrupted, even when their lives are. Majd's parents share that he is very happy to be home. We are too.
Support migrant families and children like Majd by joining our new campaign to lead the way to a more just world.
Download a PDF of Majd's story