Community Health and Early Childhood Development
Photo by Sara Fajardo for CRS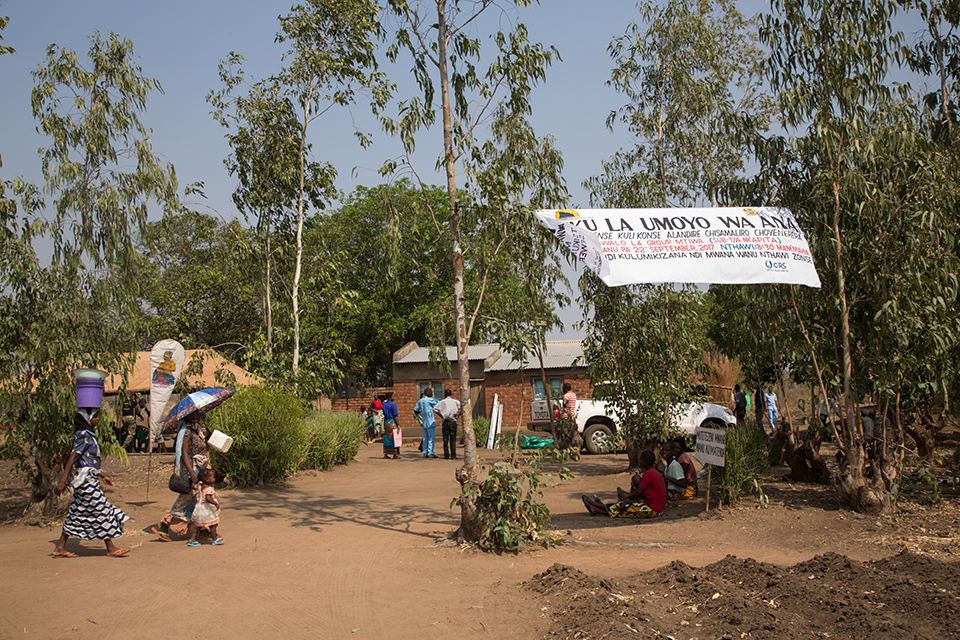 Hand-painted signs invite neighbors to attend a community health day in Ntiwa Village, Malawi. Photo by Sara A. Fajardo for CRS
Community health day: making health care accessible
Hand-painted signs line the roads leading to the home of Ntiwa's village headwoman. Images of breastfeeding mothers, fathers at play with young children, and a large banner welcome mothers with children under 5 to the community health day.
The Malawian army is hard at work erecting canvas privacy tents. Straw lean-tos—where vaccines, growth monitoring, and malaria and HIV tests will be administered—abut the mud-brick walls of the headwoman's home. Health care workers arrive by foot, bicycle, and four-wheel-drive. A scale is hung from the tallest, sturdiest tree. VIPs are ushered to sit on plastic chairs beneath a canopy.
In an area of Malawi with limited access to health facilities, this day brings needed services and vital messages about the importance of prenatal care. The closest government health clinic is miles away, but the village headwoman's home is centrally located on a main road, with space enough to welcome villagers from the surrounding communities.
"We chose a central place because for people to access health services for children under 5, they need to rent a bicycle or walk long distances," says Lucia Maele, a program officer for the THRIVE II project. "On average, people earn [40 cents] a day, and renting a bicycle can cost up to [69 cents], with a motorbike costing up [$1.38]."
The community health day is sponsored by Catholic Relief Services and Zomba Diocese Research and Development Department, with generous support from the Conrad N. Hilton Foundation-funded THRIVE II project. While 10 to 15 miles may not seem like a long distance, in Malawi's rural communities travel is mostly done on foot.
"It is very hard to access health services," says Enless Kudzala, a young mother and volunteer THRIVE II cluster leader. "In my village, we have to leave at 4 a.m. and we arrive at 8 a.m. (to the government-run health clinic). There are times we have to go on bicycle, even when we are pregnant—even at 6 months along."
A woman gets a routine prenatal checkup. Because pregnant women must travel long distances on foot, visiting a clinic can be difficult. Photo by Sara A. Fajardo for CRS
Reaching women through song and celebration
A local percussion band beckons community members with drummed-out songs that echo the messages of the THRIVE II project. The project focuses on the first 1,000 days of life, the critical developmental window from conception to age 2. The headwoman speaks, the band sings, and the crowd erupts into dance, stepping to the beat of songs about positive parenting and ways to stimulate a child's brain development. The women stack their health care cards into a growing pile and wait to be called on.
While the Malawian government routinely dispatches mobile health clinics to monitor growth of children under 5, they are not equipped to do prenatal checkups.
THRIVE II addresses access—and education about health.
"According to tradition, some of the families believe they will miscarry if they reveal their pregnancy," says Lucia. "At the community health day, we give messages through song, and people will learn about the importance of going to the clinic. They learn how the baby is growing inside, about nutritious food for pregnant mothers and how to breastfeed." The community health day also offers routine pap smears and information about cervical cancer.
A woman gets a routine prenatal checkup. Because pregnant women must travel long distances on foot, visiting a clinic can be difficult. Photo by Sara A. Fajardo for CRS
Patients are quickly ushered in and out of huts. Mothers enter the vaccination area with smiling children and leave offering them comfort. Patients tentatively offer their fingers in anticipation of the sharp pinprick needed to draw blood for their malaria and HIV tests.
Within hours, more than 280 mothers and children will have received comprehensive checkups including weight and height monitoring, and screening for diseases like cervical cancer.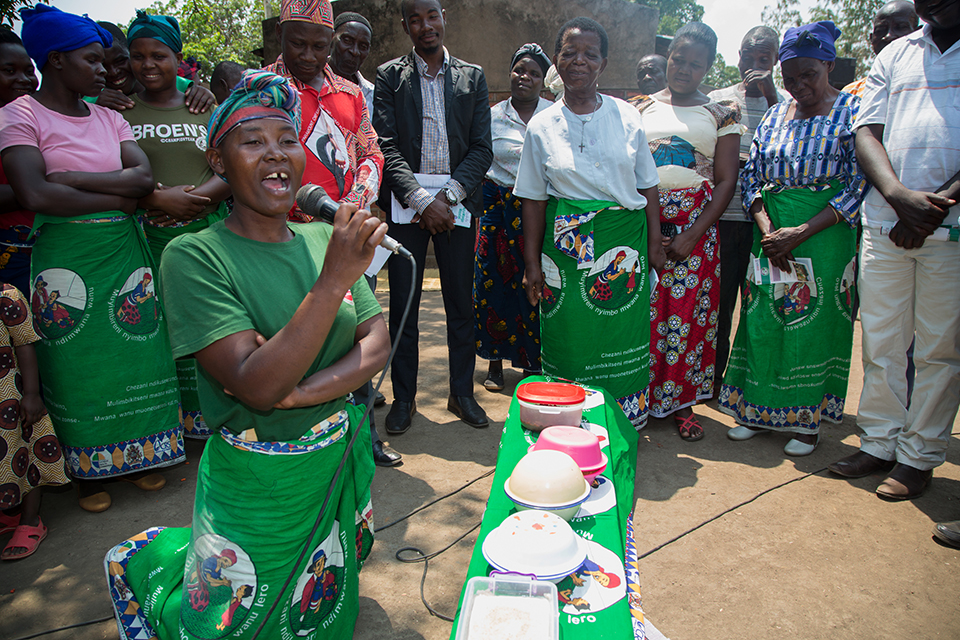 THRIVE II volunteers share tips on preparing nutritious meals. Photo by Sara A. Fajardo for CRS
Community leaders in early childhood development
As women and children receive vital health services, the educational program continues. Interested onlookers encircle a narrow table draped in the same green cloth worn by THRIVE II cluster leaders, a group of volunteers with the mission to teach the community about early childhood development.
One-by-one, these leaders step forward and unveil a nutrient-packed dish. Tips like adding fish meal and ground peanuts to pack protein into porridge are shared. With small adjustments using local ingredients, caregivers can supercharge their children's diets and help fuel brain development.
"These community health days bring more awareness about the role of the cluster leader in our villages," says Enless. "Sometimes people don't want to welcome us into their homes. With gatherings likes this, we gain acceptance. People realize we are doing good things and will welcome us."
In her time as a THRIVE II volunteer, Enless has seen a transformation in children's health. As part of her duties, she routinely gathers with mothers and their children to teach them everything from prenatal development to how to make toys with locally available materials and engage children in play. She also monitors households for signs of malnutrition or developmental problems, and makes referrals when children or their mothers need health care.
"Before the project, there were a lot of children with malnutrition," says Enless. "I can see a big difference."
The day ends as it began, in song. The cluster leaders form a line and snake the courtyard as others join in clapping and shifting their feet to the beat of the music. Children will go home protected from a host of diseases. People will know if they have contracted HIV or malaria. Women will be more aware of the signs of cervical cancer. Mothers will be eager to try new recipes, and caregivers will feel encouraged by what they've learned about early childhood development.
And, until the next community health day, cluster leaders will remain in their communities—continuing to guide caregivers on  providing their children the best possible start in life.