Community Center Improves Daily Life in Nepal
Photo by Nripendra Khatri/CRS
Just over the Tibetan border, in the remote Nubri Valley of northern Nepal, Samagaun village is abuzz with excitement over a newly constructed community center.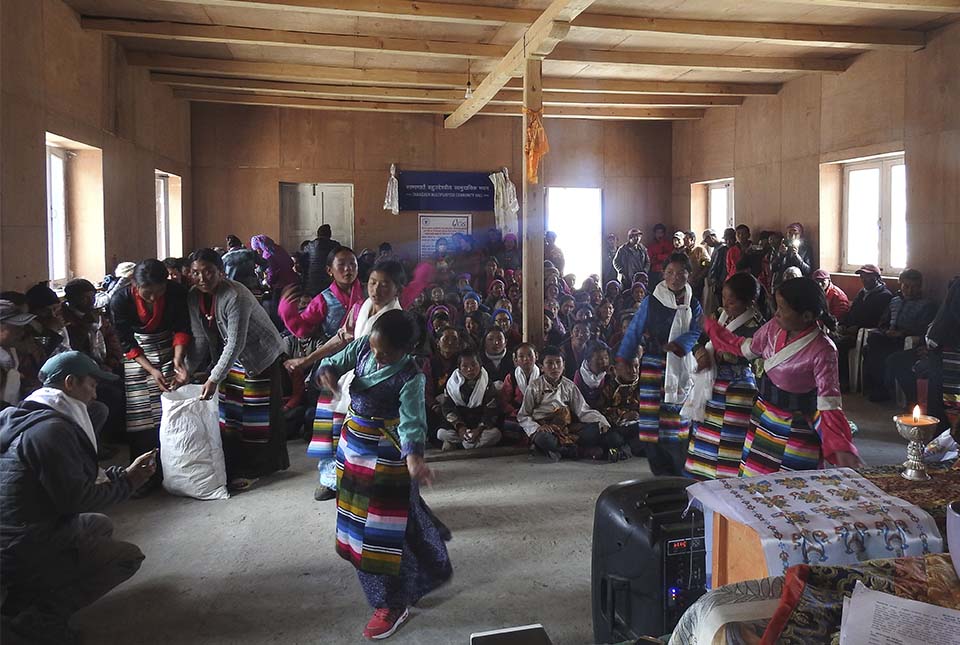 Residents perform a dance to celebrate their new community center.
Photo by Nripendra Khatri/CRS
After two devastating earthquakes in 2015, Nepal faced the daunting prospect of rebuilding over 800,000 homes. Samagaun village was one of the most affected communities. In response, the government of Nepal and organizations like CRS and our partner Caritas Nepal launched masonry training courses for residents there. Since then, more than 6,500 men and women have learned basic masonry and earthquake-resilient building techniques.
Last year, Samagaun's newly elected ward president, Bir Bahadur Lama, made a special request—he asked that a multipurpose community center be constructed in the village. The town already had a plan for a smaller centralized building, but Bir Bahadur envisioned something large enough to host Samagaun's annual New Year celebration each February. He also wanted a meaningful space for visitors, including the many Himalayan climbers who trek through on their way to and from the Manaslu base camp.
This bridge to Samagaun village—accessible only by foot, horse, or helicopter—survived the 2015 Nepal earthquake.
Photo by Nripendra Khatri/CRS
The Samagaun community center was completed with a budget of around $100,000, and on May 23, 2019, the entire village gathered in celebration of its grand opening. In addition to hosting special events, the center will be used to provide rescue assistance in emergencies and host a yearly trade fair with Tibet.
Through its mason training program, CRS is helping to build similar community centers in three other nearby villages—Bihi, Prok and Lho. Each of these villages is contributing to construction costs.
As for Bir Bahadur, his vision continues to grow. Now that the community center is built, his goal is to plant 50,000 juniper trees in Samagaun over the next five years.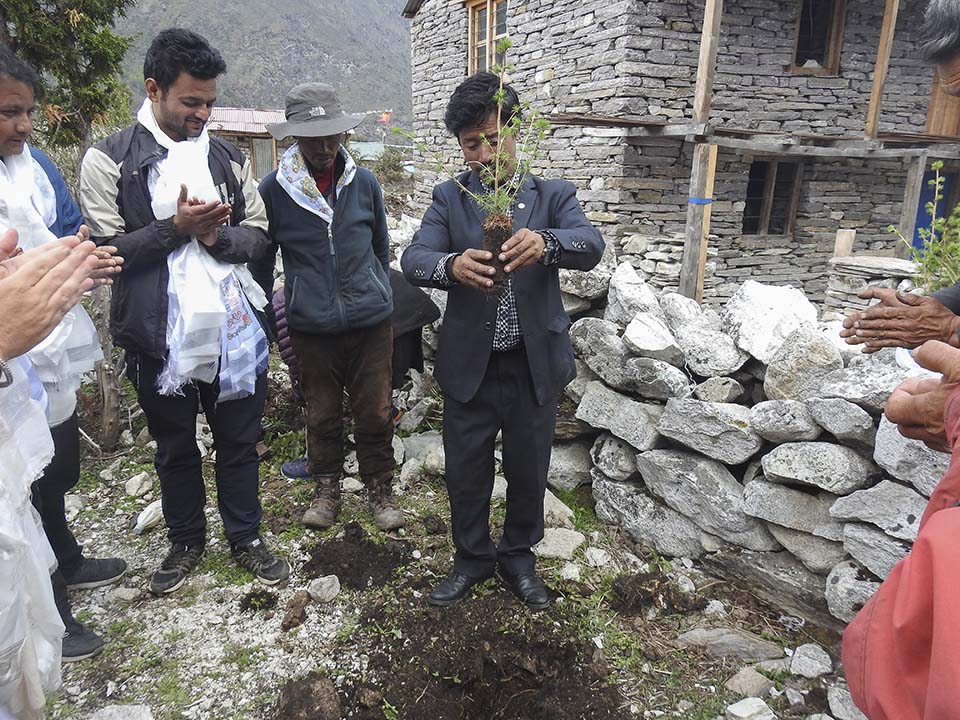 In Samagaun village, residents kick off the planting of 50,000 trees over the next five years. New trees replace those lost during the 2015 earthquake and eventually will help with rebuilding.
Photo by Nripendra Khatri/CRS
"Wood is the most used raw material in building houses in Samagaun and now we have less and less trees," he says, referring to the significant loss of forest cover following the earthquake.
In honor of this dream, Bir Bahadur and the CRS team planted seven juniper trees near the community center just after its grand opening in May. They are already growing tall.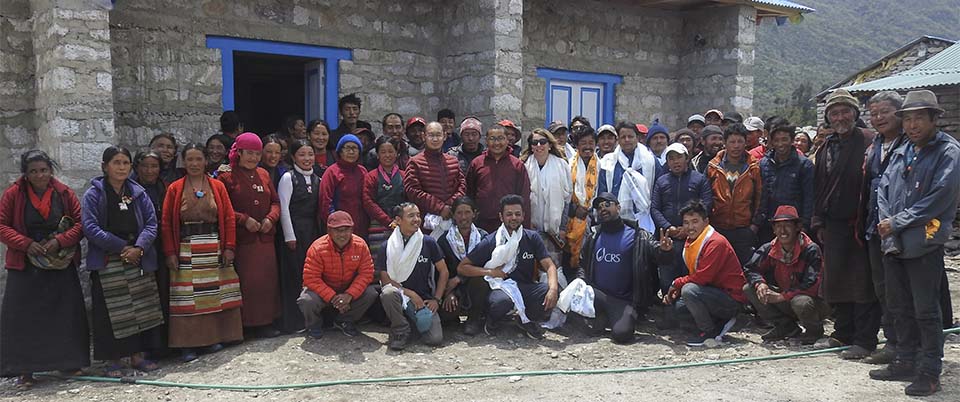 Residents in front of their newly constructed community center.
Photo by Nripendra Khatri/CRS