The Push of Climate Change
Video by Ismail Ferdous for CRS
This story is part of a year-long campaign called Living on the Edge of Climate Change, which shows how the changing environment is affecting the world's most vulnerable.
Push. In the English language, it's a word full of power. It can mean movement. It can urge. It can place something aside. Whatever its meaning, push denotes change or challenge.
In Bangladesh, people are being pushed to the limit by rising sea levels. In Chad, people are being pushed off the land by violence and then continually challenged by scarce resources. Climate change plays a role, and so does one's ability to push forward. Their ability to adapt can determine if they survive. This is their story.
THE WATER
Video by Ismail Ferdous for CRS
Children in the community of Manpura, Bangladesh have heard the tales. There's a thief who comes in the night and steals fish and land. That same thief sometimes kills.
The water can shape and take away the land. Being just above sea level, 20 million people in low-lying southern Bangladesh could be forced off their land by the end of 2100 because of rising sea levels. For people who work by the water, it's their way of life. But they also face uncertainty, challenges and danger every day.
The thief is the water, which can take the lives of even the most seasoned fishermen. If fishermen do return, they are battered and scarred.
"They go to the river for work to earn money for their children. That's the only reason. Apart from that reason, no one wants to even think, 'I'll go to the river and die just for the sake of satisfying my own hunger.' When a storm hits, five people come back. And the rest of them get lost and drown. No one wants to go and die otherwise. But to save the children they go to the river," one woman says.
They go to the river, but the river is now pushing them away and stealing their futures. Worldwide, sea levels are on the rise. Any storm will become more dangerous because flooding will be more likely. Rising seas are already increasingly intruding into rivers, turning fresh water brackish. More salinity in water and soil can endanger crops and food security. Rivers that are now salty can eat away at land once used for farming. Bangladesh, located on a low-lying delta and already very susceptible to flooding, is a country that is most at risk.
"Sea level rise is a global phenomenon, but it is not uniform across the world," says Ainun Nishat, climate change specialist and Professor Emeritus at BRAC University. "On Bangladesh coasts, a recently completed study shows that on the southwestern side, the average sea level rise over the last 20 years has been between 6 to 8 millimeters. If you go to the central part of the Bangladesh coast, it is between 10 to 12 millimeters. And if you go to the coast on the southeastern side, it can be as high as between 16 to 20 millimeters. A 20-millimeter rise would mean that the coastline has moved in significantly, which is causing an increase in salinity."
Having fresh water mix with salt water means less usable drinking water, failed crops, fewer fishing opportunities, and increased migration.
In Manpura, land is at a premium.
"If you lose your home and land by riverbank erosion, you're losing all your assets. The rural people are dependent on land. So Bangladesh is already a high population density with low income country. The resilience is low, and increasing natural disasters impact the resilience," says Ainun.
While some erosion is inevitable on the coast, erratic weather patterns and climate change are disrupting the balance. Experts say it is not raining where usually rain was prevalent. If it does rain, the storms are heavy and unpredictable. Out of all of this, the poor suffer the most.
"Climate change brings lots of unpredictability in natural disasters. We know their intensity and frequency are going to increase, as is the impact on the poorer segment of the society. The impact is even higher on the women and children, " Ainun says.
Video by Ismail Ferdous for CRS
In parts of Bangladesh, a dike system attempts to build up the land and increase the resilience of coastal populations. But often it's not enough and people need to leave.
Rising sea levels are literally pushing people in Bangladesh from their homes into a life that they haven't chosen.
"Migration is due to poverty. Migration is due to overpopulation. Migration is due to lack of employment. Now, this is being aggravated by climate change." – Ainun Nishat
The nation's dependence on agriculture and seafood makes people feel more vulnerable. And when push comes to shove, people will leave to find work and opportunity elsewhere. That's what Mohammad Mannan did.
THE RICKSHAW DRIVER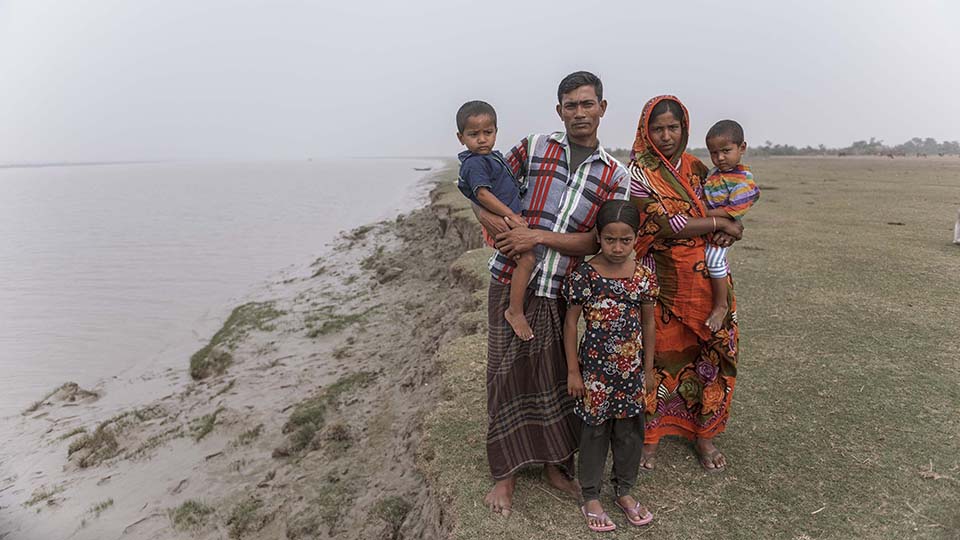 Photo by Ismail Ferdous for CRS
Mannan, 31, is a husband and father of three children. He grew up in Manpura. He was a fisherman in Manpura. That's until the water stole his dreams.
"There was no fish in the river for two or three years, and that time I decided not to work as a fisherman. I could not lead my family with this profession," he says.
Mannan lived in four houses that were destroyed by the river.
"I had everything, and we became homeless when everything went under the water," he says. "There are many problems in our life caused by the overflow of water. Sometimes crops get damaged and sunk under the water, so we have to start harvesting again."
"I feel sad explaining this. There is a huge problem with the water." – Mohammad Mannan
For Mannan, he needed to move on. He left his wife and children with his parents, and now makes his living doing this.
Video by Ismail Ferdous for CRS
Mannan is a rickshaw driver in Dhaka, the capital and largest city of Bangladesh. Mannan stays in Dhaka with his brother-in-law, where they rent a rickshaw and a room. Being a rickshaw driver is not easy.
"I moved to Dhaka and started pulling rickshaw to lead my family. Pulling rickshaw is tremendous hard work because I have to put pressure on my two legs," he says.
What's even harder is leaving his family behind.
"I remember my children when I stay in Dhaka. I can't focus on them when I am in Dhaka because I need to work," Mannan says. "This is how my days are passing. Sometimes I feel like leaving rickshaw right now, but I can't leave it."
Occasionally, Mannan finds farming and household work in a village near the river, but that work is not consistent.
"River erosion has destroyed everything in my life. I don't have any idea about what will happen 10 years later. Conditions are declining day-by-day. Climate change is not improving." – Mohammad Mannan
THE FORCE
South Asia is not only affected by rising sea levels; rising global temperatures are also a concern. Bangladesh, in particular, has been called a hotspot. Communities around the world are already feeling the impact of climate change today, with the planet only 0.8°C warmer than in pre-industrial times. Many of us could experience the harsher impacts of a 2°C warmer world within our lifetimes—20 to 30 years from now—and 4°C is likely by the end of the century without global action.
"Bangladesh would be really miserable. If it goes above 3°C, the present varieties of rice would not grow," Ainun says.
In Bangladesh, the results could be devastating. Bangladesh, with a population of about 160 million, is one of the most densely populated nations in the world. The country depends on natural resources, which are sensitive to climate variability and climate change.
Without food, people would need to move. The United Nations estimates that by 2020 there will be 50 million environmental refugees worldwide. Those countries most affected have overpopulation and geographic location challenges. Being low-lying and heavily populated, Bangladesh falls into that category.
"Migration is not liked by any society in the world. Nobody likes to move out of their home. If I have a good living condition, why should I go somewhere else?" – Ainun Nishat
Catholic Relief Services and partners in Bangladesh are training people to be the force of change in their communities. In coordination with the local government, between March 2014 and May 2016, almost 20,000 people in 11 villages learned how to prepare for disasters ahead of time and take action against the effects of climate change. This push for preparedness is something that experts say should be happening everywhere.
"Climate change is in its infancy. It is showing what is going to come in the next 30, 40, 50 years," Ainun says. "There are still people who say the Earth is flat. There are still people who say that the sun revolves around the Earth. We should ignore these type of people. All 195 countries of the world officially have accepted climate change is real and are working toward controlling it."
THE DISAPPEARING ACT
While Bangladesh faces climatic problems with rising sea levels, Chad and neighboring countries have the opposite problem. Once one of the largest bodies of water in Africa, Lake Chad is disappearing into dust and desert dunes.
In the 1960s, the landlocked lake measured more than 9,700 square miles, bordering four countries – Nigeria, Cameroon, Chad and Niger. Now, it is roughly a meager 580 square miles. To put that in perspective, Lake Chad was once larger than the state of Vermont, but is now smaller than Rhode Island. The lake is now 1/20th the size it once was.
There are many potential causes in the lake's disappearance – seasonal fluctuations, desertification and unsustainable water usage. But climate change, notably inconsistent weather patterns plus a drier and warmer environment, has been given as a major reason for why water levels are dwindling far below average.
All of this is happening while the population around the lake continues to rise. Some 30 million people depend on the lake's water – for farming, livestock grazing and fishing. Some reports indicate that number could rise to 35 million in 2020, partly due to a massive influx of people forcibly pushed from their homes by Boko Haram.
THE SURVIVORS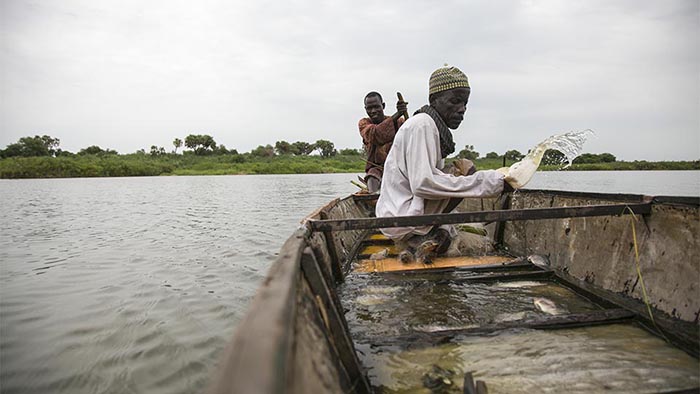 Photo by Michael Stulman/CRS
Fisherman Moussa Mai is 60 years old. Just one year ago, he left everything behind when Boko Haram attacked his village. He traveled four days by boat and arrived in another village called Kaya with nothing but the clothes on his back.
Moussa was not alone in his search for a change. People across Nigeria, Niger, Cameroon and Chad are fleeing in search of safety. Boko Haram has carried out attacks that have killed more than 13,000 people since 2009. The group has planted bombs in public places, abducted women and girls, and destroyed villages and towns.
The violence is spreading across West and Central Africa. In some places, people have been unable to plant or harvest for three years. Millions of people are now facing severe food shortages.
"The living conditions are extremely harsh. Most people have fled their homes with nothing. There is little food and water, while oppressive heat and abysmal sanitary facilities can increase the dangers of health risks," says Bill Rastetter, country representative CRS Niger.
And the migration of people has made Lake Chad's rapid disappearance more of a concern. The problems caused by a diminishing water supply are now exacerbated by the push of people who have fled to the region.
Chad's Lac Region alone has become a refuge for more than 112,000 people who fled Boko Haram violence.
"There is a lot of concern that many of the migrants that we find moving from and through the Sahelian countries to northern Africa and through northern Africa to Europe are, in fact, responding to the degradation of their economic opportunities, as well as the political and terrorism threats," says Dennis Garrity, Drylands Ambassador for the UN Convention to Combat Desertification.
Across all four countries around the lake, Boko Haram militants have bombed markets, camps and rural villages. In response to the bombings, the Chadian military evacuated residents from islands in the lake, where they believed militants were also hiding. From the inland camps, many uprooted families cannot reach the areas where they once worked.
"These displaced lived off fishing in the lake. They now are trapped in land-bound communities with no land, no agricultural skills, and no means for securing their livelihoods as they lost all the fishing tools and access," says Kyla Neilan, former emergency coordinator in Chad. "They're very desperate with high rates of severe malnutrition and food insecurity."
When Boko Haram attacked Hadje Malloum's village in Chad earlier this year, her husband was killed right before her eyes.
"I was with my husband, but I left suddenly and with force." – Hadje Malloum
Hadje traveled to Kaya with 11 children. It took a week.
"The village I left can take 2-3 days normally, but it took me a week. The first day was on a boat, and the rest was by horse," she says.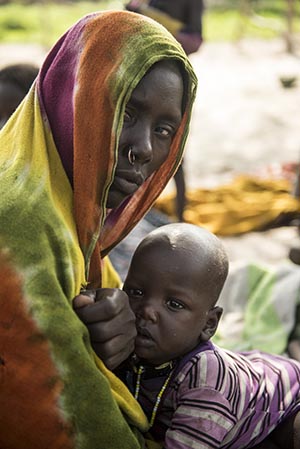 Hadje says her current situation is tenuous.
"With the number of children, it's difficult, but I thank God. Sometimes if we have food they eat three times a day, but it's usually just in the morning and evening," she says.
She says the community has been key.
"When I first arrived, the community helped me. They saw my children. They gave me water jugs, blankets and bowls," she says. "My children go to the bush and get crops to make a mat, and we sell the mats in the market."
That brings in about $3.00 a week. It's her only source of income.
Like Hadje, Moussa is finding his way in Kaya, but he also got some help.
"This is the land of the peace," says Moussa. "When we arrived, we went to the traditional chief and he gave us land so we could start a life here."
Moussa has started a life, but life on this lake is not easy. Besides threats of violence, the effect of climate change and environmental degradation has had an impact on food and income for people across the region.
"Before the lake was large, but it's getting so small that fishing nets get caught on the bottom of the lake," says Moussa, who is responsible for feeding 15 people.
THE HOST
Video by Michael Stulman/CRS
Bay Hassane's smile is contagious. It comes easy and lights up everything around her. That smile also makes strangers feel at ease, and that's very important right now.
Bay was born and raised in Kaya. She says in the last few years, everything has changed.
She says with the threat of violence from Boko Haram, you can't cross the border. Just a year ago, she took her harvest to market. Now, Bay gives it away free of charge to displaced people.
"We are here to be generous." – Bay Hassane
"People arrive here with hunger, nothing else," she says. "I'm not alone. It's the entire community. All of our neighbors help. We give them mats, goats, blankets and clothes for the kids."
Bay is responsible for 17 people, including three children whose parents have left. Resources are tight. At times, Bay and her neighbors are struggling to meet their own needs, let alone those of people who escaped Boko Haram violence and have settled among them.
"We can be patient, but we are always hungry," she says.
In response to this crisis, Catholic Relief Services and its local partners are providing emergency support to more than 100,000 people across Niger, Nigeria, Chad and Cameroon. One project improves the food security situation in more than 1,000 of the most vulnerable households in the Lac Region near Lake Chad.
In villages like Kaya, cash vouchers can provide up to two months of food. This can keep people from eating their seeds during the lean season, which is the period just before harvest when stored crops are gone but the new ones aren't ripe. The project also distributes corn seeds and fishing equipment, which aims to help improve the long-term outlook for these communities.
"The situation of Lake Chad is very difficult. Today, Lake Chad faces two problems: the problem of the evaporation of the lake, and on the other side we have the problem of insecurity caused by Boko Haram," says Youssouf Mbodou Mbami, a traditional ruler in the Bol District of Chad. "We always keep hope that sooner or later things will change and we will be in peace. But we can also ask the international community to not forget to think about these poor populations."
In both Chad and Bangladesh, people are being PUSHED by climate change and other factors to migrate in search of safety and economic opportunity. In Peru, people are also on the move, this time answering the call of the South American gold rush. Take a look how they are being PULLED into climate change and becoming key players in the fight to stake a claim on the Peruvian Amazon.
WHAT YOU CAN DO