Climate Change Threatens Afghanistan Families
Photo by Stefanie Glinski
The views in this Afghanistan village are spectacular. Snow-capped peaks reach high into the sky, and rolling hills softly touch the horizon. The air is fresh and a light breeze blows. Home to around 150 families, the village sits at a high altitude in Afghanistan's central highlands. It is breathtakingly beautiful and calm, but an existential threat is looming: climate change-induced drought.
For the past seven years, villagers have watched in horror as most water sources have been depleted. Trees have dried up and died, while crops have failed. Most mountains are barren and brown now. The past two years have been especially severe.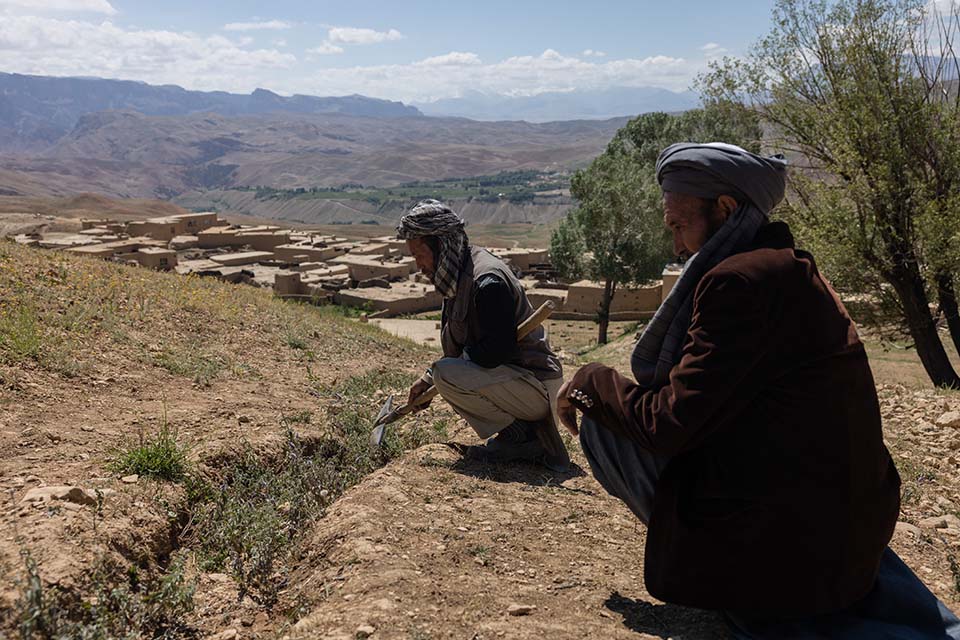 Mohammed Ali (foreground) with Ali Musa looks at a dried-out irrigation canal in the Northern Highlands, where climate change has caused severe water shortages.
Photo by Stefanie Glinski for CRS
"I planted wheat this spring, but I watched all of it die," says farmer Mohammed Ali pointing toward his failed crops. At home, he has 11 children and he says providing food for them has become nearly impossible. "Just two years ago, I had 20 sheep. I've sold most of them to be able to afford rice, oil and flour. Today I have four sheep left. Soon I won't have any."
Ali's story is that of every villager. All have lost their harvests. All have sold animals to survive. All have increasingly slipped into deep poverty. Most have considered migration—but lack the financial means to do so. In the past, families purchased land here and built houses, but neither would be easy to sell in a place where long-term drought is predicted. Other nearby villages, located at lower altitudes, are still green, but climate change threatens the whole country.
Afghanistan is one of the world's most vulnerable countries to climate change. Temperatures have steadily risen since the 1950s, leading to massive droughts, desertification and land degradation.
Originally settled on prosperous farming land, Ali's village has increasingly seen less snowfall in winter and fewer rains in summer. In the past two years, the village's main well has dried up. On a hill overlooking the village, Ali points to a small stream trickling downhill. "That's all the water we have left," he says quietly. "We don't know how long it will last."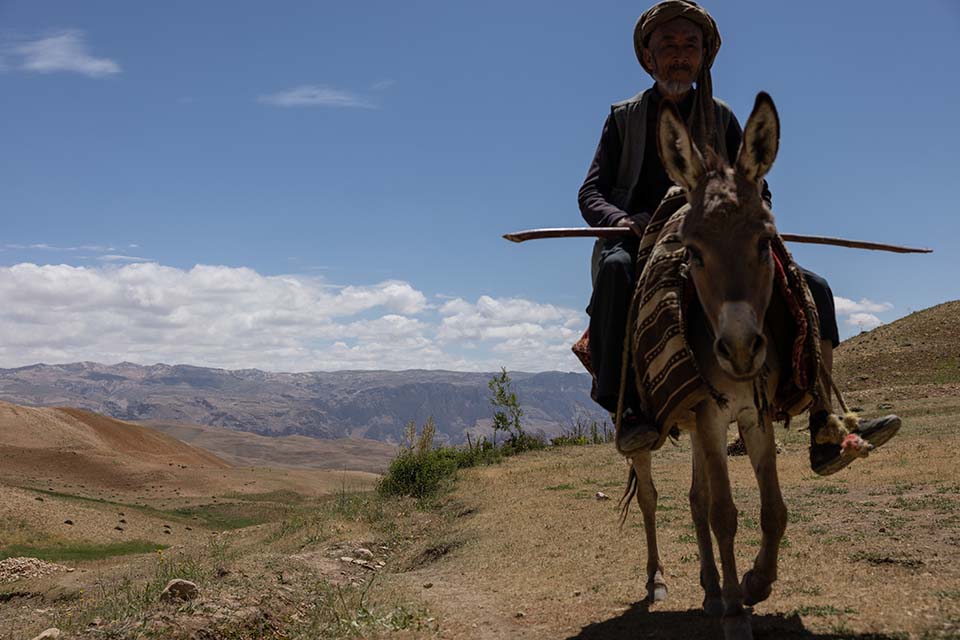 Families across Afghanistan are suffering from unprecedented levels of food insecurity, primarily due to the worst drought in living memory combined with a financial crisis.
Photo by Stefanie Glinski for CRS
Ali admits he is afraid. He's slim and wears a small turban on his head. His face is wrinkled and sun-tanned. For the past two years, unable to grow the food he needs, he's depended on buying food from the market to make sure his family has enough to eat. But prices have tripled since last year's change in government and subsequent international sanctions have added to a nation-wide economic crisis.
In 2019, a 15-pound bag of flour in Afghanistan was $2. That price has since doubled to $4, a sum Ali can't easily afford.
"In the past, we lived from farming and animal keeping alone. We had no other income, but we managed. This isn't possible any longer," he says.
A few weeks ago, Ali's oldest son moved to a neighboring province, working 12-hour-days in coal mines and saving about $2.25 a day. He tries to send most of it home.
"It's tough work, and recently the province has seen armed clashes between locals wanting to control the mines," Ali says. "But right now, it's the only income we're surviving on, so my son keeps working hard," he adds.
According to the United Nations, almost all Afghans—around 97%—have slipped below the poverty line since the Taliban took over last year.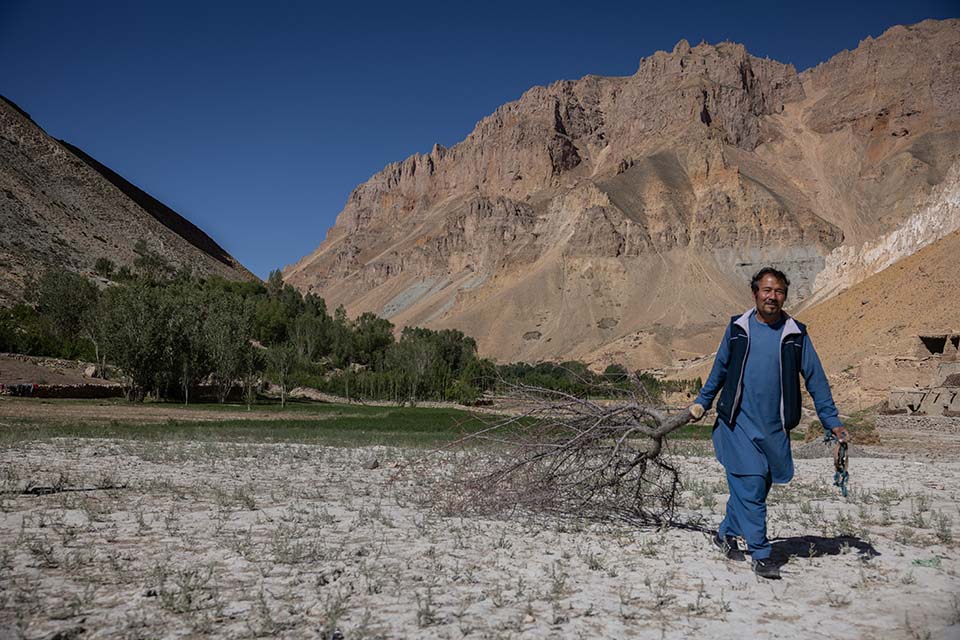 A farmer carries a tree that died because of the lack of water in the Northern Highlands.Villagers say they have no crops left as the water has dried up.
Photo by Stefanie Glinski for CRS
CRS has been able to help Ali's family and others financially through cash distributions. The distributions began in late November 2021 and continued through early January 2022 in Herat, Ghor, Bamiyan and Daykundi provinces. With these distributions, CRS reached nearly 7,600 families and over 45,000 people in remote communities.
"Local leaders told us they were pleased with how CRS managed those distributions," CRS Country Representative Anne Bousquet says. "They thought the amount matched the family size and that there was transparency in the process."
Still, even though cash distributions make a difference, families face an uncertain future with difficult choices to make. Villagers admit that migration might be the only option left. Where Ali lives is an hour's drive away from the closest shop and market, and a four-hour drive from the provincial capital. It's not easy to bring food back to the village. Since several water sources were depleted two years ago, Ali's family has been living off rice, bread and potatoes alone. The few plants that still grow on the almost barren hills are used as fodder for animals.
Ali says he wants to remain positive, but he doesn't see hope. Neither do his neighbors. "Water is life," he says. "When the water disappears, we'll have to go too."