Moving up the Mountain: Coffee Farmers Fight Against Climate Change
This story is part of a year-long campaign called Living on the Edge of Climate Change, which shows how the changing environment is affecting the world's most vulnerable.
It's only 10 a.m. on a Thursday, but no one here is lingering over a last morning cup of coffee.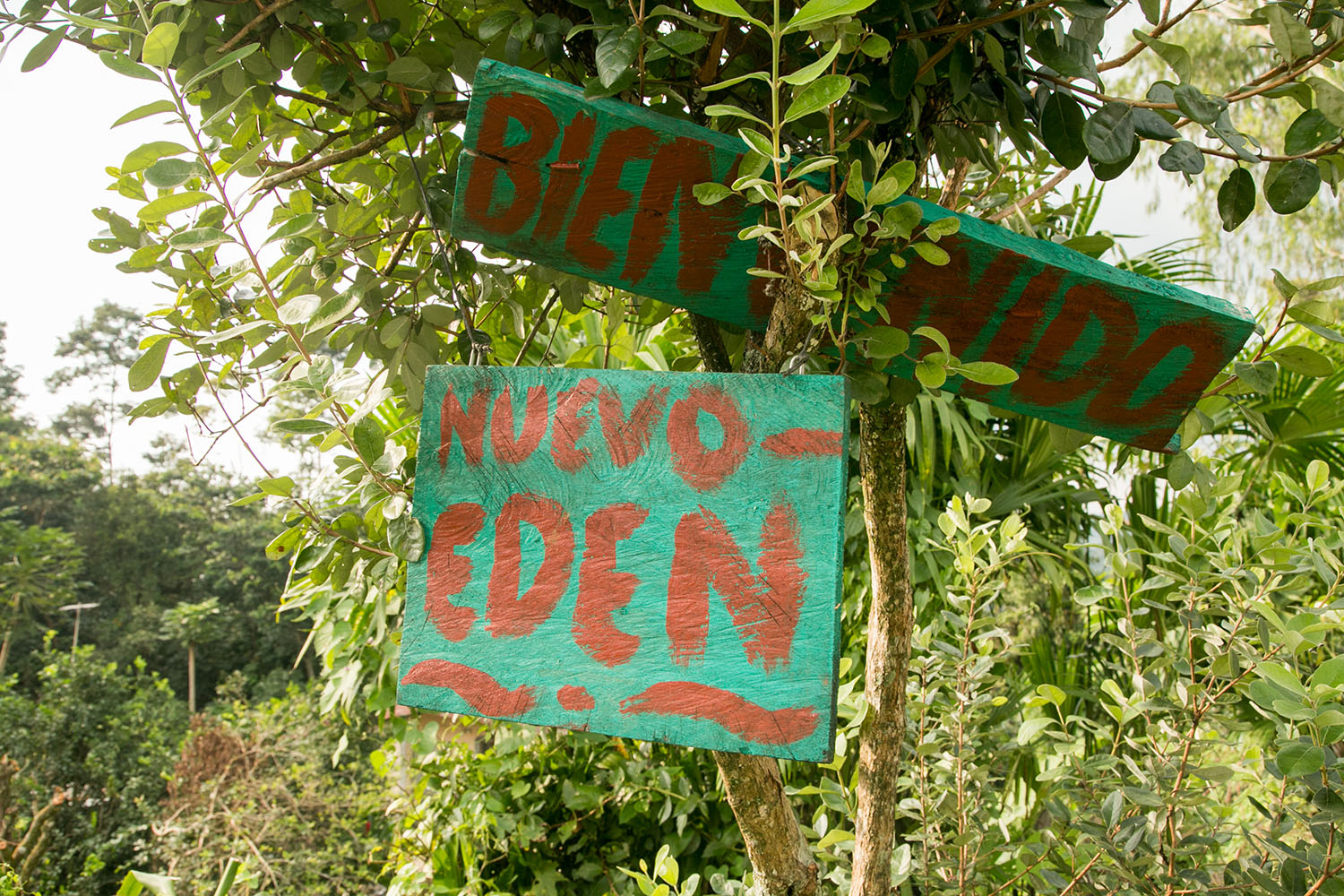 No, in the community of Nuevo Eden in the department of San Marcos in Guatemala, these people are growing your coffee. It's hard work that gets more difficult by the year.
Person after person—man, woman and child—pass with a quick "buenos dias" and a smile, but they don't linger. They have a long, dusty mountain road ahead of them as they carry huge sacks of coffee cherries on their backs. These cherries will eventually become cups of steaming coffee. But to these farmers that's not their immediate concern. Just getting the beans to this point has been an uphill battle: a battle against circumstance, a battle against the climate, a battle against poverty. And it's a fight that is still not won, especially against climate change.
This part of Guatemala is known for its quality coffee, and for its beauty. The mountains provide both a gorgeous landscape and a good location for growing the valuable beans. But these tall peaks also serve as symbols of struggle. This has not been a smooth road, and these farmers are definitely not rich. In fact, they are some of the most vulnerable people in our world. And we want you to meet them.
MEET CARLOS
"Sometimes remembering what one has gone through is too difficult." — Carlos Cano
Carlos is a communicator, but not so much with his words. His eyes tell the story. Carlos was not always a coffee farmer. He's been growing it for 17 years in Guatemala, but before that he was in Mexico, where he produced corn, beans and peanuts. In his childhood, Carlos had to migrate to Mexico because of civil war. In 1982, his father moved the family from Guatemala to Chiapas in Mexico. It was supposed to be a 15-day stay; it turned into 16 years.
In 1998, Carlos' family was among the first group of Guatemalans to return from Mexico. As part of the peace accords, families took possession of the 2,500 acres of mountainous, coffee-producing land that is now Nuevo Eden. But there was a catch. Carlos and most of the other farmers knew nothing about growing coffee and they received little training from the government on how to do it.
"It was very difficult," says Carlos. But still he persevered.
And then came 2012 and coffee leaf rust.
Coffee leaf rust, a fungus, is a colorful disease that kills coffee crops and can eliminate livelihoods. Its Spanish name is la roya, and farmers say it's been around for decades. But it's only been in the last 5 to 7 years that it has affected farmers like Carlos.
In 2012, Guatemala had the strongest case in its history. Some growers lost up to 85 percent of their coffee plants. The fungus chokes the plants, causing leaves to fall off. Those leaves are the part of the plant that serve to collect light and help its breathing process. Without them, the plant is killed.
That's what happened to Carlos and most of the farmers he knows.
"A good harvest was expected. We even had plans because we saw that the production would be good. Unfortunately, that was when the rust spread within the land—most of the fruit fell off, the plants lost their leaves, so that caused the production not to be what we expected. After that, some friends had to leave and look for work elsewhere," Carlos says.
Carlos had to go back to Mexico in 2012. It was deflating for him then and still makes him very emotional today.
"If there are no crops, we have to undergo more hardships because we have to struggle elsewhere to obtain the resources to be able to care for our family. I did go. I went to Mexico again. I was there for 3 months, for the same reason—I needed money to take care of my family.
"We have experienced very difficult situations. In my case, not only now, but previously I had to migrate there. But they are painful experiences that I lived, so that's what affects me," Carlos says.
"We depend on coffee." — Carlos Cano
So why did coffee leaf rust start causing so much pain for Carlos in 2012 and not before then? What changed?
"The truth is that when we came here 17 years ago, the climate was quite different. You could feel a little bit cold, the rains were normal. This year, you could see the difference much more because normally the coffee production or harvest in these places begins in September, October, and ends in December. But now, it came a little bit earlier, the harvest began about a month before," says Carlos. "Climate change affects us a lot because it is during this season that rust develops easier due to the heat and humidity."
And those slight changes are causing coffee leaf rust to move up the mountain.
AN UPHILL BATTLE
The difference for Carlos and his neighbors all comes down to altitude, and variations in both temperature and rainfall. Over the last 5 to 7 years, the scourge of coffee leaf rust has spread and here's why.
If a farmer grows his coffee a little higher up in altitude, he or she will have cooler temperatures. If you are a little bit lower down, you have warmer temperatures. In those warmer areas, between 400–800 meters (1,300–2,600 feet), coffee rust has been a problem for 20 or 30 years. But now farmers in the middle range of the mountains, around 1,200–1,600 meters (3,900–5,200 feet), are starting to see variations in both temperature and rainfall. During the night, they are seeing warmer temperatures and during the day they're seeing a little bit cooler temperatures.
Coffee leaf rust is a fungus that has a very specific temperature range in which it's reproducing and attacking the coffee plants. That range is from 18–23 degrees Celsius (64–73 degrees Fahrenheint).
"So you can see that if it's a little bit warmer during the nighttime, coffee leaf rust is continuing to reproduce. And if it's a little bit colder during the daytime, you're getting attacked during the day and during the night," says Dan McQuillan, head of agriculture for CRS Guatemala and Mexico. "You'll also get a lot of rain, and coffee plants are wet and humid, which is ideal for fungus. And then you're getting dry periods, where you have wind or breeze that is blowing the coffee fungus spores."
It's a big problem for farmers with small farms. They are waging a battle on two fronts. They may have some control over their own farm, but then there's everyone else.
"You don't just have coffee leaf rust moving from farm to farm in the same community, you have it moving from community to community, from department to department, even across countries," says McQuillan.
And the problem is not going away. As time goes on, more and more farmers are noticing a difference in climate.
"Especially in the year 2015, the weather completely changed. It hasn't been like other years where the rainfall has been even. Rather, we've had more summer, a lot more heat," says Jose Abel Lopez Sifuentes, representative and chairman of the Nuevo Eden cooperative.
These farmers are unable to keep moving up the mountain. There are farmers above them, plus the mountain eventually reaches a point where nothing can grow. Growing coffee in Guatemala in these conditions really has become as hard as moving a mountain. Some farmers just move on and out of the business entirely. Farmers like Jose Luis Mateo Mendoza have seen that happen time and time again, but it hasn't been part of his story...yet.
MEET JOSE LUIS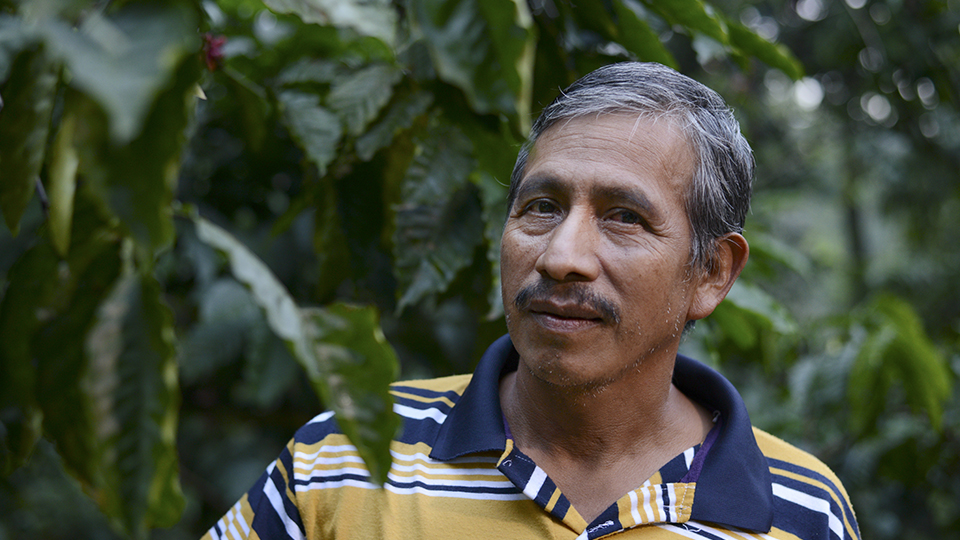 Jose Luis has been a farmer for a long time. But he's still a coffee farmer because of bees.
"Before the coffee leaf rust happened, I had bought my small lot of 20 boxes of beehives. That was my salvation. So I had an alternative, unaware that the coffee leaf rust was going to affect us so much. I was already working in my apiary," he says.
He remembers a time when he didn't know what coffee leaf rust was, let alone what it could do to his crop.
"It looked like mosaics because the entire leaf was marked with color. Orange colored circles." — Jose Luis Mateo Mendoza
"When it becomes sturdy, it turns [yellowish], so that's when it starts to shed dust. Because it sheds dust and that dust falls on the ground, when it rains the fungus reproduces itself. It attaches underneath the leaves. It moves up," he says.
While the coffee leaf rust moved up to take over more crops in 2012 and 2013, farmers moved out.
"All of the coffee plants went down. It was everywhere. We were practically without food. When this happened, many friends left, they emigrated. They just left their work here. They left coffee and went on to earn for their corn and beans," Jose Luis says.
Jose Luis stayed and started to look for solutions.
"I felt distraught because we thought the coffee issue was not going to be resolved. We started to seek help," says Jose Luis.
THE HELP
As part of the Green Coffee project in San Marcos, Catholic Relief Services technicians work with farmers to first explain the problem of coffee leaf rust.
"People do not completely understand what is going on. There are so many things in the climate at the same time that it is difficult to figure out what corresponds to what," says Jayron Saldana, who works with the Green Coffee project in San Marcos. "Sometimes things are difficult to understand technically. We try to make it easier for a farmer who sometimes barely got to first grade, who barely knows how to write or read."
One fact that adds to the difficulty of preparing for the future is time. Coffee is a perennial crop. Farmers may have planted a certain variety or certain species of coffee 10 years ago. At that time, that variety may have been perfect for that area. It may have produced well and been resistant to most pests at that altitude. But things change.
"So now families are having to make a decision of 'Do I want to engage in the very costly endeavor of renovating and turning over my plot?' That means taking some of those old trees out and starting to replace them with new trees," says McQuillan. "But coffee is a crop that takes three to four years before you start seeing production. So farmers that don't have a lot of capital—if any capital—are living basically day-to-day, month-to-month. They are having to make major investment decisions. They are asking 'How am I going to change my coffee to make sure it's resistant to these new pressures I haven't seen before?'"
CRS works with farmers to try to plan for the future as much as possible with comprehensive soil management techniques. Soil fertility is one of the main focuses. Farmers are taught how to protect the soil through shade and experiment with ways to capture more water. In addition, farmers learn how to effectively use "cover crops." For example, farmers can grow beans between the coffee so there is a cover over the soil. During dry days and weeks, the soil will be more protected from the sun.
In San Marcos, farmers are also growing new varieties of coffee plants that may be more resistant to rust, and are advised on how to apply fungicides at the appropriate time and manner.
Farmers like Carlos and Jose Luis are also branching out with new crops. They are growing macadamia beans, but there are others who are growing bananas or avocados on their coffee farms. It's a way for them to earn extra money in very uncertain times.
"We smallholder farmers have difficulty accepting that we have to remove the coffee plant because we feel that they are taking away a part of us, a piece of us." — Jose Luis Mateo Mendoza
"I would say our farmers do not feel helpless. You definitely have some farmers who are feeling down and discouraged, but you have a lot of farmers who are saying, 'OK, what can I do differently? Where can I get information? Who can come help me? What can I buy? What can I do differently to try to deal with this?'" says McQuillan. "Because after all, this is their livelihood. This is the way they eat. This is the way they send their kids to school."
Even after all these struggles, farmers believe coffee is their future. Making changes may be necessary, but that doesn't make them easier.
"But we have done it. We have encouraged ourselves. We at Nuevo Eden, we feel encouraged to do that because we see that it is a solution, an alternative we have," Jose Luis says.
THE FUTURE: TIMES ARE CHANGING FOR ALL OF US
Farmers in San Marcos know they have many mountains to climb. The future is a question mark and change is simply a means of survival.
"When they can see change, when they can touch change, when they can use change to buy something, farmers are going to start to adopt, they're going to start to change their behaviors," says McQuillan.
But one thing these farmers will not change is their faith in their product. Their pride in coffee, in their work and in their community are roots that can't be pulled out and replaced.
Carlos and Jose Luis know their coffee is valuable. In many ways, they also know their story of struggle with climate change is bigger than them. It impacts each one of us.
"When you're sitting at home, maybe in the city in your three-bedroom home drinking your morning coffee before you go to work, you're really taking part in what's going on. Climate change is affecting your life and it has affected the small farmer's life," says McQuillan. "Climate change is impacting the way they can get that product to your table. It's becoming more difficult. It's becoming more costly. And with every changing year of the climate, their job gets harder. Coffee might become expensive. Coffee might start to disappear—and has started to disappear in a lot of climate zones that used to be very productive. And this is because of climate change."
In his encyclical, Pope Francis asks all of us to help our neighbors, especially the poorest and most vulnerable among us…people like Carlos and Jose Luis. You may not know them personally, but now you know their stories.
"One theme that was very common in Laudato Si' was this idea that the people that suffer most from a fragile earth are the poor. I think when you walk out to the fields with our farmers, this is something that hits you really hard," McQuillan says. "Our farmers work with the earth every day. They work within a climate that is changing. And they're the ones that feel the impact more than anyone else.
"I'd say if we don't believe in climate change, we don't believe in the common good." — Daniel McQuillan
"Because the decisions we make as consumers, the decisions that drive climate change affect other people," says McQuillan. "They affect the farmers that put food on our table. They affect these poor, marginalized people in developing world countries that are having to squeak out a livelihood from what the earth can give them."
"Behind that cup of coffee is a great effort of many farmers, many poor people," Carlos says. "Most families who live like this, we want to improve ourselves. As humans we all want to be well, but unfortunately for us, we need to get back on our feet."
WHAT YOU CAN DO