Clean Water for Remote Afghanistan Village
Photo by Stefanie Glinski for CRS
It seemed like the easiest thing—drinking a cup of water after a long day of work, but for Tahira, the simple necessity often left a bitter aftertaste—literally.
Too often, diseases came with the water.
"We've had it all here. Diarrhea, cholera, dysentery. And we're too far away from health facilities to seek medical help. We've seen death and sickness and a lot of it was due to our water sources," Tahira says.
Tahira's home, Garmaab Sufla village, is a small community high up in Afghanistan's mountains. Home to ethnic Hazaras, one of Afghanistan's minority groups, it's located in the country's Ghor province, a high-altitude region that sees long winters and short, windy summers. In Garmaab Sufla—meaning "hot spring"—there are no shops, no roads or cars and few water sources.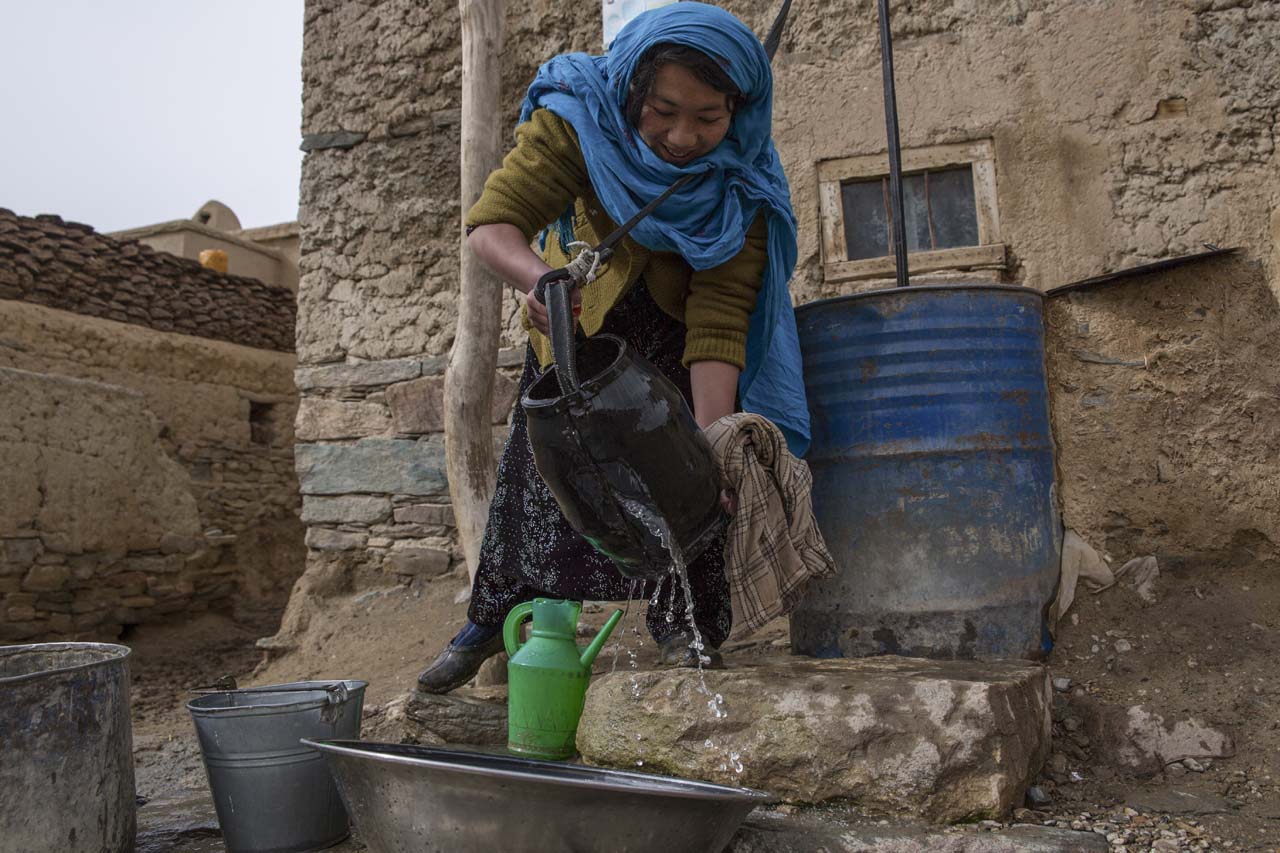 A woman draws water from a shallow well that the family dug themselves near her home in and Afghanistan villae. The water is not clean and can lead to water-borne diseases.
Photo by Stefanie Glinski for CRS
 
While a small stream runs through the village, the water has been contaminated with animal feces, making it unsafe to drink. A few shallow wells have been dug, but many of them either provide unsafe drinking water or have been depleted during times of drought.
"Drinking water is necessary, but it was almost scary" Tahira recalls. "We live hours away from the next town, so when a child falls sick, it's difficult to find a doctor."
Tahira recently joined the village's water protection committee, a mixed group of women and men who decided it was time to put an end to their water-related troubles.
"CRS helped us set up the committee and when we first got together, we told them what we needed here to improve the situation."
A lot has changed since then.
Tahira kneels next to a turquoise bucket, fitted with a faucet that has clean water dropping into a shiny new jerrycan. The young woman explains that this was the first start to improving the village's access to clean water: a simple filter system with layers of different sands, able to completely clean the water of all contamination.
Both Tahira's and her neighboring village have received filters, while a larger-scale distribution is in the pipeline.
"Levels of disease have significantly dropped since we started introducing the filters," Tahira says proudly. She's since become good friends with the other women on the water committee and says that she enjoys the responsibility they were given.
A short walk from Tahira's house, children continue to wash dishes and clothes in one of the village's contaminated streams. Most of the water comes from the mountaintops, flowing through animal pastures before getting to the village. And while the filters provide enough for drinking, most of the water used for household chores continue to be dirty.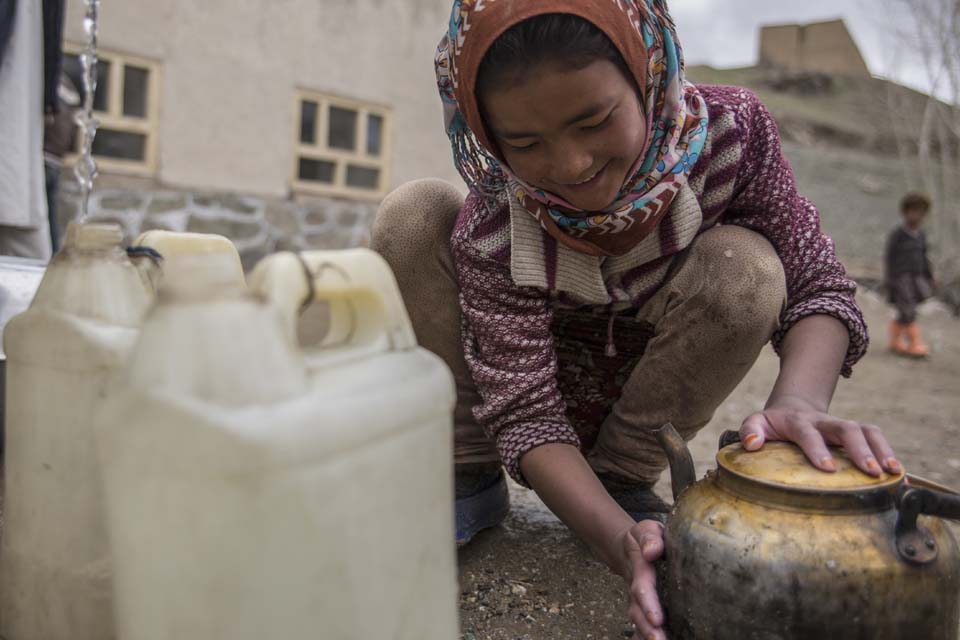 A girl cleans the dishes at one of Naseran, Afghanistan, village's few water pumps.  
Photo by Stefanie Glinski for CRS
"That's when we realized that Garmaab Sufla needed a more advanced system to ensure that people can live here healthily," says Zachidot, one of the village's elders and member of the water protection committee.
In the last few days, it's been hands-on work: wells and boreholes were evaluated, workshops were held to teach families about the importance of clean water and hygiene and a plan was drawn up for an elaborate pipe and well system.
"It's a breakthrough and we're so excited for it," says Zachidot, referring to CRS's planned water pipe system that will eventually bring clean tap water into people's houses.
"What we've seen over the last months is a reduction in diseases. We're now heading towards a future where we don't have to be afraid anymore to drink water," Tahira says.