Churches Provide Safe Haven in Central African Republic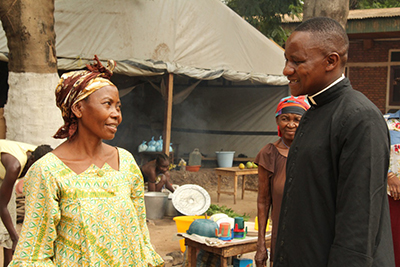 It was Christmas Eve 2013. Yawalo Lucienne was home with her children on the outskirts of Bangui, Central African Republic's capital, when sounds of gunfire ripped through the air.
Violence had been gripping the country for nearly a year as armed rebels and militias used brutal attacks and terror to split communities along religious lines.
Now, as the noise grew louder, Lucienne realized the fight was coming to her doorstep.
Judging from the screams outside, it seemed the rebels were going door to door, killing everyone in their path. Lucienne grabbed the four of her children who were home and started running.
"I heard the bullets in the air and I was very scared they were coming for me. My children were very scared," she says.
"I had to walk over people's bodies—men, women and children—who were killed by the Seleka [rebels]. The best way I could manage [the children] was to have them walk in front of me and I would walk behind them to make sure that they were safe."
Joining hundreds of others from her neighborhood running from the carnage, Lucienne and her children fled for miles with one destination in mind: the Catholic parish and compound known as Centre John 23.
"We came in masses—people, women, children," she says. "Some people jumped over the wall [to get into the compound]. I pushed through the gates with the other women."
Once inside, Lucienne was able to catch her breath as she started to feel a sense of safety. Only later would she learn the full extent of the day's massacre.
That same morning, Father Frederick Nakombo was in his parish house when gunshots rang out. He looked outside and saw people running.
"There were guns going off. People were running everywhere. They were screaming, saying that the Seleka [rebels] were killing everyone," he says. "I even started running. I went into the house, put on my jeans and started running. But I didn't know where to go."
Then he noticed people flooding his church compound—hundreds of them doing just what Lucienne described, jumping over the wall, pushing through the gate.
"When I got to the doorway, I saw a lot of children, women and men with hand luggage. They had lost everything. I had to stay here and help those people.
"I remember clearly: It was difficult because when they shot the heavy weapons, young girls were fainting—young, 16- and 18-year-old girls that were unconscious and we had to revive them. And that's how people came here on December 24, with no luggage, with nothing, They are still here with us today."
The conflict in the Central African Republic began in March 2013, when Seleka rebels, made up of mostly Muslim fighters and mercenaries from neighboring countries, attacked towns and villages throughout the country and eventually overthrew the government.
During the Seleka's brutal and violent reign, young, mostly non-Muslim men formed an equally violent militia, called Anti-Balaka, to protect their communities and avenge the killings by Seleka.
Thousands have since been killed and nearly a quarter of the country's population is displaced.
The arrival of French and African Union peacekeeping troops has decreased the violence in some areas, but both sides still regularly attack and kill people. Many displaced people are afraid to return home.
A Place of Refuge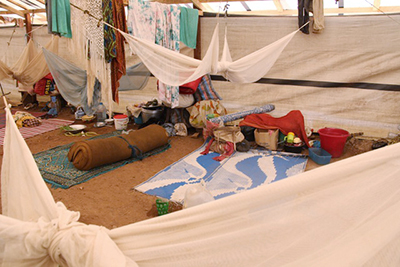 Christian churches, including the Catholic Church, have provided refuge and solace for hundreds of thousands of people—both Christian and Muslim—since the onset of violence in the Central African Republic.
Christian clerics throughout the country have taken in displaced people without regard to faith.
In a town in the northwest, Bishop Nestor-Désiré Nongo-Aziagbia cared for 40,000 people in his compound for months after they fled a brutal Seleka attack. With support from Caritas and Catholic Relief Services, he provided a safe haven, food and shelter.
In Bangui, Archbishop Dieudonné Nzapalainga took in the president of the Central African Republic Islamic Community, Imam Oumar Kobine Layama, when local militia threatened him and his family. Both men are now speaking out for peace.
Meanwhile, nearly 5 months after Lucienne and hundreds of others arrived at Centre John 23, the church grounds look very different than they did before Christmas Eve. More than 1,500 people, mostly women and children, live here in large open tents and sleep on thin, frayed mats or bare ground, which can become thick mud during the rainy season.
Diseases like malaria are rampant, especially among children. Women here miss their daily activities and routines. Children can't go to school; they are too afraid to leave the relative safety of the camp.
With the assistance of Caritas, CRS' local partner, Father Frederick is able to provide people with food like sardines, rice and oil.
Finding Hope in the Church
On a steamy morning in May, he circulates, as usual, through the makeshift camp. His shoes kick up red sand as he walks from one tent to the next, greeting families and women cooking over open fires. Children play nearby with homemade toys.
"I initially thought people would stay for 1 week, but then I saw them settling in," Father Frederick says.
Lucienne is one of those still living in the camp. She has been there for almost 5 months—something neither she nor Father Frederick expected.
"Before my life was great. I was able to sell things [like cooked food]. I was able to eat how I liked … up until the floodgates opened," Lucienne says. "The Seleka came and took everything. They left my hands empty."
Four of Lucienne's children are with her in the camp, and one of her older sons goes to find work during the day. He sells phone cards, earning $2 to $4 a day to help support the family.
This is not their home. This is not the life they planned for. With their country still gripped by violence, Lucienne and the 1,500 people who sought refuge at Centre John 23 have little to hold onto besides hope.
"I think about peace … that peace will come back to my country [and] will chase away the bad memories. If I keep myself busy, I can forget about those memories," Lucienne says.
Until that peace comes, Lucienne relies on the unexpected safe refuge and the loving care provided by Father Frederick with help from CRS and Caritas.
"Here, my life is so difficult," she says. "I only depend on the Bishop and Caritas."
Like everyone else at the camp, she prays for the day when everyone can safely go home. Meanwhile, she finds solace in Father Frederick's and her own faith.
"The house of God is truly a holy place … at any church you can find refuge, [you can find] peace," she says.