THRIVE's work in early childhood development has changed the way parents and their communities value young children. That work will continue through THRIVE II.
With support from the Conrad N. Hilton Foundation, the THRIVE project in Tanzania, Kenya and Malawi helps children from birth to age 5 receive high-quality services and support so they can reach their potential.
Many children are particularly vulnerable at this critical period because of poverty and HIV. THRIVE helps them get proper health care and nutrition for their bodies—and their minds.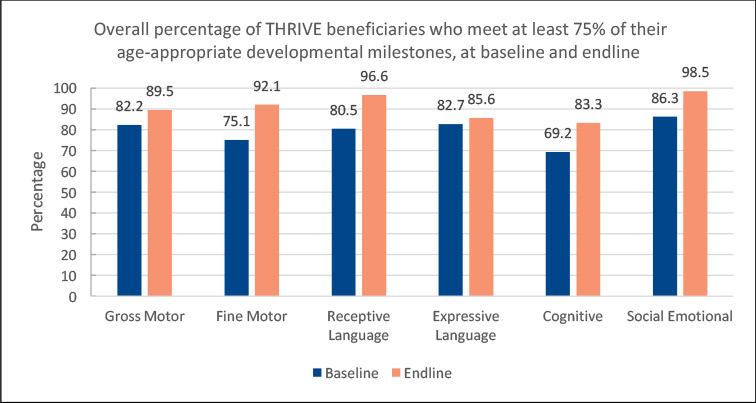 THRIVE's numbers are encouraging. Baseline and endline surveys with more than 900 caregivers clearly show increases in parenting best practices and developmental milestones for children under 5 during the program's 3 years, 2012 to 2015. 
Changes in parenting practices: 19% increase number of caregivers who practiced positive discipline practices and a 54% increase in the number of children who played with homemade toys.
Improvements in health and nutrition: Only 38% of children were eating a diet that included 4 out of 7 essential food groups at the start of the program; this increased to 61% were at the end of the program period. Health education and outreach resulted in a 40% increase in the number of caregivers who sought health services for their children.
Impact on early childhood development: Children under 5 were assessed at the beginning and end of the program for critical development milestones in 6 categories. Each category showed a high final percentage—83% to 97%—of children meeting milestones for their age: