Cash Grants Offer Flexibility in Disaster Recovery
Photo by Jennifer Hardy/CRS
"My children are why I keep surviving and working."
Agus Nundi was out fishing when the deadliest earthquake of 2018 struck Indonesia's Minahasa Peninsula. This was followed by a powerful tsunami that surprised even geologists. Agus was lucky to make it back to shore and find his wife and daughter—who had fled to the neighboring hillside—unharmed, though his home was destroyed.
Today, they all live in an emergency shelter. Each morning, Agus paces the small space constructed of tarps and rough lumber, trying to decide if he should move the bed.
"It's complicated," he says. "If I put a bed inside to sleep better, we will not have space to walk or do anything. Without a bed there is more space, but it's very uncomfortable to sleep on the ground."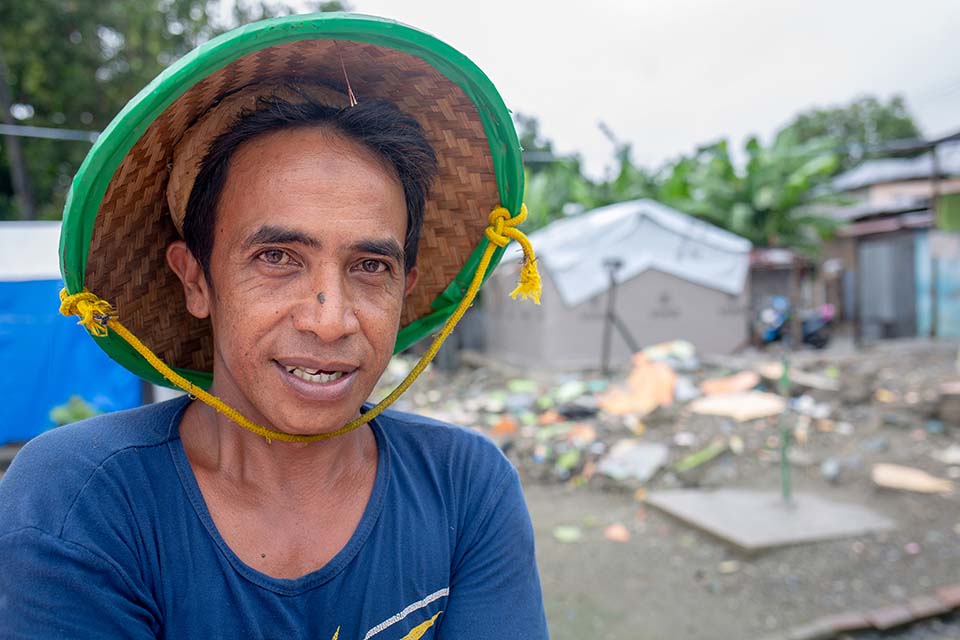 Agus Nundi and his family lost their home in the 2018 tsunami. They're living in a shelter and saving for a transitional home.
Photo by Jennifer Hardy/CRS
Life in a temporary shelter requires a little flexibility, as Agus and his family have learned. Their seaside home was one of more than 70,000 houses damaged by the earthquake and tsunami. And while Agus is grateful for the shelter materials supported by the U.S. Agency for International Development's Office of Foreign Disaster Assistance, tarps are only temporary. Eventually, they wear thin and start to leak.
That's why Catholic Relief Services and partners are providing unrestricted cash grants to displaced residents like Agus. This way, people in need can take charge of their own recovery.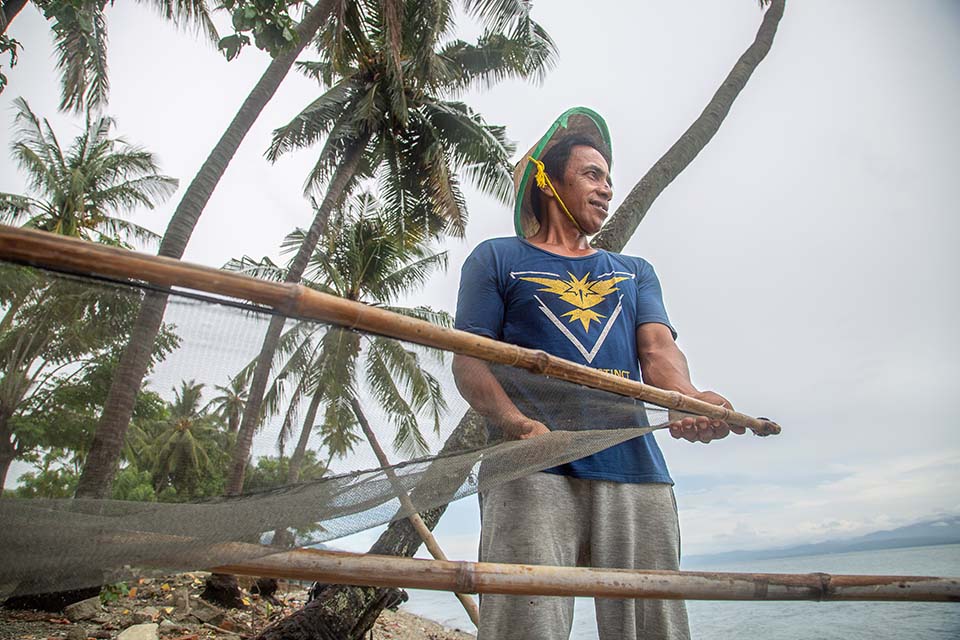 Although Agus Nundi's fishing boat survived the Sulawesi tsunami in 2018, local consumption of fish plummeted in the months following the disaster. An unconditional cash grant allowed him to purchase food in the weeks between the time when local food donations stopped and his fishing income recovered.
Photo by Jennifer Hardy/CRS
A fisherman by trade, Agus could not sell his catch in the wake of the tsunami. He relied on donated food to sustain his family—until donations ran out. CRS' cash grant came at a critical time and gave him the flexibility to meet urgent basic needs until the fish market recovers, and he regains an income. It has also helped him begin to save and plan for rebuilding his home and life.
Next door, Mohammad Natsir is planning a new transitional home. Because he found work as a day laborer immediately after the disaster, Mohammad invested his grant into construction materials. He appreciated the flexibility of the cash, so he could make each purchase as he needed it. Still, the stresses of staying in a strange place were especially hard on his 2-year-old son, Fauzan.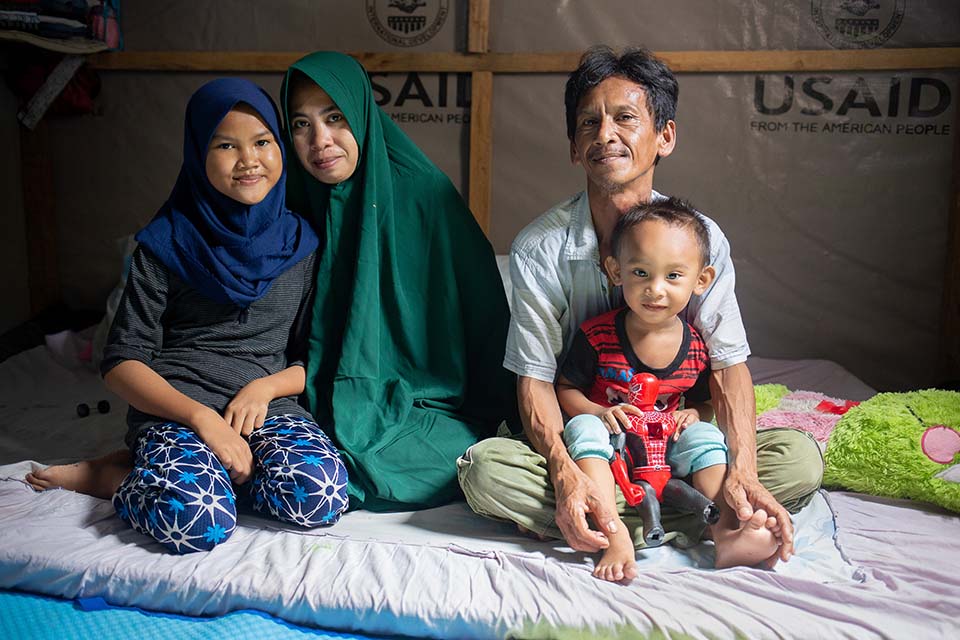 Mohammad Natsir is eager to begin construction on a transitional house. He will supplement his unconditional cash grant with savings from his job as a day laborer.
Photo by Jennifer Hardy/CRS
"When we stayed with relatives in the city," Mohammad says, "Fauzan was crying and begging us to go back home. And he then stopped crying after getting this shelter because he knew that this space is where he belongs. The shelter looks different, but it is his home."
CRS emergency coordinator Adhong Ramadhan explains, "With this disaster in Sulawesi, we've seen that people are happy for two kinds of help—sending in materials right after the disaster, and then later, when shops are open and markets are stable, giving grants and technical support so families can build their house the way they prefer."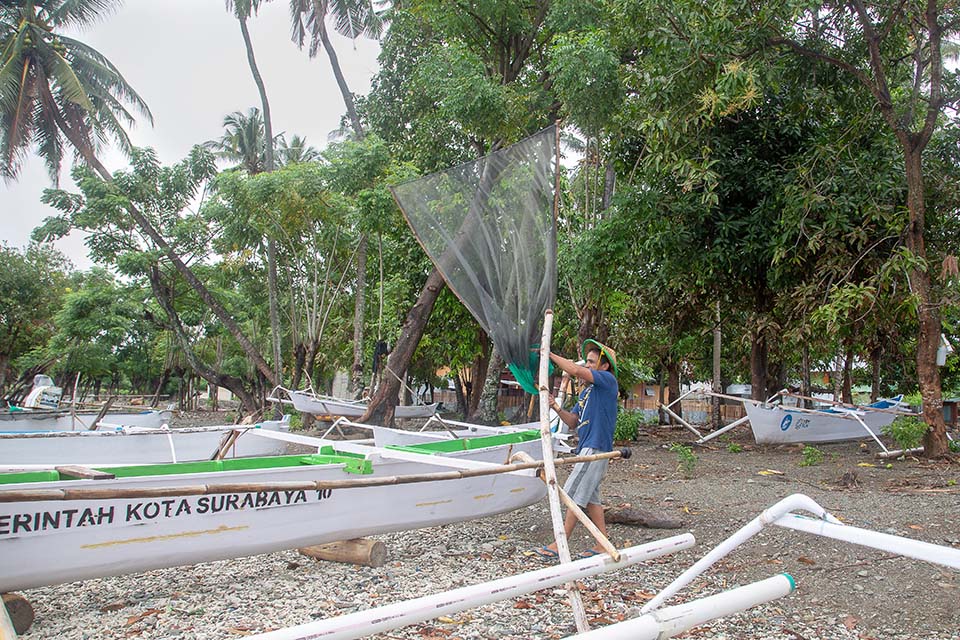 Angus Nundi works a fishing net into position as his fishing business returns to normal following a devastating September 2018 earthquake and tsunami.
Photo by Jennifer Hardy/CRS
Of course, one cash grant will not solve every problem for Mohammad and Agus. There will be all of life's regular challenges, on top of the enormous problem of living in an area under constant threat of natural disasters. For now, they will stay put, and consider every available option for permanent shelter. And they will make the best choices they can, each day. They believe their children's futures are worth the hard choices.
"After the earthquake," Mohammad says, "I could only think of my children and what they needed. My children are why I keep surviving and working. Whatever the job, it's for them."
Agus echoes Mohammad's devotion to his children. "Weeks after the tsunami, my daughter didn't want to look at the sea," he says of 6-year-old Assyifa. "Now her life is more normal. She's going to kindergarten. Life starts to go on. She can look out to the sea again."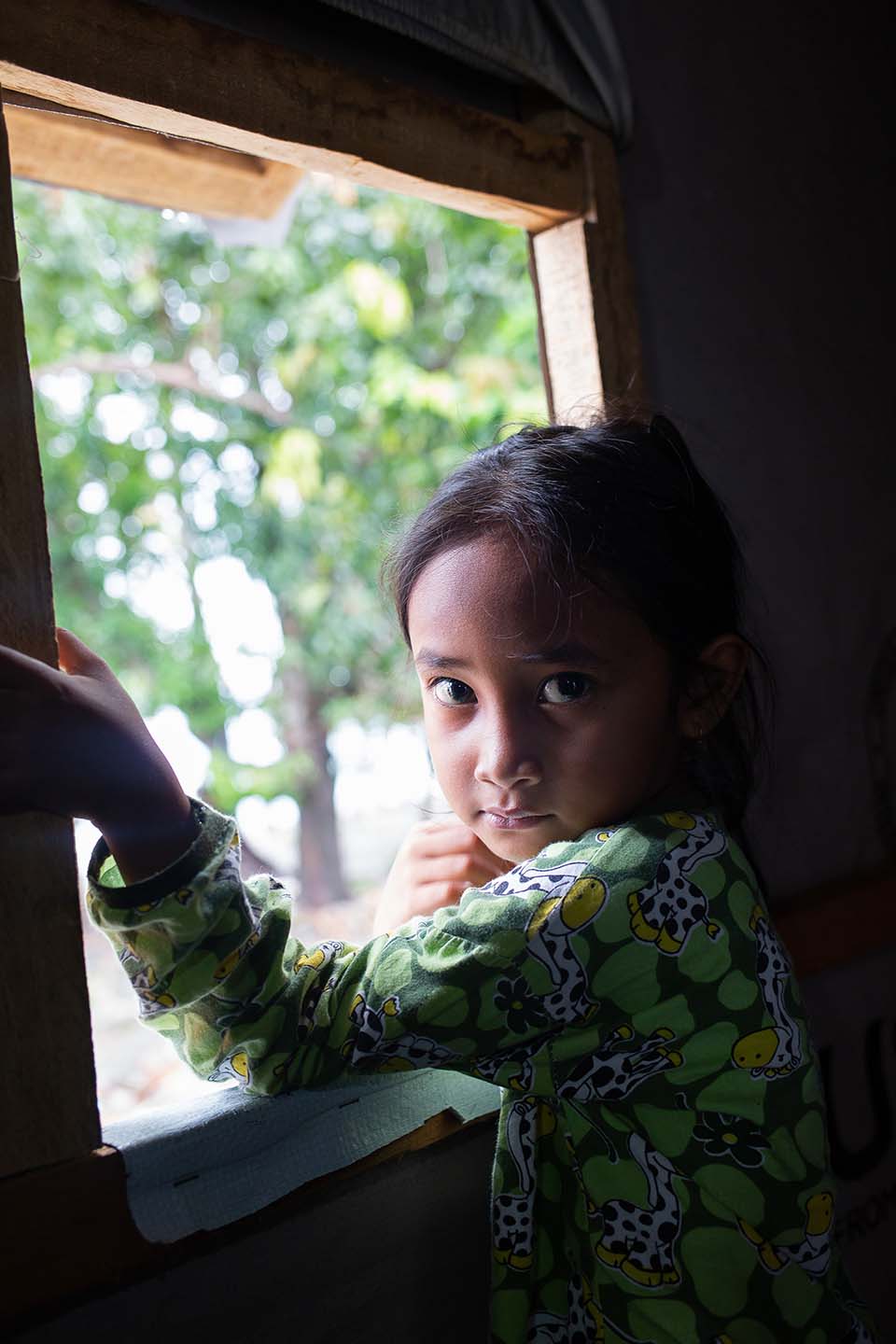 After the tsunami, 6-year-old Assyifa was too traumatized to look at the ocean. Now, her family has built an emergency shelter and she's receiving support services at school—and she can look out this window that faces the sea.
Photo by Jennifer Hardy/CRS