When Mobeukom "Marguerite" Kosetine, a single mother of five children, learned she was HIV positive, her life was forever changed.
Following the diagnosis in 2014, Marguerite says she became depressed and struggled to take her medication. While she focused on caring for her home and children, she was unable to manage her own health. This cycle continued for more than six years until Marguerite learned that she was pregnant with her fifth child.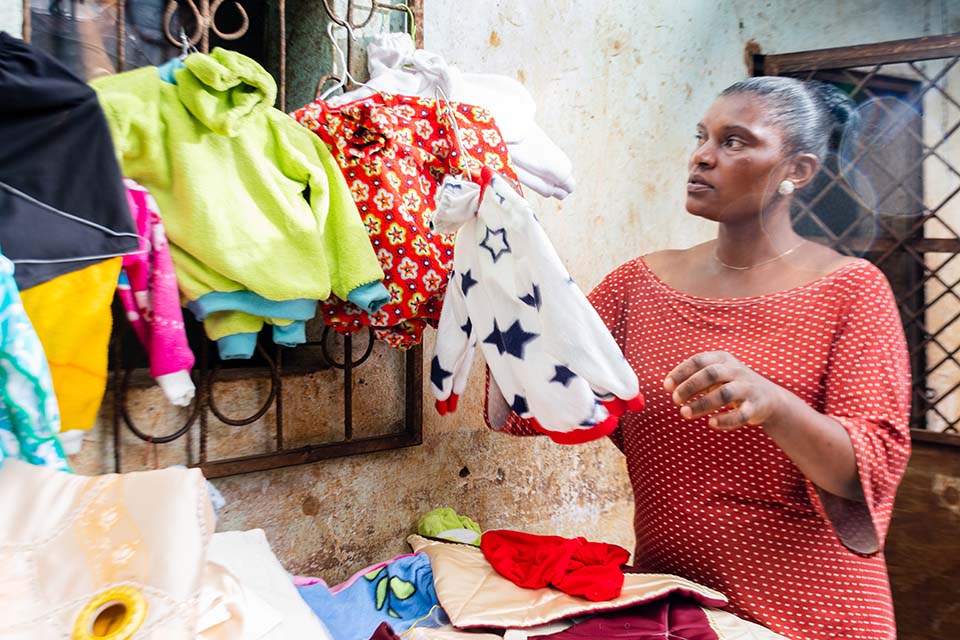 Marguerite displays the baby clothes and other items she sewed through the income-generation grant from KIDSS. She'll sell these items from her home and in the nearby market.
Photo by Louis Blaise Djilo for CRS
In need of medical support, she enrolled in the government-run Prevention of Mother-to-Child Transmission program at the Bafoussam Regional Hospital, in the West Region of Cameroon. The program supported her throughout her pregnancy and the birth of her daughter, Israela.
When Israela was six weeks old, the hospital referred her and Marguerite to Catholic Relief Services for enrollment in the Key Interventions to Develop Systems and Services, or KIDSS, project, which supports children who have or are at high risk of HIV. A KIDSS caseworker serving with CRS local partner Horizons Femmes contacted Marguerite and enrolled her, Israela, and three of Marguerite's other children into the program because Israela was at high risk for HIV and her siblings, while not positive, were impacted by the virus. 
The KIDSS project provided significant support to Marguerite's family through medical, educational, and economic services or referrals.  Through KIDSS, Marguerite could better manage her and her children's health. The KIDSS caseworker provided the follow-up care Marguerite needed to receive proper treatment and adhere to her medication. The caseworker also ensured that baby Israela received the tests she needed as a child born to a mother living with HIV to detect whether she, too, was positive for HIV. Israela received all the age-appropriate testing and after the serology test at 18 months, Israela was declared HIV negative. Marguerite shared this news with gratitude and pride, hugging her daughter. Israela's four siblings are also all HIV-negative.
In addition to medical support, Marguerite also received a cash grant that permitted her to expand her income-generating activity: sewing. Marguerite already had a sewing machine, which she now uses to make baby clothes, underwear, pillows and cushions. She first started with baby clothes and underwear before she invested in additional training using the KIDSS grant so that she could expand her business. She sells her items both at home and in the nearby market.
Marguerite says she took home about $367 over the last two years from her business, after taking care of her children's educational needs and other family responsibilities.
The KIDSS program has also strengthened her ability to address difficulties in other areas of her life. Marguerite shared that she can now better cope with and address challenges that arise in her family.
"The KIDSS project has changed my mentality on life," Marguerite says, explaining that it has permitted her to monitor her health and generate an income, which enables her to take care of herself, her children and her parents. "I feel proud to be able to care for myself and my family through my small business."
The Key Interventions to Develop Systems and Services for Orphans and Vulnerable Children project was launched in 2014 by Catholic Relief Services and is funded by the President's Emergency Plan for AIDS Relief and the United States Agency for International Development. KIDSS contributes to HIV epidemic control and supports over 60,000 project participants to become resilient by providing services in over 60 health districts in all 10 regions of Cameroon.