Building Trust in Kenya's HIV Health Care System
Photo by Will Baxter/CRS
"Because of these groups, the households are more resilient. This approach is also sustainable."
Ferdinand Kombe has been a community health volunteer for over 15 years, as well as a community-based trainer in Bamba, Kilifi County, Kenya, where he works with caregivers of orphans and vulnerable children.
"My role as a community health volunteer is to conduct household monitoring … I target children and their caregivers during household visits. During these visits, my role is to assess the gaps and strengths within the household. Where there are gaps, I provide services, especially if the gaps are due to an information gap. I also bring … a service tracking form where I can check what the household needs or lacks. There are services I am able to provide that are non‑tangible.
"I conduct targeted household visits for children who are HIV positive. The children are free and open up with me because they see me as a confidant that they can share their HIV information with. So when I get to the household there is no hiding—everyone is free to associate and discuss matters of HIV with me.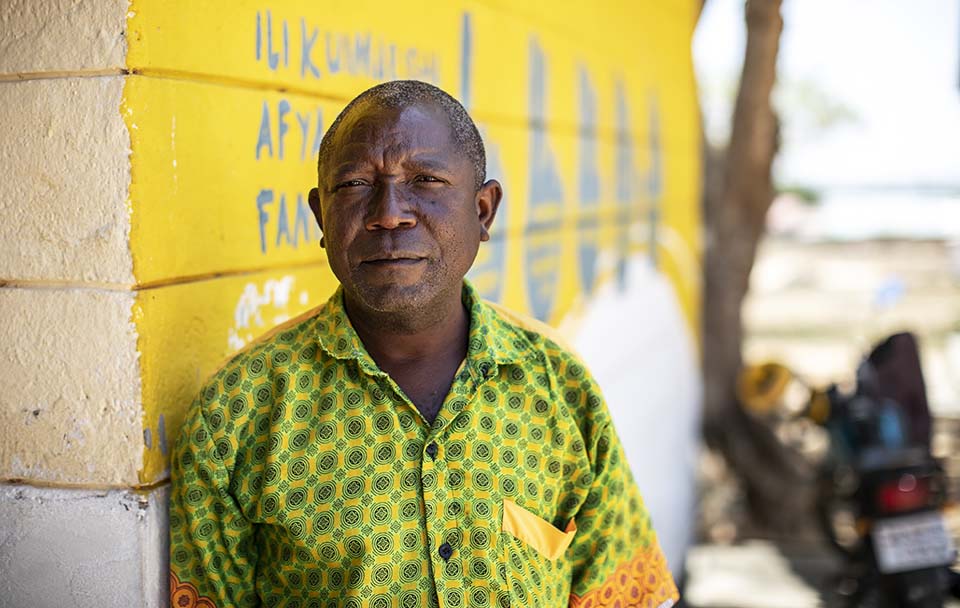 Ferdinand Kombe, a community health volunteer and trainer, stands outside Bamba Sub-County Hospital, Kenya. His role includes providing support and referrals for families dealing with stresses caused by HIV and poverty.
Photo by Will Baxter/CRS
"When I get to the house, my routine is to get the clinical appointment card that the child uses in the health facility. Once I get the card, I check the last appointment date, when it was, then I check whether this appointment was honored. If it was honored, then I move on to the next step. I want to look at the medication."
Ferdinand uses a pill counter provided by Bamba Sub-County Hospital to cross-check the number of pills with the number of days that have passed since the last clinical appointment to determine if children are taking their medicine in the right dosage.
"Especially with households that are struggling with adherence, I conduct a pill count. I pour all the medicine into a tray that is made for pill counting, then I use the spatula to count the pills to see if there is a deviation between the number of pills that should have been taken and how many are left. If I find there are more pills than expected, then I know that … this child has not been taking medication. Then I take it up with the caregiver. If I am not able to take it up with the caregiver directly, then I report back to the health facility so that advanced adherence counselling can be initiated."
In order to get an accurate picture of the goings on in the home, Ferdinand speaks to family members separately.
"We insist on a separate session with the caregiver and a separate session with the children, because sometimes children are not free to open up and talk about their needs in the presence of their caregiver," he says. Ferdinand notes this is especially true with adolescents.
During such visits, he might also provide social counseling.
"I provide life skills by supporting the children to adopt positive behavior, especially upholding respect between them and their parents or elders," he says, pointing out that it is also important to help adolescents improve their ability to communicate with classmates and teachers.
"I tell them, 'You are a child today, but you will be an adult tomorrow. It is what you do as a child that will contribute to your success as an adult.'" He says to them, "If you continue showing respect … it will help you to also grow up as a person with this virtue of respect, which will enhance your ability to work in the future when you get employment. Once you start growing up as a child who upholds respect … then you will be able to relate to everyone with ease."
Savings Groups
As a community-based trainer, Ferdinand teaches project participants about the importance of saving for the future and helps organize them into village savings and loan associations.
"I try to inculcate a culture of saving whereby the caregivers are encouraged that no matter how little the money they have, they need to ensure that they have that saving culture," he says. "Come the end of the year, at least a caregiver will have saved something that they can take back out and utilize it to do something big."
Community savings groups also offer people with little or no collateral the opportunity to access loans.
"Within the groups, the caregivers are encouraged to take loans. These loans they are only encouraged to take after coming up with a plan about what they are going to do with the money, so it's not just a loan that cannot be paid back. We ensure that whatever the caregiver is using the loan for, it will be able to bring in money so that the loan can be paid back.
"In these groups, the caregivers have gained a lot of skills whereby they are not just able to take loans and initiate small businesses, but they also think of the future and are able to invest in assets they can sell when an emergency or crisis comes up," he says.
Typically the assets purchased are in the form of livestock.
"If somebody takes a loan and buys two goats, in the span of a year they will have a large number of goats. Then when there is any emergency in the family, they are able to sell some and be able to get money without having to take out a loan," he says.
When a project participant has larger ambitions and needs a more sizeable loan, Ferdinand introduces them to microfinance institutions.
"Because of these groups, the households are more resilient. This approach is also sustainable. These households will never go back to lacking money because it is their money they are saving and not the project's money. The households who are in savings groups will continue saving. The households who are already taking their children to school, these children will continue going to school," he says.
Before the savings groups were established, school enrollment in the community was low. 
"The number of children completing primary school and transitioning to secondary school was very few. But now, with the savings groups, more caregivers do not rely on government bursaries or well-wishers. They now rely on their own collective resources. Within the groups they are in, they are able to take loans, put a child in a day school where they pay around 9,000 shillings [$83] a year, and are able to pay [tuition] in small amounts taken from their savings. So it has cushioned the households to ensure that they have somewhere to get money in order to send their children to school," he says.
"Household economic strengthening as a component [of the project] has been of great support to the families. Through household economic strengthening, more businesses have been started in the communities. There are so many caregivers [participating in the project] who are engaging in income generating activities. We are giving them money to use their own strengths to initiate a business, so it becomes a self-initiative and it is more sustainable."
As a result of these household economic strengthening efforts, more children are taking their antiretroviral medication as prescribed.
"If you ask a child why they are not taking medicine, the child is old enough to understand that if [medicines] are taken on an empty stomach it causes some side effects that are not nice. So such children would stop taking medicine as long as there is no food," he says. "The emergency fund can help cushion a household with money to be able to provide things like food for the children. And, with this, they have also ensured that this money goes beyond just provision of food. The caregiver can also initiate something that can sustain the household income. Children who would not take medicine because of lack of food have taken their medicine and are now [HIV] suppressed. And the chance of them missing food again is slim because their caregivers are engaged in a small business that earn income."
Referrals
"I use referrals as a strategy to ensure that the households I support receive more services. When I conduct a household visit, I empower the household to know where they can access all the services they might need," he says.
For example, he refers health related matters to nearby health facilities, links beneficiaries to government offices to help them acquire birth certificates or cash transfers and provides support for caregivers to access the National Hospital Insurance Fund.
Reducing Stigma
"HIV issues have been tough to crack within this region for the last 15 years. If I go back down memory lane, there were days that stigma was just too much and there were people who would not go to the facility to get care just because of the fear of bumping into people like me," Ferdinand says.
Overcoming that stigma has required building trust.
"I explain that there is confidentiality whereby I do not discuss or disclose the status of any of the people I bump into at the facility. After some time, the community members began developing trust in me, and there were times that if a member of the community had issues coming to the health facility they would call me instead of the facility.
"It is the confidentiality among the community health volunteers that has now at least helped in fighting stigma. Now we have more caregivers disclosing their status, even to the project. Earlier on, there were households we were supporting [because a child had HIV] but we didn't know the HIV status of the caregiver. With time, the caregivers have opened up to be able to share and talk about their status."