Amira Ishag Yaseen is a mother of seven living in Mornei, a town 37 miles from El‑Geneina, the capital city of West Darfur. She was forced to move to Mornei from a nearby village when war erupted in 2003.
"Life was normal. We used to harvest and live a normal life. There were no guns, and life was peaceful," says Amira.
Amira Ishag Yaseen stands outside her house in Mornei, West Darfur, Sudan.
Photo by Carlos Barrio/CRS
However, the conflict that began 20 years ago changed everything for communities across Darfur.
"Some people were killed, and houses were burning," Amira says. "There was no other way than moving out. We didn't have a choice. Some families stayed in schools. We stayed in the streets."
The Darfur civil war of 2003 led to the internal displacement of 2.5 million people and caused hundreds of thousands of others to seek refuge in Chad and neighboring countries over the next several years. In April 2023, the crisis worsened when armed conflict broke out between two warring factions in Sudan. In just three months, the ongoing war displaced another 3 million people. As a result, many people now lack access to food, clean water, health care and shelter—a situation that remains deeply concerning and in need of urgent support.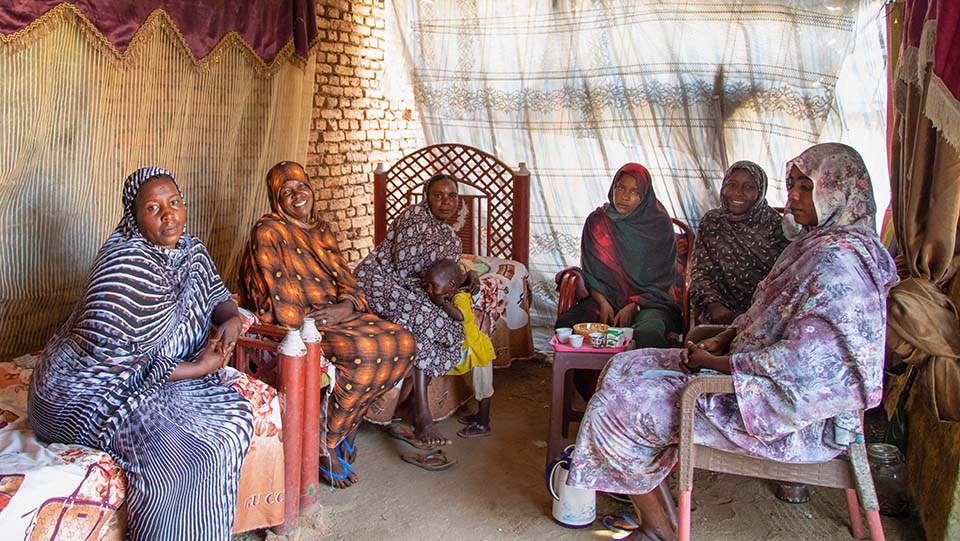 Amira Ishag Yaseen, second from left, sits with some of her neighbors and friends at her house in Mornei, West Darfur, Sudan.
Photo by Carlos Barrio/CRS
Until 2003, Mornei had a population of about 6,000 people. However, when the war began, thousands of families arrived in search of protection. Due to this, Mornei's population is now up to an estimated 200,000 people. For many families there, finding jobs and livelihoods is a great challenge.
"Aside from taking care of my family, I would like to find work to help more, but I could not find it yet. The situation outside is not safe and we cannot go out and cultivate," says Amira.
Since 2004, Catholic Relief Services, in partnership with the World Food Program, provides vulnerable communities in Darfur with food and cash distributions through our Food for Assets project. This project allows community members to receive food in exchange for their help in constructing key community buildings such as schools or health facilities.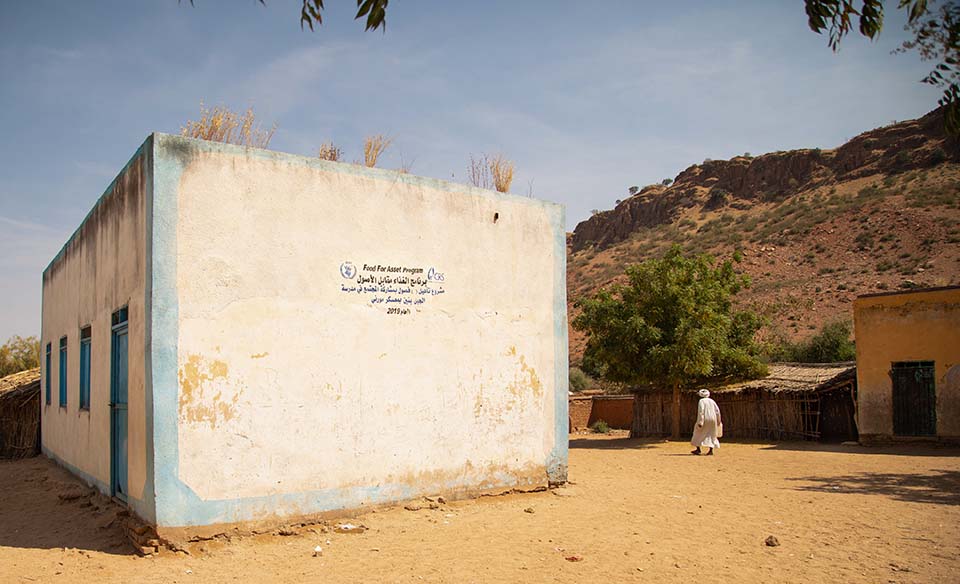 A classroom built by CRS and community members at the Al Gabal primary school in Mornei, West Darfur, Sudan, as part of the Food for Assets project.
Photo by Carlos Barrio/CRS
CRS has also established projects specifically focused on improving nutrition for children and pregnant and nursing women, while providing training and supplies to farmers to mitigate post-harvest loss. In 2022 and 2023, CRS' World Food Program projects have assisted 938,661 people in West and Central Darfur, including more than 530,000 internally displaced people.
"The cash helps us to cover some gaps in the household. When we receive cash, I go to the market immediately to get household items. I also buy clothes and medications if there is money available," says Amira.
In the past three months, CRS has distributed over 3,243 tons of food to 104,895 people in Central Darfur and has stocked 21 health care facilities with medical supplies.
In addition to interventions from CRS, families in Darfur continue to create innovative ways to pay for more expensive provisions. For example, neighbors form groups of eight and pool their money each time one person needs to buy something more expensive.
"We are eight of us in this group. Each time, we help someone," says Amira, who recognizes the importance for the community to become self-reliant.
"We need to be able to rely on ourselves," she continues. "I would like people to receive livelihood and skills training because it is not possible to rely only on distributions in the long term. I would like to get trained on making cheese, cookies and soap."
Amira leads her group and has encouraged many others in the Mornei community to do the same.
Building Schools for Children
Mohammed Sineen Ahmed, headmaster of the Al Gabal primary school in Mornei, West Darfur, Sudan, in one of the classrooms built by CRS and community members as part of the Food for Assets project.
Photo by Carlos Barrio/CRS
Under the Food for Assets program, CRS and the community have also built and rehabilitated critical infrastructure necessary for resilience across West Darfur, including schools and nutrition centers. One of those schools is Al Gabal primary school.
Resting along the red hills of Mornei, with trees scattered around its premises providing shade to teachers and students, the school now has nine additional classrooms built by CRS to support sustainable education.
"It gives the kids a good place to get educated and sit. The community is happy, and kids like to come to school," says headmaster Mohammed Sineen Ahmed.
This project created value for Mornei not only by providing the school with new classrooms, but also by providing those from the community who helped to build the classrooms with food. "While CRS built the schools, members of the community did not need to collect grass and firewood for money, because they were building the classrooms," Mohammed says.
To support nutrition and education, the World Food Program and CRS continue to provide food in the schools.
"More kids come to school when food is provided," says Mohammed.
WFP-funded General Food Assistance and Food for Assets in Central and West Darfur
CRS' partnership with the World Food Program in West and Central Darfur has provided lifesaving food security, recovery and agriculture projects to nearly one million displaced and vulnerable individuals in 2022 and 2023. These programs include emergency, recovery and development activities. CRS provides emergency food assistance to people enduring conflict and displacement, and nutrition support to malnourished children and pregnant and nursing women. The project aims to ensure that vulnerable communities in West and Central Darfur have food and nutrition security all year round.