Building Social Cohesion in the Central African Republic
Photo by Samuel Phelps/CRS
If someone loses a house, you build a shelter. If they need water, you dig a well. If their crops fail, you bring all sorts of farming practices to restore their fields.
But how do you replace lost trust?
In the Central African Republic, or CAR, homes, fields, jobs and lives have been lost to violence triggered by a government overthrow in 2013, followed by spiraling chaos. Neighbors were forced to take sides that divided along religious identity. And now almost everyone, even children, lives with stories of atrocities they witnessed first-hand.
Having returned to their lands, almost everyone finds they are living close to those that attacked them. And not all their fears and bad feelings have suddenly disappeared.
Repairing a sense of community and rebuilding social cohesion are among the most difficult challenges in any society. The difficulty is magnified in communities fractured by violence.
To those environments, Catholic Relief Services brings long experience in peacebuilding. Like all our programs and projects, it is done in close association with affected communities and often led by the most trusted members of those communities.
Through vocational training, Erma Wang-Tang and Rodrigue Salvador Mayantou learned to farm and form business associations that build social cohesion. Working together, different faith groups share their experiences of recovery from years of conflict. 
Erma and Rodrigue, a young couple in their early 20s, walk together with their 3-month-old baby girl, Jovial, through a plot of well-tended cabbages at their home on the outskirts of Bangui, in the CAR. The seasonal rains will ensure a prosperous harvest. Erma and Rodrigue are hopeful, having only begun farming in 2018, after participating in a CRS project that engages youth in vocational training. The program was uniquely created for those affected by a multi-year violent conflict that began in 2013 and destabilized the security and the economic wellbeing of many families in the country.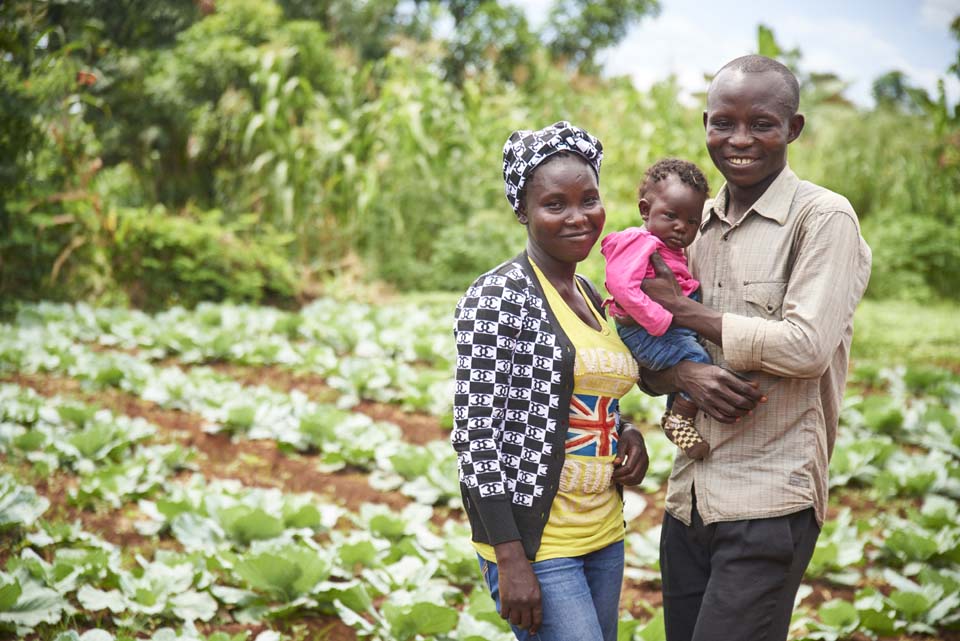 Rodrigue Salvador Mayantou, his wife, Wang-Tang Erma, and their baby, Jovial, stand in a field of cabbages. They received training and a grant to set up a small business as part of an interfaith peacebuilding project.
Photo by Samuel Phelps/CRS
"We lost everything, my house, everything. I was displaced with my family," says Erma. She fled to the Bangui airport where hundreds of thousands of citizens sought shelter when it became too dangerous for many to stay in their own communities.
The Central African Interfaith Peacebuilding Partnership, or CIPP, funded by the U.S. Agency for International Development, engages participants in vocational training workshops to develop sustainable businesses that will help them rebuild their lives. The participants form business associations and undertake social cohesion workshops where they sit together with members of different faith groups and discuss the shared experiences of recovery in a country that has been shaken by years of recent conflict.
"Everybody was affected during the crisis, including here," says Rodrigue. "The youth especially, certain of whom were manipulated, as they no longer had jobs. We also lost our goals and unemployment rose."
Rodrigue is referring to the violent attacks from various armed groups that were operating within the country, seeking power and control of the country's rich natural resources that include diamonds and gold. Pre-existing economic disparities between different communities added to tensions and was a trigger-point for violence between Christians and Muslims.
Some youth, already socially isolated because of high levels of unemployment, became easy targets for armed groups who promised them money and weapons if they mobilized with acts of violence against other religious groups.
As part of CIPP, CRS identified the importance of sustainable livelihoods as a foundation for peace and recovery in the CAR.
Joseph Muyango, a project director for CIPP, said, "Economic opportunity is a key element of building and maintaining peace. That's why CIPP has supported 350 youth to take part in three-month vocational skills courses. Through the vocational skills training and subsequent technical support and loans to youth business associations, the CIPP project is helping to plant the seeds of peace in the CAR."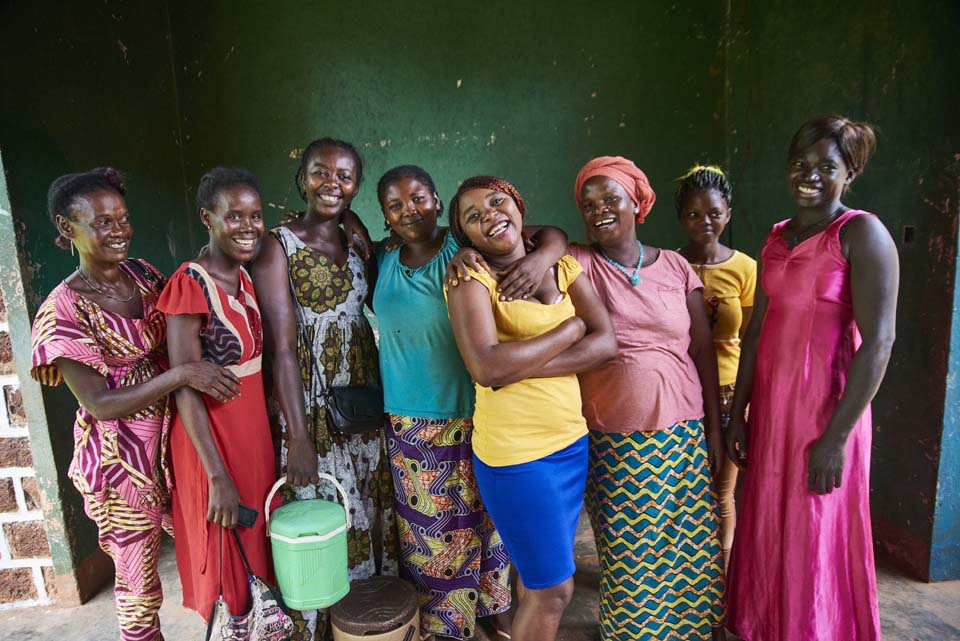 Members of a business association after receiving a grant as part of a peacebuilding project. The association is made up various small businesses, mostly women, selling items at the market such as cassava, caterpillars, peanuts and other food items.
Photo by Samuel Phelps/CRS
"We were trained in agricultural practices and group management," says Rodrigue. We were able to rent the plots of land, purchased material and seeds. We also participated in a workshop on social cohesion."
"The country is still fragile. There are still people who hesitate between peace and violence. Our role is to speak nonstop, convince them," says Pastor Franco Mbaye-Bondoi, a representative of the Central African Republic Evangelical Alliance, Alliance, representing Christian evangelical churches across the country. "We are working with the youth, we are preparing them so what happened does not happen again, that they don't repeat the bad example of these recent events, and that they become good citizens, to construct their country and their future."
"We want to be independently self-sufficient, and at the same time we want to be unified, living in harmony with our neighbors," says Rodrigue, "We wish to come together and develop our country and our families."