Building Shelters for Nigerians Displaced by Violence
Photo by Samuel Phelps/CRS
"We were begging for our survival when we arrived. It was very difficult."
"The reason we left was because of the insecurity. They started kidnapping girls and women," says Zainab Ali, as she cooks a meal for her family outside of her shelter in El Miskin Extension Camp, in the North East zone of Nigeria.
"We trekked from our village to the main road. We then found a truck to transport us here to Maiduguri. The only belongings we had were the clothes we were wearing."
Zainab recounts an experience that is heard often from people in this region. Caught in the crossfire between insurgent groups and the military in a conflict that has no end in sight, vulnerable families are being terrorized and driven from their homes.
"We were begging for our survival when we arrived. It was very difficult," says Zainab, tending a charcoal fire under the 109-degree midday sun that beats down from above. "Some people donated materials so we could build a makeshift shelter."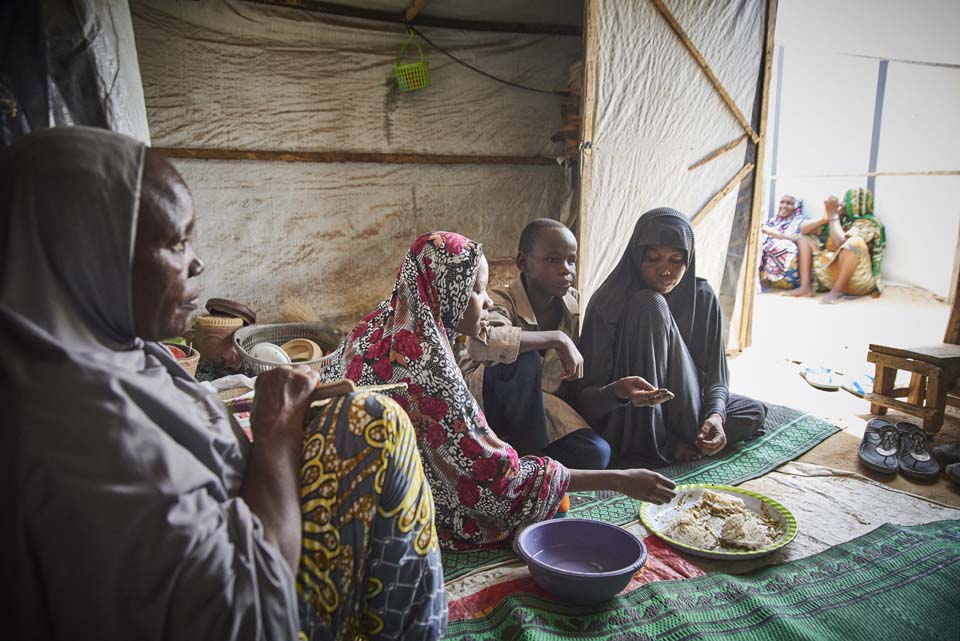 Inside her shelter Zainab Ibrahim, right, sits with two of her seven children after a meal made with vegetables she grew in her garden using farm tools and seeds supplied by CRS.
Photo by Sam Phelps/CRS
Recently divorced by her husband, who stayed in the village, and with seven children to care for, Zainab's situation was precarious.
Fortunately, CRS and our partners are providing vulnerable families like Zainab's with lifesaving support. She received a shelter—an emergency structure specifically designed for the region's conditions—along with cooking utensils, farm tools, seeds and hygiene kits.
The durable emergency shelter costs just $70 to produce and was tested first in the harsh North East zone of Nigeria before being distributed on a mass scale to displaced people. It is well ventilated and has a divider wall inside to allow separate spaces for living, sleeping, storage or cooking.
"To improve the lifespan of the tarps we include straw mats to insulate the walls and roof of the shelter, which reduces heat during the day," says Atule Raphael, a CRS field engineer. "People also use them for privacy around their shelter. There are two windows on opposite sides and a door to allow ventilation."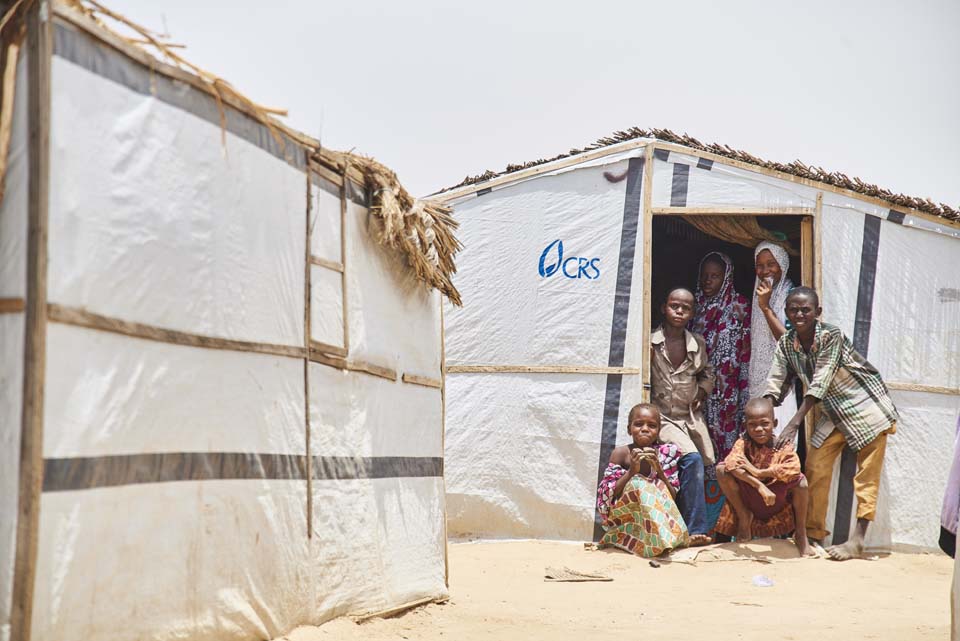 Shelters are specifically designed for the emergency conditions of Nigeria. CRS improves the lifespan of the tarps with straw mats to insulate the shelter and reduce heat during the day.
Photo by Sam Phelps/CRS
In the family's shelter, Zainab prepares a platter of corn meal and a stew cooked with vegetables grown in her garden—a garden started with seeds and farm tools provided by CRS. Two of her children come in, hungry but happy to sit down and eat.
"The advantage is that we can divide the shelter into two spaces—one for sleeping and one for cooking and eating," says Zainab. "It also protects us from the sun. If it was not for CRS we would not stay here."
Since 2016, CRS and our supporters have provided shelter assistance to over 35,500 people in the North East zone of Nigeria.