Building Resilience Among Vulnerable Congolese Families
Photo by Samuel Phelps/CRS
When thousands of Congolese citizens were expelled from Brazzaville in 2014, during a political dispute between the Democratic Republic of the Congo and the Republic of the Congo, many families of mixed nationality were torn apart—like Angel Bisemba Mombo Mombo's family. Her husband remained in Brazzaville while she was forced to return to Kinshasa with their 4 children.
Angel says, "In Brazzaville my husband took care of everything. When I came back to Kinshasa things began to change. My husband was not around, and I couldn't take care of my children. That's when I fell sick." Estranged from her husband, Angel struggled with the challenge of earning an income to support her family, balanced with now bringing up her children as a single mother.
ELIKIA, which  translates as "hope" in the native language of the DRC empowered Angel Bisemba Mombo Mombo to take care of her children .
Photo by Samuel Phelps/CRS
In the Democratic Republic of the Congo, CRS is part of a consortium called ELIKIA, which stands for Enhancing Services and Linkages for Children Affected by HIV and AIDS—but also translates as "hope" in the native language of the DRC. The consortium provides support to children and families affected by HIV. The USAID-funded project, led by Education Development Center, works in the Congolese cities of Lubumbashi, Kolwezi and Kinshasa. Primary areas of assistance are health, economic strengthening and protection initiatives. Through these channels, the goal is for beneficiaries to become economically resilient so they can support themselves and live a life of dignity, despite their HIV status.
Angel joined a CRS savings-led microfinance group established through the project, gaining access to credit that allowed her to buy and sell plates. Little by little she was able to save money.
"Before I joined the program my situation was difficult. When I joined I started to save and my situation improved," says Angel. "With the credit, it permitted me to buy cement to progressively enlarge my home. With 4 children, 3 of them adolescents, we needed more space."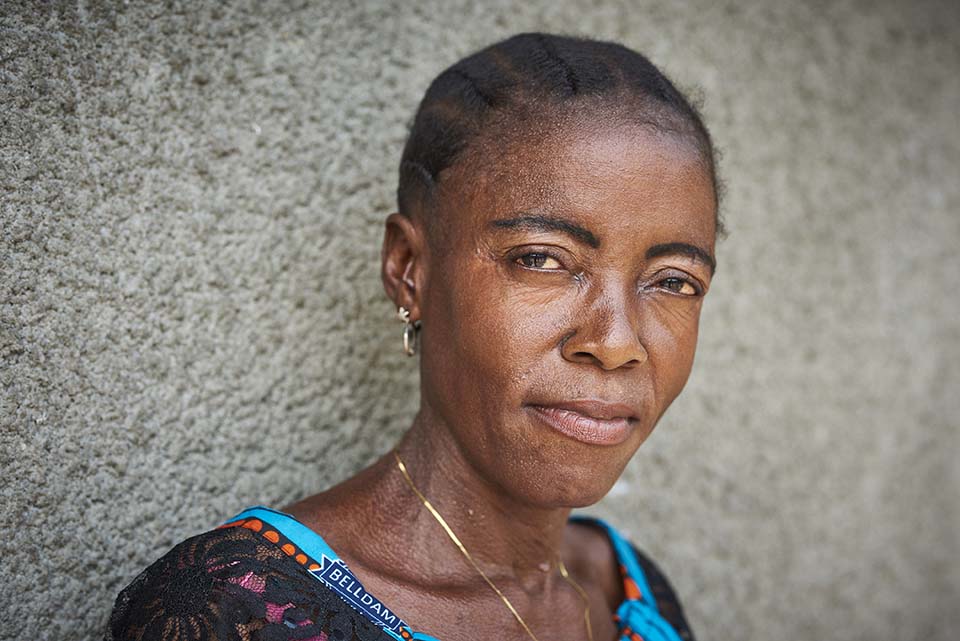 Once a recipient of help during a trying time of her life, Angel now helps vulnerable women who face similar stresses.
Photo by Samuel Phelps/CRS
Caseworker Fils Mandundu monitors and evaluates more than 70 beneficiaries as they progress in the program to determine when they have reached economic resilience. If they are evaluated as having reached autonomy they graduate from the program. For those that are still vulnerable, actions are taken to help them further.
"There are often difficulties in the field. For example, in cases where there is risk of discrimination for children, I need to support them to become something in society. To have HIV is not the end of the world or life, it's possible to live like everybody else," Fils says. 
Angel also undertakes visits to a nearby health center and counsels expectant mothers on the prevention of mother-to-child transmission of HIV. "We encourage them to first accept their HIV status and to let them know that, as they are pregnant, they should take antiretroviral drugs to protect the unborn child," says Angel. "After speaking to these mothers, I feel happy to have convinced someone to accept the treatment and also to have contributed to the prevention of mother-to-child transmission. This joy is even greater when, after the 18-month test, the child has a negative serological status."
"I hope I can continue to support my family," says Angel. "I want my children to be healthy and continue to study so they can one day take care of themselves."
Angel Bisemba Mombo Mombo with her daughters Genevieve, 15, and Jerremie, 4, at their home in Kinshasa.
Photo by Samuel Phelps/CRS
CRS is joined in the consortium by Réseau National d'Organisations Assises Communautaire, or RNOAC, a Congolese network of self-help groups of people living with HIV whose goal is to improve the well-being of children and families affected by HIV. In Kinshasa alone, the consortium is helping more than 1,580 families.